MUSIC
Paying R-E-S-P-E-C-T to a Legend – Rest in Peace Aretha Franklin
The Singer Died at Age 76 Today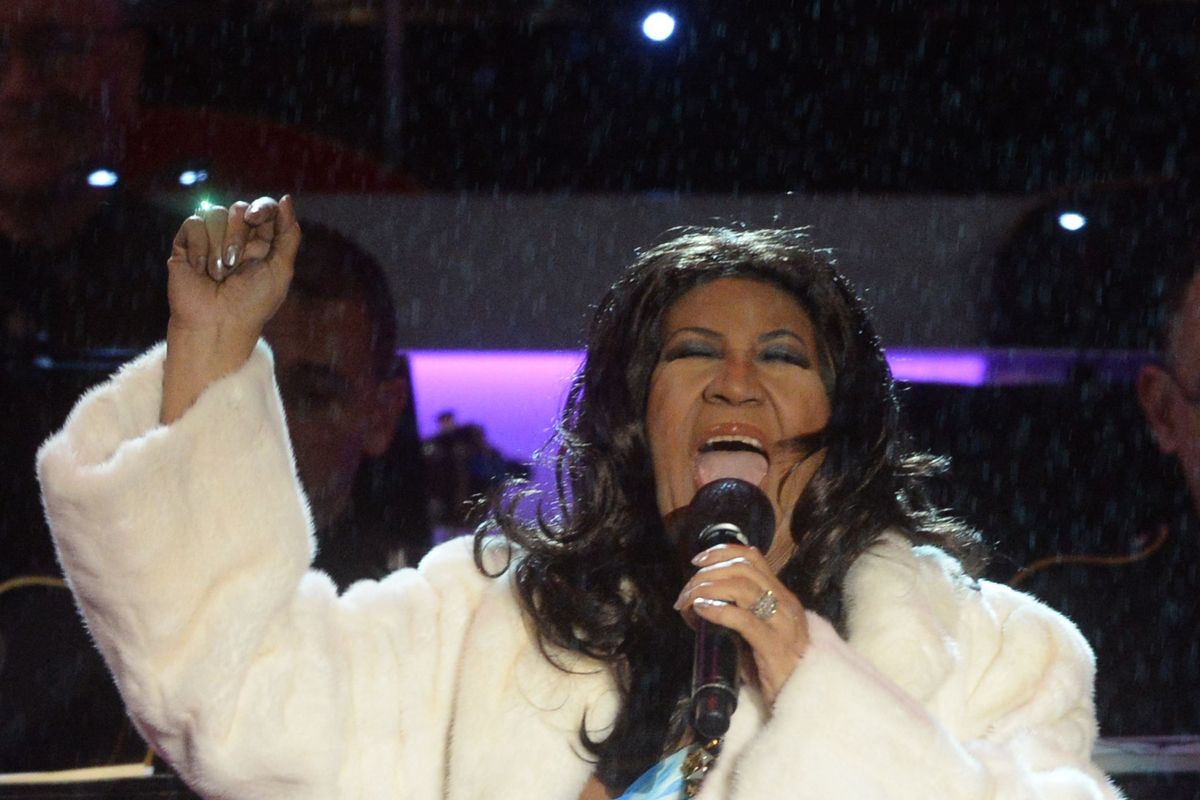 Photo by Michael Reynolds/EPA/Shutterstock
RIP the Queen of Soul.
After news broke over the past few days that singer Aretha Franklin was in hospice care and in grave condition, it has been reported that she passed away this morning at her home in Detroit after a battle with pancreatic cancer. She was 76 years old.

---
"It is with deep and profound sadness that we announce the passing of Aretha Louise Franklin, the Queen of Soul. In one of the darkest moments of our lives, we are not able to find the appropriate words to express the pain in our hearts. We have lost the matriarch and rock of our family. The love she had for her children, grandchildren, nieces, nephews, and cousins knew no bounds" Franklin's family said in a statement.
Franklin not only had a family that obviously adored her, but thousands, if not millions of fans from all over the world who have enjoyed her music and performances for decades. With an impressive 18 Grammy awards to her name, Franklin was a force in the industry, bringing so much soul to every song, with power and passion that was unmatched. Whether live or recorded, her talent was of the highest level, impressing even the finest of musicians with her ability to showcase a style that was incomparable and impeccable.
Songs like "Think," "(You Make Me Feel Like) A Natural Woman," and "Respect" will be forever fan favorites, and at the "peak of her career, she had more than two dozen Top 40 hits," as per CNN. As the first female to be admitted into the Rock and Roll Hall of Fame, Franklin was a ground-breaker, paving the path for up-and-comers who could only hope to find a fraction of the success the singer saw over the span of her career.

From her birth in Memphis to her life lived mostly in Detroit, Franklin was moved to the core by gospel, recording music for the first time as a teen. In 1960, she was signed to Columbia Records and later to Atlantic Records, churning out hit after hit, collaborating with fellow musicians, and touring, performing, and recording with a drive that was as exciting as the "Freeway of Love." Her final performance was at an Elton John AIDS Foundation gala in New York this past November, as CNN reports.

Franklin is survived by four children: Clarence Franklin, 63, Edward Franklin, 61, Ted White Jr., 54, and Kecalf Cunningham, 48. Funeral announcements are reported to be released within the next few days. Surely there will be an outpouring of love from friends, family, fans, and fellow stars who have looked up to Franklin as a shining example of everything music is meant to be.
Like her song, "I Say a Little Prayer," we say one for Aretha Franklin today, wishing her peace as she rests for eternity.

---
Melissa A. Kay is a New York-based writer, editor, and content strategist. Follow her work on Popdust as well as sites including TopDust, Chase Bank, P&G, Understood.org, The Richest, GearBrain, The Journiest, Bella, TrueSelf, Better Homes & Gardens, AMC Daycare, and more.
---
POP⚡DUST | Read More...
MTV VMA's 2017 Recap – Top 10 Videos from Last Year's Winners

And the Video Vanguard Award Goes To… J. Lo, Naturally