Top Stories
Best Things We Bought This Month - April Edition
Oil cleansers, tote bags, and new shoes. Discover the best things loved by our editors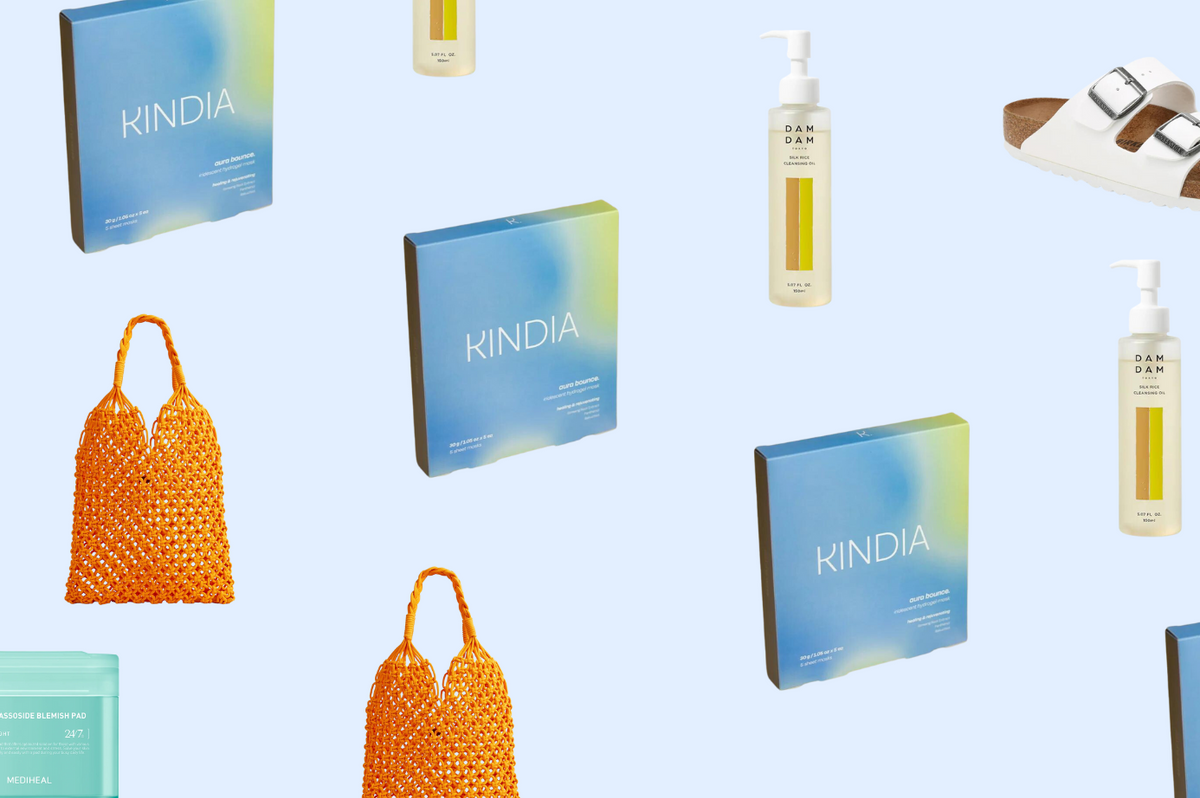 When I was in fourth grade, there was this boy who would always say "Happy White Rabbit Day" on the first of the month. And even though I just thought he was weird running around sayig 'rabbit rabbit' for hours on end, I silently say it to myself every time the first of the month comes around.
While I had no idea this was actually a real saying – see FDR and apparently even George Washington (am I the worst American?) – the phrase 'rabbit rabbit,' or wishing some a happy white rabbit day, is the equivalent of wishing them luck.
Now that May has officially come to a close, it's time to wish each other endless rabbits and take a look at some of the best things our editors bought last month.
---
LKC
Usually, I love the idea of a sheet mask more than I love a sheet mask. I start the day off thinking "I'll probably do a sheet mask today." And then the week passes. But thankfully, the new trend of hydrogel face masks vs traditional face masks makes putting them on way less intimidating. Hydrogel masks go on easier, and fell less goopy. I also think they work better — especially after trying KINDIA Sheet Masks.
These face-hugging, Hydro-gel masks mold to my face and don't slip. The hydro gel-texture makes them feel satisfying to put on. Plus, they're biodegradable. And if you're wondering if they actually work? I've received compliments every time I've worn one.
When I said it, I meant it: I'm in my dirtbag era. Like Timmy in Bones and All — all white tank and unregulated angst — or Lady Gaga at the 2023 Oscars — never not bringing the Drama — I've been embracing my core dirtbag. I've been getting back into guiitar bands. I have an appointment for a new tattoo. I bought a pair of Vans at the beginning of the month and I cannot stop wearing them. No joke, I don't think I have taken them off since leaving the Vans store.
To recreate the peak teen experience, I bought them at a mall, remarked how I wa not like the other girls in the store (reader: they were 13, I am an adult), and have made them my entire personality since. If you're wondering if they're as comfy and practical as you remember from your own dirtbag days? They are. Maybe it's a cry for help but if I'm wrong, I don't want to be right.
One thing about me? I will add an extra step to my skincare routine. Sometimes, the extra step will be quickly phased out after the novelty wears off. I shake off the daze of influence and realize that this viral skincare product will not in fact change my life. And yet, I keep succumbing to this cycle — not because I'm a consumerist junkie (I like to believe that, anyway) but because sometimes, rarely, often never, a product does change my life.
For me, double cleansing was a game changer for my breakout-prone skin. And double cleansing with this DAMDAM face oil has made my skin softer and clearer after just a couple of uses. It feels like silk on my skin — unlike other cleansing oils which leave a waxy residue. I am literally addicted to lathering up this luxe face oil on my skin like a precious little princess. So do NOT try if you want a minimal, one-step routine. You'll never be able to skip this extra cleansing step.
JP
I'm always on the hunt for new skincare products…and this K-Beauty skincare brand MediHeal was brought to my attention recently. Famous for their sheet masks and cica products, I couldn't resist their new blemish-fighting pads.
Madecassoside inhibits inflammation and adds moisture to the affected areas, so it's ideal for the times your skin is problematic. I put these on for 10-20 minutes when I have hormonal acne around my chin and it's cleared up the next day. Use them as a toning wipe, a DIY mask, or a spot treatment.
I've been replenishing my summer shoe closet so I always have something to wear on beach weekends and nights out. There's nothing more summer than a cork heel, and this chunky platform is all the rage right now. It lets me live out my 70's disco dreams in a pair of chunky wedge platforms.
The best part about these shoes? They're a bit stretchy and don't have a "breaking in" period. They're my new go-to shoe for going out…especially since regular kitten heels are so painful.
Many will chuckle at the Jesus of Nazareth 5000s, but make no mistake: these are my new favorite shoes. I wear these puppies daily with socks and stroll about my city. I am the most comfortable I've ever been, and the white leather is less harsh on the eye.
I bought these with the beach in mind, so sand doesn't slip through my shoes. But it turns out they're the most comfortable everyday shoe I could've found. I didn't want to love these as vehemently as I do, but here we are.
I wanted a fun bag to tote around my items when I run errands around town. There's nothing worse than going to a store and having to juggle all my items in my arms. Since I'm all about crochet this year, I wanted a summery bag to wear on the daily and the bright pink added the perfect pop of color.
It's surprisingly spacious, definitely not ludicrously capacious. Whether you're spending a day at the beach or going to the grocery store, this tote can get you anywhere.