Culture News
Beyoncé Drops Movie Teaser and Tells Everyone to "Vote Like Our Lives Depend on It"
Beyoncé is releasing a new film and speaking out about the importance of voting in November.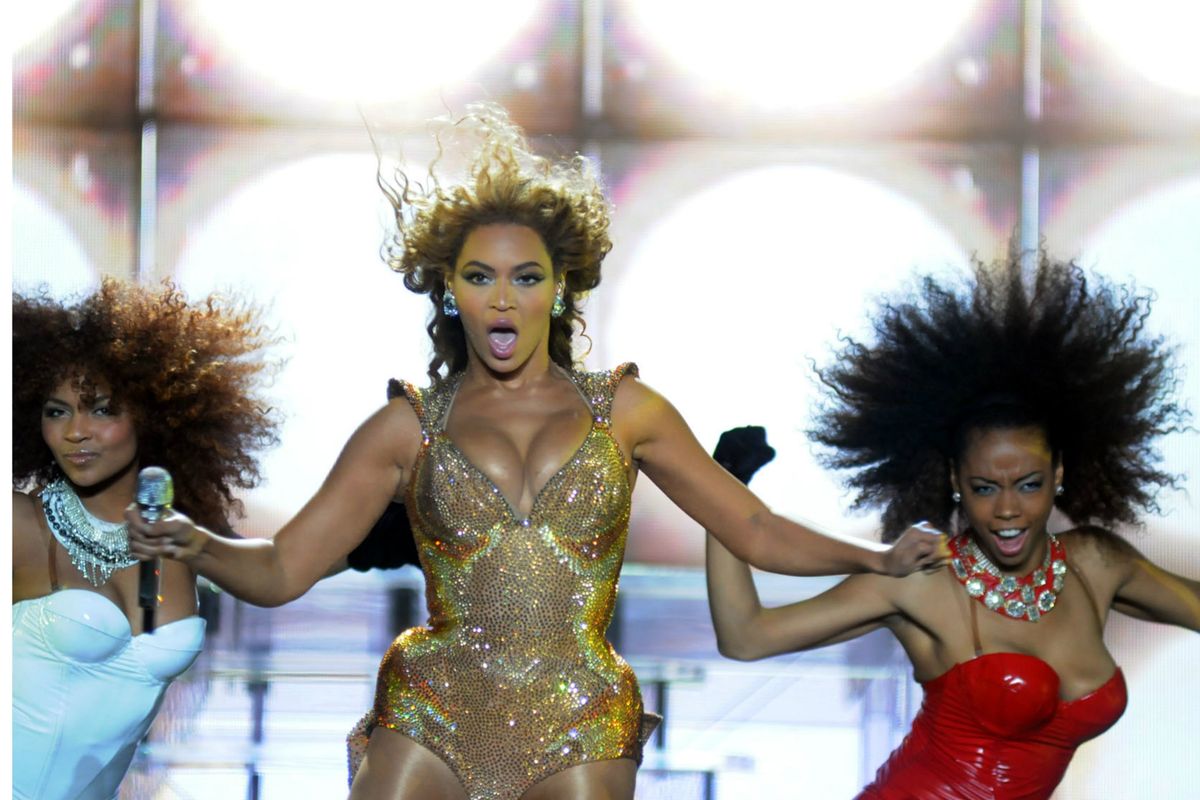 Photo by A.RICARDO (Shutterstock)
---
This Sunday, Beyoncé received the Humanitarian Award at the BET Awards.
Michelle Obama, who presented the award, introduced Beyoncé by saying, "No matter how big the stages get, I know my girl isn't satisfied unless she's sharing all that shine she has with the next generation. She's always turning up, looking out, and making us all a little bigger, better, a little more fierce. And she's doing it all while staying devoted to her children and the loved ones she holds dear. So to my girl, I just want to say, you inspire me. You inspire all of us."
Beyoncé then took the stage and used her acceptance speech to call for some meaningful actions. "I want to dedicate this award to all of my brothers out there, all of my sisters out there inspiring me—marching and fighting for change. Your voices are being heard, and you're proving to our ancestors that their struggles were not in vain," she said.

"I'm encouraging you to continue to take action. Continue to change and dismantle a racist and unequal system. We have to continue to do this together," she said.
"Continue to fight for each other and lift each other up, because there are people banking on us staying at home during the local elections and primaries happening in states across the country. We have to vote like our life depends on it because it does."
BET Awards 2020 highlights: Beyonce gives rousing anti-racism speechwww.youtube.com
Despite the fact that they happened virtually this year, the BET Awards this year were fiercely political and focused on the Black Lives Matter movement. The show began with 12-year-old Keedron Bryant performing "I Just Wanna Live," the viral protest anthem he released shortly after the murder of George Floyd.
It also featured a star-studded performance of Public Enemy's "Fight the Power," which featured Nas, YG, Rhapsody, and more. Alicia Keys, Anderson Paak, Roddy Rich, and more also made political statements.
Lil Wayne paid tribute to the late Kobe Bryant with his aptly named 2009 single "Kobe Bryant." The show also honored the late Nipsey Hussle, who earned the show's humanitarian award last year, and featured a clip of Hussle's collaboration with DJ Khaled and John Legend, "Higher." Summer Walker and Chloe x Halle also wowed. Lizzo took home the award for Best R&B Artist and Richh won Album of the Year for "Please Excuse Me for Being Antisocial."
A History of Humanitarian Work: Beyoncé's Powerful COVID-19 and Black Lives Matter Efforts
Beyoncé has long been a philanthropist. This April, she took action against the COVID-19 pandemic along with her charity BeyGOOD, which worked in collaboration with Twitter founder Jack Dorsey to donate $6 million to Black essential workers fighting through the COVID-19 pandemic. Along with her mother, Tina Knowles-Lawson, Beyoncé also launched a campaign to promote testing in her hometown of Houston, Texas through the #IDIDMYPART initiative.
Beyoncé has been speaking out for the Black Lives Matter cause for a long time. She's long been raising her voice to support the critical cultural moment that the movement is experiencing, selectively championing important causes and using a mix of art, political activism, and exemplary talent to further her messages.
In an open letter on her website, addressed to the Kentucky Attorney General Daniel Cameron, demanding that he arrest the officers who murdered Breonna Taylor while she was asleep in her bed.
"The LMPD's investigation was turned over to your office, and yet all of the officers involved in the shooting remain employed by the LMPD," the letter read.

"Sgt. Jonathan Mattingly and Officers Myles Cosgrove and Brett Hankison must be held accountable for their actions. Don't let this case fall into the pattern of no action after a terrible tragedy," she wrote. "With every death of a black person at the hands of the police, there are two real tragedies: the death itself, and the inaction and delays that follow it. This is your chance to end that pattern. Take swift and decisive action in charging the officers ... The next months cannot look like the last three."
This week, Beyoncé's mother and Breonna Taylor's mother penned an open letter demanding that the Senate pass the HEROES (Health and Economic Recovery Omnibus Emergency Solutions) Act, which would make voting more accessible. The HEROES act would simplify voter registration requirements across the nation and would also make provide masks, gloves, and additional security to all polling stations.
"Many are advocating for structural change through legislation," the letter reads. "Among the most urgent is H.R. 6800, The HEROES Act, a bill passed by the House of Representatives in May that would provide a $3 trillion safety net for those most impacted by COVID-19, including disproportionately impacted Black and Brown communities, through provision of health care, economic security, justice system reform, housing, and voting access."

The letter was signed by Viola Davis, Jada Pinkett Smith, Whoopi Goldberg, Taraji P. Henson, and of course, Beyoncé herself.
Of course, Beyoncé's art has always been the locus of her power. On Juneteenth, Beyoncé released "Black Parade," and promised to donate all proceeds from the song to Black-owned small businesses. Now she's following that up with an even bigger project.
BLACK PARADEwww.youtube.com
Beyoncé's "Black Is King" Trailer Drops
Beyoncé is adding her talents to Disney+ with the release of Black Is King, a film that she wrote, produced, and directed (because of course she did). The film—which is set to arrive on the streaming service on July 31st—is based on songs from the Lion King: The Gift companion album that Beyoncé released in conjunction with the movie.
According to a press release, the film "reimagines the lessons of The Lion King for today's young kings and queens in search of their own crowns."Black Is King is a celebratory memoir for the world on the Black experience," the statement continued. "The film is a story for the ages that informs and rebuilds the present. A reunion of cultures and shared generational beliefs. A story of how the people left most broken have an extraordinary gift and a purposeful future."
Earlier today, she released a breathtaking trailer for the visual album:
BLACK IS KING Trailer (2020) Beyoncé Moviewww.youtube.com
The album contains hits including "Mood 4EVA," "My Power," and "Brown Skin Girl," which features Wizkid, Saint JHN, and Blue Ivy Carter (and which won the 8-year-old the BET HER Award on Sunday).
On Instagram, Beyoncé gushed about the film, which promises to be one of her biggest achievements yet—which is saying something, seeing that her visual music video, Lemonade, her iconic Super Bowl performance, and her Netflix Coachella documentary stand among her other infinite accomplishments.
"Black Is King is a labor of love," she wrote. "It is my passion project that I have been filming, researching and editing day and night for the past year. I've given it my all and now it's yours. It was originally filmed as a companion piece to "The Lion King: The Gift" soundtrack and meant to celebrate the breadth and beauty of Black ancestry. I could never have imagined that a year later, all the hard work that went into this production would serve a greater purpose.
"The events of 2020 have made the film's vision and message even more relevant, as people across the world embark on a historic journey," she continued." We are all in search of safety and light. Many of us want change. I believe that when Black people tell our own stories, we can shift the axis of the world and tell our REAL history of generational wealth and richness of soul that are not told in our history books.

"With this visual album, I wanted to present elements of Black history and African tradition, with a modern twist and a universal message, and what it truly means to find your self-identity and build a legacy.
"I spent a lot of time exploring and absorbing the lessons of past generations and the rich history of different African customs. While working on this film, there were moments where I've felt overwhelmed, like many others on my creative team, but it was important to create a film that instills pride and knowledge.

"I only hope that from watching, you leave feeling inspired to continue building a legacy that impacts the world in an immeasurable way. I pray that everyone sees the beauty and resilience of our people.
"This is a story of how the people left MOST BROKEN have EXTRAORDINARY gifts. Thank you to Blitz, Emmanuel, Ibra, Jenn, Pierre, Dikayl, Kwasi and all the brilliant creatives. Thank you to all at Disney for giving this Black woman the opportunity to tell this story.
"This experience has been an affirmation of a grander purpose. My only goal is that you watch it with your family and that it gives you pride.
Love y'all,
B"
We love you too, B.