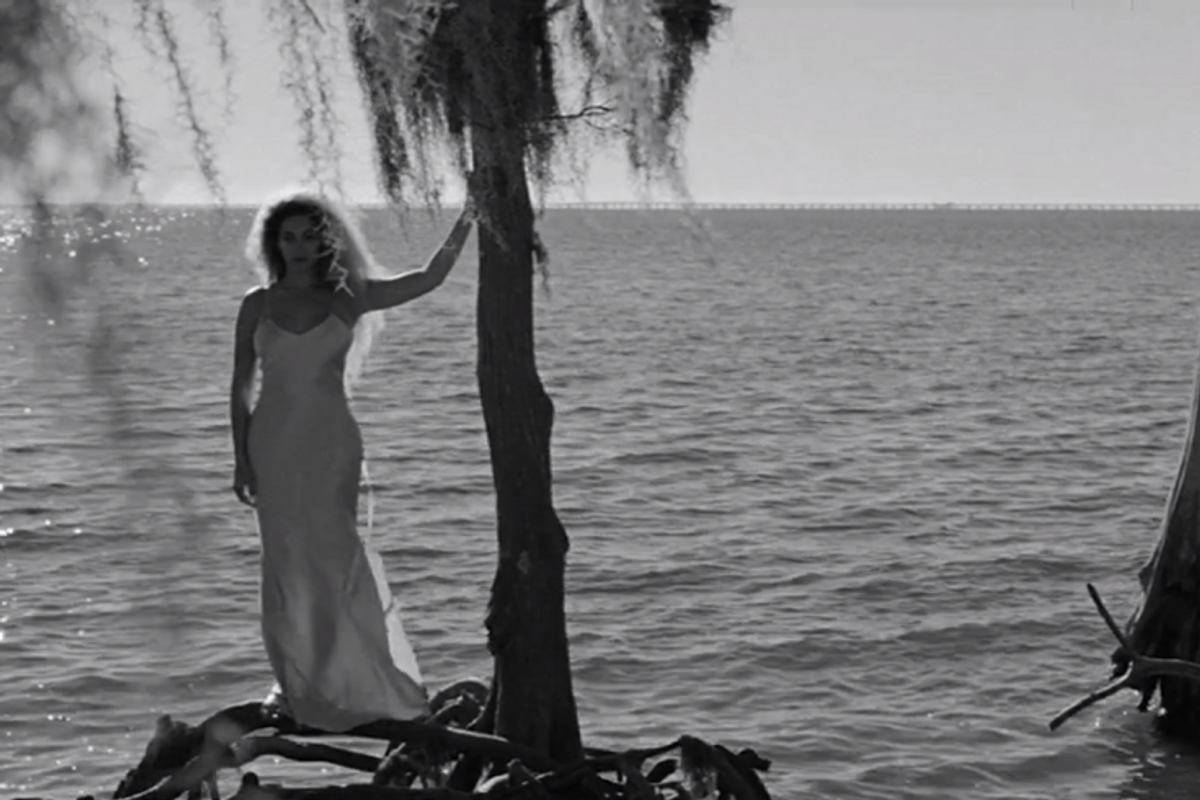 Beyoncé's Lemonade came out four years ago today. It's one of the best pieces of art ever made.

Beyoncé could have continued along the path she was on, creating hits and plotting sold-out world tours. Instead, she made a multimedia work of art that set a new standard for what an album could be—while paying tribute to all those who came before her, and creating a way to redemption for those who come after.
---
Beyoncé - Pray You Catch Me (Legendado) www.youtube.com
Not much can be said about Lemonade that hasn't already been written. Lemonade was before its time and yet fundamentally of its time. Rich with history, sparkling with collaborations and features, it's a sonic and visual experience that uses poetry, music, and visuals in a completely innovative way. It was personal and political, private and immensely public, ageless and timely.

Ostensibly about Beyoncé's relationship with Jay-Z and her response to his infidelity, it also dives deeply into many layers of existence, including the experience of being a Black woman in America, the experience of being a woman, the experience of trauma and the experience of finding redemption in community and resurrection in love. "It isn't just a collection of standalone pieces produced for pop-culture consumption; the culmination of these movements spans a broader political perspective of the black female experience," writes Suzanne Churchill.
Beyoncé ft Jack White - Don't Hurt Yourself ( Official Music Video ) Pre Promo www.youtube.com
Despite its lofty themes, Lemonade was produced for pop culture consumption, as much for young girls as it was for academics. It is a pop album in a high-art frame, highbrow and lowbrow, open for the taking and sharing. It reached far more people than any piece of literary theory, yet it broke open boundaries and created new spaces out of fragments, questions, and fractured memory.
"Lemonade reflects and advances a black womanist Afrxfuturism that asserts Itutu, precision of self-expression and direction within instability. Conjuring balance in the maelstrom of antiblackness produces an Afrxfuturist aesthetic teeming with seeming paradoxes that can be best understood through the idiom of diasporic vertigo," writes Valorie D. Thomas. In its contrasts, in its flickering multimedia images and constantly shifting soundscapes, it performs the alchemy that inspired its name. Lemonade is life out of lemons, it's shoots growing out of concrete, it's hope at the end of the world.
"[Lemonade] invokes so much of the Yoruba tradition, which is grounded in African tradition," said Dr. Amy Yeboah, associate professor of Africana studies at Howard University. "But it spreads across the diaspora. So you see it in Cuba, you see it in Louisiana. It's a cultural tradition that connects women of the diaspora together."
"This Womanist fairytale — featuring American Southern, Voodoo, and Afrofuturist utopian imagery — is most of all a personal film, though co-directed by seven people, including Beyonce Knowles-Carter herself," writes Miriam Bale for Billboard.
Beyoncé - Love Drought www.youtube.com
Sonically, the album is rich in tradition—blues, rock, and folk merge with rap and pop—and with this, it achieves a sense of intimacy and familiarity, creating an ongoing dialogue with the viewer. Visually, it's just as rich. In the video, dressed in innumerably rich costumes, shrouded in natural wonders, Beyonce stands in the legacy of ancient goddesses and modern feminism, twining them together to create something that—if not whole—feels alive in its brokenness.
Its purposeful and passionate use of poems by Warsan Shire sets it apart as well. Shire's poetry is haunting, full of ghosts and gods and witches and mothers. It perfectly compliments Beyoncé's songs, adding a sense of internal life to the project, giving voice to the pain that underlies the performance. Baptize me," Beyoncé recites, "now that reconciliation is possible. If we're gonna heal, let it be glorious. 1,000 girls raise their arms. Do you remember being born? Are you thankful for the hips that cracked? The deep velvet of your mother and her mother and her mother? There is a curse that will be broken." The poems, with their words like sermons, thread into the visuals which braid into the songs and together it all creates a synergy that can only be described as visionary, or perhaps occult, or most of all, sacred.

All in all, Lemonade is gospel for the modern era. Lemonade is a literal and figurative story of rebirth, of baptism by fire and of birth through death. Each time it's watched, the video offers more and more gems of wisdom, more hints about how we might all be reborn.
"Lemonade shimmers: history and current events remain co-present. As Beyoncé says, 'The past, and the future merge to meet us here,'' writes Carol Vernallis. More than ever we need recipes for rebirth and healing. Luckily, Beyoncé wrote us one in 2016.
Beyoncé - All Night (Video) www.youtube.com