MUSIC
These albums not only shaped the past decade: they'll determine what music will be in the coming one.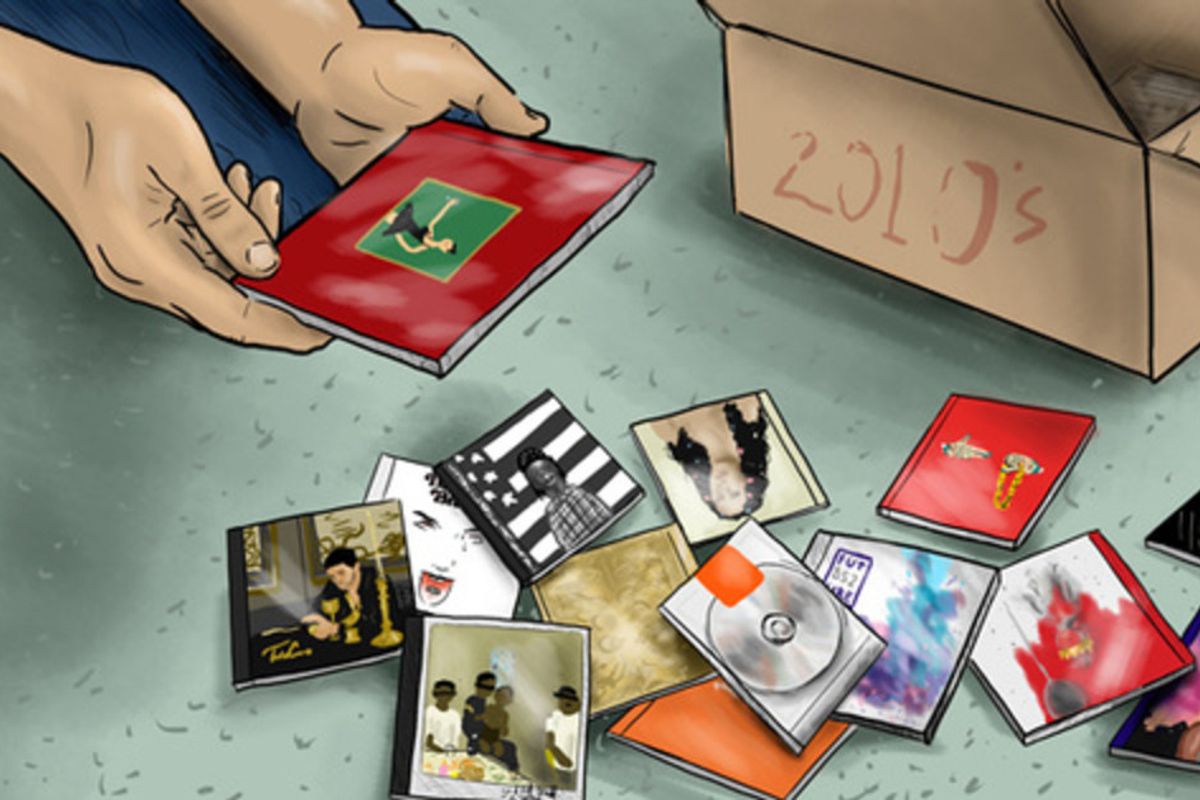 Music has never been extricable from culture, but in the 2010s, it became crystal clear that music has the ability to shatter norms and reshape the world.
Take a moment and think back to the albums that changed your life over the past decade. Most likely, they altered your worldview on a fundamental level, reshaping the way you saw yourself and your life. Some albums are capable of doing that on a massive scale, and that's what this list is intended to highlight: Albums that managed to shift the way people saw music, culture, and themselves, and that paved the way for what music might become.
10. Kendrick Lamar — To Pimp A Butterfly
Kendrick Lamar - Alright www.youtube.com
Poet and firebrand Kendrick Lamar creates music that's both timeless and entirely of its time. To Pimp A Butterfly was Kendrick at his most inspired and radioactive. It cut into the pain and rage and hope of an era and a community and a person, and collapsed time into a tangle of sound and memory that reviewers and listeners will be playing and attempting to understand for decades.
It made an indelible impact, becoming a juggernaut and an easy name-drop, but fortunately, To Pimp A Butterfly searingly addresses all the trappings of fame, shallow understanding, and commodification that follow it, retaining an indomitable inner life.

9. BTS — Map of the Soul: Persona
BTS (방탄소년단) MAP OF THE SOUL : PERSONA 'Persona' Comeback Trailer www.youtube.com
The 2010s were the era that K-pop entered the global theatre, and nobody dominated more than BTS. Their album Map of the Soul: Persona may not have been critically lauded, but it was legendary in the hearts and minds of their fans.

Map of the Soul: Persona was glittery boy-band pop, pristine and starry-eyed. Rolling Stone described it as "harmless" and "impregnable," but BTS fans are not harmless, and neither is K-pop, but what this band is is unavoidable, pervasive, and larger-than-life. To ignore the impact of BTS would be to miss a massive portion of the 2010s and to remain blind to what the 2020s will hold, which is a far more globalized music industry that, no matter what, will always, always have its beloved boy bands.

8. Carly Rae Jepsen — E•MO•TION
Carly Rae Jepsen - Run Away With Me www.youtube.com
Jepsen's seminal debut album gained her a cult of devoted fans and spread a wide-eyed sense of pop optimism across the 2010s. Just what about E•MO•TION was so singular, so moving, so unforgettable? As Jia Tolentino wrote, "Carly Rae Jepsen is a pop artist zeroed in on love's totipotency: the glance, the kaleidoscope-confetti-spinning instant, the first bit of nothing that contains it all." As one Twitter user insinuated, "Carly Rae Jepsen's E•MO•TION is for all the gays in a healthy relationship for the first time."

Electric Lit argued that with E•MO•TION, Jepsen ushered in a "queer renaissance," one that exists because her music occupies a familiar feeling: "the struggle to express a desire that isn't supposed to exist." From the raw ecstasy of "Run Away With Me" to the dreamy chaos of "LA Hallucinations," Jepsen's music is desperate to bridge the gap between the self and others, to leave behind loneliness, to cut straight to the feeling; and in that, it left an indelible impact for those who were there to experience its majesty.
7. Lana Del Rey — Born To Die
Lana Del Rey - Born To Die (Official Music Video) www.youtube.com
Lana Del Rey is, rightfully, credited with ushering in the wave of sad-girl pop that is still going strong, thanks to artists like Halsey, Billie Eilish, and of course, Del Rey herself. The artist formerly known as Lizzy Grant emerged onto the scene as a cyborgian, hyper-manufactured industry plant refracted through a vintage DIY filter, and now she's one of the voices of her generation, whispering platitudes on America and sex and sadness in the same breath.

Born To Die was Del Rey at her most manufactured, her most glittery, her must luxurious and opulent and depressed, and it's beautiful in its decay. Its kitschy Americana held no bars, and from its nihilistic title track to the sultry "Blue Jeans" to the weird glamour of "Off To the Races," it effectively spawned an entire generation of flower-crowned teens who are now sad Trump-hating adults.

6. Lady Gaga — Born This Way
Lady Gaga - Born This Way www.youtube.com
Lady Gaga might not have the clout she did at the beginning of the 2010s, but back in the day, Gaga was a wild card and game-changer, crushing norms, changing fashion, and standing up for the LGBTQ+ community. She was proudly weird and always daring, and she created a whole space for weird pop stars after her. She blended drag, burlesque, and shock-factor performance with genuinely catchy pop, and created a new blueprint for stardom in the process.

Born This Way was arguably her crown jewel, the point where she blossomed into the true freak she'd been waiting to become. It had the ecstatic "You and I" and "Edge of Glory." It marked an era where pop music became inextricable from its visual component and political implications—not that it ever really was.

5. Lizzo — Cuz I Love You
Lizzo - Truth Hurts (Official Video) www.youtube.com
Most likely, Lizzo will be even bigger in the 2020s; after all, she only just released her major label debut album. But Lizzo has already changed the game, creating space for a type of beauty and confidence that pop stars before her have only played at or insinuated. From her refusal to tolerate inadequate men to her willingness to rock thongs at baseball games and her decision to pay tribute to the great women who paved the way for her, at this point, Lizzo might be our best hope for the future.
Cuz I Love You synthesized the hits Lizzo had been building up for years, twining them into a euphoric testament to self-love in spite of a world that teaches you to hate yourself. From the celebratory "Good As Hell" to the buoyant mic-drop that is "Truth Hurts," the album is a gift to us all.

4. Lil Nas X — 7 (EP)
Lil Nas X - Old Town Road (Official Movie) ft. Billy Ray Cyrus www.youtube.com
Lil Nas X's fantastic "Old Town Road" was the perfect conflagration of factors that hit at exactly the right time. It was also supremely, unbelievably catchy. Using memes, blurring genres, buying beats off SoundCloud, coming out on Twitter and being open about how he made "Old Town Road" while sleeping on his sister's couch, Lil Nas caught us all in our heartstrings and created a blueprint for music's undeniably post-genre and multimedia future.
X's EP, "7," wasn't a high-quality work so much as it was a cultural flashpoint, an inspiration that no doubt has marketing executives scrambling to replicate it.
3. Billie Eilish — when we all fall asleep, where do we go?
Billie Eilish - bad guy www.youtube.com
Billie Eilish is changing the game in terms of what pop music can sound like and how pop stars should act. Any producer who attempts to drag pop songs into clear-cut and old-fashioned forms involving high notes and beat drops will find themselves challenged by the innovative, glitchy, challenging tunes that Eilish creates with her brother in their childhood home. Her refusal to fit into gender norms and her insistence on standing up for things like climate make her emblematic of what a future of Gen-Z stars might look like.

when we all fall asleep, where do we go? is a peculiar album. A lot of its songs don't even try for radio play, and some are so sad they can take your breath away. Some are barely whispers, like the moody "when the party's over," while others are cracked and angry and challenging, like the smash hit "bad guy," but all of it's undeniably unforgettable and boundary-breaking.

2. Kanye West — My Beautiful Dark Twisted Fantasy
Kanye West - Runaway (Full-length Film) www.youtube.com
Provocative, raw, and almost bloody with emotion, Kanye West's My Beautiful Dark Twisted Fantasy continues to reverberate nearly 10 years after it was released. West's album is full of unexpected dips into guitar solos and alien sounds that draw it into new dimensions; it's peppered with cheesy lines, dirty jokes, and shockingly confessional lyrics; and no matter how far West has gone into Christianity, My Beautiful Dark Twisted Fantasy is an enduring ode to the devils we all know.

Its best songs, "All Of the Lights," "Devil In A New Dress" and "Runaway," explore what West has always been working through—the ragged edge where sin meets faith, and where success meets corruption. MBDTF sinks its teeth into the rough, infected parts of the world and creates something great out of them. Though we might not see West exploring this territory again, his work sparked an entire generation of artists looking to dive into the world he created.
1. Beyoncé — Lemonade
Beyoncé - Formation www.youtube.com
Beyoncé's brilliant Lemonade has yet to be surpassed, even as other artists try to mirror her surprise video-drop format. Lemonade mixed poetry, visuals, and beautiful, kaleidoscopic music to form a treatise on freedom, love, black women's power, and of course, Jay-Z. It made an indelible impact on all the music that came after it, setting the standard for what a truly creative release could look and sound like.
From the harmony-laden "Pray You Catch Me" to the gritty Jack White duet "Don't Hurt Yourself" to the triumphant, anthemic "Freedom," Lemonade changed everything. We can only hope we'll see more like it in the 2020s.