MUSIC
Beyoncé and Jay-Z Renew Their Wedding Vows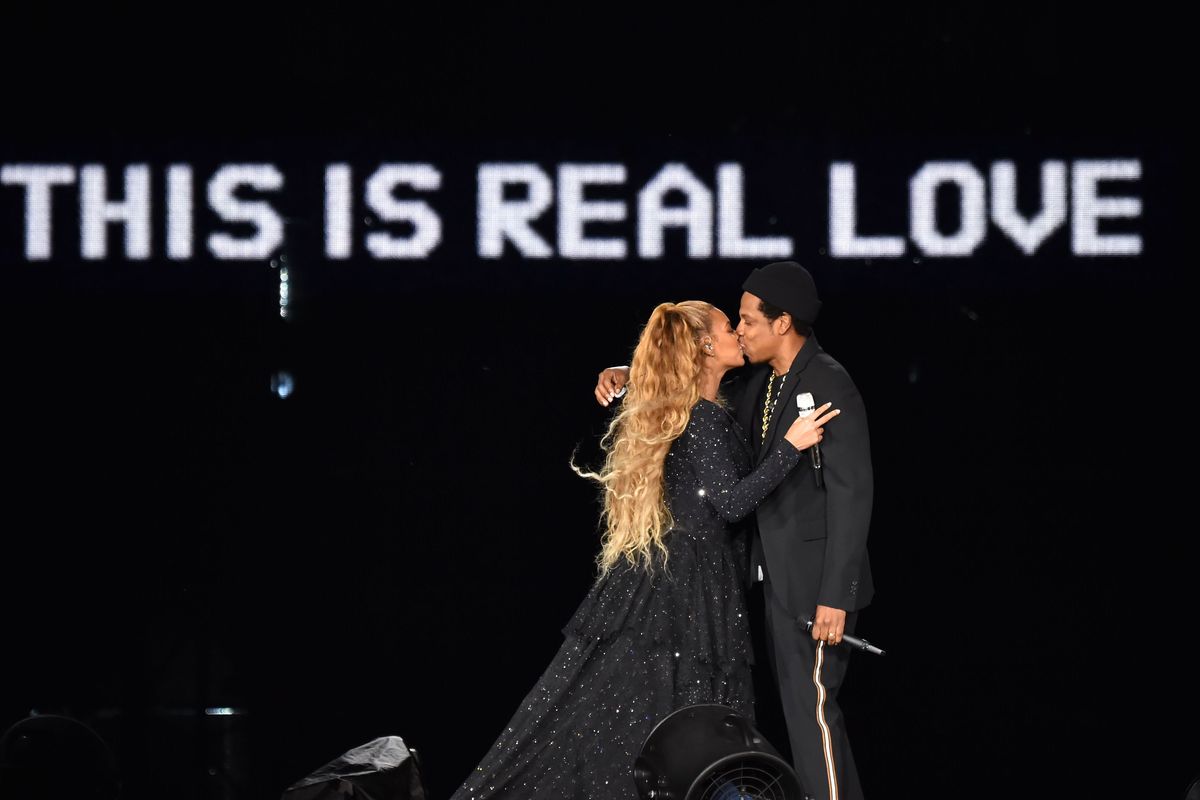 Wishing the couple a happy 10th anniversary!
Can you believe Beyoncé and Jay-Z have been happily (for the most part) hitched for ten years? Time sure files when you're fabulous. And to celebrate the marital milestone, The Carters chose to renew their wedding vows. After sipping some sour Lemonade and drowning out chatter about cheating over the years, the couple has stayed strong and they kept their "for better or for worse" vows close to their hearts. As for the "for richer or for poorer" part? That wasn't really going to pose a problem.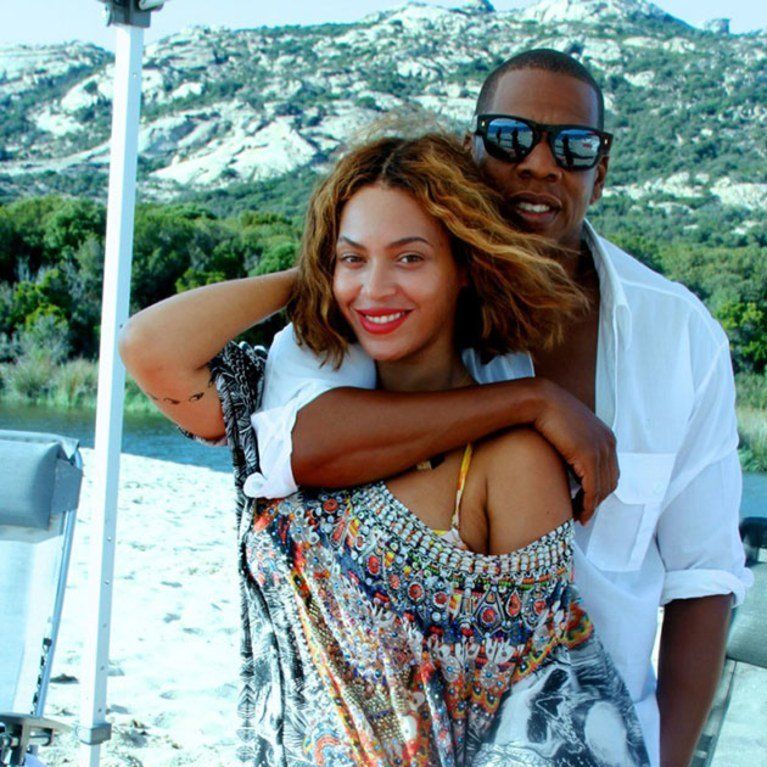 The perfect "10" media.brides.com
So, here there are. Ten years, three children, and a long-lasting love that keeps on keepin' on. And just before Queen Bey celebrated her 37th, she partied with her king, celebrating their 10th anniversary in an extra-special way by making it official another time around.

Beyoncé posted about her joy on her website. "At 36, I became a new mother of three. I breastfed my twins. I renewed my vows with my husband of 10 years…" Seems like Beyoncé is bringing in 37 with a huge helping of happiness. A family she cherishes, a career that's on fire, and a flock of fans who are always buzzing for Bey.
As per Us Weekly, "Fans began speculating about a secret vow renewal when the 'Apes–t' collaborators kicked off their On the Run II tourOpens a New Window. in the U.K. on June 6. Their concert ended with a montage of home videos, including one of the couple facing each other and bowing their heads during what appeared to be an intimate ceremony with their three children present. Beyoncé looked stunning in a strapless white gown, while Jay-Z, 48, wore a white suit. The scene ended with the message: 'This is real love.'"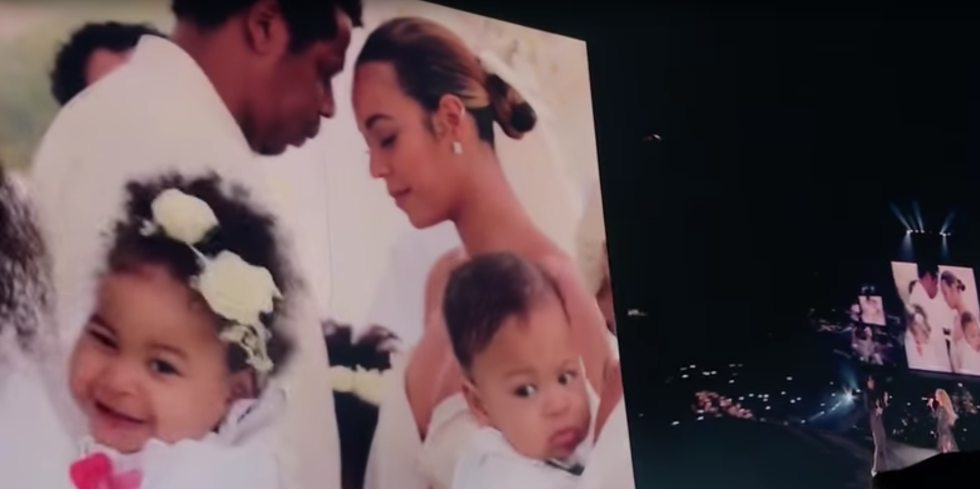 "Love on Top" hips.hearstapps.com
So much for a "secret." We all know the Carters are keen on keeping their fans on their toes, yet their moves are always meticulously mapped out. But when it comes to their personal relationship, keeping it real is what this couple is all about. Gossip always goes around – especially when it comes to celebs - but these two stay grounded. Their recent renewal ceremony only proves they are together, on the same team, and still tight.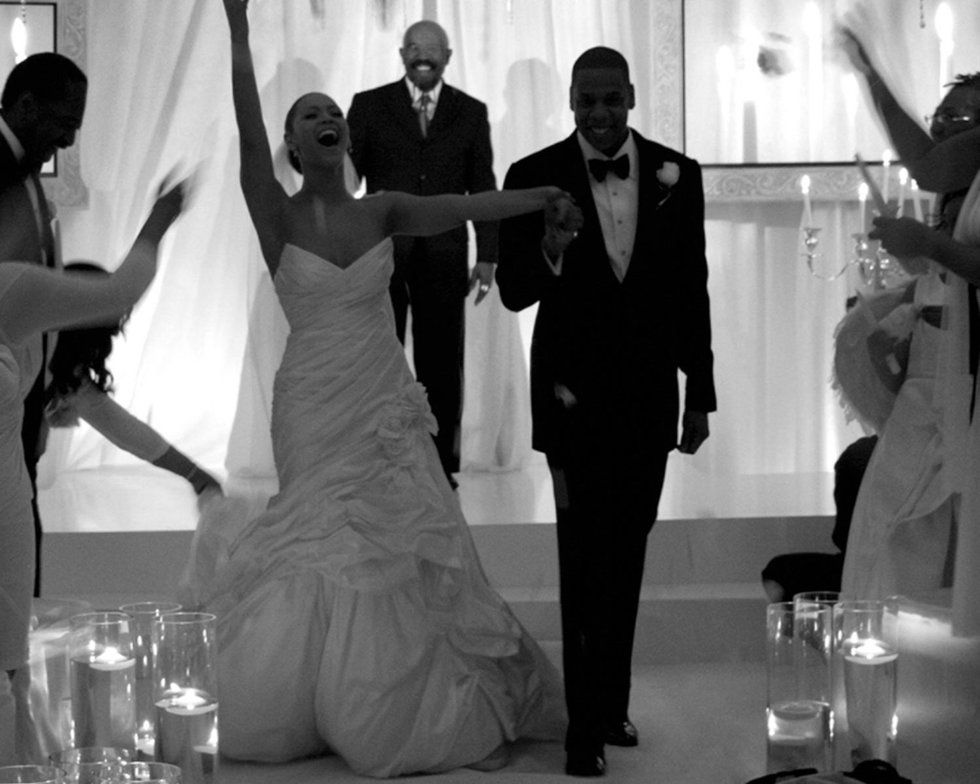 10 years ago at their wedding celebration www.theknotnews.com
Will we see Beyoncé and her boo make it to the 20-year mark? And will they continue to expand their fabulous family? Time will tell, but 'till then, we hope the couple remains "Crazy in Love."
---
Melissa A. Kay is a New York-based writer, editor, and content strategist. Follow her work on Popdust as well as sites including TopDust, Chase Bank, P&G, Understood.org, The Richest, GearBrain, The Journiest, Bella, TrueSelf, Better Homes & Gardens, AMC Daycare, and more.
---
POP⚡DUST | Read More...
From The Cosby Show to the Checkout Line, Geoffrey Owens Gets Acting Offer from Tyler Perry
Kim K. Back to Ask Trump to Let Another Inmate Go
From Pablo to Pornhub - Kanye in Talks to Collab with the XXX Site