popular
The "bad guy" singer made a powerful statement in an artsy video.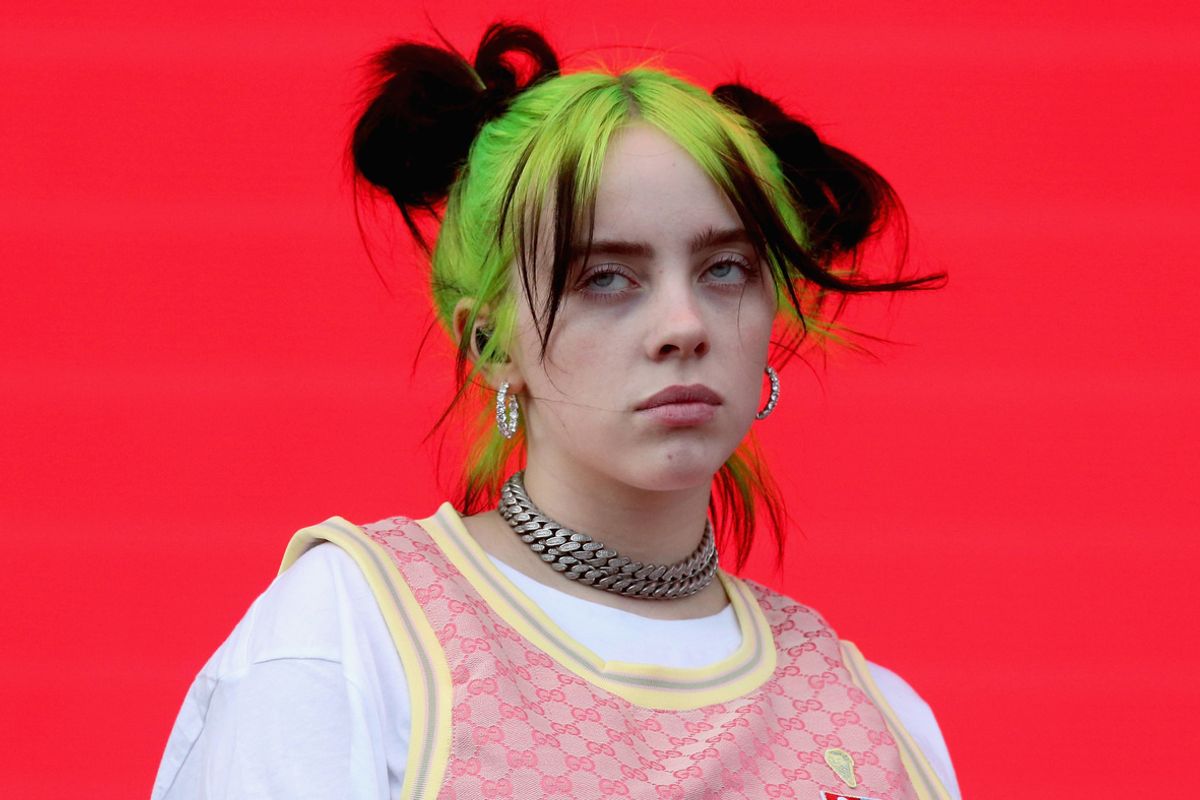 Since first emerging with her single "Ocean Eyes" at a mere 14 years old, Billie Eilish's aesthetic has become almost inextricable from her music.
The anti-pop star's clothing choices are discussed almost as often as her songs, but there's a powerful motive behind her baggy look. In a 2019 Calvin Klein ad, Eilish illustrated why she chooses to dress the way she does: "Nobody can have an opinion [on my body] because they haven't seen what's underneath. Nobody can be like, 'she's slim-thick,' 'she's not slim-thick,' 'she's got a flat ass,' 'she's got a fat ass.' No one can say any of that because they don't know." She's mentioned that she uses fashion as a "defense mechanism" and "security blanket," using it to convey a message about her personality while maintaining a sense of mystery.
But Eilish, who turned 18 a few months ago, made a surprisingly revealing statement at the first show of her Where Do We Go? World Tour in Miami. During an interlude, a video was displayed of Eilish removing her hoodie as she made a powerful statement on sexism she experiences as a public figure.
"You have opinions about my opinions, about my music, about my clothes, about my body," Eilish says in a recording played throughout the arena. "Some people hate what I wear, some people praise it, some people use it to shame others, some people use it to shame me. But I feel you watching, always...And nothing I do goes unseen, so while I feel your stares, your disapproval or your sigh of relief, if I lived by them, I'd never be able to move."
Removing her tank top in the video, Eilish's voice continued: "Would you like me to be smaller? Weaker? Softer? Taller? Would you like me to be quiet? Do my shoulders provoke you? Does my chest? Am I my stomach? My hips? The body I was born with—is it not what you wanted? If I wear what is comfortable, I am not a woman. If I shed the layers, I'm a sl-t. Though you've never seen my body, you strill judge it and judge me for it. Why?"
As the video ends, Eilish—who's then seen from the waist up in only a bra—slips into a pool of black liquid. Especially considering her fanbase is predominantly young women and girls, it's an important message to get across; women can exist separately from their bodies. The choice to hide it (or not) is entirely up to them, and it shouldn't affect how they're perceived.
Watch the clip below.
.@BillieEilish showed off her body in visuals during an interlude at her concert in Miami. https://t.co/zhj3lHNH4b

— Pop Crave (@Pop Crave) 1583809504.0
---
Want to READ MORE?