CULTURE
Your cellulite is excellent, and these days not even Barbie has a thigh gap.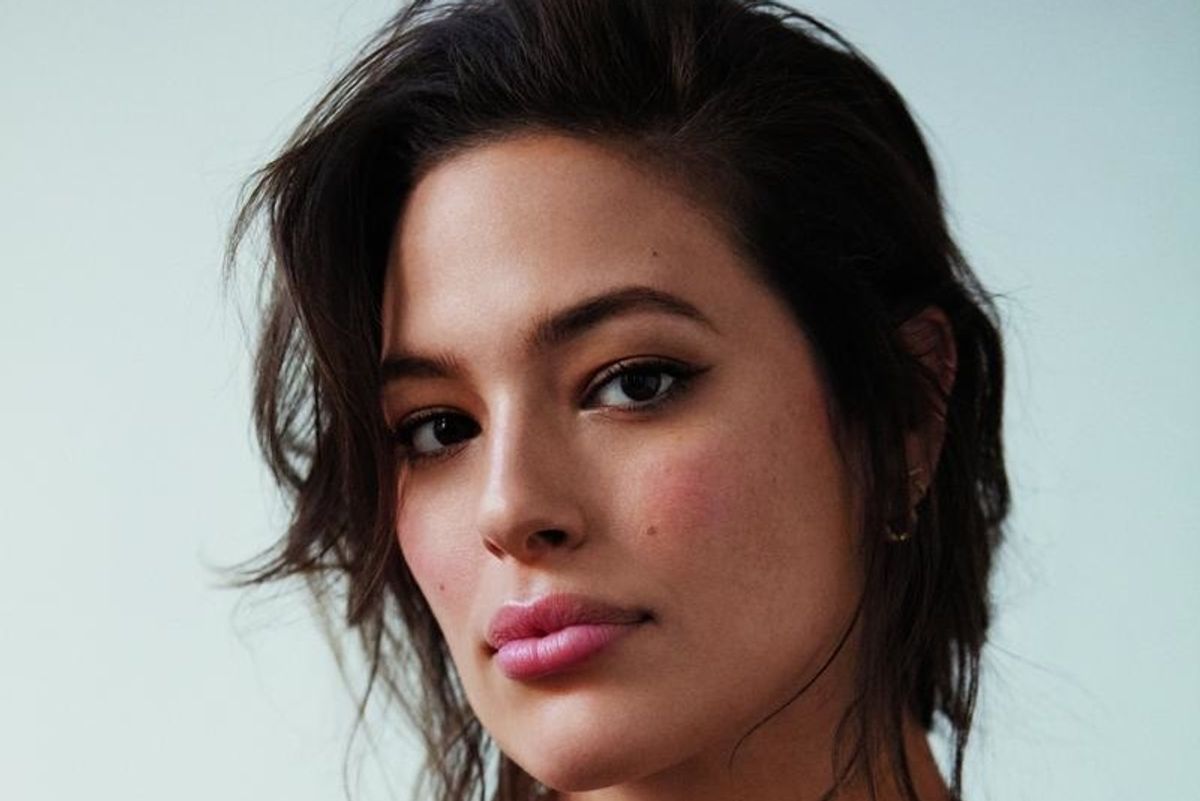 The age-old truism that media is designed to make you feel like shit about how you look is still mostly true in 2019.
At least now a growing number of celebrities use their social media influence to shame toxic messages. Body positivity is a well-intended movement designed to promote self-confidence. High-profile activists include supermodels who've been pigeonholed into "plus size" categories, as well as actors and fashion designers who publicize their own struggles trying to meet the Hollywood's unhealthy beauty standards.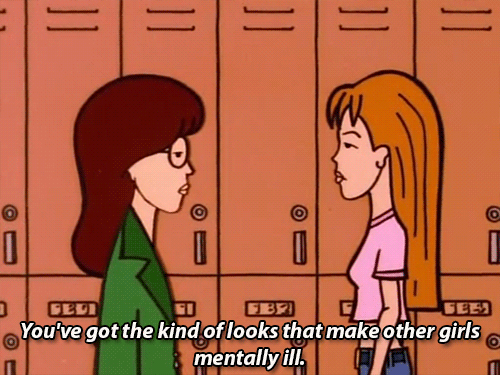 GIPHY
With the core message of combating unrealistic beauty standards, the topic of body positivity is an active conversation on Instagram and Twitter, with both men and women calling for a "revolution" in media. These are seven of the most outspoken celebrities protesting the need to label body types and who promote self-acceptance.

7. Sam Smith
Sam Smith recently shared his personal struggles with body image on Instagram, posting the first shirtless images of himself. "In the past, if I have ever done a photo shoot with so much as a t-shirt on, I have starved myself for weeks in advance and then picked and prodded at every picture and then normally taken the picture down," Smith wrote on Instagram. "Yesterday I decided to fight the f*ck back. Reclaim my body and stop trying to change this chest and these hips and these curves that my mum and dad made and love so unconditionally. Some may take this as narcissistic and showing off but if you knew how much courage it took to do this and the body trauma I have experienced as a kid you wouldn't think those things."

He also spoke to actress and activist Jameela Jamil about the pressures to fit male body standards and struggling to accept himself.
I Weigh Interviews: Ep 1: Sam Smith speaks to Jameela Jamil about body image and self acceptance. youtu.be
6. Amy Schumer

The controversial comedian has always made self-confidence and self-love the topic of her work. From her recent film I Feel Pretty to her ongoing sketch comedy show Inside Amy Schumer, her satire mocks the unrealistic body standards promoted by the media, as well as the self-hate it engenders in young women.
Inside Amy Schumer - New Body youtu.be
5. Demi Lovato

The 26-year-old pop singer has long been vocal about her own struggles with an eating disorder and the practice of fat-shaming on social media. Recently, she criticized a headline that focused on her weight. "Unlike in the past, I'm not triggered, I'm not upset that someone wrote a headline about my 'fuller figure,'" she posted on Instagram. "I'm angry that people think it's OK to write headlines about people's body shapes. Especially a woman who has been so open about being in recovery from an eating disorder. I'm not upset for myself but for anyone easily influenced by the diet culture."
She added, "Too many people today base their ideal body weight off of what OTHERS tell us we should look like or weigh. Articles like these only contribute to that toxic way of thinking," she wrote. "If you're reading this: Don't listen to negative diet culture talk. You are more than a number on a scale. And I am more than a headline about my body shape."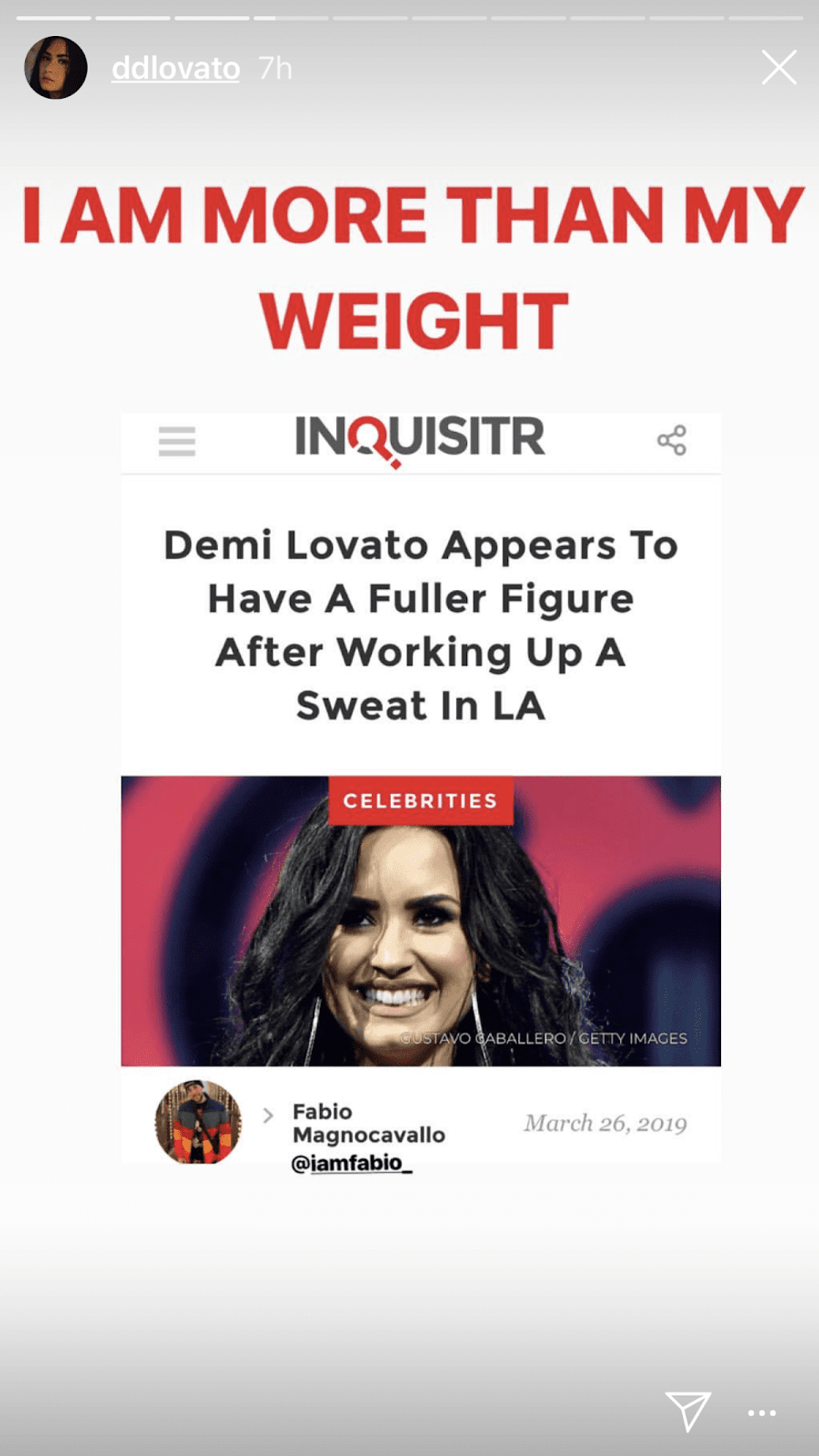 Instagram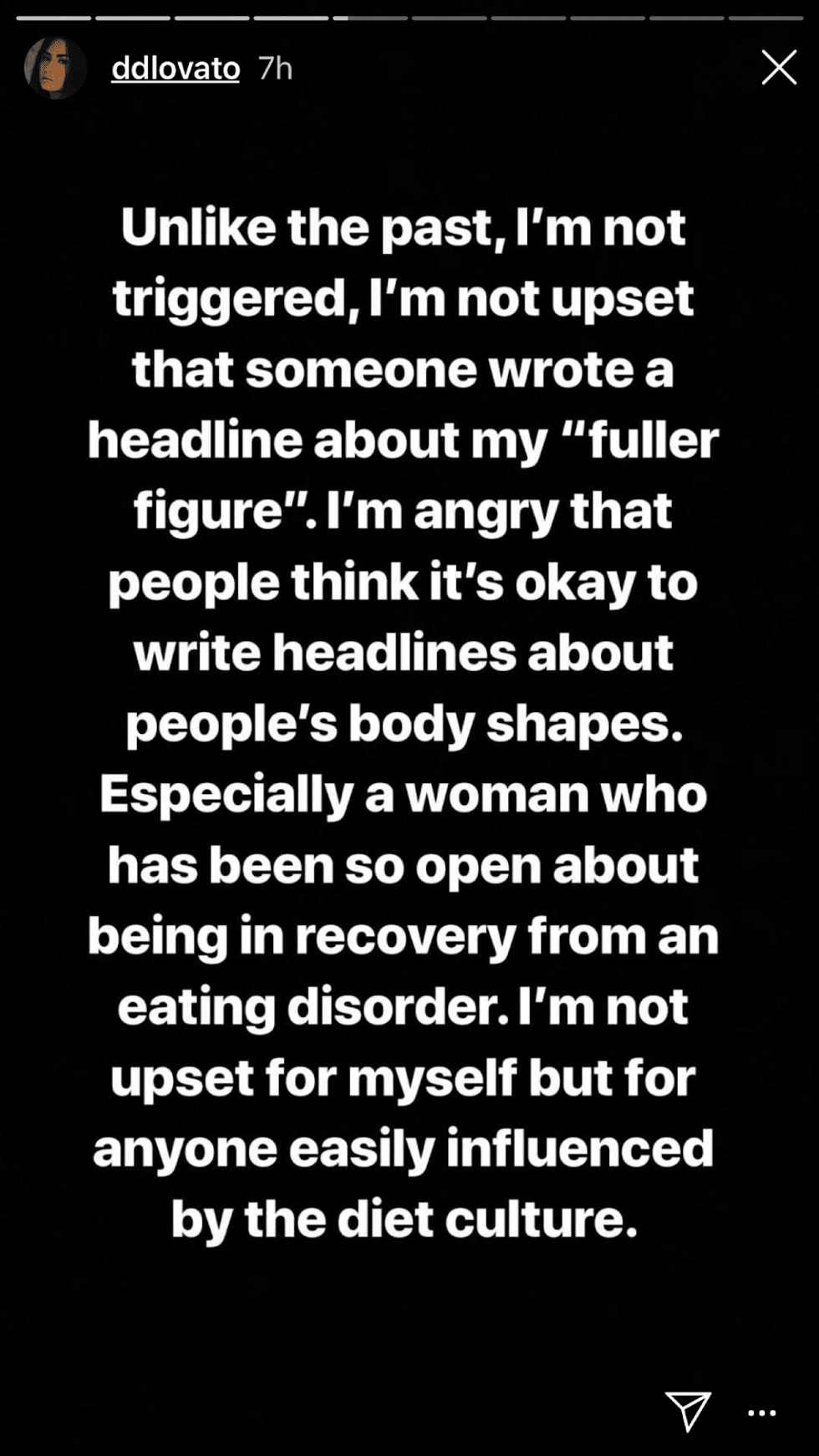 Instagram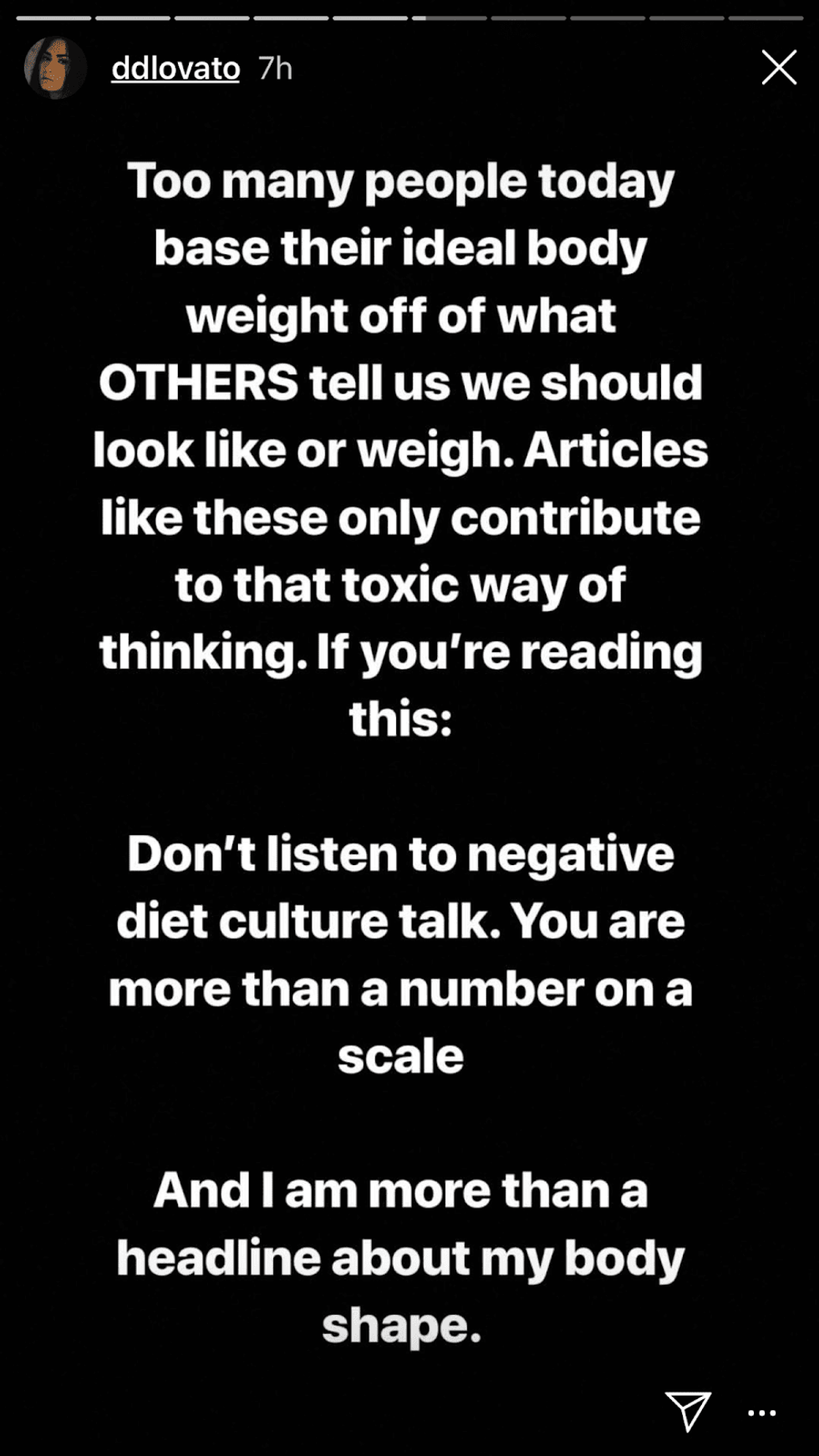 Instagram
4. Iskra Lawrence
"Beauty is not perfection," the 28-year-old model posted to Instagram. "It took me a long time to realise that. I want to see the texture of my skin, the folds, wrinkles, scars, tiger strips, celluLIT - all the things that make me me. Our skin is a journal of our lives, our expressions, a timeline of how we got to this point."
The English model has publicly criticized Victoria's Secret for their lack of size inclusivity. She's also been outspoken against labeling women as "plus size," particularly in response to the term being ascribed to her. She posted, "To me unretouched and raw images always make me feel more connected to the subject - I feel like I'm truly seeing them. I hope that you're feeling OK today even if you've been scrolling through airbrushed and perfected images, please remember the real you is best you can be and how God created you to be perfectly imperfect. Sending you all love in all ways❤️"
3. Chrissy Tiegan

The former Sports Illustrated model often shares candid photos of herself, including the realities of her post-pregnancy body. She posted "Mom bod alert" on Twitter with a proud, full view of her stretch marks.
mom bod alert! https://t.co/Qi0BZvLmhV

— christine teigen (@christine teigen) 1533000127.0
She went on to explain, "Instagram is crazy. I think it's awesome people have killer bodies and are proud to show them off (I really do!!) but I know how hard it can be to forget what (for lack of a better word) regular ol' bodies look like when everyone looks bonkers amazing." Teigen continued, "Also I don't really call this 'body confidence' because I'm not quite there yet. I'm still super insecure. I'm just happy that I can make anyone else out there feel better about themselves!"
also I don't really call this "body confidence" because I'm not quite there yet. I'm still super insecure. I'm just… https://t.co/4N2fS1fQMo

— christine teigen (@christine teigen) 1533001018.0
2. Jameela Jamil

The Good Place actress is extremely active in promoting body positivity and protesting toxic diet culture, including detailed takedowns of the Kardashians' promotional products targeting young women. She also runs a body positivity project called "I Weigh" that encourages people to judge their worth based on something other than a number on a scale.
She's also been frank about criticisms of her own changing shape. "Now that I'm slimmer, people are listening to the same thing I've been saying for six f*cking years, and that's the biggest problem," Jamil said. "When a bigger woman speaks out against the way society, the industry, the media and everyone around us shames us, you call them 'jealous' and 'bitter,' and you victim-blame them and make them feel like they're a failure. But suddenly a slender actress on an NBC sitcom says it and everyone acts like it's the first time anyone has ever heard it."
1. Ashley Graham
Initially labeled as a "plus-size" supermodel, Graham has become an author, motivational speaker, and fashion designer to promote body positivity. When Mattel honored her by designing a Barbie in Graham's image, she demanded that the doll didn't have a thigh gap. From her Instagram account to her TED talk, she insists on normalizing body rolls, cellulite, and other perceived imperfections as elements of natural beauty.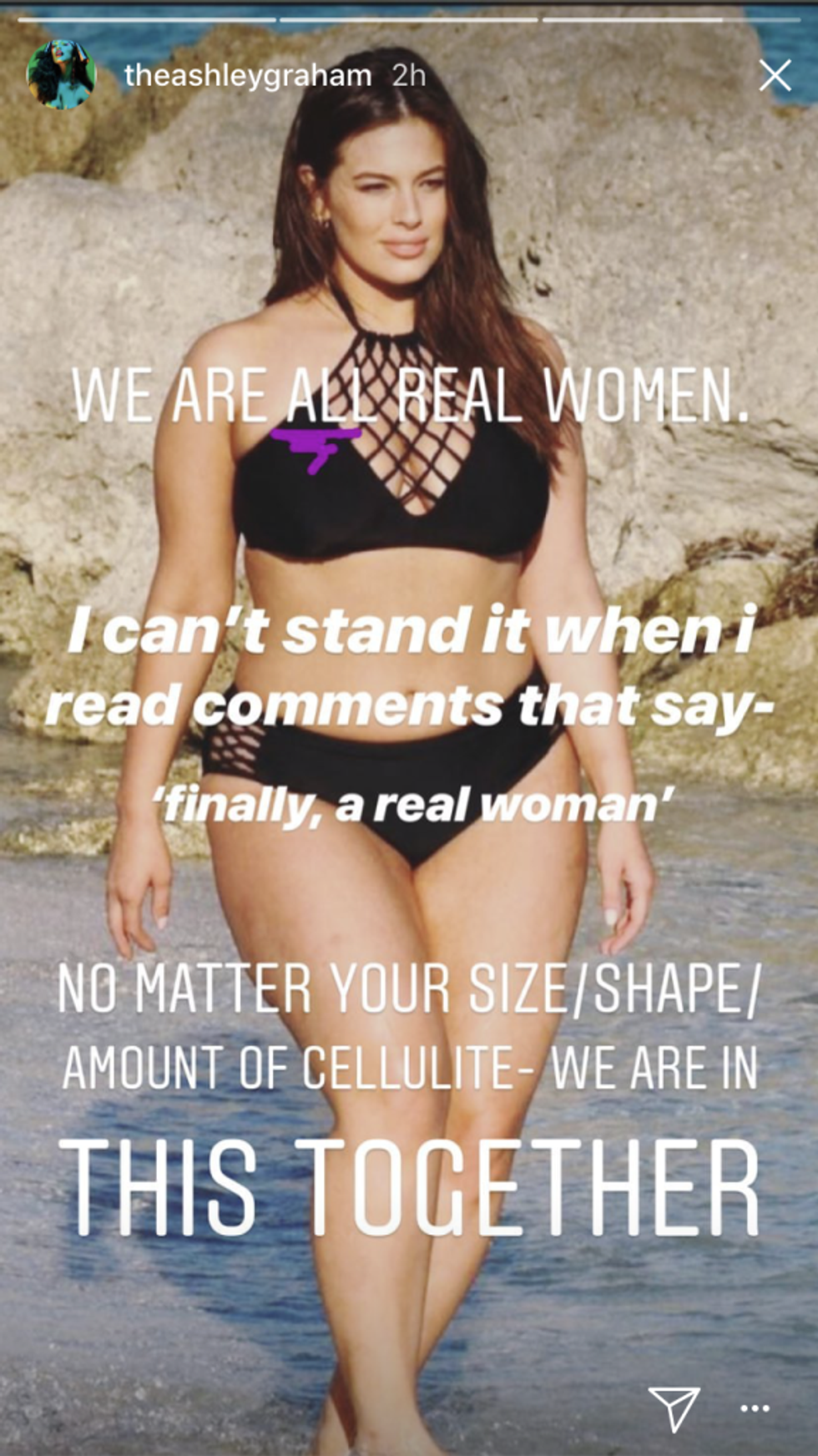 Instagram
Plus-size? More Like My Size | Ashley Graham | TEDxBerkleeValencia youtu.be
---
Meg Hanson is a Brooklyn-based writer, teacher, and jaywalker. Find Meg at her website and on Twitter @megsoyung.

---
POP⚡DUST | Read More...
Every Time Jameela Jamil Has Taken Down the Kardashians
Six Songs about Fluid Sexuality More Outrageous than Ariana Grande's or Billie Eilish's