MUSIC
A look back the music history of controversial songs about fluid sexuality, gender, and non-monogamy.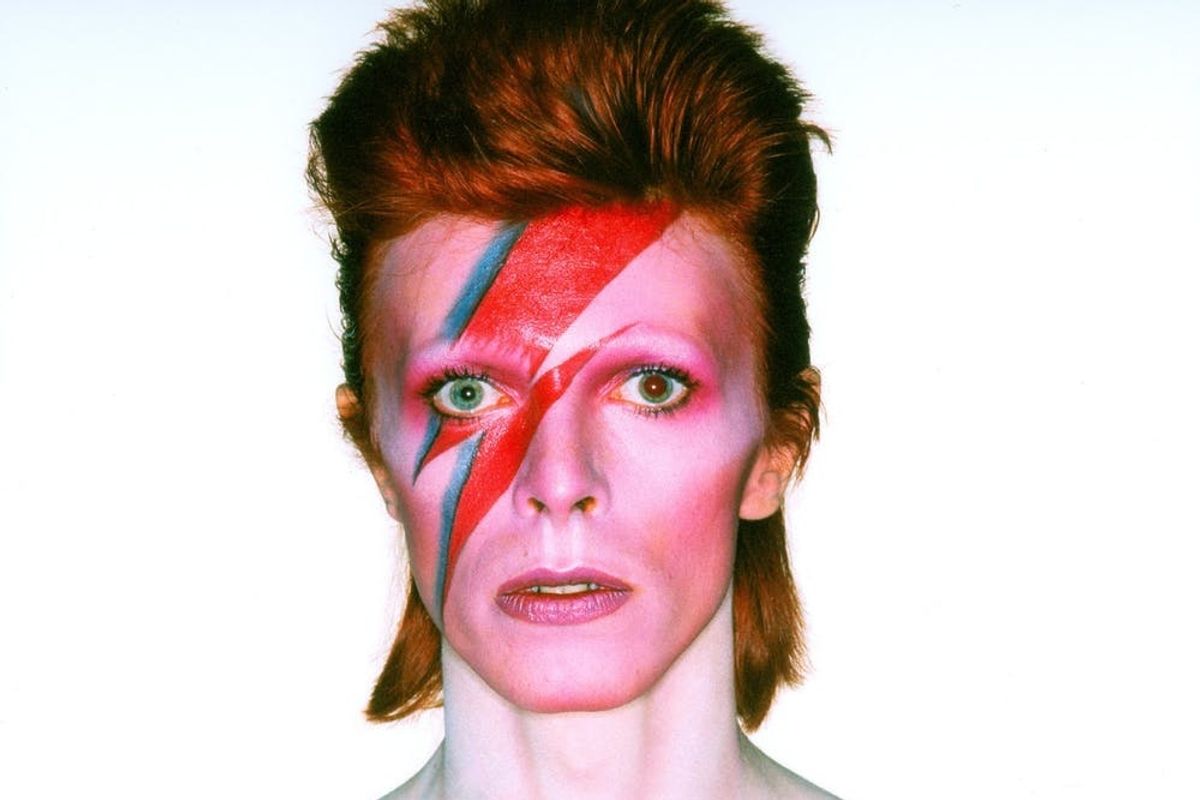 Medium
People seem to have a lot of spare time to speculate over Ariana Grande and Billie Eilish.
The singers' respective new songs contain a few flippant lines that hint at non-heterosexuality. Grande sings the line "I like women and men" in "Monopoly," her collaboration with the openly bisexual singer Victoria Monet, and Billie Eilish released a single with the inflammatory title, "Wish You Were Gay." Both generated wild buzz that they were coming out as LGBTQ artists. According to the singers, neither song is about "coming out," which only generated more backlash against the artists for queerbaiting (in addition to driving their fan armies to defend their pop queens).
For better use of time, there's a much richer history to look back on for songs that made controversial stances on sexuality. Released when homosexuality was still a criminal act in most states, some of these tracks were designed to outrage with their fluid expressions of non-heteronormative love, while others were simple responses to marginalized experiences. Here are seven classic songs celebrating fluid sexuality.
1."Rough Boys" by Pete Townshend (1980)
Written by The Who frontman after he went solo, the lyrics to Townshend's typically 80s, guitar-driven rock song feature undeniable descriptions of the decade's leather gay scene. Townshend sings, "Rough boys don't walk away / I wanna buy you leather / Make noise try and talk me away / We can't be seen together. In the chorus, he repeats, "Tough boys / Come over here / I wanna bite and kiss you.

He later described his inspiration in a 1990 interview with Newsweek: "I know how it feels to be a woman because I am a woman, and I won't be classified as just a man." He explained, "In a way it was a coming-out. That it was a real acknowledgment of the fact that I'd been surrounded by people that I really adored — and was actually sexually attracted to — who were men. And that the side of me that responded to those people was a passive side, a subordinate side."
2. "Triad" by David Crosby (1967)
The politically-charged folk songwriter and founding member of The Byrds wrote this ode to polyamory amidst the free love counterculture of the 60s. Still, The Byrds rejected the song, with Roger McGuinn calling it a "freak-out orgy tune." Crosby opens with the first line, "You want to know how it will be / Me and her or you and me." He continues, "you know we love each other it's plain to see / There's just one answer comes to me / Sister lovers, some of you must know about water brothers."

3. "A.C.D.C." by Sweet (1974)
The long-haired, glam rock band sang about loving a bisexual woman. In 2006, Joan Jett, despite never confirming or denying her own rumored bisexuality, recorded a cover version. The first verse begins, "She got girls / Girls all over the world / She got men / Every now and then / But she can't make up her mind." With "A.C. D.C." considered to be a coded reference to bisexuality, Sweet's song is a celebrated bisexual anthem of the hair band era.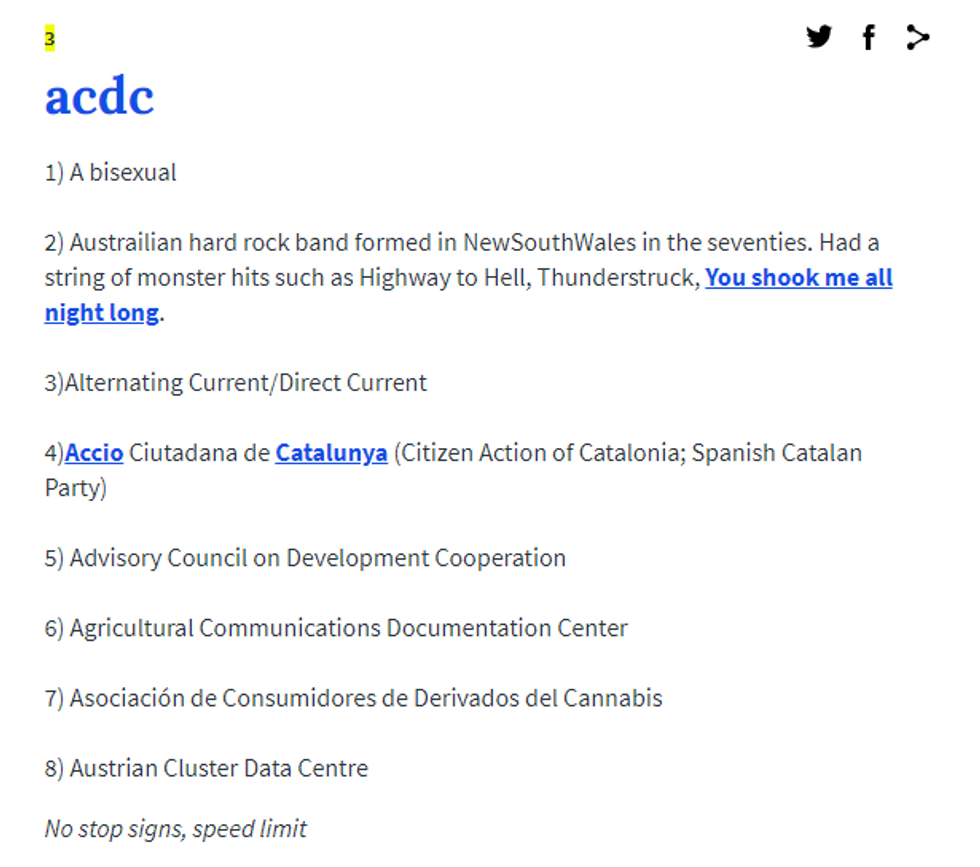 Urban Dictionary
4. "Rebel Rebel" by David Bowie (1974)
Of course, the glam rock legend David Bowie has a number of celebrated queer anthems, many of which were released when they were most taboo. Highbrow Magazine praises "Rebel Rebel" for its appreciation of androgyny and gender non-conformity. Bowie sings, "You've got your mother in a whirl / She's not sure if you're a boy or a girl / Hey babe, your hair's alright. Hey babe, let's go out tonight / You like me, and I like it all." The song "brought the concept of bisexuality to the front lines of popular culture," while Bowie's overtly sexual expressions of gender confusion laid a foundation for non-binary representation in mainstream media.

5. "See My Friends" by The Kinks (1965)

Frontman Ray Davies said he wrote the song in mourning over his late sister, but the track has mostly been remembered as one of the first pop songs about homosexuality. Its cryptic lyrics simply repeat, "She is gone / She is gone and now there's no one left / 'Cept my friends / Layin' 'cross the river." In the 60s, "friend" was a heavily coded word for "homosexuality," so much so that the record company changed the title from "See My Friend" to "See My Friends" in hopes of avoiding controversy. However, Davies later acknowledged a queer reading of the song, telling Q magazine, "It's more about camaraderie than homosexuality, but then it borders on that."

6. "Jet Boy, Jet Girl" by Elton Motello (1978)

Long before Call Me By Your Name romanticized an affair between a teenage boy and an older man, Alan Ward, frontman of the punk rock band Elton Motello, sang, "I took his arm and kissed his lips / He looked at me with such a smile / My face turned red / We booked a room into the Ritz / Ooh, he gives me head." Ward later reflected, "Judging by the emails I receive, my lyric has touched many more people and seems to ring a chord in many more hearts" since its first release. The song's chorus repeats, "Jet boy jet girl / Gonna take you round the world / Jet boy, I'm gonna make 'em penetrate / I'm gonna make you be a girl / Ooh, jet boy jet girl."
---
Meg Hanson is a Brooklyn-based writer, teacher, and jaywalker. Find Meg at her website and on Twitter @megsoyung.

---
POP⚡DUST | Read More...
Every Time Jameela Jamil Has Taken Down the Kardashians
Now in Theaters: 5 New Movies for the Weekend of April 5