Film News
Bryan Cranston is facing a backlash for playing a quadriplegic in "The Upside." What's the problem?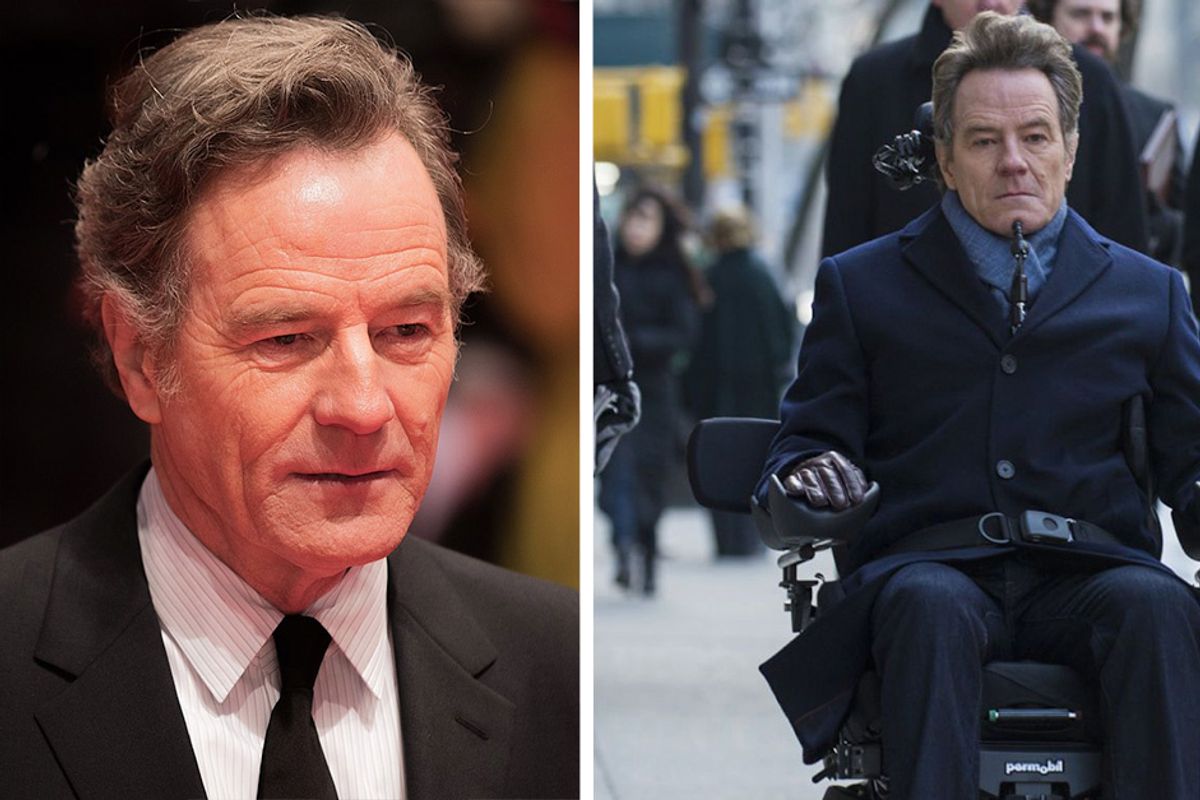 Louder with Crowder
Despite being able-bodied, Bryan Cranston was cast as a paralyzed man in The Upside, opposite Kevin Hart.
In the painstakingly cliche film, the 62-year-old portrays a quadriplegic billionaire who hires a comically unqualified ex-con as his caretaker (Hart). It's the Weinstein Company's adaptation of the 2011 French comedy-drama gold mine The Intouchables, which banked on the disparities between two men's race, class, and physical ability to inject humor and moralize with the trite message, "Despite everything, aren't we all the same?"
In fact, we're not. Backlash against Cranston's casting has ranged from decrying Hollywood's ableism to accusing the film of exploiting disabilities as a lazy plot point. While The Upside as a whole has been widely panned by critics as a "cliche-ridden, exploitative mess," Cranston has defended his right to portray a quadriplegic.
"As actors we're asked to play other people," Cranston told the British Press Association. "If I, as a straight, older person, and I'm wealthy, I'm very fortunate, does that mean I can't play a person who is not wealthy? Does that mean I can't play a homosexual?" He added that he's "very aware of the need to expand the opportunities for people with disabilities." But when it comes down to meeting those needs in the entertainment industry versus good business decisions, he said, "I don't know, where does the restriction apply, where is the line for that? I think it is worthy for debate to discuss those issues."
Kevin Hart, who's faced an ongoing backlash against homophobic Tweets from 2011, said that the film's producers were looking for "box office success" when casting the lead roles. Similarly, Cranston simplified his right to play the part as good publicity, saying, "I think being cast in this role as a quadriplegic really came down to a business decision."
That infuriated some members of the disabled community on Twitter. Dominick Evans, a filmmaker and activist, posted, "So, as a wealthy person he could take economic opportunities away from disabled actors who work an average five days a year?" He also criticized, "[A]s a wheelchair user I could never play Bryan Cranston, so why the hell can he play someone like me?!"
Further, as a wheelchair user I could never play Bryan Cranston, so why the hell can he play someone like me?! Tha… https://t.co/9RxFvzJRTD

— BDG | Dominick Evans (@BDG | Dominick Evans) 1546967285.0
Of course, the problem lies in that exact dearth of differently-abled actors. Among Hollywood's general paucity of inclusive representation, casting can't come down to who's actually shared the character's experience as opposed to who's the most talented actor. As one Twitter user responded, "I'd support this if you could find a disabled person with the acting chops of Bryan Cranston." Filmmaker and writer Ryan O'Connell responded, "That's part of the issue. There are disabled actors but no disabled stars and studios don't want to bet on an unknown…"
But the greater problem underlying the poor quality of The Upside and movies like it is the one-note narrative that Hollywood perpetuates for all disabled people. While the film and its French original are "based on a true story," they both employ the identical formula that major studios use in every movie featuring a disabled character. For instance, 2014's You're Not You stars Academy Award Winner Hilary Swank as a sophisticated pianist in advanced stages of ALS who hires an irresponsible and unqualified college student as her caretaker, played by Emmy Rossum (Shameless). Like Cranston and Hart's characters, the two form an unlikely bond; in both films, the rebellious, young caretakers learn how to take responsibility and appreciate their lives while they work to show their disabled employers that life can still be worth living. If you want a version of that same story but with a romantic twist, there's 2016's Me Before You, with Emilia Clarke (Game of Thrones) filling in the role of unqualified caretaker learning to love a disabled millionaire (Sam Claflin of The Hunger Games), who prefers to die rather than live a paralyzed life (yes, disabled communities were enraged at this one, as well).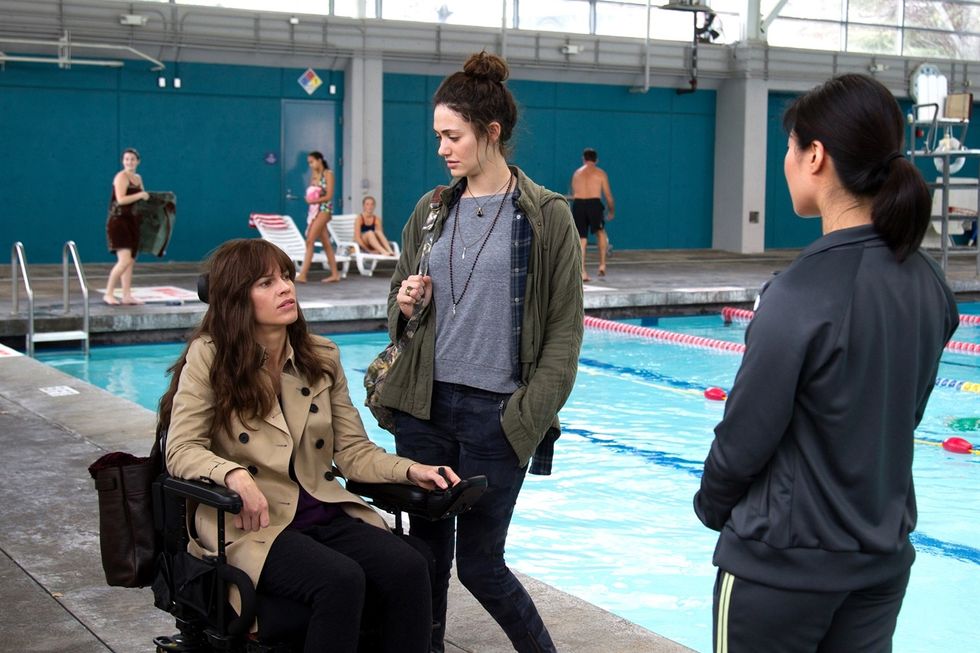 Indie Does It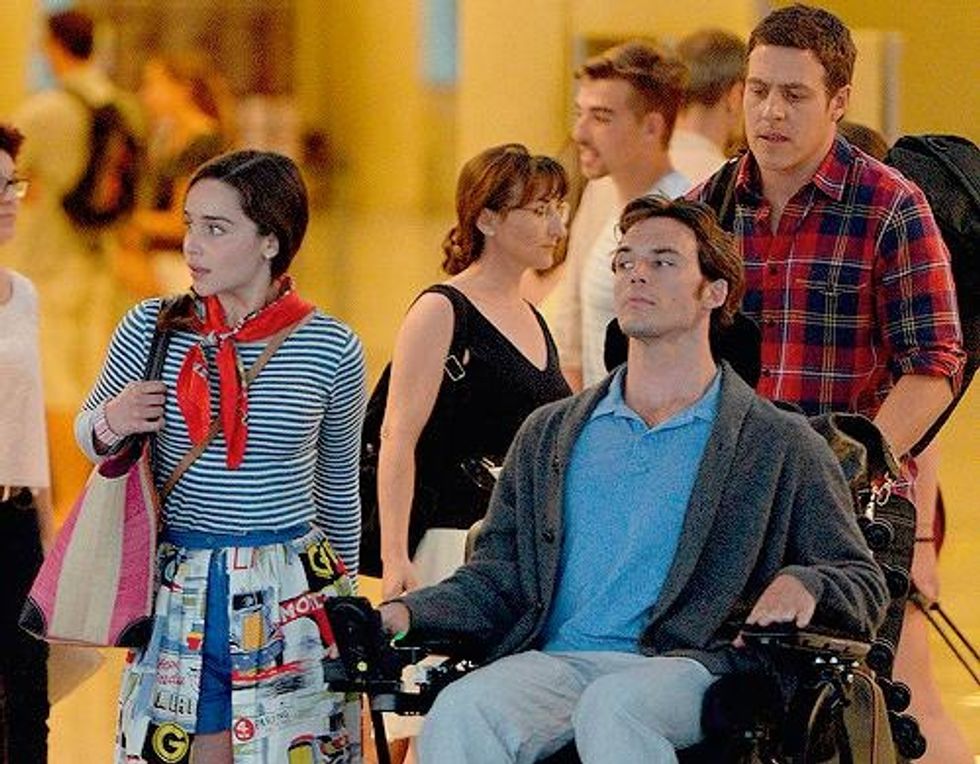 IMDB
Before taking issue with Bryan Cranston not being paralyzed and yet portraying a paralyzed man, the first order of concern should be with the flat, victimizing stories told about those with disabilities. The Theory of Everything gave a laudable depiction, albeit with a cultural icon to give it story. So did Still Alice, with Julianne Moore portraying a "shockingly accurate" battle with a neurological disease. With The Upside, America shouldn't be mad about Bryan Cranston not being disabled; they should want a better reason for formulaic, one-dimensional plots than "business decisions."

---
Meg Hanson is a Brooklyn-based writer, teacher and jaywalker. Find Meg at her website and on Twitter @megsoyung.
---
POP⚡DUST | Read More...

The Most—and Least—Anticipated TV Shows Coming in 2019
The Bachelor's Colton Underwood's Virginity Is a (Bad) Joke
Margot Robbie Signs On to Play Barbie in New Live Action Film