Music Features
CeeLo Green Has Less Than Zero Room to Criticize Nicki Minaj, Cardi B, and Megan Thee Stallion
The "I Think You're Crazy Singer" has come through with another tone deaf take.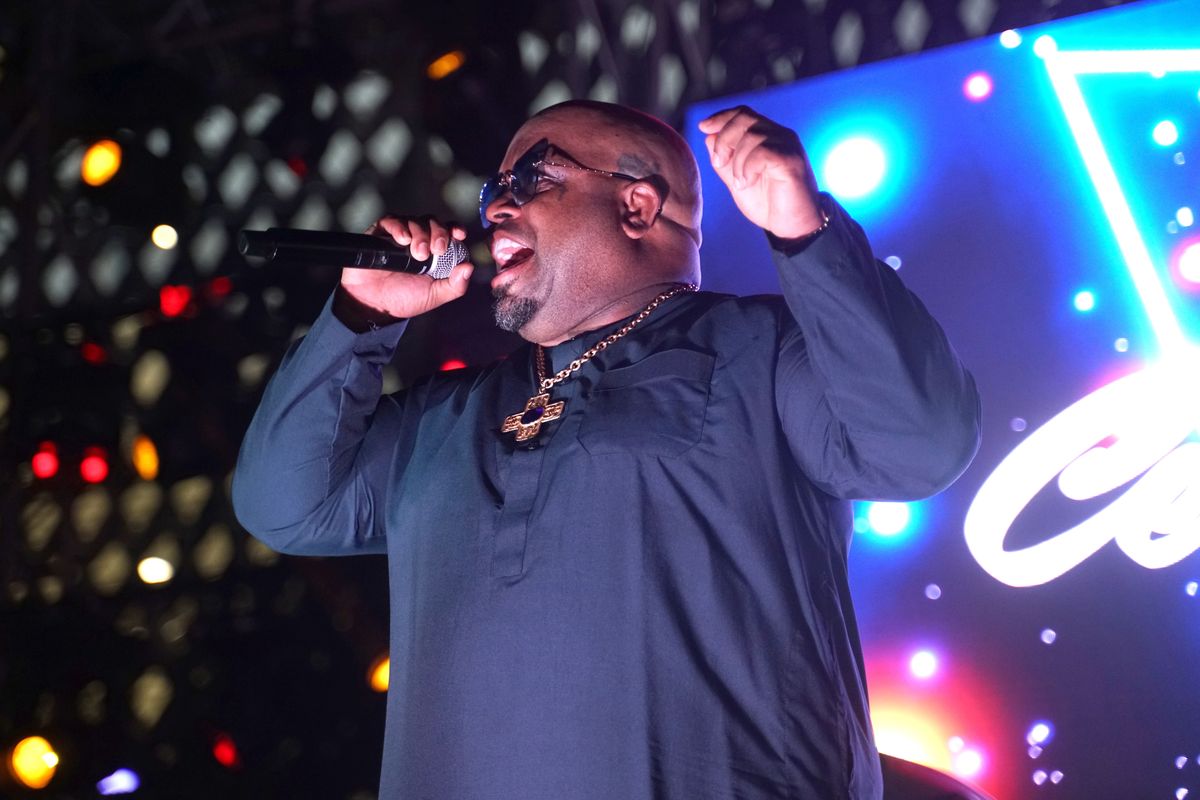 Photo Image Press/Shutterstock
Singer-Songwriter CeeLo Green, AKA Thomas Callaway, has one of the best voices in the music industry.
It's why he was chosen as one of the original celebrity coaches on The Voice. He can hit notes that other singers wouldn't dream of and deliver them with some serious power. But too often the way he chooses to use that impressive voice is...not great.
When the Gnarls Barkley singer isn't harkening back to the golden era of soul music with breathy tones and soaring notes, he's harkening back to the fetid era of old school misogyny, with takes that are completely tone deaf.
---
Take, for instance, his recent interview with Far Out Magazine, promoting his new album, Ceelo Green Is Thomas Callaway, during which he took a break from patting himself on the back ("My music is believable, it's real, it's authentic, it's convincing, it's genuine, it's integrable, it's commendable") to throw some shade at three of the most prominent Black women working in music today: Nicki Minaj, Cardi B, and Megan Thee Stallion.
Setting aside the fact that his complaint that music has "regressed" and no longer meets his "personal and moral" standards has been around for as long as people have been getting old—CeeLo turned 45 this year—his specific accusations against these icons are pure cringe. Calling Nicki Minaj one of the "heads of state," he claimed that the way she approaches her career "feels desperate."
By way of contrast, a move that is not at all desperate is a man in his 40s—who hadn't had a hit in six years—rebranding as "Gnarly Davidson" and attending the Grammys coated in gold, with some bizarre head gear. That's what CeeLo did in 2017. Because looking like an off-brand C-3PO is a sign of artistic integrity.

CeeLo's main complaint seems to be with these women's open embrace of their sexuality, saying, "There was once a time when we were savvy enough to code certain things. We could express to those it was meant for with the style of language we used. But now music is shameless, it is sheer savagery."
In particular he calls out Cardi B and Megan Thee Stallion, accusing them of using "salacious gesturing to kinda get into position." CeeLo joins the prestigious ranks of people like Ben Shapiro in criticizing the explicit sexuality in the music of the "WAP" collaborators.
Music Used to Be Clean!
But even if he finds himself in some awful company—and has since issued a half-assed apology via Instagram—maybe he has a point? Like, was there a need for explicit language like "wet-ass p****?" Back in the day musicians could cover adult topics with coded language, as in Dinah Washington's 1954 single "Big Long Slidin' Thing," which was about her boyfriend's trombone…
Cardi B - WAP (w/ Ben Shapiro) [iMarkkeyz Edit]www.youtube.com
Or, if they had really wanted to sing a song celebrating their bodies, they could have used the kind of clever double entendre that British Jazz musician Harry Roy used in his 1931 song "My Girl's P****". Wait? Why is that censored? He was talking about her cat!

The reality is that standards change over time. A word that used to have a polite primary meaning that provided a tenuous cover for sexual subject matter is now considered purely obscene. At the time, a title like "My Girl's P****" probably raised some eyebrows, but the idea of a song like CeeLo's 2010 "**** You" would have been unthinkable.
Likewise, the long tradition of using clever sexual language to shock and amuse audiences hasn't gone anywhere, but modern audiences would probably find the old way of doing that through labored, winking metaphors corny. We prefer lines like, "He got a beard, well, I'm tryna wet it / I let him taste it, now he diabetic."
At least these days we can celebrate the anatomical realities of healthy genitalia, unlike Harry Roy who said of his girlfriend's "cat," "No matter what the weather's like / It's always dry and warm" (you might be doing something wrong then, Harry). Standards change, and if that means treating sexual content with less shame and secrecy, isn't that a good thing? Maybe we can all just figure out how to enjoy this kind of music without exposing it to children who are too young to appreciate its message.
As for CeeLo, would he have been offended by the 1951 hit "Sixty Minute Man" by Billy Ward and His Dominoes? That song featured lyrics boasting, "There'll be fifteen minutes of kissin' / Then you'll holler 'Please don't stop' / There'll be fifteen minutes of teasin' / Fifteen minutes of squeezin' / And fifteen minutes of blowin' my top."
A History of Bad Takes
Is that the kind of "code" CeeLo misses, or is it just the fact that women are now allowed to be "salacious" and brag about their sexual prowess that bothers him? CeeLo claims to "get it" when it comes to "the independent woman and being in control, the divine femininity and sexual expression," but then he asks, "at what cost?" Which is another way of saying "I definitely don't get it."
Of course, this is hardly the first time CeeLo Green has let his toxic masculinity show. In 2011, after music journalist Andrea Swensson published a review that was critical of a lackluster concert performance, CeeLo tweeted at her, "I'm guessing ur gay? And my masculinity offended u? well **** U!"
And, of course, we can't forget why CeeLo left the voice in 2013. Supposedly it was an "amicable" parting of the ways that just happened to line up with a legal case in which CeeLo was accused of slipping a woman drugs in a restaurant and sexually assaulting her.

Regardless of the facts of that case—he accepted one charge of "furnishing a controlled substance"—the way CeeLo addressed it on Twitter was, to borrow his phrase, "disappointing on a personal and moral level." He claimed, "Women who have really been raped REMEMBER!!!"
He would later delete that tweet, but a couple days after the fact his TBS reality show CeeLo Green's The Good Life was canceled, along with multiple concert appearances. His career never really recovered, which may explain why he's now coming after three women with much higher profiles than his own. Is he just trying to start beef and garner some headlines? Because if that's the move, it "feels desperate."
CeeLo Green Is Thomas Callaway premiered in June to widespread indifference. "WAP," meanwhile, has sold nearly a million copies in its first week and is slated to be among the biggest debuts in decades.