Culture News
Halsey, Timothee Chalamet, and 12 Other Celebrities Protesting for George Floyd
Some Hollywood elite took to the streets to protest in support of the Black Lives Matter movement.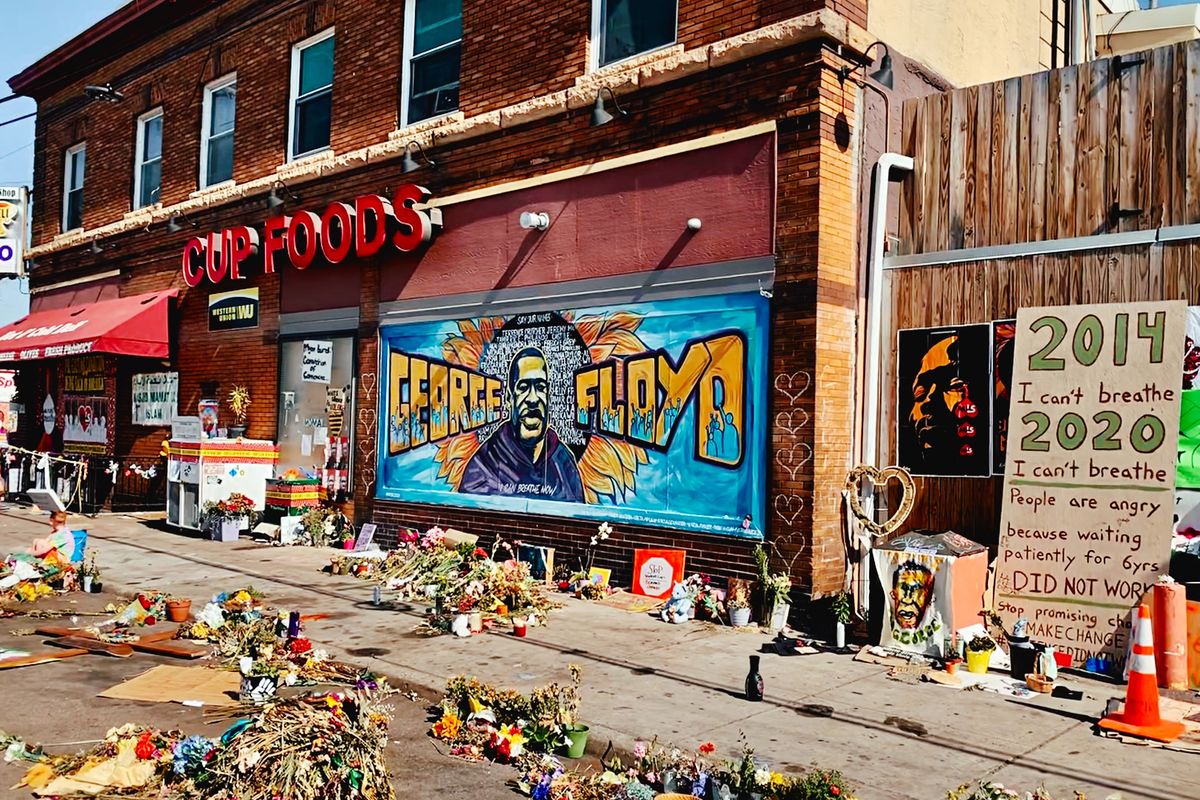 Photo by Jean Beller (Unsplash)
Major cities across America have been host to a number of protests following the death of George Floyd, an unarmed black man who was murdered by former Minneapolis Police Officer Derek Chauvin.
---
Hundreds of protesters were arrested over the weekend, as disturbing videos of police officers brutalizing civilians began to surface. Nevertheless, thousands and thousands of demonstrators stuck it out in support of the Black Lives Matter movement—and even in protective gear, a few familiar faces were among the crowds.
Here's a list of celebrities spotted protesting against police brutality.
Ariana Grande
Ariana Grande's ponytail was seen among a crowd of peaceful protesters in Los Angeles, along with a "Black Lives Matter" sign. "All throughout Beverly Hills and West Hollywood we chanted, people beeped and cheered along," the pop star tweeted. "We were passionate, we were loud, we were loving."
Halsey
At some protests, police began using painful rubber bullets, one of which caught Halsey. "This hit me through layers of fabric and for that, I am extremely privileged. At close range it would have caused serious injury," she wrote in a post on her Instagram story along with a photo of her bruise. "They were fired at peoples' [sic] faces during peaceful moments of the demonstration. If you're a follower of mine who 'stays out of it' but you're mad I have a little bruise for doing nothing unlawful, than [sic] consider you ARE on our side. Because the reality of what happens to black folks everyday is worse than my bruise. So get involved. Sign. Donate. Share links. Do something."
Fiona Apple
Singer/songwriter Fiona Apple also took to the Los Angeles streets to protest. She was seen carrying a sign that read "Cops: Don't be white chauvinists. Arrest the other three,"
referring to the officers besides Chauvin who were present during Floyd's murder.
Kehlani
Singer Kehlani shared a series of black-and-white photos on Instagram, taken during the Los Angeles protest. "LIVE. NO JUSTICE, NO PEACE. LOS ANGELES MAY 30TH 2020. RESPECT EXISTENCE OR EXPECT RESISTANCE. #BLACKLIVESMATTER OUTSIDE INSIDE TODAY YESTERDAY TOMORROW AND FOREVER. POWER TO THE PEOPLE," she wrote in the caption.
Timothee Chalamet
The Little Women star shared a series of videos on Instagram while marching for Floyd in Santa Monica on Sunday, sporting a mask and sign.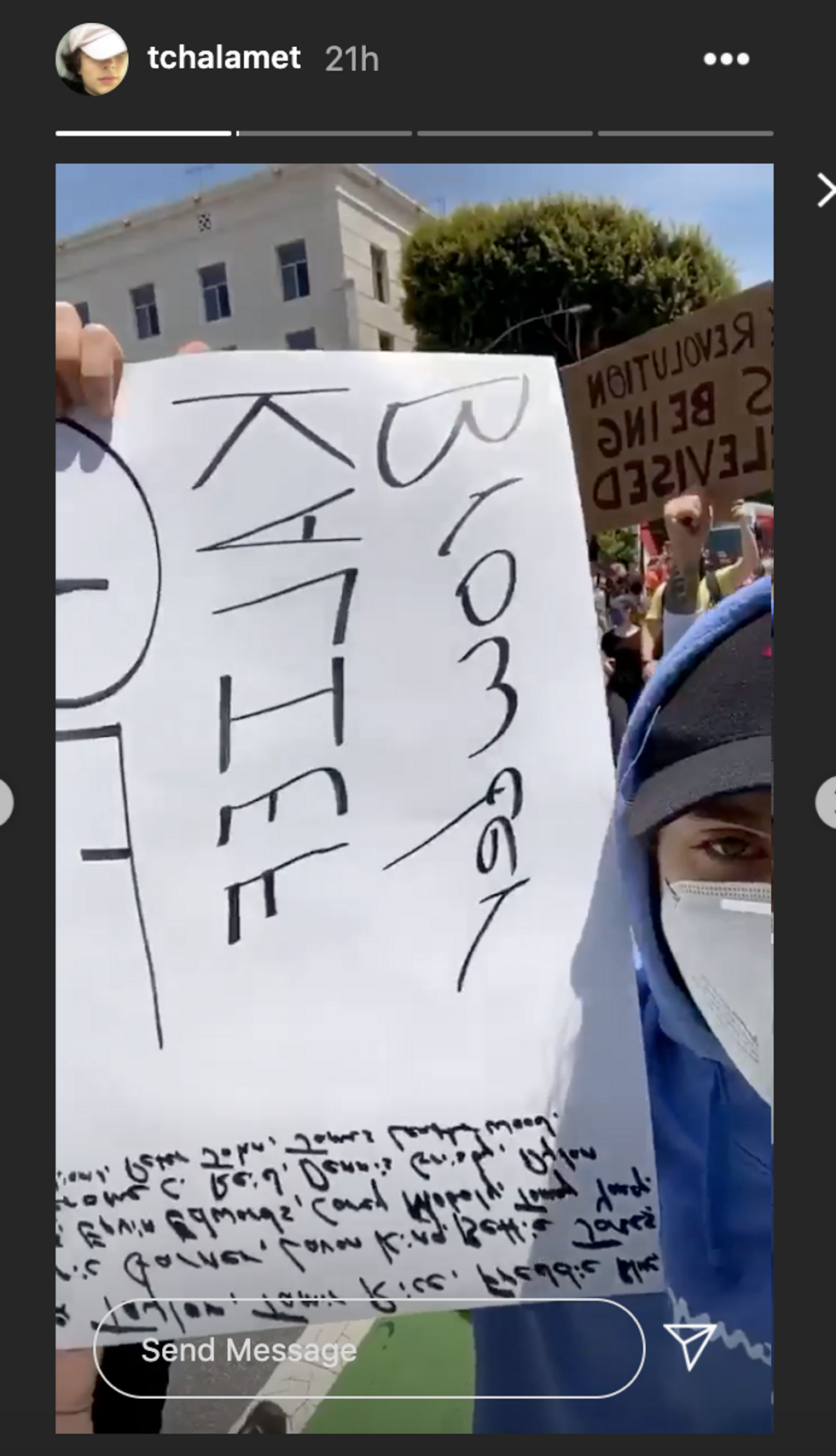 Tinashe
Tinashe also took a "Black Lives Matter" sign to the streets. "Show up," she simply titled her post on Instagram.
Tyler, the Creator
The often-elusive rapper Tyler, the Creator was seen at the Los Angeles protests, alongside his longtime collaborator Jasper Dolphin.
Nick Cannon
The actor and television personality made a special trip to Minneapolis to participate in protests for Floyd. "I needed to see the people in that community—how much love they had for their community and their people and how much pain this has caused," Cannon wrote in a piece for Variety. "We feel the pain go across the world -- the anger and the hurt. Those visuals will never be removed from our minds."
Machine Gun Kelly
Rapper Machine Gun Kelly visited a protest carrying a sign that read "Silence is Betrayal."
Ellen Page
Actress Ellen Page participated in a protest at Brooklyn's Barclays Center on Sunday. She also participated in a protest Monday in Times Square, sharing peaceful videos of both.
Paris Jackson
Model Paris Jackson shared photos at a protest engulfed in smoke. "Don't tell me to sit this one out," she captioned the photos. "Especially if you're in the comfort of your homes behind a screen." Jackson has previously detailed how her father, Michael Jackson, immersed her in Black culture growing up.
J. Cole
Hardcore fans of J. Cole might remember the rapper participating in protests following the murder of Eric Garner in 2014. He showed up again over the weekend at a protest in his hometown of Fayetteville, North Carolina.
Emily Ratajkowski
Model and actress Emily Ratajkowski has shown her activism before, serving as a spokesperson for Planned Parenthood. She attended a Los Angeles protest carrying a sign that said "Dismantle power structures of oppression."
Jamie Foxx
The actor and musician gave a powerful speech at the Minneapolis protests over the weekend. "At the end of the day, when we see you guys out here on the frontline, we want to let you know you got support," he told the crowd.