CULTURE
Chris Evans' All In Challenge offers fans a chance to hang out with the stars of the Avengers movies (also Jeremy Renner)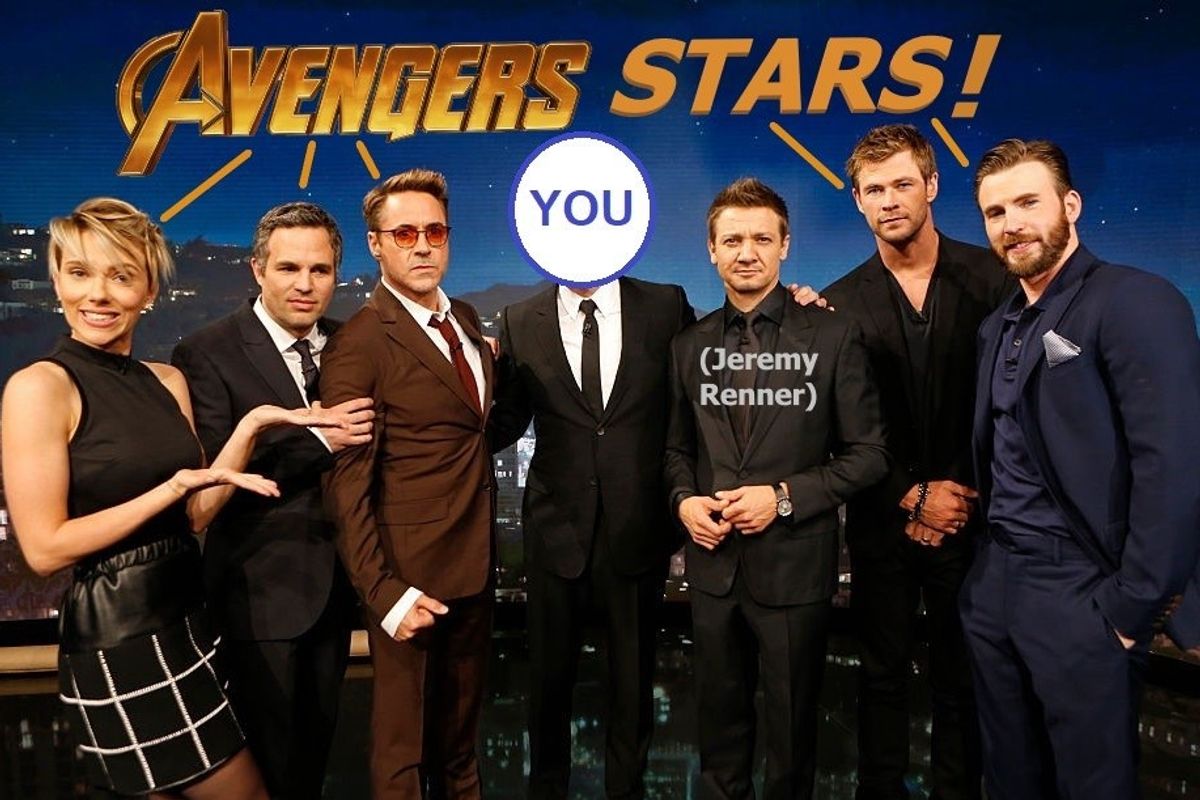 In the latest—and maybe the most exciting—installment of the All In Challenge, Chris Evans (AKA Captain America) is offering a virtual hang out with himself and four of the other A-list celebrities who played the original Avengers.
And Jeremy Renner will also be there.
---
Hosted by the sports apparel company Fanatics, the All In Challenge offers fans the chance at once-in-a-lifetime experiences with celebrities and athletes while raising money for six different charities that are fighting food insecurity during the ongoing crisis. Previous prizes have included a walk-on role in an upcoming Martin Scorcese film, offered by Leonardo DiCaprio and Robert De Niro and a dinner or workout session with Tom Brady.
Already these thrilling prizes have helped to raise nearly $30 million for worthy causes, but for Marvel fans it's hard to imagine a more exciting prize than a virtual date with Chris Evans, Robert Downey Jr., Scarlett Johansson, Chris Hemsworth, and Mark Ruffalo. In other words, one lucky fan—along with two friends—will have a chance to chat, hang out, and play board games with Captain America, Iron Man, Black Widow, Thor, and the Hulk! You could be a part of the first Avengers Reunion since Avengers: Endgame! Oh, and the guy who played Hawkeye will be there too.
Remember Hawkeye? He was the one whose super power was hauling around a bulky bow and a bunch of arrows instead of using a gun full of bullets? He was pretty good with them though, so that was kind of cool. And then there was the thing about how he had to stop saving the world because it turned out he was just like a normal guy with a family, and everyone was like, "No worries dude, that actually makes perfect sense, like, way more than the arrow thing.". Anyway, he'll be there for your virtual date with the Avengers.

Still not ringing any bells? He was also the guy who replaced Matt Damon for that weird fourth Bourne movie that wasn't very good. No? He was actually really good in The Hurt Locker. Umm… Oh, do you remember that thing where that B-List celebrity had to shut down his personal App because everyone was using it to make fun of him? That was Jeremy Renner. It was the Jeremy Renner App!
Coming soon... https://t.co/jnQfYhlyDP

— Jeremy Renner (@Jeremy Renner) 1561577106.0
You might also remember some of his music, like his bizarre EDM single with DJ Sam Feldt "Heaven (Don't Have a Name)" or his recent EP The Medicine, which he released days after petitioning to reduce his child support payments to his ex-wife, actor Sonni Pacheco. At the very least you must remember the drama between the two of them. She released their disturbing text exchanges and claimed that Renner was drunk and on coke one night while in custody of their daughter—stuck a gun in his mouth and threatened to kill himself before firing into the ceiling, all while their daughter was sleeping in another room...

Actually, forget what I said before. Considering Evans' promise that the winning fan can have a candid Q&A session with the stars—"you can ask us anything, we'll spill the beans"—Renner is starting to look like the biggest draw for this event. Make sure you check out the All In Challenge and donate for your chance to ask Jeremy Renner uncomfortable questions while the other Avengers watch in stunned silence.
And while you're there you can check out other charity sweepstakes—play golf with Bill Murray, have coffee with the cast of Friends, or get eaten by a dinosaur with Chris Pratt.