Culture News
Colin Kaepernick's Lawyer Slams Maroon 5 for "Crossing the Picket Line" Before Historically Boring Show
"If you're going to cross this ideological or intellectual picket line, then own it, and Adam Levine certainly isn't owning it."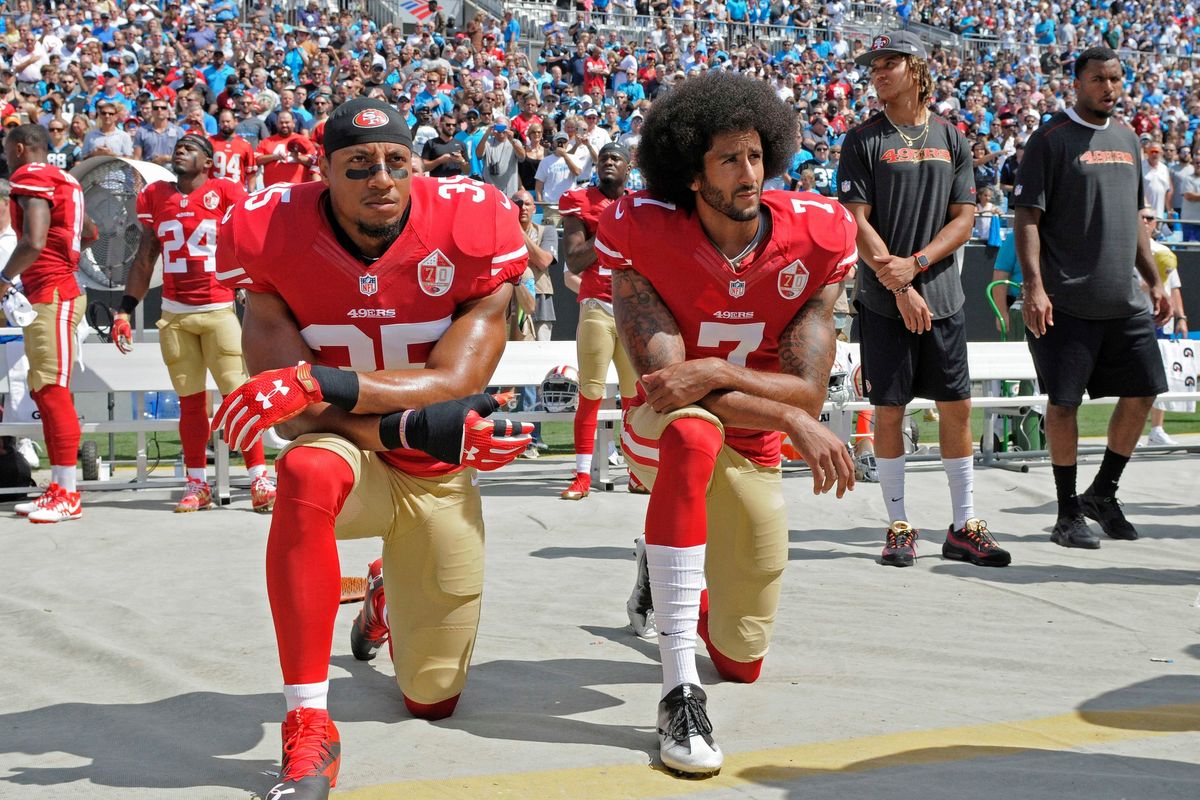 Photo by Mike Mccarn (Shutterstock)
Colin Kaepernick hasn't commented directly on the controversy his blacklisting from the NFL has caused, yet he's made his disapproval of the Super Bowl halftime acts clear through his circle of friends.
---
On Twitter last month, he retweeted his friends' vehement protests that disputed whether Kaepernick had ever given Travis Scott his approval to perform. Now, Kaepernick's lawyer, Mark Geragos, has accused Maroon 5 of crossing the "picket line." His comment refers to the highly-publicized struggle to book this year's acts, with notable celebrities such as Rihanna and Cardi B refusing to perform and choosing to stand in solidarity with Kaepernick's protest against police brutality.
Geragos told Good Morning America, "If you're going to cross this ideological or intellectual picket line, then own it, and Adam Levine certainly isn't owning it. In fact, if anything, it's a cop-out when you start talking about, 'I'm not a politician, I'm just doing the music.' Most of the musicians who have any kind of consciousness whatsoever understand what's going on here." He added, "Colin took a knee in a very deferential way to express what he sees as systemic oppression and racism in America. He has been blackballed because of that."
Even though Sunday's game received the worst ratings the Super Bowl's seen in 10 years, viewership was still around 100 million people. While the halftime show has historically been a platform to make a mobilizing or thought-provoking statement, Maroon 5 managed to play it safe, uncreative, and entitled as ever, just as Adam Levine had "spoiled" when he appeared on Entertainment Tonight to defend the band's decision to perform. He stated, "No one thought about it more than I did. No one put more thought and love into this than I did...I spoke to many people, most importantly though, I silenced all the noise and listened to myself, and made my decision about how I felt." He added, "I'm not a speaker. I'm not a public speaker. I do speak, but it's through the music." Of course, he was mostly talking about himself, and as anyone who watched a clip of Maroon 5's performance noticed, the show was predominantly about Levine taking his shirt off.
But for the most part, performers at the Super Bowl halftime show are worthless—in that they usually don't receive compensation for their appearance. Instead, the high-profile gig pays acts in publicity and spikes in record sales, such as Justin Timberlake's 534% rise last year and Lady Gaga's 1,000% increase the year before that. But the publicity blitz surrounding Maroon 5 has been hypercritical at best and career-damaging at worst. After a petition calling for Maroon 5 to drop out of the halftime show garnered over 100,000 signatures, the band's only cancellation was the show's traditional press conference.
In response to criticism, Levine took to Instagram Sunday night after their performance. He posted the strange missive, "When we accepted the responsibility to perform at the SBHTS, I took out my pen and just wrote, Some of the words that came to me in that moment eventually made their way onto the incredible lanterns that flew high and low tonight. We thank the universe for this historic opportunity to play on the world's biggest stage. We thank our fans for making our dreams possible. And we thank our critics for always pushing us to do better. One Love."
Many celebrities took to Twitter to stand with Kaepernick, posting #ImWithKap and boycotting the Super Bowl. But like Levine, Rihanna was also on Instagram on Sunday. She reaffirmed her support of Kaepernick with a series of Instagram stories while she was traveling, panning anybody who would want to watch the Super Bowl on the flight. "For those of you who thought I was watchin the super bowl," she posted over an illustration of a kneeling Kaepernick, "we beefin."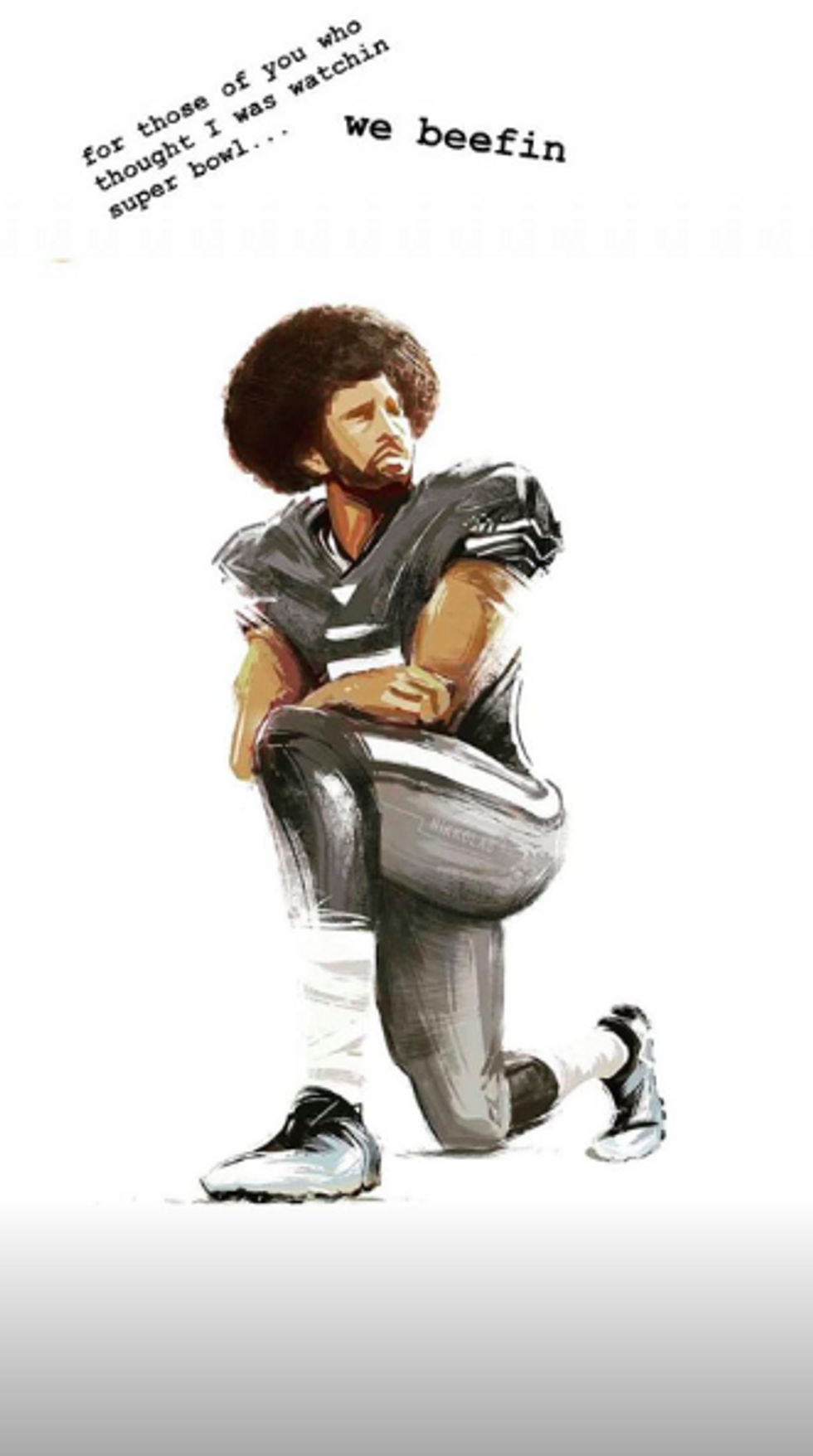 POP⚡DUST | Read More...
The 7 Worst TV Shows Coming to Prime-Time in 2019
7 Comedy Podcasts to Replace Your Friends With