Film Lists
9 Beloved Childhood Movies (That Permanently Traumatized Us)
What were these scenes even doing in kids' movies?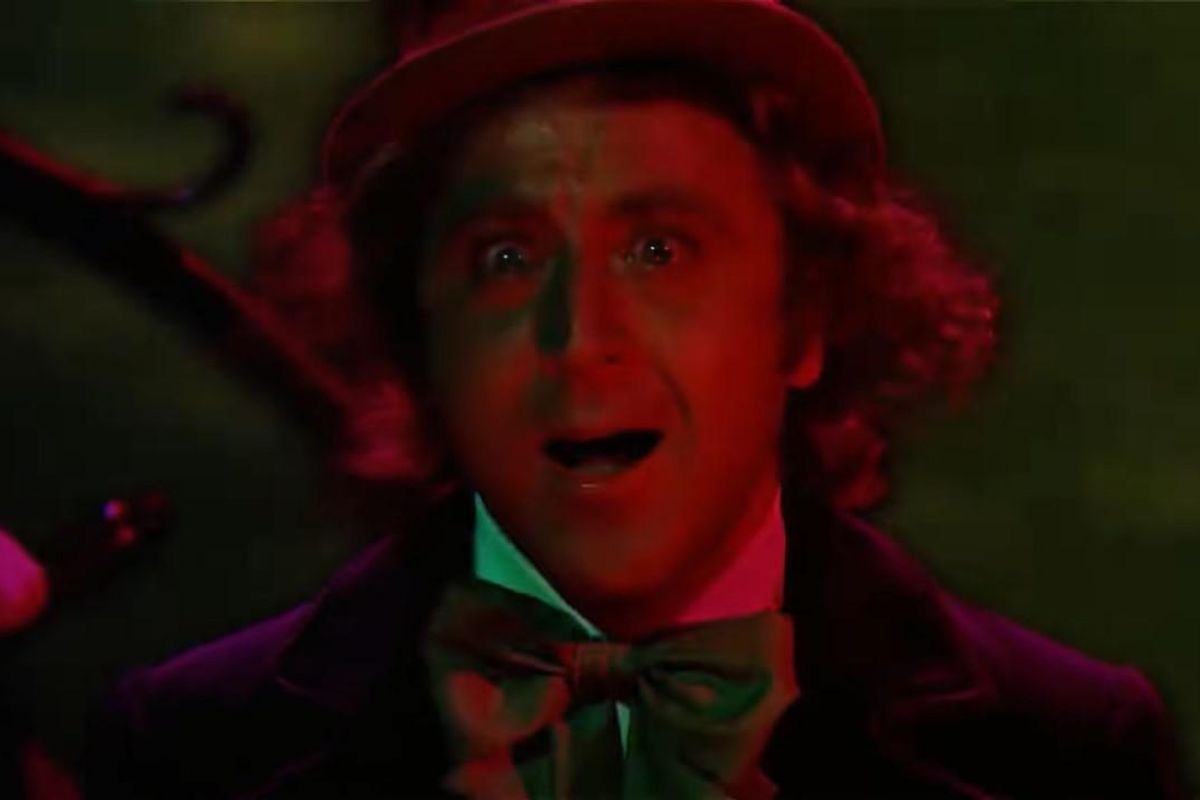 Willy Wonka and the Chocolate Factory (1971)
Do you remember the first time a sad scene in a movie left you sobbing? Or the first time a scary movie kept you up all night?
When you're a kid, your mind is still so malleable, and you haven't built up that callous that keeps movies at a distance. You might even wish — while you're watching the latest Conjuring movie — that you could get back to that credulous mindset that makes the horrors onscreen come alive in the dark corners of the room.
---
It's a bit sad to think that a movie will never again leave its impact on you the way movies did when you were a kid. On the other hand, knowing how impressionable and sensitive kids are, it's a bit weird to look back at some of our favorite kids' movies and recall some of the terrifying scenes that the creators slipped in there, to be permanently imprinted on our brains.
And what's even crazier is to look back at some of those scenes as an adult and confirm that it was not just about being an overly-sensitive kid. These movies, ostensibly made to entertain children, for some reason included some of the most disturbing scenes in cinematic history.
We're not just talking about essential tearjerker scenes like the death of Mufasa or Bambi's mom. We're talking the truly unhinged weirdness and horror, like Sid's mutant toys in Toy Story, or the incinerator scene in Toy Story 3, or Gabby Gabby's dummy henchmen in Toy Story 4...
Okay, so the whole Toy Story series clearly deserves its own article about childhood trauma, but it's hardly alone. With that in mind, it's just worth calling out these nine movies in particular for taking up permanent real estate in the nightmare-center of our brains.

The Brave Little Toaster (1987)
If any movie is a spiritual precursor to the quiet, existential horror that occasionally bubbles to the surface in Toy Story movies, it's the Brave Little Toaster. The epic tale of abandoned appliances seeking out their beloved owner, Rob, Toaster and crew encounter harrowing dangers and malicious forces on their journey, all while struggling to come to terms with encroaching obsolescence.
It's difficult to pick any one scene as the source of the deep-seated terror that The Brave Little Toaster left in our childhood brains, because the whole film is honestly insane. There's the lightning storm, the waterfall, the wilting flower.
There's the scene where the whole crew gets sucked into a mud pit — a note of resignation in poor, sweet Blanky's voice saying, "I'm not afraid." And the repair shop where they watch a blender being viciously dismembered and are sung to by a coterie of insane, Frankenstein creations. Or how about the junkyard, where old cars sing about how worthless they are as they're being crushed into cubes, and Toaster gets willingly mangled in the gears of a trash compactor to save Rob's life.
It's an incredibly dark story, with a patina of cheerful animation and musical numbers allowing it to masquerade as a kids' movie. But the image from Brave Little Toaster that is seared into our brains is the death of the air conditioner right at the beginning.
Voiced by the late Phil Hartman, doing his best Jack Nicholson, the air conditioner is a smug cynic looking down on the others. That is, until Toaster points out that he — being stuck in the wall — is just jealous of them.
At that point the air conditioner quickly devolves into a paranoid existential crisis. He gets himself more and more worked up until he overloads his circuits and is left a dead, smoldering heap — all while the others look on in horror.
The Neverending Story (1984)
The Neverending Story is a tale of Bastian, a young boy who is transported, through the power of reading, into a world of magic, dragons, gnomes, and stone giants. It's charming and fun, and generally has just the right touch of darkness and danger to give the whole adventure real stakes. Except for one scene that takes that darkness way too far...

Atreyu — the hero of the story that Bastian is reading — is leading his horse Artax through the Swamp of Sadness. It's explained that anyone who is overcome by the sadness of the place will be swallowed by the swamp. What follows is no less upsetting for the fact that it's predictable.
Artax begins to sink into the swamp's mud. Atreyu screams and cries as his beloved horse sinks deeper, pleading with Artax to keep moving and not to be sad, but by this point the sadness is slowly taking them both. It's a powerful metaphor for the crushing, sucking depths of despair that unchecked depression can lead to, and it never really gets any easier to watch...so why the hell is it in a children's movie?
Who Framed Roger Rabbit (1988)
Wacky cartoon violence has, for some reason, always been treated as okay for kids to watch. If you drop an anvil on a character's head and they walk away from it — with the addition of some circling birds and a weird hairless lump rising from the impact — none of the horror of violence seems to count.
But that logic gets a bit messy when you mix cartoons with the real world — as in the 1988 classic Who Framed Roger Rabbit. And nowhere is that mess more evident than in the death of Chistopher Lloyd's Judge Doom.
A real human actor is very vividly and painfully being crushed flat by a very real steam roller. And only after he's smushed into a pancake is his secret identity as a deranged cartoon revealed.
The steam roller scene along with the wild cartoon eyes, and the way he screams and smokes as he is subsequently dissolved in his specially formulated "toon acid" will haunt us to our graves.
The Witches (1990)
Another classic villain reveal is the witches' convention scene of 1990's The Witches, based on the novel by Roald Dahl. While the story was recently retold with Anne Hathaway, it's hard to imagine any performer bringing the Grand High Witch to life like Anjelica Huston — particularly when she peels off her face to reveal her glistening, warped, and scabrous true form.
It's a practical that outdoes any CGI and continues to be disturbing more than 30 years later. And yet it's outdone in the climactic scene when she and the other witches are subjected to their own magic, turned into mice through a truly hideous and disturbing transformation process.
But of course a movie about witches has to have some scary scenes. That's what witches are all about. It's not like it was a story about something cute like, for instance, rabbits...
Watership Down (1978)
Watership Down was a 1978 animated adaptation of the classic novel by Richard Adams, and it tells the story of a group of rabbits displaced by industrialization, searching for a new home in the English countryside. The movie, like the novel, faithfully depicts the terror of being a small prey animal beset by predators, competing with other rabbits, and threatened by humans and their machines. It also adds supernatural premonitions and death cults because...kids' stuff?

While the violence and death is a bit heavy in the novel, the 1978 adaptation took things to the next level with its graphic animation of bloody, gruesome battles. Why are we still afraid of General Woundwort?!
The Hunchback of Notre Dame (1996)
It might seem strange that anyone would ever try to convert Victor Hugo's 19th century classic, The Hunchback of Notre Dame, into a cartoon for kids. But don't worry, while the 1996 film is extremely Disneyfied (characters have to survive if you're going to make an awful straight-to-video sequel), it still captures the alienation and cruelty that made the book such a beloved children's story harrowing tale of tragedy.
Nowhere is this more evident than in the Festival of Fools, when the crowd turns against Quasimodo, pelting him with eggs and rotten produce, and tying him down with ropes so he's helpless to escape their attacks. You're never too young to learn that the world hates ugly people...
Pinocchio (1940)
Pinocchio is a morality tale about a puppet who comes to life, has a cricket in a top hat for a conscience, gets kidnapped by a fox and swallowed by a whale, and has a nose that grows when he lies. It's a really weird story. Still, if you thought that the creepiness of being an old man's wood carving that comes to life would be enough body horror for one kids movie, you were wrong.
How about when Pinocchio and Lampwick go off on their own to drink beer and play pool and smoke cigars on a secluded island? Does that seem like a weird plot point for a kids' movie? Don't worry, Pinocchio learns that all this stuff is bad when his friend gradually transforms into a donkey while clawing at Pinocchio and crying out for his mother...
Cool stuff.
Little Monsters (1989)
Little Monsters is a bit more obscure than the other items on this list, unless you frequent the nightmares of anyone who saw it as child — in which case, you're thoroughly familiar. It's an unapologetic attempt to capitalize on the success of Tim Burton's Beetlejuice — but with a touch of Labyrinth, a prescient dose of Monsters Inc., and instead of Michael Keaton's charm, Howie Mandel's...enthusiasm.
Basically, there's a secret world of monsters that live under your bed and come out at night to terrorize children. Brian Stevenson (Fred Savage) befriends one of the monsters, and hijinks ensue — until Boy (Frank Whaley) catches wind of what's going on and kidnaps Brian's brother Eric (Ben Savage).
In a world of monsters, Boy looks almost normal — if a bit corpselike. But his uncanny human disguise — possibly stitched from someone else's skin... — makes his dispassionate sadism all the more creepy, and his weird neckless henchman Snik isn't much better.
In an otherwise silly movie, Boy's role as Little Monster's antagonist is unforgettably disturbing.
Willy Wonka & the Chocolate Factory (1971)
No list of movie-induced childhood trauma would be complete without Willy Wonka & the Chocolate Factory. Another roald Dahl adaptation, the surreal horror is once again on tap.
Of course there's the casual way that the titular candy magnate handles it as the children on his factory tour are shrunk down, blown up like balloons, sucked into tubes that lead to boilers and dropped down chutes to furnaces. Wonka seems to think they deserve their fates, because they're gluttonous, greedy, disrespectful, or watch too much TV. And we're apparently expected to agree.
But while Wonka's pathological calm in these circumstances — plus that creep Slugworth and uncertainty about the labor rights of Oompa Loompas — should be disturbing enough, it's when Wonka's calm cracks that the movie becomes truly frightening. It's not clear why it was necessary for a simple boat ride to become a siezure-inducing acid-flashback, but that's what happens while a wild-eyed Gene Wilder puts on a convincing show of a man rapidly losing his grip on sanity.
This one scene takes up about two minutes in the middle of a children's movie, and manages to be scarier than just about any horror movie.
So these nine movies left indelible scars on our psyche's during a pivotal stage of development. They should basically be banned, right?
Hell, no. They're still classics, and we look forward to traumatizing our own kids with these one day...maybe when they're like, 19.