TV Features
Drew Barrymore is making the move to the other side of the talk show desk.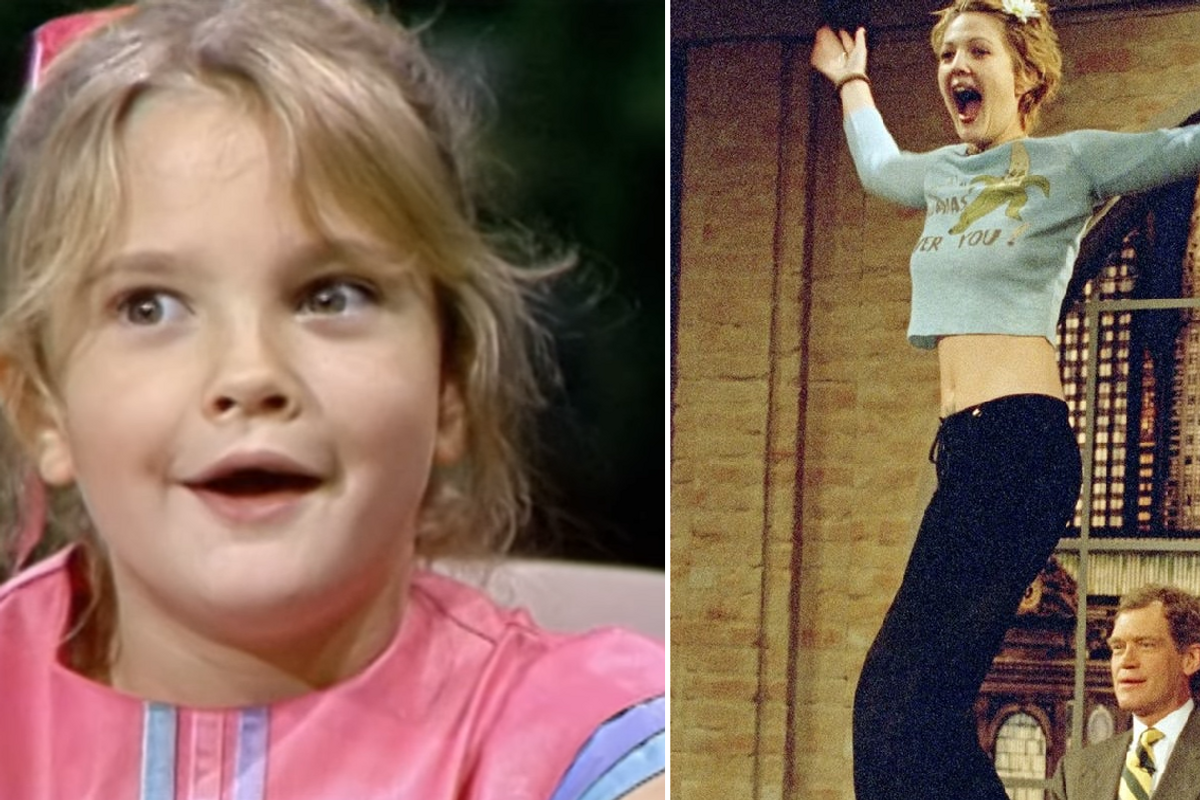 Drew Barrymore has been famous since literally before she can remember.
Coming from generations of hard-living actors, it must have seemed inevitable for her to go into the family business, but her first acting role was in a puppy chow commercial when she was just 11 months old. She has said that she got the role after the dog she was performing with bit her on the nose and she laughed.
Through the incredible career that has followed, she has managed to maintain that upbeat attitude through a tremendous amount of ups and downs, which has made her a charming guest on basically every talk show since the 1980s. Now she's preparing to take a seat on the other side of the talk show desk, conducting interviews on her own daytime talk show, where she plans to "spend an hour every day celebrating life."
---
And while The Drew Barrymore Show won't premiere on CBS until Monday, September 14th, she has already conducted her first interview with one of the best guests of all time—7-year-old Drew Barrymore.
Here's Drew! The Drew Barrymore Show Premieres Sept. 14th www.youtube.com
That promo clip was, of course, cut together with a clip from her 1982 appearance on The Tonight Show, when she talked to Johnny Carson not long after her breakout role in E.T., but the full interview really should be seen in all its glory. And in case any of Barrymore's future guests want to take some pointers from an expert talk show guest, look no further than these classic interviews.
"The Tonight Show" 1982
While the clips that were sampled for that promo are pretty adorable, they don't really compare to the moment when tiny Drew Barrymore slips and sprawls across the floor on her way onto the stage.
Even better is when she decides that "it would be kinda easier to talk without [her] teeth," at which point she removes the dental bridge concealing the gap where her permanent front teeth are growing in. She then places her false teeth on Carson's desk, where he admonishes her not to forget them.
"The Oprah Winfrey Show" 1990
Sadly, in the eight years that passed between that Johnny Carson interview and this interview with Oprah, Drew Barrymore experienced more of the dark side of life than any child should. Her father, a drug addict, was absent most of her childhood, and her mother took a lax approach to parenting. As is the case with so many child stars, this led to Barrymore spending nights in Hollywood clubs like studio 54, emulating older people who treated her as though fame made her something other than a child.
By age 10 she was already developing addictions to drugs and alcohol. At 15 she had been in and out of rehab, and she had published an autobiography about her childhood called Little Girl Lost. In this joint interview with her mother from 1990, Barrymore opens up about the challenges of child stardom, and her issues with self esteem, and Oprah pushes her mother, Jaid Barrymore, about the lack of guidance and boundaries in the young stars early years.
One thing that isn't mentioned in the interview is that Barrymore had already gotten herself emancipated and was figuring out how to live on her own.
"The Arsenio Hall Show" 1992
Two years after the Oprah interview, Drew Barrymore went on The Arsenio Hall Show to discuss her nude photo shoot with photographer Bruce Weber for Interview Magazine. While there could be a debate about whether an artistic presentation of the naked human form is necessarily sexualizing, Hall's comment that 17-year-old Barrymore has "a nice little onion" is definitely uncomfortable.
The whole interview is like a time capsule of the early 90s, with Barrymore feeling pressure to quash rumors about her sexuality prompted by pictures with other naked women. She tells viewers not to "worry" because at the time she was already engaged to 22-year old actor Jamie Walters.
"The Late Show" 1995
Undoubtedly Barrymore's most famous interview, this April 12th conversation with David Letterman took place the same year that Barrymore posed for Playboy. While she was at least legally an adult at the time, she has since said that she would not allow one of her own daughters to do the same, or would at least "influence her not to."
As Barrymore put it, "My life choices are not supposed to be the gateway to somebody else's. That's my journey." At the time, her journey involved seeking experiences that she described as "liberating," like the bit of performance art that Letterman asks her about, in which she had portrayed a character aptly named Lolita... and had stripped naked.
Barrymore then jumped on Letterman's desk to demonstrate the sort of dance she would do in the show, finishing by lifting up her top with her back to the camera. While she managed not to expose her breasts for the live broadcast, the look of shock on David Letterman's face was forever immortalized. The incident happened to be on Letterman's birthday, and Barrymore later noted that she wouldn't have done it otherwise.

"The Howard Stern Show" 2016
Skipping ahead a couple decades, Barrymore speaks with Howard Stern about emancipating herself from her mother, touring with Crosby, Stills, Nash, and Young at age 14—because she was living with David Crosby who was helping her stay sober—and chokes up as she recalls how the tough-love environment of rehab saved her life.
"The Ellen DeGeneres Show" 2018
While Barrymore and DeGeneres will soon be ratings rivals—which must be particularly daunting for DeGeneres, considering her show's recent turmoil—whenever these two are together they seem genuinely friendly. This 2018 conversation is no exception. They talk Barrymore's life with her daughters as well as her own childhood—which Barrymore had recently revisited for a photo shoot in InStyle.
In a series of photos, Barrymore had recreated and updated various (often deeply inappropriate) outfits from her days as a child star. But the interview culminates with DeGeneres ambushing her with another outfit recreation—complete with a massive, gold Elizabethan ruff. Barrymore, as always, is a good sport, and rocks the look.
With her openness and her cheerful sense of mischief, Drew Barrymore is clearly an expert interviewee and has made for some of the most memorable conversations in talk show history. Will translate into great interviews when she's on the other side of the desk day after day? We'll just have to wait for September to find out.
Related Articles Around the Web