MUSIC
The R&B Newcomer Readies Her Debut EP, Watercolor Lies, Out September 14.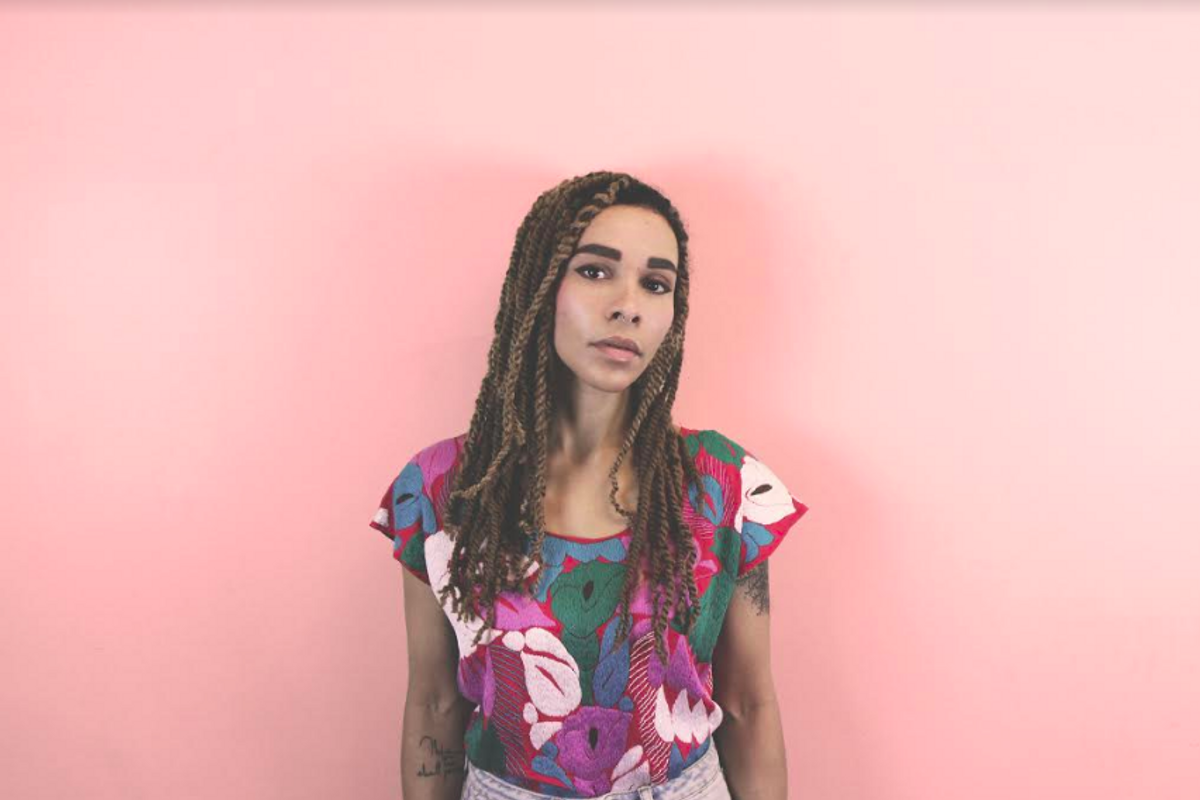 Jacques Fortier
Things are never quite as they seem behind the curtain.
Elaine Faye sees right through your glossy magazine covers, hyper-glam commercials and clearly-paid-for advertisements touting Disney-approved fantasies of love. "How many times have I sought this perfect picture of us?" she prods with her new pointed slow-jam, "Too High (The Story of Us)," a tear-down of made-up reality. From an early age, women are held to unhealthy standards of beauty, romance and self-image, metrics that fail to recognize the human being living and breathing behind the wall. "Too High" is smokey to the touch, flaked with Faye's (who goes by EE Beyond onstage) razor-sharp voice.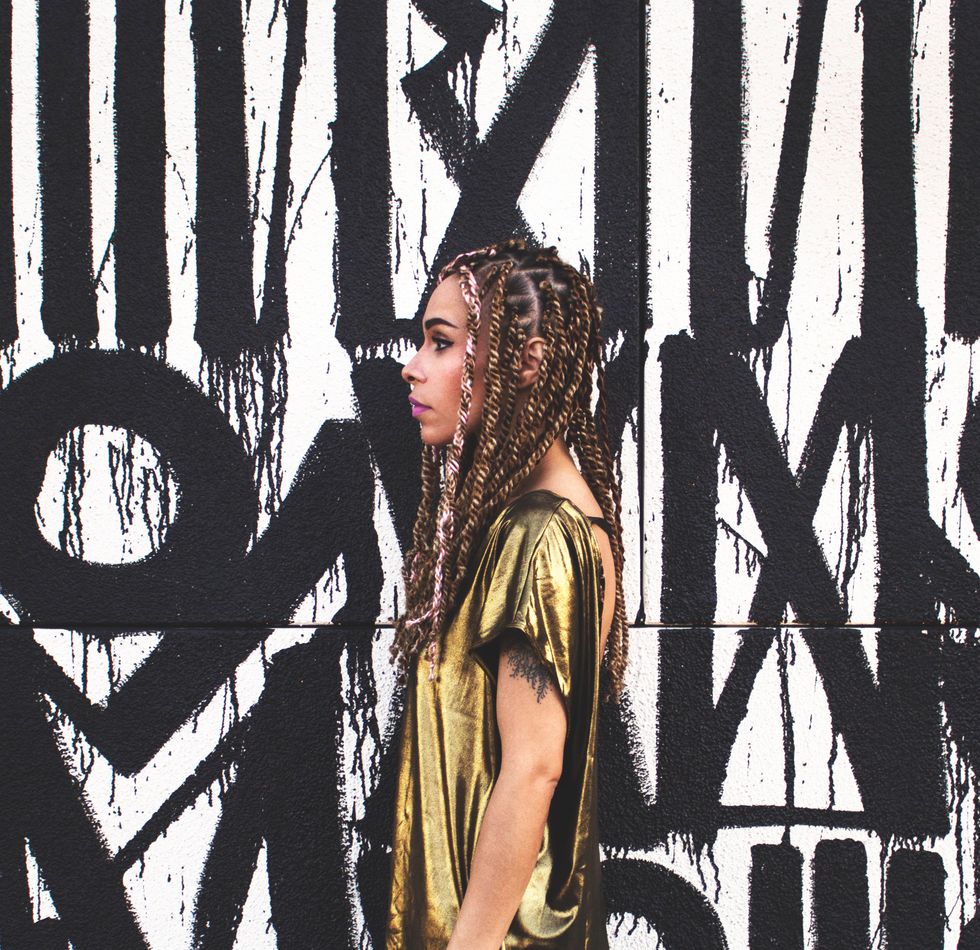 She's a Los Angeles talent whose influences run between Lauryn Hill and Erykah Badu, and you often get the sense EE Beyond has the potential to cull her own path to greatness. "Too High (The Story of Us)" is as personal as it is universal, utilizing expansive truths for a narrative of intimacy and arriving on nuggets of wisdom. Faye has one of those poetically tragic stories that instilled within her resilience and strength and power. Her father went to prison when she was seven, and seven years later, her mother passed away. Faye is a warrior, to say the least, and the kind of flourishing giant that makes actual change happen in the world.

"[Relationships are] not what you see in Disney movies growing up. It kind of becomes a bit of an expectation given a lot of the things that we see and experience on TV, especially as a young woman," Faye tells Popdust, premiering the new song today. She trembles over the notes, slinky with uncertainty, as if she is growing and processing the nature of her own reality in real time, just for the listener to behold.
More to the point, she says the songs delves into the underpinnings of how her "relationship with my partner moved pasted the romantic butterflies in your stomach stage into the 'realness" stage.' [It] is figurative but also a bit literal in that I grew up super religious in the Christian faith and didn't really drink, smoke (marijuana) or have my first drug experiences until this particular stage of my life. So, when shit hit the fan, it left both of us really questioning ourselves and our relationship with each other."
"There was a point where we had to ask, were we just too high in the beginning of our relationship? Do we even know each other? In the end, we really had to hold onto, examine and try to remember our story, our history. It was such a volatile time for both of us that I wrote this song to help me deal with my emotions at the time."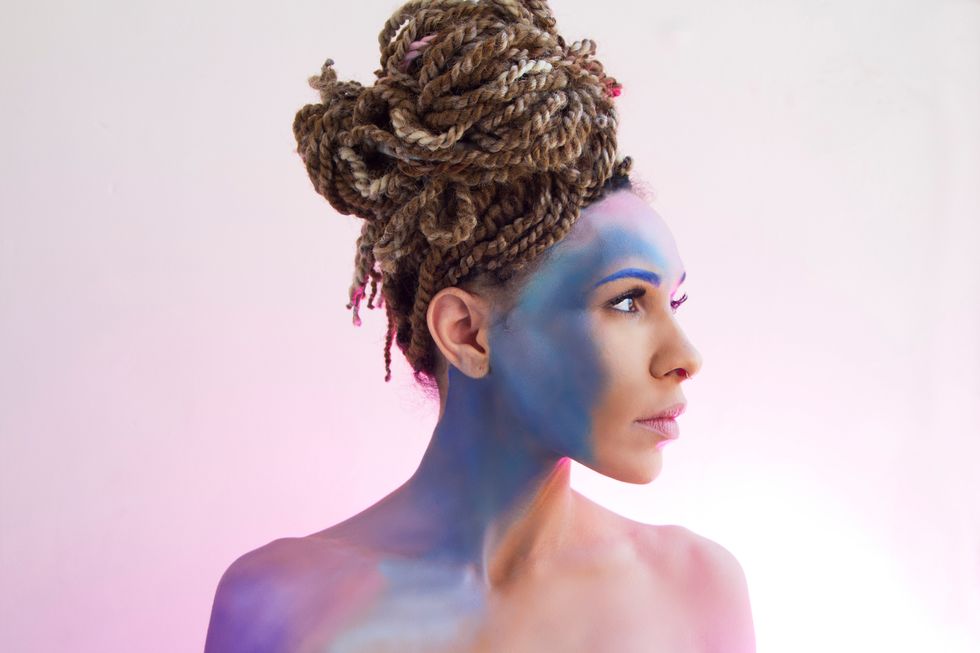 Lelani Delay
The song leads Faye's debut EP, Watercolor Lies (out Sept. 24). Across the project's many tracks, Faye explores what it means to be a woman of color living in America and dreaming of bigger things. As many millennials can probably corroborate, the job market in the last five to 10 years has completely collapsed under our own weight. "You're taught about the American dream and you're taught that anybody can change your circumstances and make things different with hard work and education. It's kind of like the American dream has changed," she says of the EP's title song.

Even given the often dark reality we must face without question, Faye hopes the project is impactful in its boldness of open discussion. "The EP is rather dark, but I don't think it's dark, necessarily, in a depressing way," she considers. "I think it's a state of mind I was just trying to explore...Why are things like this and how did it get here?"
Listen below:
---
Jason Scott is a freelance music journalist with bylines in B-Sides & Badlands, Billboard, PopCrush, Ladygunn, Greatist, AXS, Uproxx, Paste and many others. Follow him on Twitter.
POP⚡DUST | Read More…

PREMIERE | Tom Freund Sees Hope in 'Homer Simpson's Clouds (Day of the Locust)'
PREMIERE | Carry Illinois Stitches Together 'Scattered' Emotions In New Video
PREMIERE | Between Giants Zooms Off to 'Jupiter' with Debut Album