CULTURE
"We ... had our eyeballs molested," and other highlights.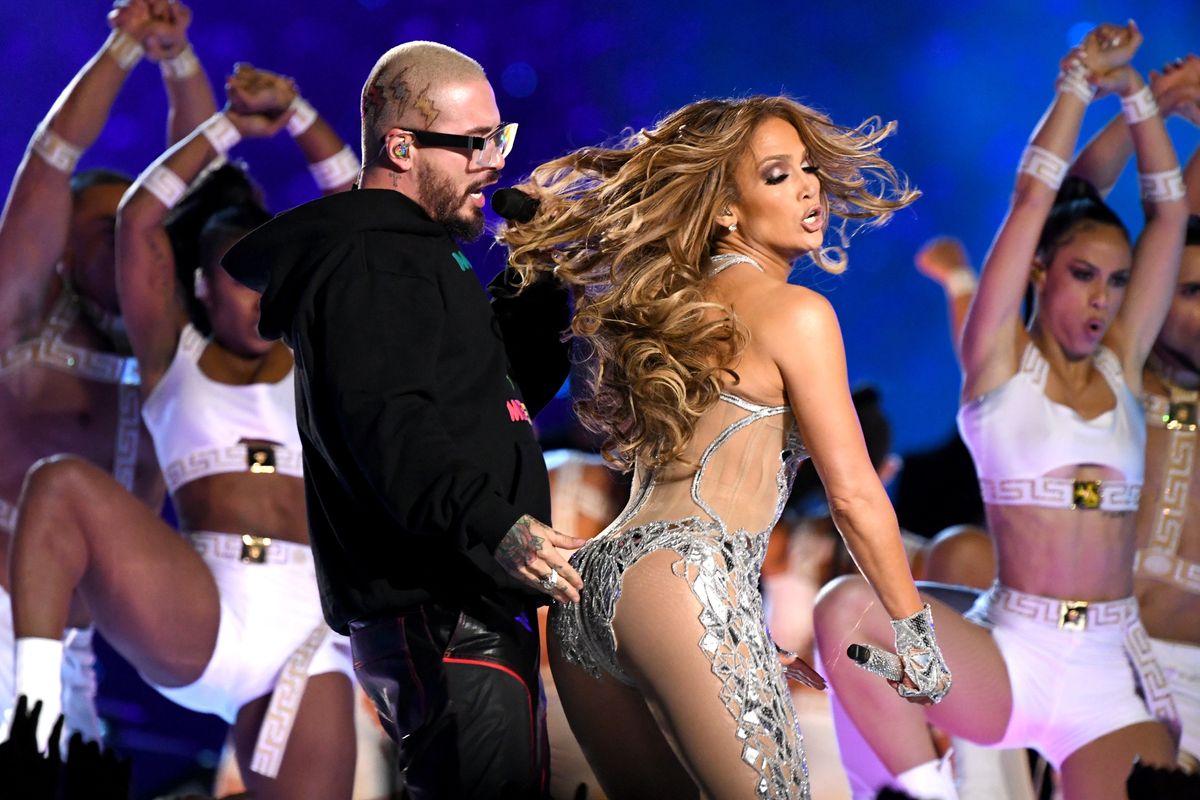 Kevin Winter/Getty Images
The Federal Communications Commission is responsible for monitoring broadcast media, enforcing its guidelines on "obscene, indecent, and profane content," and fielding complaints from the public.
In the case of the Super Bowl halftime show, a Freedom of Information Act request from WFAA in Dallas, Texas revealed that the FCC had received more than 1,300 complaints, many of which called for fines to be levied against Fox, NBC, the NFL, or the performers themselves. While the complainants obviously have the right to express their distaste for the sexually suggestive performance that interrupted their three-hour marathon of CTE-inducing violence, many of their concerns were touchingly naïve.
Many viewers felt that J. Lo and Shakira's dancing amounted to pornographic material, with one Wyoming viewer stating that the show "would have been considered soft porn not many years ago." A Maine viewer, describing himself as "a father of 2 teen girls," said, "That 'show' should have been reserved for late night cable TV." Another person in Tennessee complained that, "I do not subscribe to The Playboy Channel, we do not buy porn for $20 a flick, we simply wanted to sit down as a family and watch the Super Bowl… we expected to watch football and a quick concert but instead had our eyes molested."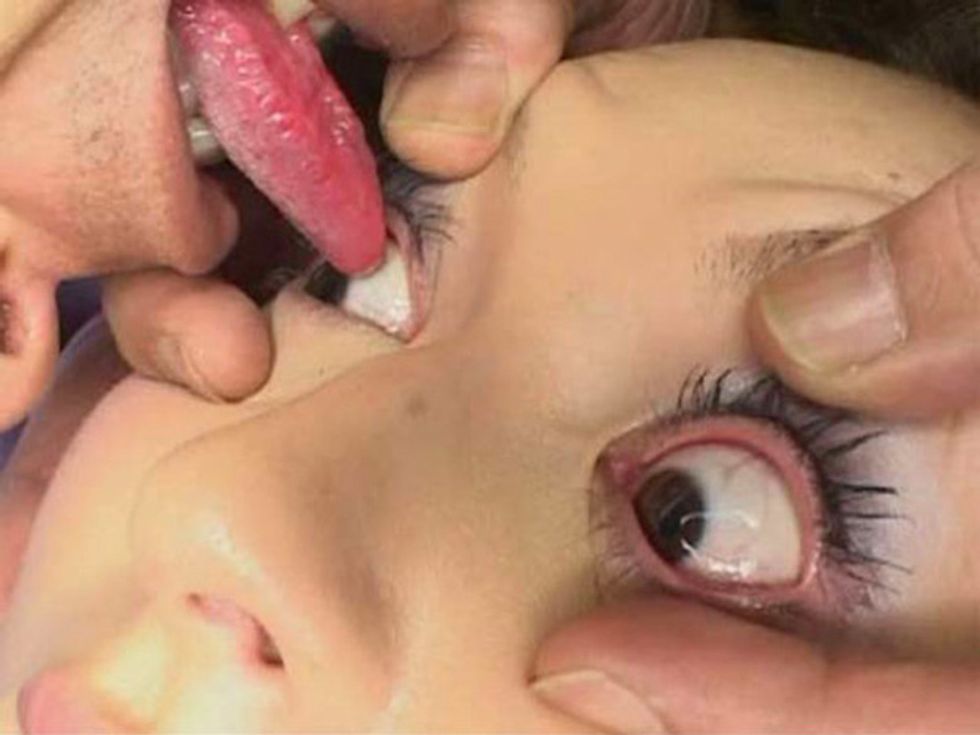 Leaving aside what it means to have your eyes molested, that latter comment seems particularly illustrative of the disconnect between many of these complaints and the reality of our interconnected society. The idea that pornography is confined to specialty cable channels and feature length films that cost $20 is so sweetly outdated that it's almost satirical. In 2004—when the FCC was overwhelmed with the furor of more than 200,000 complaints that Janet Jackson's "wardrobe malfunction" during the halftime show had exposed children to the appalling sight of most of a woman's breast—young Internet users were already assaulting each other with links to disturbing so-called shock sites, like "Goatse," "Lemon Party," and others that should likewise never be Googled.

But at that time the phenomenon was still fairly new, and the lack of awareness more forgivable. Today—more than a decade after the advent of "2 Girls 1 Cup"—estimates place the proportion of Internet content that is pornographic somewhere around 10%, and there is a virtually endless availability of videos and images that are far more offensive than "Goatse." Even restricted platforms like Instagram and Youtube offer much more sexually explicit content—much of it featuring former Disney stars—than anything in the halftime show.
On top of that, the prevalence of "sexting" among adolescents means that in many cases there is no company or platform to complain to—young people are exposing each other to sexually explicit material. It may be that these parents were not so much uncomfortable with the idea that their children were being made aware of the existence of sex, but with the fact that they happened to be in the room together while it happened.

The good news is that the proliferation of internet porn has given us a lot of information on the subject, and there is little evidence to suggest that this kind of exposure is damaging to young viewers' psychological development, or that it leads to sexually risky behavior. So while it's understandable that a viewer in Arkansas would say, "I don't want my kids imitating that behavior," they can probably rest easy knowing that their children will neither take up pole dancing, nor start recreationally slamming into one another in disputes over balls.
In reality, while the idea of acknowledging sex may make them uncomfortable, many of these parents could probably learn a lot from having the sex-talk with their kids, as their confusion seemed to go much deeper than assumptions about pornography and cable TV. Many seemed to mistake J. Lo's flesh-tone bodysuit for actual nudity, and several complaints betrayed deeply confused understandings of the terms "striptease," "orgy," and "masturbation," that any modern teen could probably help to clarify. Here are some highlights:
"It was indecent and inappropriate - with crotch grabbing, cameras zooming in on aforementioned crotch grabbing, a pole dance in a barely-there outfit, and other raunchy acts performed above a group of dancers imitating an orgy. [sic]"
"JLo was not only wearing a thong but bent over and showed her whole butt to the camera. Also, FOX cameramen kept zooming in on her crotch throughout her performance AND at one point her backup dancers were simulating an orgy while she writhed around on a stripper pole. [sic]"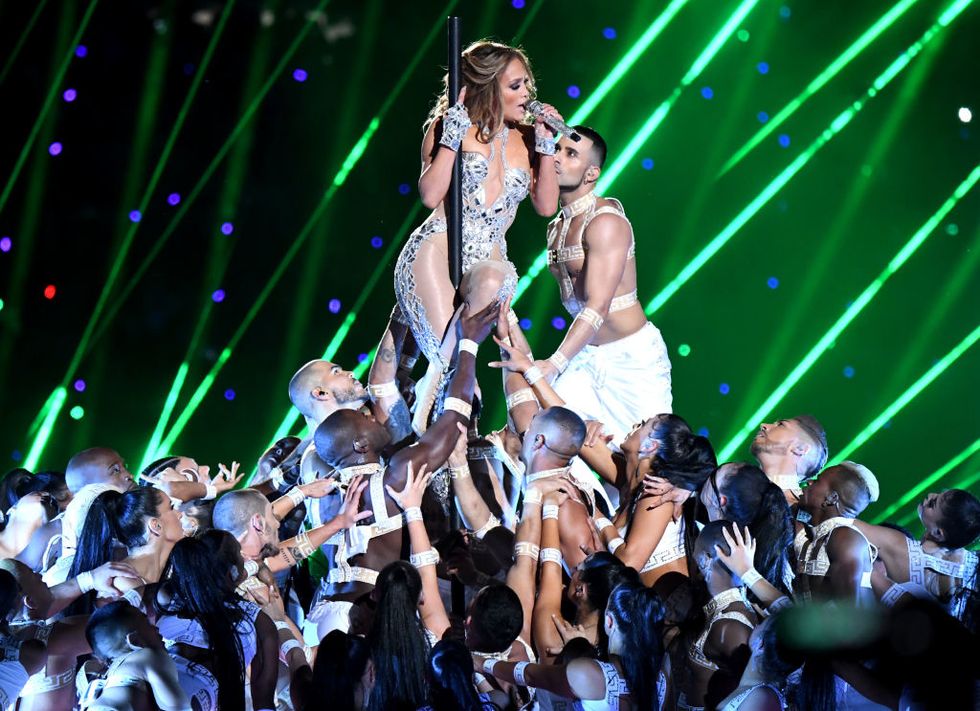 Pictured: Not what an orgy looks likeJeff Kravitz/FilmMagic
"The Superbowl halftime show was pure filth and not suitable for on air broadcast. Pole dancing, crotch grabbing, simulated sex acts, and even a brief masturbation by J-low all beamed into our family TV room! [sic]"

"JLo did a striptease pole dance while barely-dressed backup dancers simulated an orgy underneath her [sic]"
"1. exposing practically naked backside (looked like thong with leather straps in place?? and crotch area in the camera while gyrating in a sexual manner. This went on for quite some time of the performance. 2. coming down a stripper's pole doing a striptease practically naked, hardly anything on clothes-wise, same with the dancers depicting an orgy-type of activity. It was disgusting!! [sic]"
"They had stripper poles and on stage masturbation on display. [sic]"
"Allowing soft porn with stripper poles and assholes being shown when children are watching. Totally inappropriate!!! Jennifer Lopez did not need to bring her stripper movie and outfits to the Super Bowl. Thanks for supporting porn! [sic]"
"The half time shows need to have tv ratings as it is not appropriate family viewing to see pole dancing, crotch grabbing and extreme booty shaking. [sic]"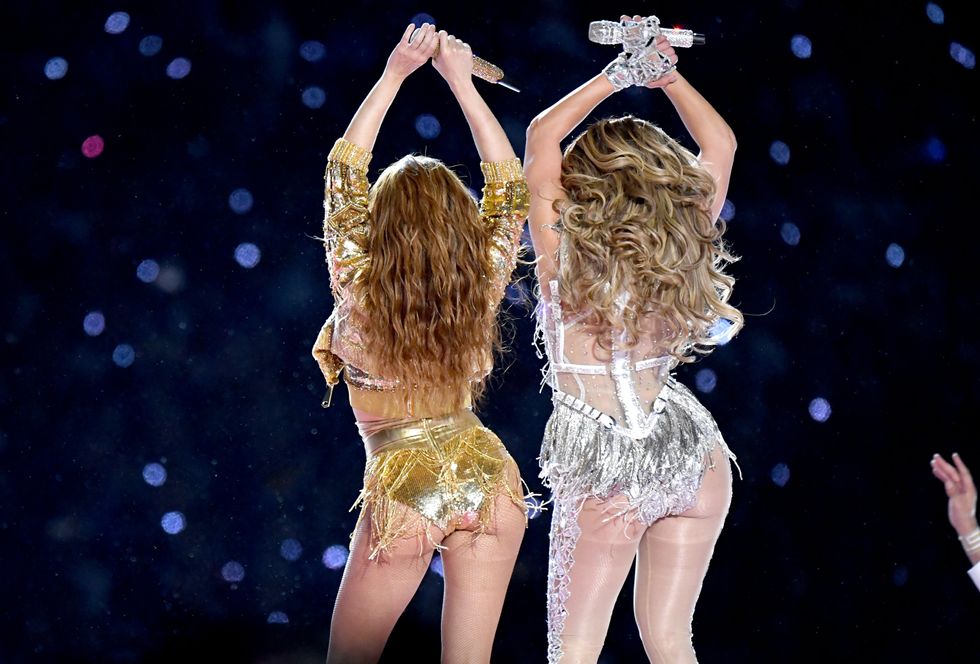 Pictured: Extreme Booty ShakingJeff Kravitz/FilmMagic
"The Super Bowl halftime show was 100% pornography w women mimicking masturbation in close up crotch shots, imitating sex acts with men while twerking with bare bottoms. [sic]"

It seems unlikely that the FCC will be compelled to take legal action—nor should they—but it's actually kind of nice to see such heartwarmingly sheltered perspectives shared with the world. It's like visiting a historical reenactment village, or imagining the kind of scandals that caused fainting spells at Victorian dinner parties. We hope you never change, FCC complainers—and that you never check your loved ones' search history.