New Releases
The Blonde singer teased new music...or did he?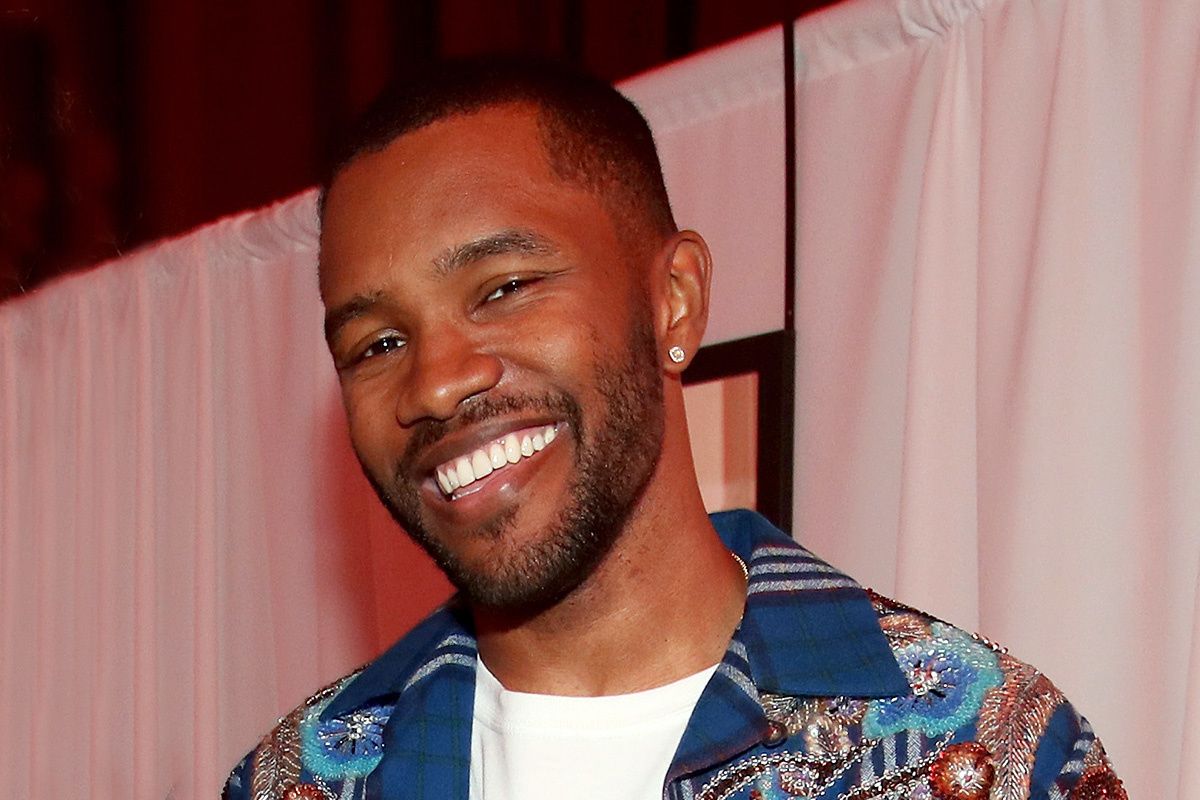 Figuring out that your favorite artists are working on new music has become a process that involves scouring social media, interpreting vague hints, and answering a series of rhyming riddles from a bridge troll. Even when you believe you've understood the side-eye and miscellaneous sushi emoji on Beyonce's instagram story to mean she has new music on the way, how do you know when to expect it?! How can you know what day to take off work to cry to Adele's new album in which she undoubtedly sings about the emotional journey of motherhood? We have to plan for these things!
Frank Ocean is the most recent super star to torment fans with unclear messages about new work on its way, posting on Tumblr, "March 1st... SOLANA + KL + ANDRE... HERE FOR THE BEANS." While we were surprised that enough people are still on Tumblr to take notice of this cipher, take notice they did, and fans are now in a frenzy trying to figure out what it could possibly mean. Popular opinion holds that the post refers to involvement from SZA, Kendrick Lamar, and André 3000 in a new song or collection of songs. Either that or Ocean is adopting a trio of puppies in March and was merely excited to announce their names. We have no theories about the beans part.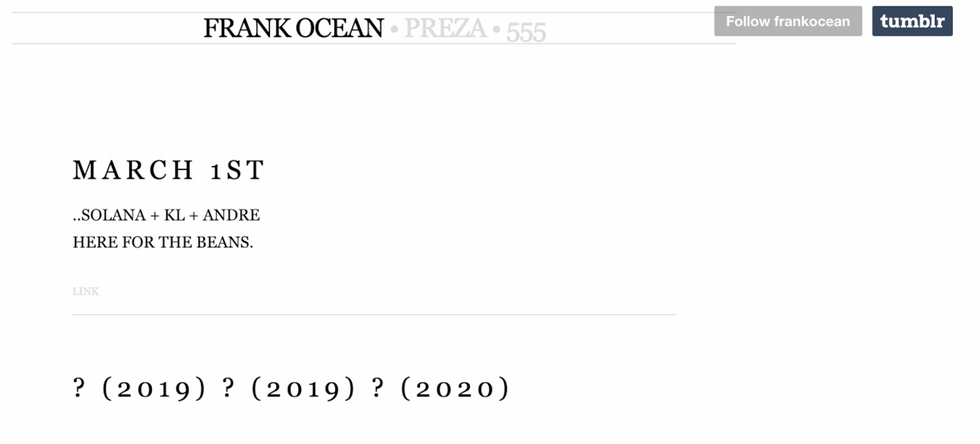 Things were only made more chaotic when the singer posted another mind bender that read, "? (2019) ? (2019) ? (2020)." This is either the combination to Ocean's personal safe, a cry for help because he doesn't know what year it is and at this point is too embarrassed to ask directly, or the years in which he'll release new music. But don't celebrate just yet.
Just as fans began to believe they'd cracked the cryptic message, reports began to emerge that Ocean's Tumblr was hacked, and two posts went up that said, "If this post gets 25,000 likes I will release the Frank Ocean song featuring andre, kendrick and sza (it's a legit song)." The post linked to an Instagram pic on the account of someone purportedly named Patryk Ladniak in Poland. The other read, "'SpirDark'. 2019 Comeback (soon). Nobody is safe. Email me if you're interested in buying unreleased Frank songs." Followed by an email address.
The original posts and the two new hacker posts have all now been taken down, but it remains unclear if the original cryptic messages were a part of the hack or were genuine teasers from Ocean himself. Only one thing remains clear: nothing is coherent and the internet is a hell of vague horrors.
---
Brooke Ivey Johnson is a Brooklyn based writer, playwright, and human woman. To read more of her work visit her blog or follow her twitter @BrookeIJohnson.
---
POP⚡DUST | Read More...
The 7 Worst TV Shows Coming to Prime-Time in 2019
Ja Rule Needs a Friend (Who's Not in Prison)