Last night, the whole world could be heard simultaneously screaming "DUMDUMDUMDUMDUMDUM" at their televisions or laptops as HBO's Game of Thrones premiered for its eighth and final season.
The iconic series once again offered viewers an incredible opening sequence, some truly meme-able moments, and a decent excuse to drink heavily on a Sunday night. Many people felt the episode included too much exposition and hardly any new information, but that doesn't mean that we weren't left with plenty of questions to haunt us while battling our Monday morning hangovers.
WARNING: Spoilers ahead.
Does Daenerys...kind of suck now?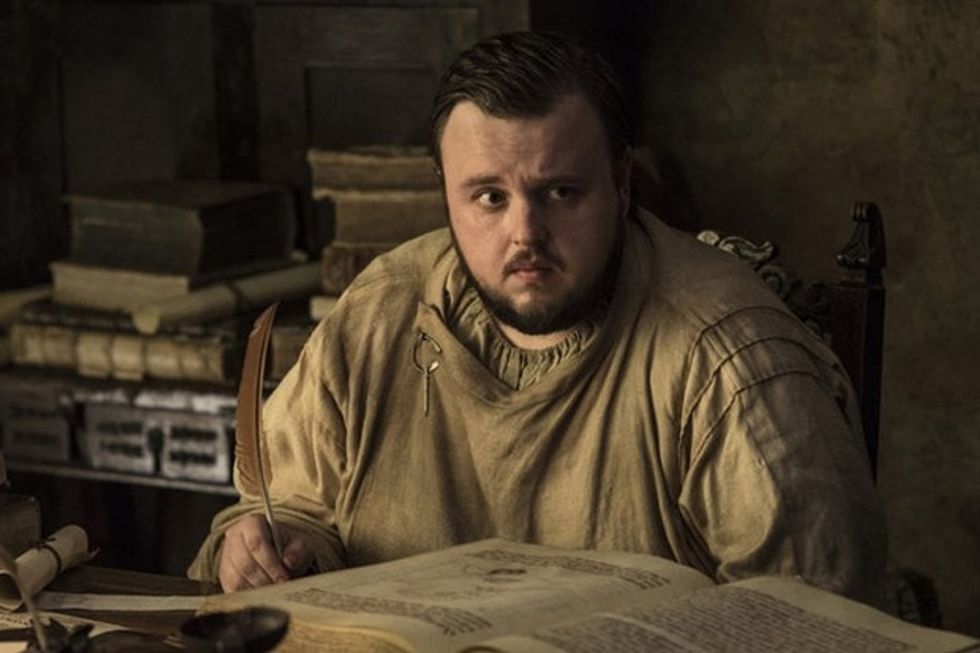 Usually, we would say that anyone who makes Sam Tarly cry deserves to spend some time in Ramsay Bolton's lair of castration, but when the perpetrator is Khaleesi of the Great Grass Sea, Breaker of Chains, and Mother of Dragons, we're left with mixed feelings. On one hand, she's arguably the best character on the show and her ever-changing hairstyles alone excuse her every wrongdoing, but on the other, she didn't even apologize for murdering Sam's whole family. How can we not kind of root against anyone cold-hearted enough to stand passive in the face of sweet Sam's trembling lower lip? Plus, add all the times she had to be talked out of genocide last season, and you start to wonder if maybe Season 8 will feature a mad queen before it's all said and done.

Is Bran the baddest mother fucker in Westeros?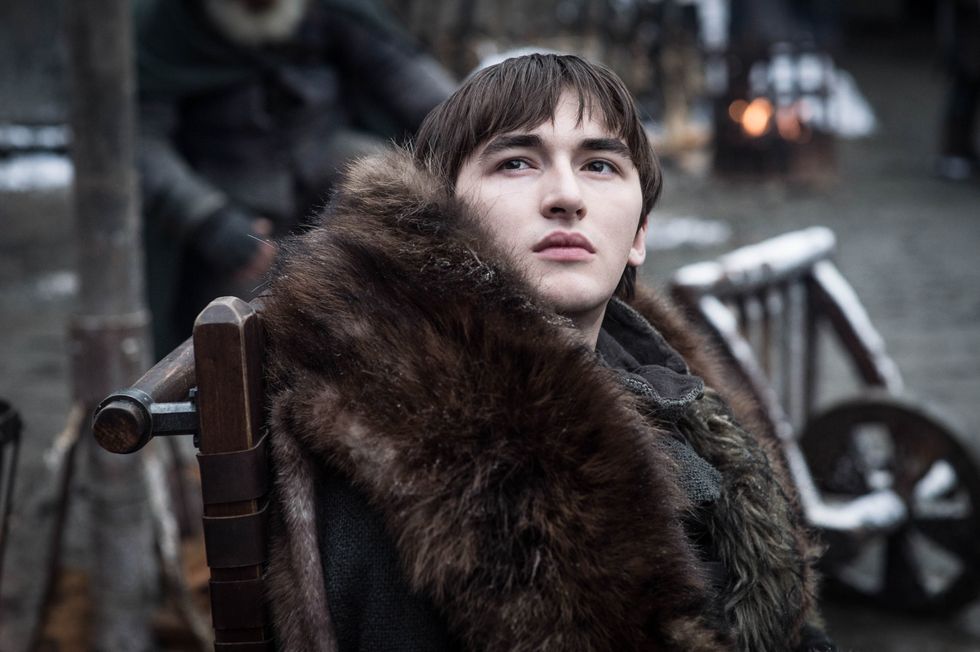 Every line out of Bran's expressionless mouth during episode one was absolute gold. Imagine meeting someone for the first time and interrupting her bitch-off with your sister with something simple and pleasant like, "The Night King has Dany's dragon. The Wall has fallen. The dead march south." And then later, "Oh me? What am I doing? Oh, just waiting for an old friend. An old friend who I caught in the act of incest so he pushed me out a window paralyzing me forever and making me a spooky ghost boy, in fact."
Is Cersei sleeping with Euron somehow creepier than when she slept with her twin brother in the presence of their incest child's corpse?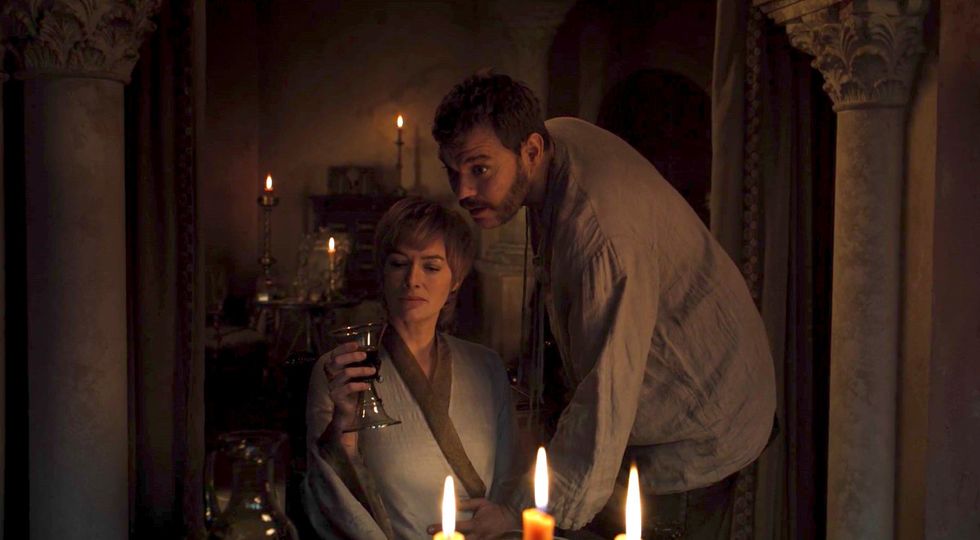 Yes. Yes it is.

Oh wait, is Sansa the baddest mother fucker in Westeros?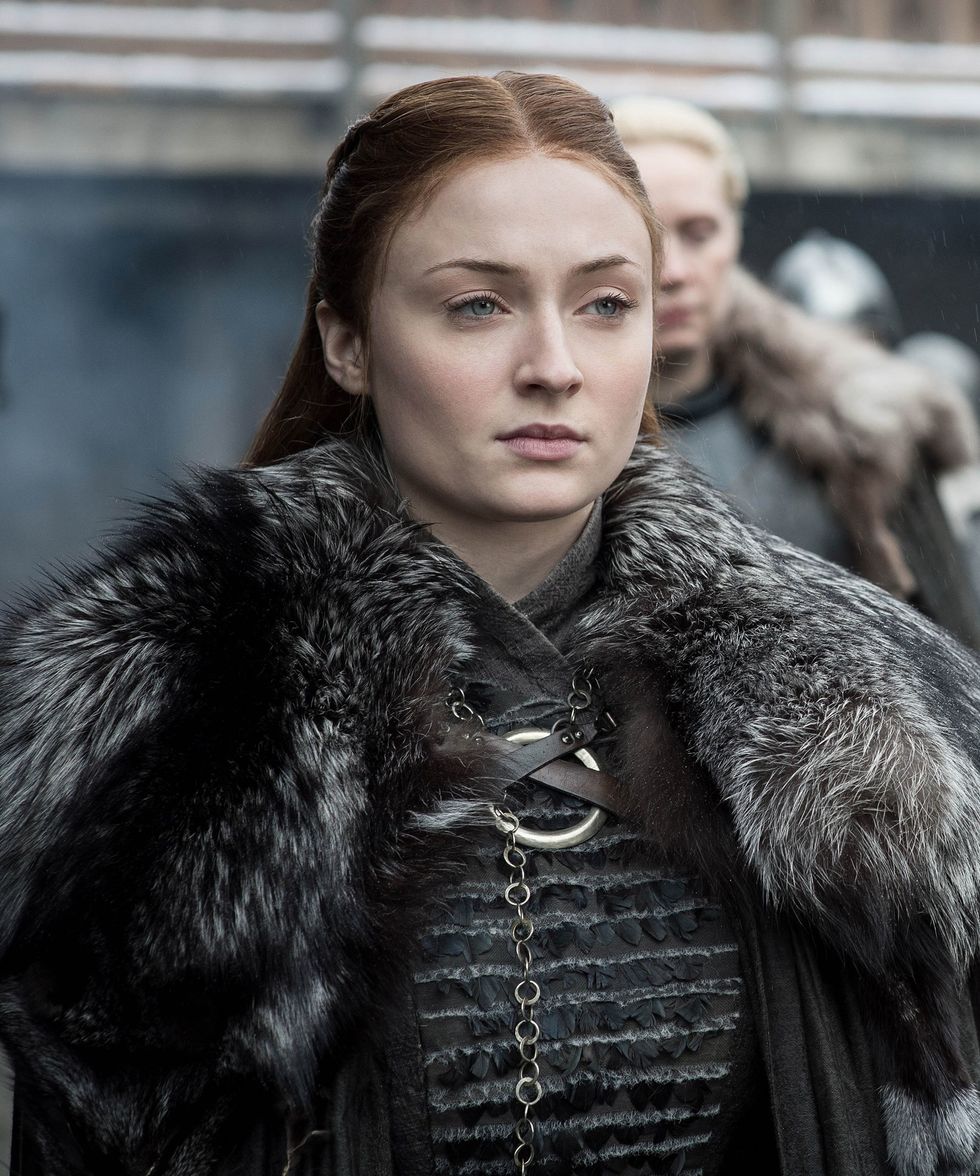 Name a more iconic exit line than, "I used to think you were the cleverest man in the world." Plus, her new lady of the North looks?! Hell. Yes.

Was that a sly reference to the bizarre season 7 Ed Sheeran cameo?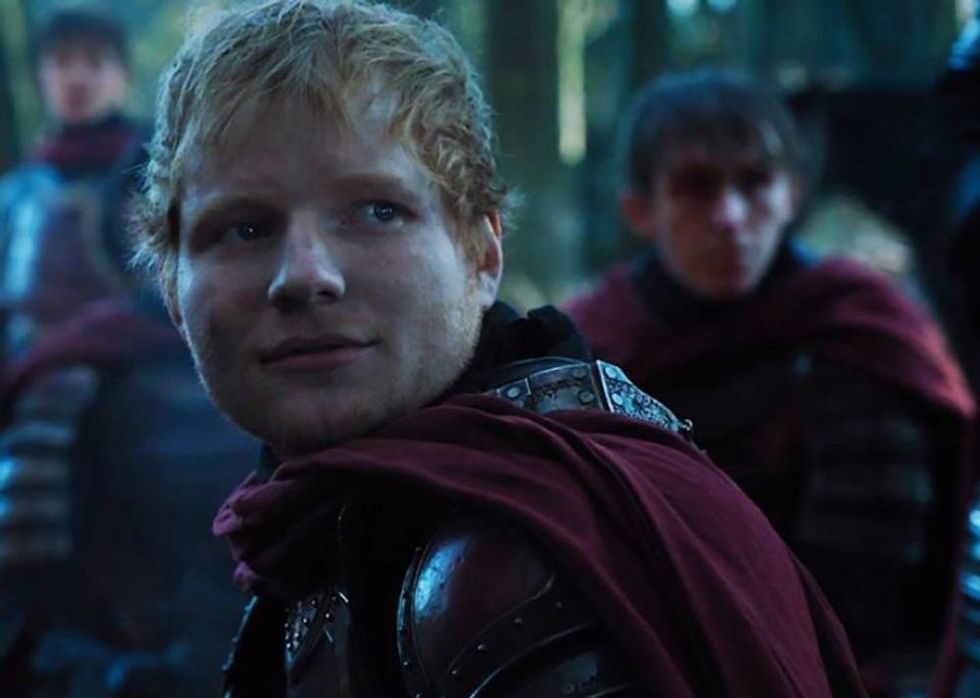 When Bronn is hanging out with the prostitutes (which seemed to serve little purpose beyond HBO straining to include their requisite number of boobs) the women have the following exchange: "That boy Eddie." "The ginger?" "That's him." "Came back with his face burnt off." "He's got no eyelids now." "How does he sleep with no eyelids?" Hmm…

How old is Tyrian?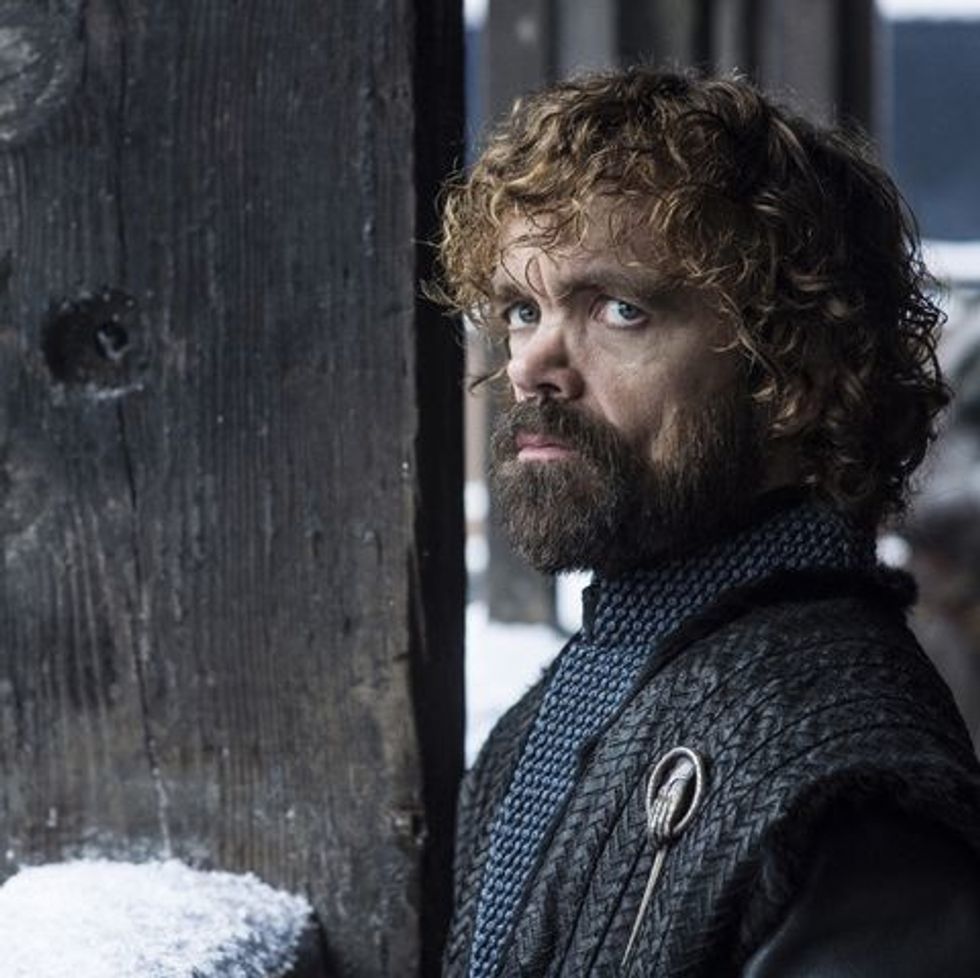 Tyrion, Varys, and Ser Davos watch Jon and Dany from afar and contemplate the possibility of the two getting married. When the comment is made, "Why would they listen to old men?" Tyrian retorts that he isn't old. Which brings up the question...how old is he? How old is anyone? Is it Hollywood magic or the lack of sun in the north that has kept Jon Snow looking like a brooding 23-year-old for the last eight seasons? Is Dany 16 or 34? How long do dragons live? Does evil increase the skin's collagen production, explaining Cersei's youthful glow? HBO we need some birth certificates!

Can we collectively sue HBO for that F*%KING jump scare?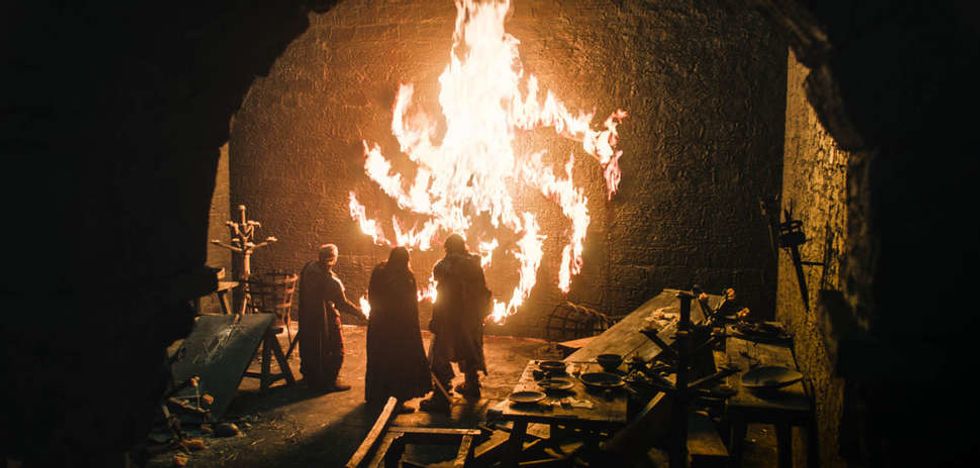 What's scarier than a dead little boy speared to a wall surrounded by a swirl of disembodied limbs? A SCREAMING, FLAMING DEAD BOY SPEARED TO A WALL SURROUNDED BY A SWIRL OF DISEMBODIED LIMBS THAT ARE ALSO ON FIRE.
Does Arya...like boys?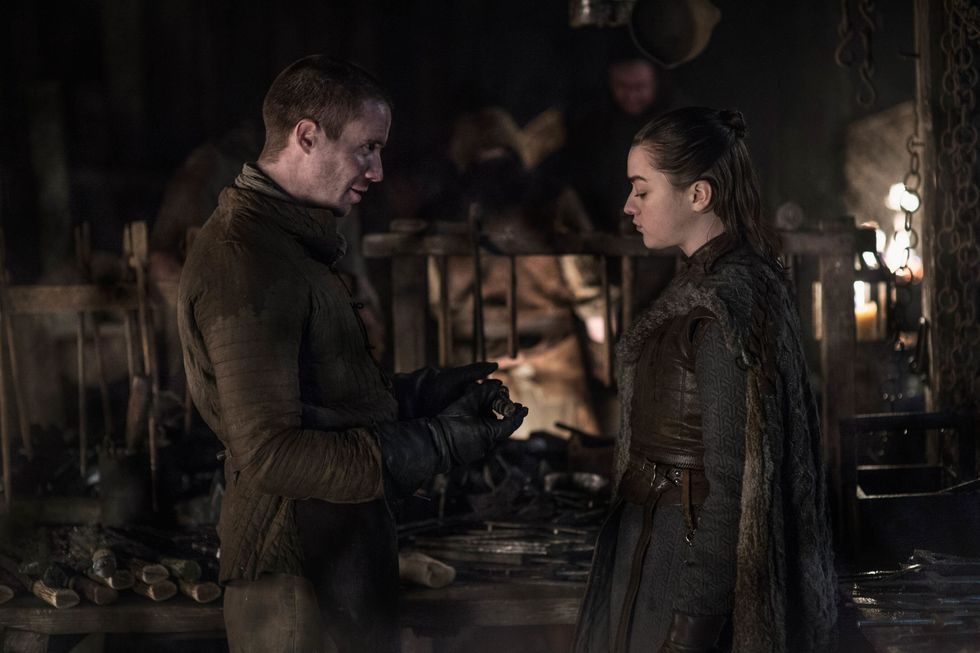 I mean, not to like, make assumptions about someone's sexuality but...um…*cough*...we were pretty surprised by Arya's loving looks to Gendry, because, erm, well...we kind of maybe thought she was...a les– very committed warrior who didn't have time for love connections.

Can Jon Snow be burned?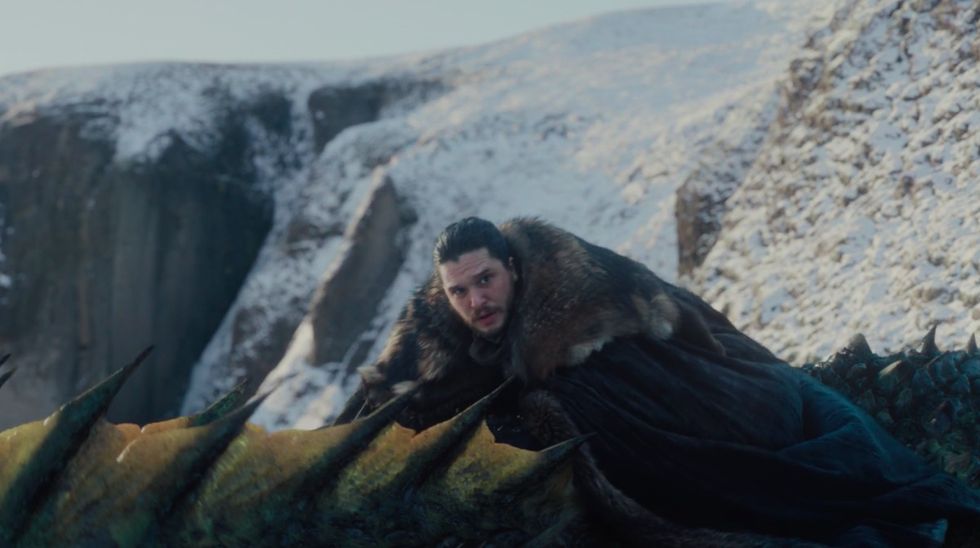 We know that part of Khaleesi's whole thing is that she's the "unburned," which is part of why she can hang out with fire breathing monsters without breaking a sweat. If Jon really is a Targaryen, does that mean he also can't be burnt? Can you be a true Targaryen/dragon king if you can't spend the occasional night inside a funeral pyre?

Hopefully, all of these questions and more will soon be answered. Until then, check out the trailer for season 8 episode 2. Valar Morghulis, nerds.
Game of Thrones | Season 8 Episode 2 | Preview (HBO) youtu.be
---
Brooke Ivey Johnson is a Brooklyn based writer, playwright, and human woman. To read more of her work visit her blog or follow her twitter @BrookeIJohnson.
---
POP⚡DUST | Read More...
The Drug of Escapism: Why Gamers Can't Stop Watching Porn
Music From Mars: An Interview With Jared & the Mill