Frontpage Popular News
The Girls Are Fighting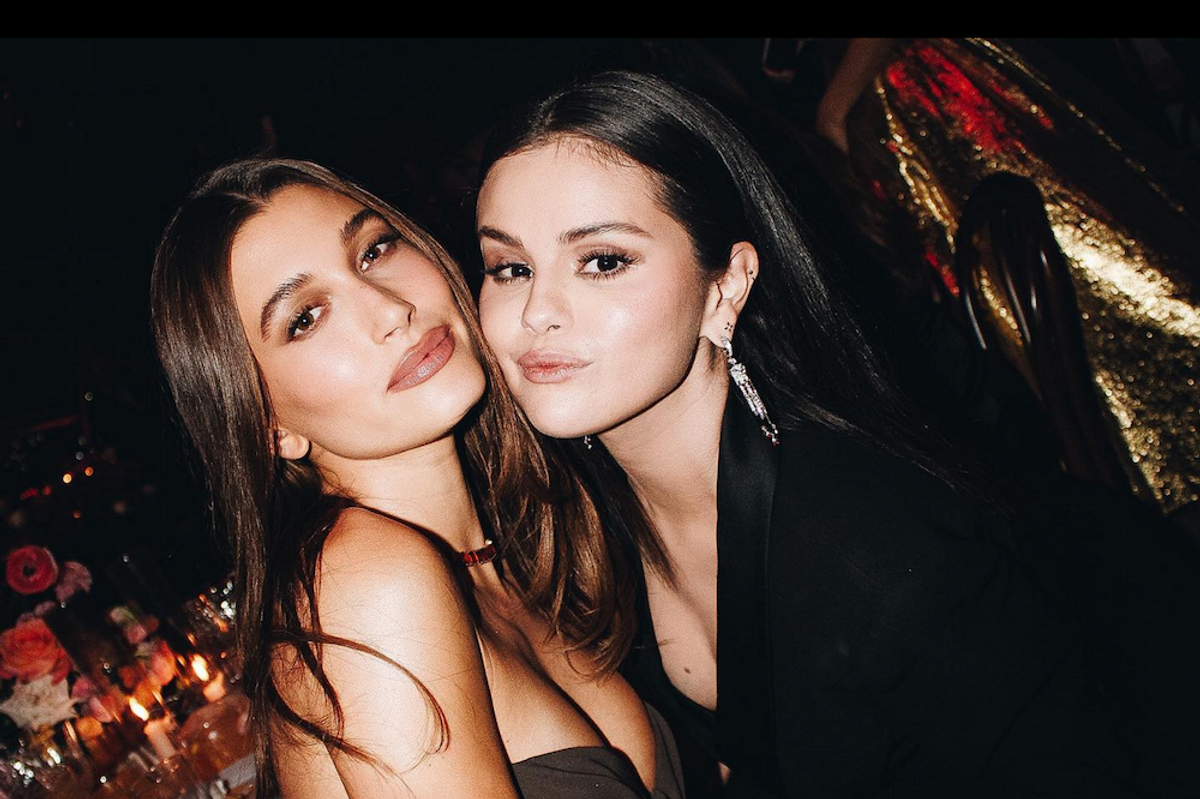 Tyrell Hampton via Instagram
If there's one thing the public loves, it's celebrity drama. Thriving in the early 2000s amongst OG It Girls like Paris Hilton and Lindsey Lohan, we can't get enough. In September, we got a taste of what celebrity beef was like with Don't Worry, Darling and it had everything - spitgate, the reviews, Florence Pugh in general.
---
We've spent so long making celebrities untouchable that we forget they're just like us – fueled by drama and petty subtweets. At long last, we can finally relate to celebrities! Florence Pugh hating on her coworkers is so real.
And now, celebrity feuds are back and better than ever. Fans of both Selena Gomez and Hailey Bieber have taken their respective sides for the battle of the decade. After Selena posted a TikTok claiming she accidentally over-laminated her eyebrows, Kylie Jenner posted an Instagram story seemingly mocking the Rare Beauty founder with a close-up of her eyebrows saying "this was an accident????"
It doesn't come close to ending there. Miss Kylie went on to post another Instagram story Facetiming Hailey Bieber zooming in closely on their eyebrows. This comes a few short months after Hailey and Selena broke the internet with a photograph of them together, signaling that the feud was supposedly over.
Although Kylie Jenner herself commented "this is reaching. No shade towards Selena ever and I didn't see her eyebrows posts! U guys are seriously making something out of nothing this is silly," and Selena confirmed, "It's all unnecessary. I'm a fan of Kylie!" fans were not sold.
Another eyebrow-raising moment came soon after. A resurfaced clip from years ago showed Hailey Bieber gagging on camera after Taylor Swift is mentioned during an awards show began circulating on TikTok. Selena herself commented in defense of Taylor, saying "So sorry, my best friend is and continues to be one of the best in the game." It further fueled the Hailey versus Selena drama.
The mean girl behavior has since torn the internet in half, once again questioning the overlap between Selena Gomez's relationship with Justin Bieber and his relationship with Hailey. Justin has notoriously made jokes about his marriage with Hailey being arranged, given that her father is the well-connected Stephen Baldwin.
Then there's talk of Hailey Bieber's obsession with Justin and Selena before she knew the pair. Tweets from young Hailey Baldwin claiming she's #teamJelena resurfaced alongside more recent clips of Hailey copying Selena's answers in interviews. Most notably, both Selena and Hailey have said they "wished people knew their hearts better."
Hailey also posted an Instagram story of the song "Calm Down" by Rema in an Instagram story. While there is a version that Selena Gomez was featured on, Hailey oddly chose to share the version without her. Also to be noted is that Jordyn Woods, ex-bestie of Kylie Jenner, creator of the Lip Kit, posted herself using a Rare Beauty lip liner.
In a TikTok by celeb gossip bible, Deuxmoi, Gomez has four solid reasons not to like Hailey Bieber – and it isn't related to eyebrow lamination. Rumors have swirled surrounding whether or not Justin Bieber cheated on Selena with Hailey and even a conspiracy that Gigi Hadid and Kendall Jenner invited Selena to Dubai for New Year's Eve so Justin and Hailey could get close.
It feels like the entire world is invested in whether or not you're #TeamSelena or #TeamHailey. I've seen TikToks of people throwing their rhode skin products in the trash – which I'd advise against due to waste. Even Nicki Minaj's "Beauty and a Beat (feat. Justin Bieber)" which includes the lyric "gotta keep an eye out for Selener" received its largest streaming date in history 11 years after its release with over 500k streams last week.
Selena Gomez seems to be the reigning queen of this battle, with Hailey Bieber losing more than 800,000 followers on Instagram and Kylie Jenner losing over three million. In less than three days, Selena Gomez gained four million followers on the social media platform and 10.2 million in under a week. Selena has overtaken Kylie as the most followed person on the app, and the most followed female celebrity across social media.
Amidst all of the drama, Selena deleted her TikTok for a few days. However, she's made her triumphal return with a video where she even mouths "thank you" to the camera. It comes after speculation over her looks due to her ongoing battle with Lupus and a flush of attention on the whole love triangle. Her message? "Please, please be kinder and consider others' mental health. My heart has been so heavy and I only want good for everyone. All my love."