MUSIC
Here's What We Think of the Synthpop Band's New Tracks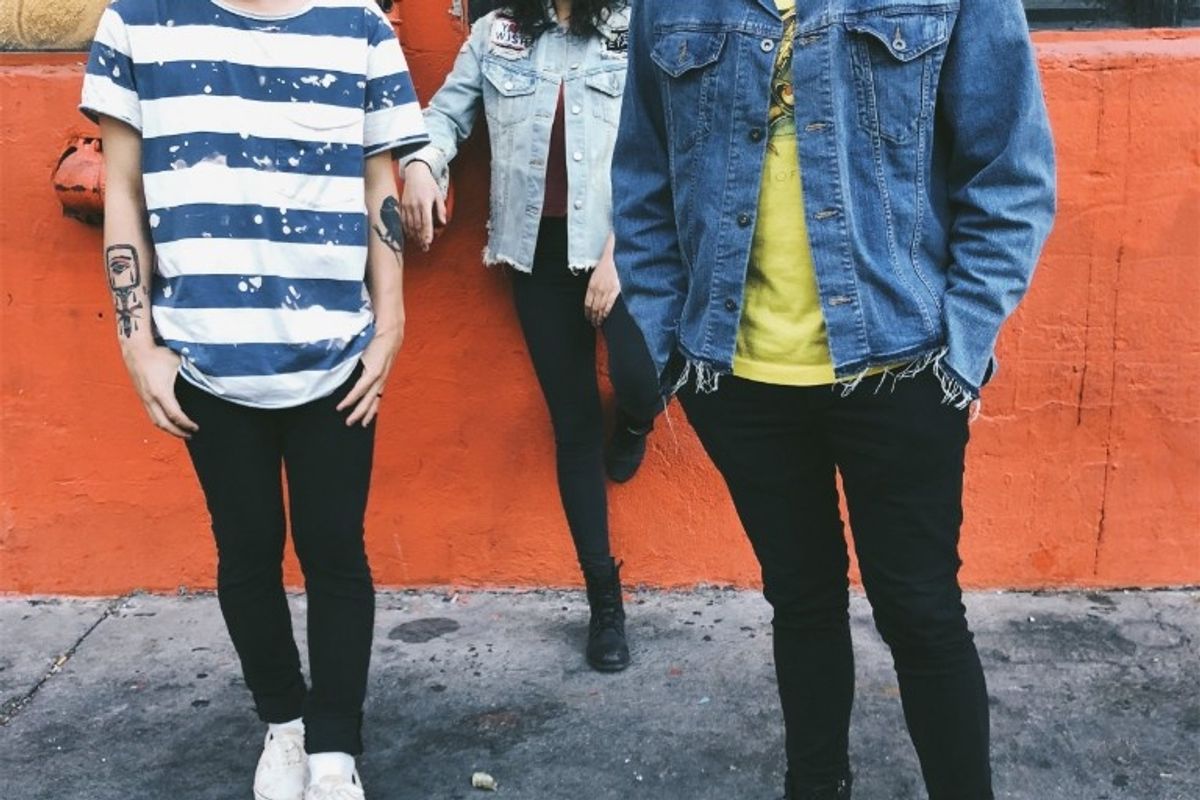 NEKOKAT
NEKOKAT recently released their new EP Pleasure Beach — a blend of sounds that perfectly encapsulate their journey thus far. The band is a collaborative side project of Jordan Witzigreuter — from The Ready Set— Cameron Walker and Jess Bowen.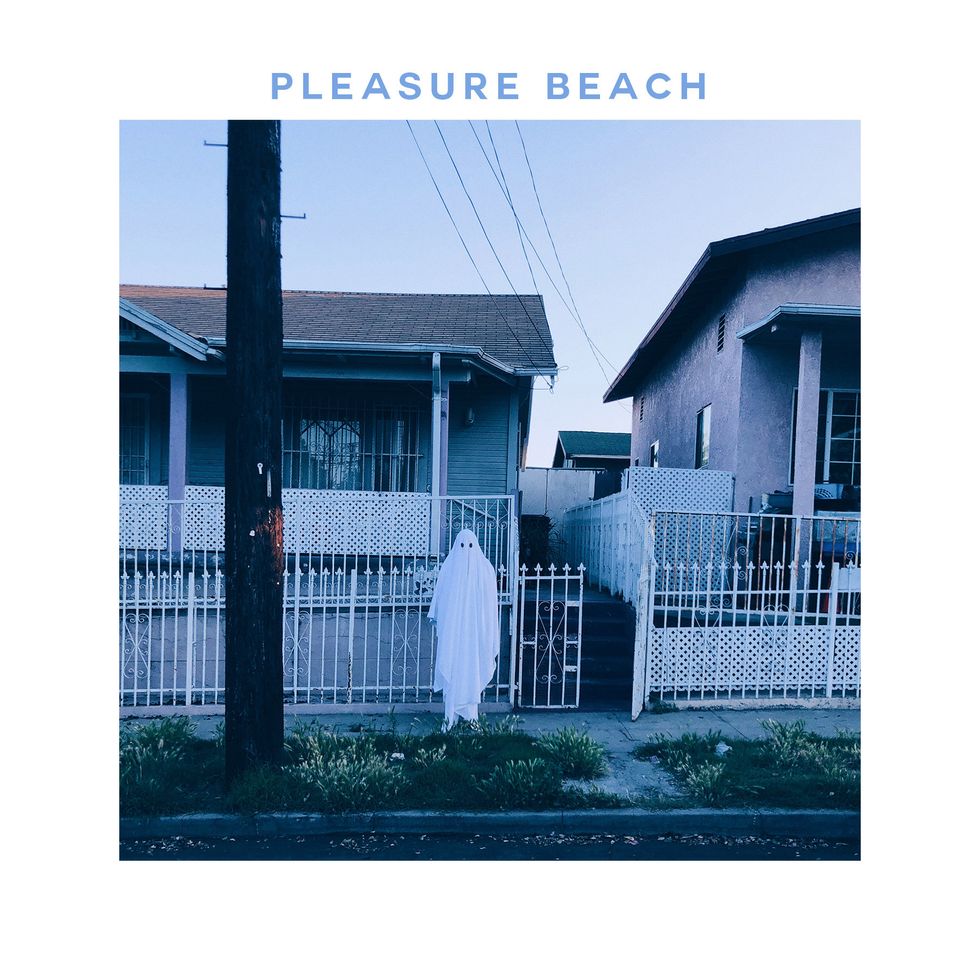 NEKOKAT
Pleasure Beach combines the band's pop-punk background with more modern upbeat synthpop elements, making it the perfect timeless soundtrack.

The EP starts out with "Board It Up," an upbeat and hopeful opening track — the song showcases the band's loose and carefree nature and basically makes you want to dance. The second track of the EP continues with "I Believe in What You Are," an already released single that's sure to motivate you in whatever you're doing. I was immediately taken back to the mid 2000's era of indie pop and teenage runaways.
The next three tracks make up the meat of the EP — "My Brain," "Traffic," and "You You You" are the little hours of the dance party at midnight before the big finale. All you want to do is let down your hair and let loose. The final track is "Crossfire," an epic finale to the EP, starting with a single vocal and ending with three — it's sure to give you the closure you need before the end of the night.
Popdust also sat down with NEKOKAT and had a chat about the new EP — it's definitely different than what they've done before.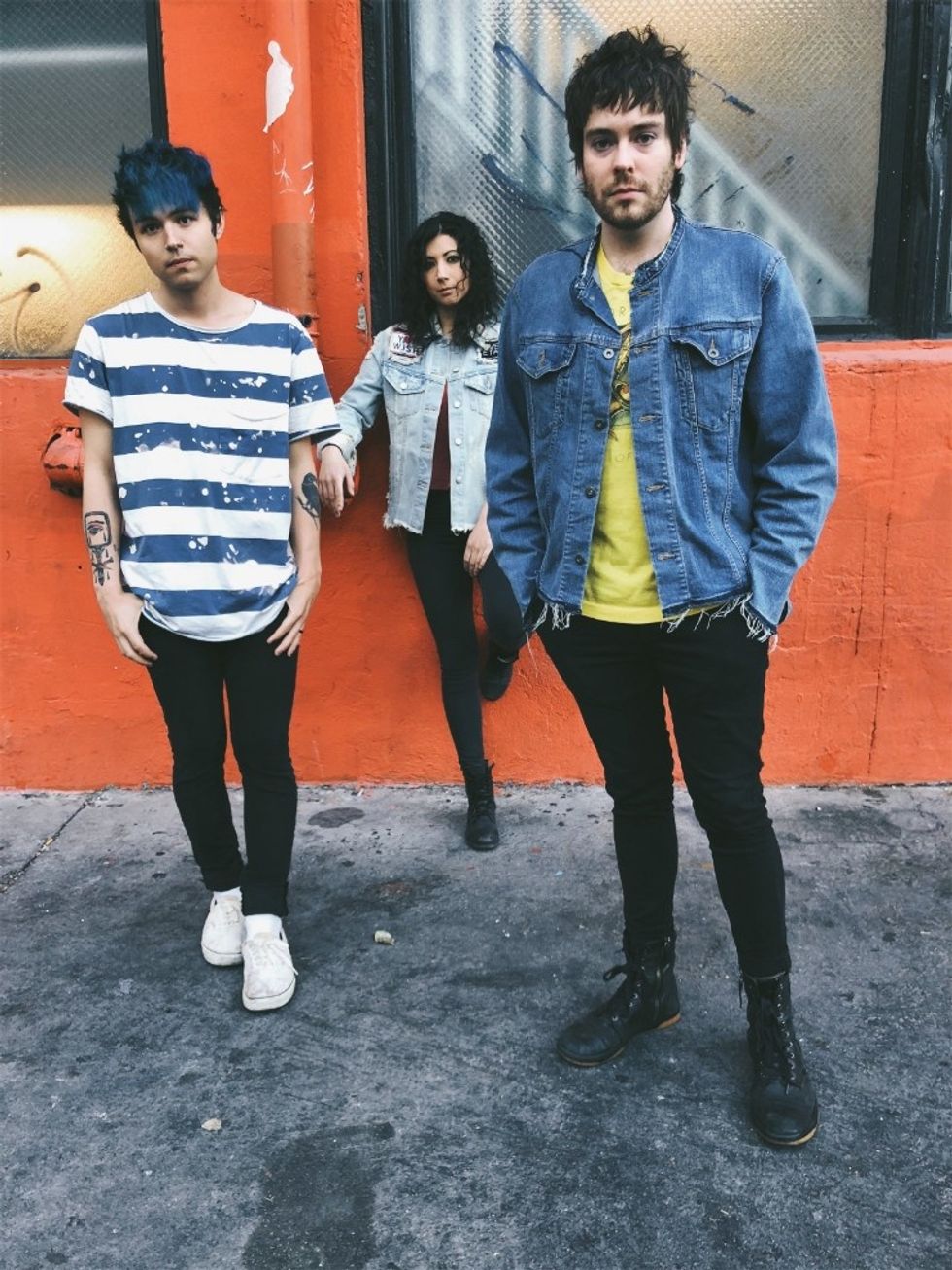 NEKOKAT
1. What inspired your latest EP Pleasure Beach?
Cameron: The title of the EP was inspired by an actual place called Pleasure Beach which is in a town called Bridgeport, Connecticut — it's just a few towns over from where I grew up. It was this amusement park/entertainment center that you could only get to by boat or bridge. The bridge ended up burning down in a fire and they boarded up the amusement park — now it's just this creepy, abandoned ghost park.
Then of course, people have their own ghost stories — you can even Wikipedia it. I was looking up pictures of what it looks like online now and it was so cool and creepy to me. We definitely make references to it throughout the EP, but it's definitely not a concept body of work, but that's what inspired the title. The songs are a collection of stuff that we've been working on during the past three years or so.
Jordan: The inspiration [for the music] is always all over the place, stylistically. When we first started, I think a lot of the stuff was more 'jingly bright' indie pop. Some of these songs on the EP were written during that era so we had to dial that vibe back more so we could make it feel cohesive.
It's interesting that we've just been putting out singles and small batches of songs these past few years and they've all been very different from one another. We basically remade all of these songs to be slightly less bright but still pretty upbeat vibe — so more organic-based.
2. This sort of leads to my next question, but is there anything you did differently than your other songs?
Cameron: We spent a little bit more time dialing in all the songs sonically on this one. On the early stuff, we just kind of plug in the guitar and play a sound and that would be the start of a song, but on this one we definitely thought a bit more about how each guitar part is going to sound and how the drums are going to sound — each song individually. That definitely shows the progression of the band.
3. What are your favorite songs on the EP?
Jess: It honestly changes every week — right now my favorite song is "You You You" which was a song that was one of the first batches that Jordan and Cam showed me in 2014. And then, randomly, I stumbled across it again a couple months ago. It was a happy accident that I remembered that it was on my computer. But it changes all the time!
Jordan: I think my favorite song right now is "My Brain" lyrically and subject-wise — it's introspective and weird. Sonically, that one came out in a really cool way and something about it reminds me of the mid-2000's wave of indie pop stuff that's sometimes hard to make as a vibe.
Cameron: My favorite song on the EP is "Crossfire." I think it was the last song we wrote and finished for the EP and maybe that's the reason I keep going back and listening to it because it's still pretty fresh for me. I really think it's the perfect closing track for the EP — it's epic, it's super personal lyrically, it has a pretty wild outro that has three different vocal parts going on at the same time. I think it really sums up and embodies what we do.
4. What is your songwriting process typically like?
Jordan: We start out with a lyric line and a chord progression and go on from there, but there's never been a laid out process. It's all been pretty loose and relaxed and when something comes out, it comes out and we try to build off of that and see where it goes. Usually, we sit with it for a while — in this case, for a very long time.
Cameron: We have songs that start off on an acoustic guitar and change to electronic songs or songs that start with a track and we just pick off the electronic parts of it.
5. How does the journey feel so far and what's next for the group?
Jordan: The journey feels pretty good and it doesn't feel like it's been a long time for the band, but it's been a couple of years. We haven't gotten to tour yet so that's something I really want to do, but it's cool to just make some stuff without a lot of pressure like deadlines and specificity. We've loosely made this thing that's slow-growing and progressively getting better and cooler and people are getting into it. Hopefully we get into a little more and do more shows and not just sit in a studio all day.
Jess: Jordan's totally right — it doesn't feel like it's been a long time. I think it's a really organic process that we're doing that's just taking our time and not forcing it. What's nice about it is that it's on our own time and our own pace. There's no pressure to it and our sound is so eclectic and can change. I think that's what's so unique about our band. I like that we're not trying to shove our band down people's throats and make them listen to us. We're organically gaining listeners through people just finding us. I like the way we're going about it. If we don't put too much pressure on it, I think it'll come.
Listen to NEKOKAT here:
---
Amber Wang is a freelancer for Popdust and various other sites. She is also a student at NYU, a photographer and intern at the Stonewall Inn National Monument.
---
POP⚡DUST | Read More ...
INTERVIEW | Fly By Midnight set to release new single "All the Feels"
The Hypocrisy of Celebrity Feminism
Terry Richardson blacklisted by Condé Nast
Related Articles Around the Web