MUSIC
The Pop Duo Reveals Their Inspirations and Pre-Firefly Festival Thoughts
Fly By Midnight
Fly by Midnight, the retro-pop duo from Staten Island, is about to release their latest single, "All the Feels," along with prepping for their upcoming Firefly festival slot.
This brand new song is bound to be one of the essential feel-good anthems of the summer — and the boys had some serious fun with it.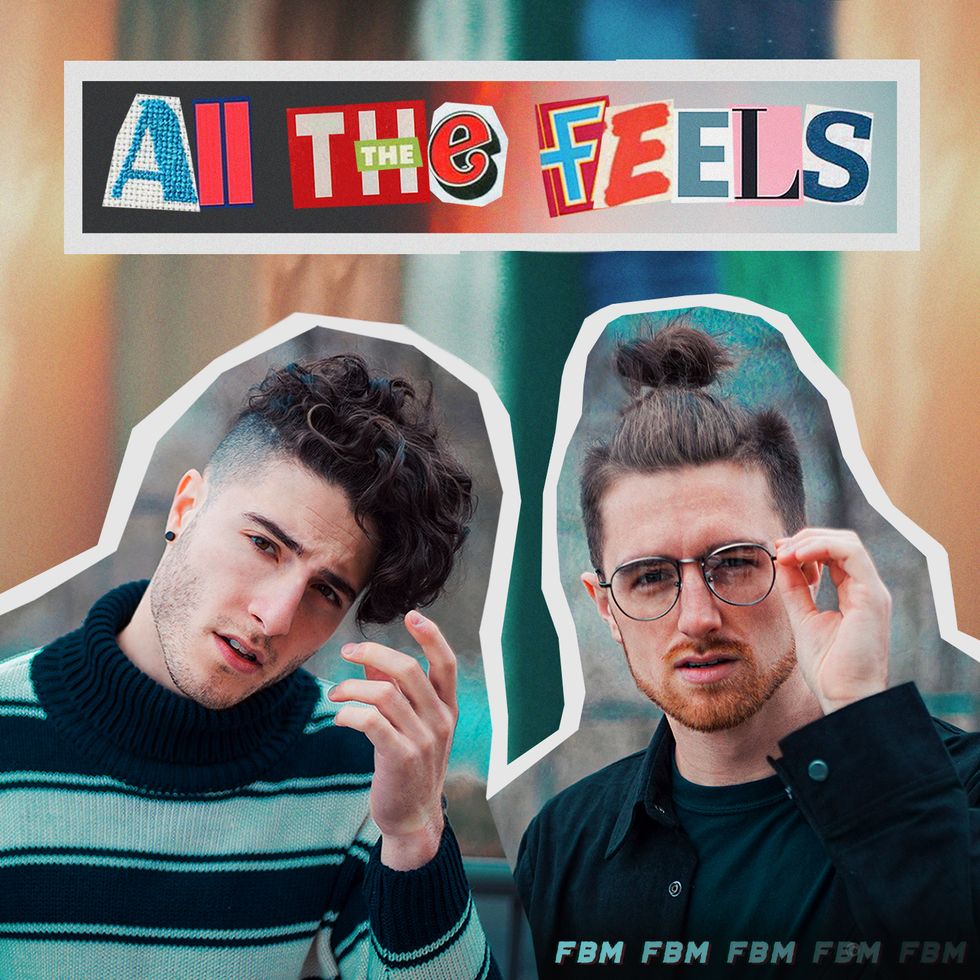 Fly By Midnight
Popdust caught up with the duo right in the midst of all their travel and growing popularity to find out more about their inspirations, reflections and upcoming projects.

1. How does the journey feel so far from where you guys started?
Justin: I mean, it's crazy. I think when looking at our career together, which has probably been about three years now, the progression within the last six months has been quicker than anything's ever been. Everything's happening super quick and we couldn't be more grateful.
Slavo: It's insane to see that from day one, we really haven't backtracked at all or had a moment where we were like "Oh, I regret that." It's all part of the journey and we've always had moments where we see progression, and like Justin said, these last last six months have been a crazy jump. We're very grateful and super excited for what's to come.
Justin: I think especially with the shows coming up — we're headlining New York City and L.A. and we're playing Firefly Festival. We're doing everything ourselves. We're not with a label yet, we're not with a booking agency. We're just two dudes in a studio on Staten Island and what we've been able to accomplish thus far we're really proud of.
2. What inspired your latest single, "All the Feels?"
Slavo: Justin and I sit down together and write a lot together and one night, we were looking on Spotify, and Justin saw that there's a playlist called "All the Feels." Obviously that phrase has been coined over the past few months, and we thought it'd be pretty cool to write a song about it. And whatever we wrote, it was just around the idea of that specific Spotify playlist. You can easily make the song about intimacy and loving someone, but we kind of just made it about your everyday cup of coffee — things that make you smile, just random stuff.
Justin: When we wrote the song, Slavo and I were in a really good place with our careers, our lives, our friends and family. It's really just a very general song about feeling good and we really wanted that to resonate with fans. I think it's such a positive record.
3. Who picked the funky outfits?
Justin: You know what's funny about the outfits — we tried to do something that's super out there because obviously it's a narrative video. We were going for, initially, something that was medieval looking, like French apparel. Slavo came across a Google search of a guy — what was he wearing?
Slavo: Like George Washington, basically.
Justin: Yeah, it was like with a wig and stuff. It was extreme and we didn't even know if we could get our hands on that so we ended up going for something that was a little more modern.
Slavo: People comment on our YouTube videos all the time and they're like, "How long does it take for you guys to figure out your outfits?" It's funny because it was probably just an hour long conversation and scrolling through some web pages — we pointed to what we wanted and ended up wearing it in the video.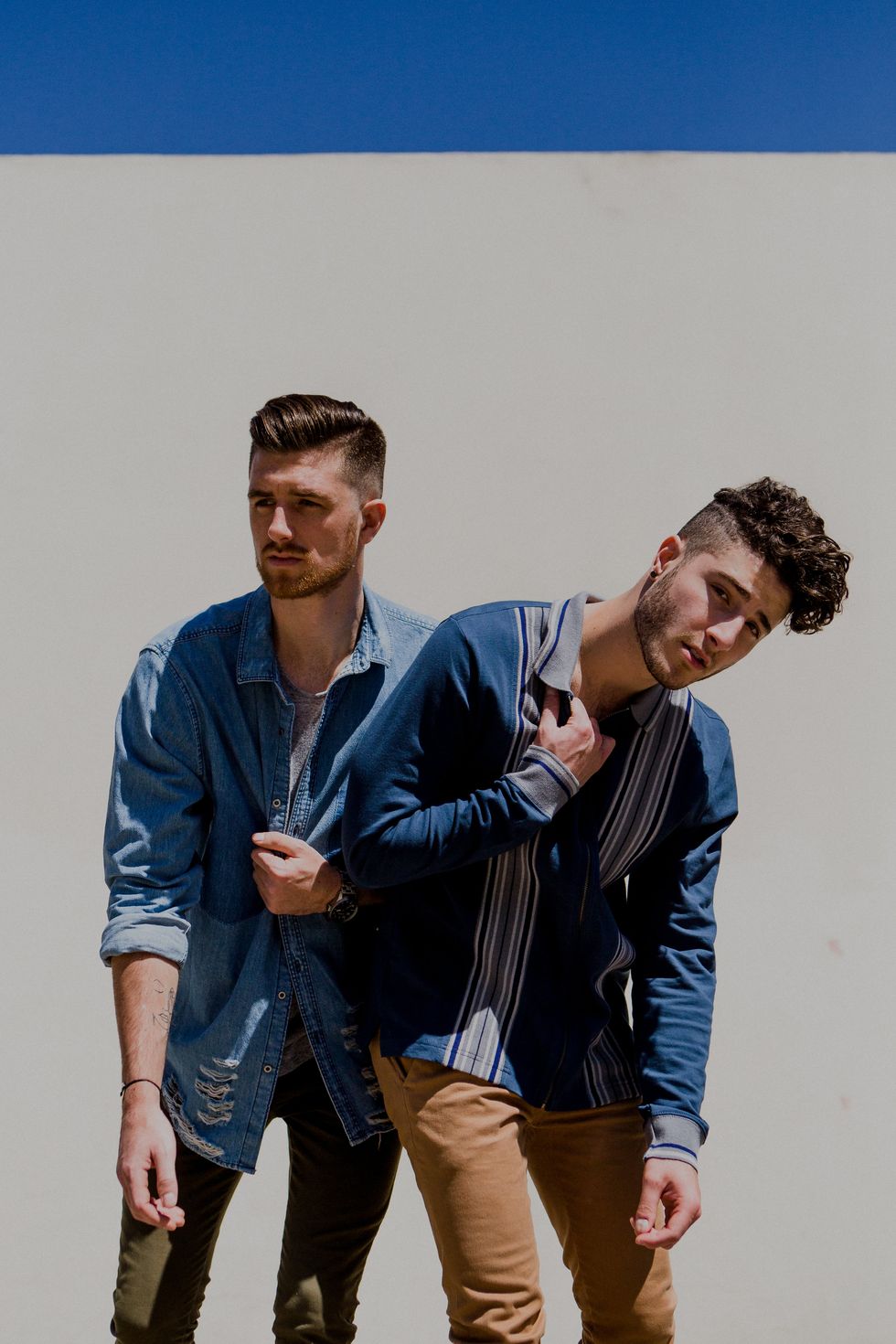 Fly By Midnight
4. What's your songwriting process like?
Justin: I think it varies from song to song. It's always a lot easier coming through a session when it's not exactly a real story, but a real feeling that we can emote into the song from our personal lives.
Slavo: I remember we were jamming out to melodies which was the first thing that started ["All the Feels"]. One of the things for us is that we get super excited about something, like we're going to like it and want to release it, and this was one of those things, especially when we heard the melody and just the vibe of the piano and the chord progressions.
Justin: We always know. At the time when we wrote the song, we knew we were going to release it next. We actually had something on deck that we wanted to come out but then we were like, "All the Feels" has to come out ASAP because we felt so strongly about it.
5. Are you guys nervous to play at Firefly?
Slavo: We don't really have time to think about it really, we have so much going on in our personal lives. Sometimes if I do think about it, I'll get very excited and I'm sure on the day of, I'll be extremely nervous.
Justin: Yeah, we're just very excited for everything right now. Before the show, there are definitely nerves — but the good kind, like the kind that keeps you on the tip of your toes, instead of going to the bathroom and throwing up.
6. How did you get the slot and what did you feel when you first heard about it?
Slavo: It's funny, the story behind getting this Firefly gig — big shoutout to ReverbNation. They've actually hooked us up with a lot of gigs. They're a big supporter of what we do and we really appreciate them and everything they've done. But this specific incident, Justin was like "Yo, I submitted this thing a while ago [to Firefly]." We've never really heard of Firefly, but it was kind of cool. Within the next eight weeks, we realized we were moving up the ranks and eventually top five. We realized we needed to get serious about this because we might win.
Justin: When you get an email saying you're playing at the biggest festival on the east coast, I thought it was a scam. We told our fans to vote for us and it's a cool feeling — there's a lot of politics and a lot of major label artists at these festivals. But for us, it was really fan-driven and I think that says a lot about our fans and how passionate they are about our project.
7. What's next for the group?
Slavo: For us, we're always making music and writing. Our journey right now is trying to figure out if we want to keep being independent or find a label, which is pretty exciting but also pretty stressful. The most important thing is to make sure our fans know we appreciate them and to keep making content. In this era, you have to keep making music and keep putting out content. For us, it's obviously very fun to make content so it's a very exciting time. That's our journey and we do whatever we can to keep the fans happy.
Justin: Yeah, more music, more videos, more everything.
---
Amber Wang is a freelancer for Popdust and various other sites. She is also a student at NYU, a photographer and intern at the Stonewall Inn National Monument.
---
POP⚡DUST | Read More ...

Honoring RICK HALL, founder of FAME Studios, with a birthday tribute during Grammy's Week
"The Disaster Artist" is James Franco's newest lovechild with himself
The Hypocrisy of Celebrity Feminism