Culture News
Surprise Couple John Mulaney and Olivia Munn Announce ... a Baby?
No shame if you forgot they were even still dating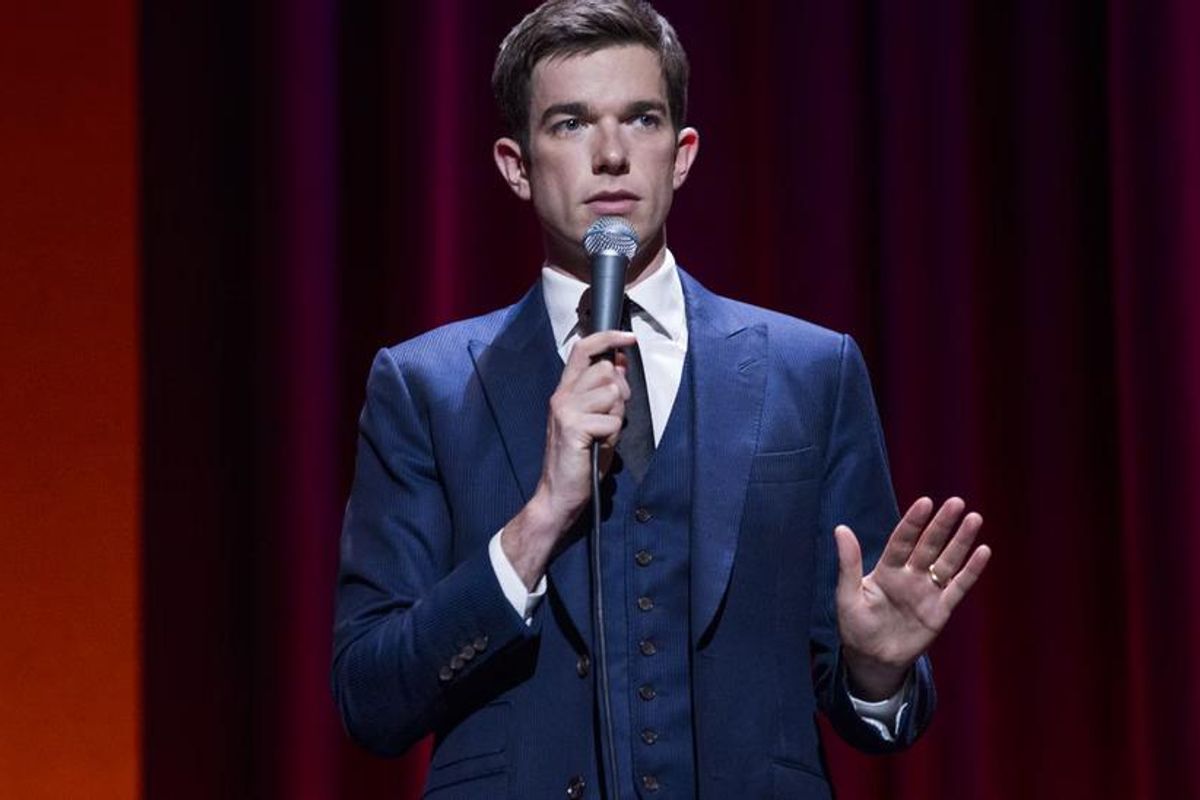 John Mulaney in 'The Comeback Kid' via Netflix
John Mulaney just announced that he and Olivia Munn are having a baby.

Congratulations to the still-strange Hollywood couple on their surprise announcement. The couple is defined, at this point, by surprises — the biggest one of all being that they are still together.
When the pair were first spotted together, many people didn't even believe they were dating.
---
John Mulaney had just announced his divorce from his wife and he was fresh from rehab. Pictures of him with Olivia Munn were vague enough to keep the nature of their relationship ambiguous but soon it was confirmed that they were together.
After the initial press flurry died down — some of which included speculation on the timeline of the relationship and how Mulaney's marriage was implicated — there was radio silence from the couple.
For a minute, there were rumors that they had been a press couple, paired together by their agents to keep them relevant and to change the narrative from Mulaney's divorce and rehab stints to something more positive.
It would have made sense. Mulaney was losing his status as comedy's golden boy, and Munn was preparing to release a new future film. But the rumors that the couple had been orchestrated by Hollywood agents quickly died down because most people just … forgot.
With no news from the couple and a summer defined by shameless pairings — Kourtney and Travis, Bennifer's triumphant return, and Zoe and Channing to name a few — their relationship fell out of the public eye and some weren't even sure they were still together.
However, on a September 7th appearance ofLate Night with Seth Meyers, Mulaney set the record straight to the public.
John Mulaney Tells Seth About His Eventful Yearwww.youtube.com
With Meyers, his close friend and fellow SNL vet, urging him along with playful banter, Mulaney described his "eventful year," clearing up the timelines once and for all and sweeping away any confusion about his relationship status and his sobriety.

He detailed his two stints in rehab over the past year, which culminated in a trip to Los Angeles where he met Munn.
"I got into this relationship that's been really beautiful," he said. And then, after establishing the backstory, he shocked the audience with his announcement: "We're having a baby together … I'm going to be a dad."
Visibly blushing and beaming, the dad-to-be seems proud and excited to share his news — and we're happy to share it with him! Blindsided? Yes. But mostly happy.
Congrats to our favorite Elder Millennial on this new journey, even if most of us forgot he was still with Olivia Munn.
Related Articles Around the Web