TV
In her new audio-only musical fantasy series, out on Audible tomorrow, Kate McKinnon pokes fun at evil-queen tropes.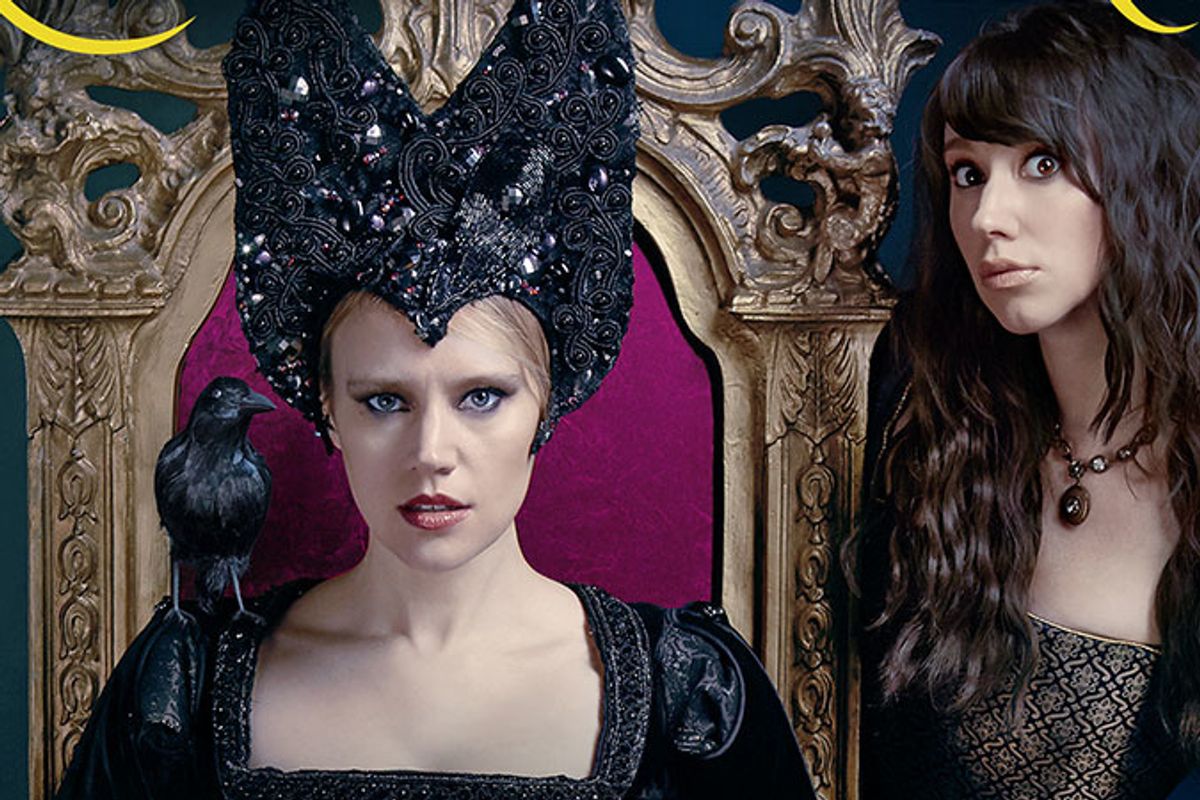 Fairy tales about royals have been told and retold since time immemorial—so hopefully Kate McKinnon and her team can put a fresh 21st-century spin on the old trope of the bitter queen.

The first episode of her new audio fantasy series, Heads Will Roll, which debuts on Audible tomorrow, appears to be doing just that.
Though Heads Will Roll will primarily be an audio-only endeavor, it released its first promotional video clip today. Appearing in full-on evil queen regalia, McKinnon ominously announces some poor victim's impending beheading—but then struggles with the phrasing of that archetypical evil queen catchphrase, "Off with your head," trying out various emphases and inflections on different words before apologizing to the victim in question. "He doesn't want to hear this," she coos. "The guillotine's that way!"
Heads Will Roll www.youtube.com
The series stars McKinnon as a malevolent monarch and her sister, Emily Lynne, as a scatterbrained minion. It appears to poke fun at tired tropes of the evil queen and the hero's journey while also relishing in their theatrical value. In terms of plot, the story focuses on McKinnon's character, Queen Mortuana of the Night Realm, who catches wind of a potential peasant uprising and realizes that in order to put down the rebellion, she and her assistant JoJo (played by Lynne) must go on a quest to find the mystical "Shard of Acquiescence."

Regarding the series' podcast format, McKinnon told Variety, "Broadway Video was partnering with Audible, which I thought was very exciting, because we both are huge, insane podcast fanatics. I find that I can no longer sit in silence or walk anywhere in silence, which is actually a problem. So we wanted to hop on board this new thing that's happening." She also informed Jimmy Fallon, "We're living in the golden age and the renaissance of scripted audio."
Kate McKinnon's Heads Will Roll Is a Veep-Meets-Game of Thrones Sitcom for the Ear youtu.be
True to form, the show also released an audio clip from the series, which features a soothsayer, voiced by Sudi Green, telling McKinnon that she will need to find the "Shard" in question in order to continue ruling over her kingdom—but first, she has a few other predictions. "Tonight you will eat oatmeal," the soothsayer shrieks. "Perhaps tonight you will jack off!" In truth, the whole clip is profoundly cringeworthy—but hopefully, the whole series contains a bit more nuance and provokes a few more laughs. Hopefully, it also offers some queer delights; for, as a society, we would all benefit immeasurably from a fairytale that ends with an evil queen marrying a fairy godmother.
The fact that the Fab Five from Queer Eye will be making an appearance bodes well for this. Other stars who will appear on Heads Will Roll include Meryl Streep, Peter Dinklage, Audra McDonald, Bob the Drag Queen, and Tim Gunn. Some of McKinnon's SNL co-stars—such as Aidy Bryant, Alex Moffat, Heidi Gardner, and Chris Redd—have also lent their voices. When Fallon asked about how she recruited all of these stars for her show, McKinnon said, "Threats. Violent threats."
SXSW 2019 Heads Will Roll Event Walkthrough www.youtube.com
When asked about her inspiration for the project, McKinnon said, "I always wanted to do something about a Maleficent-style evil queen, who's having a little bit of a crisis of conscience or wondering if she really wants to be in charge or not. We both grew up obsessed with Disney, and obsessed with fairy tales, and obsessed with Shelley Duvall's '"Faerie Tale Theatre.'" We love fairy tales, and we love fantasy. We just thought if we could combine that with the foibles of modern existence, then we could make something fun."

As one of comedy's brightest talents, and also as a lesbian icon, McKinnon yet to disappoint. Catch Heads Will Roll on Audible when it debuts tomorrow, May 2.
---
Eden Arielle Gordon is a writer and musician from New York. Follow her on Twitter @edenarielmusic.

---
POP⚡DUST | Read More...

What Netflix's "Bonding" Gets Wrong About Sex Work
What Happened at Sarah Lawrence and Why You Keep Reading About 'Sex Cults'
Happy #LesbianVisibilityDay: 10 Queer Musicians Who Are Changing the Industry