TV News
In the season premiere of Keeping up With the Kardashians Kim's criticism of Kourtney finally pushed things too far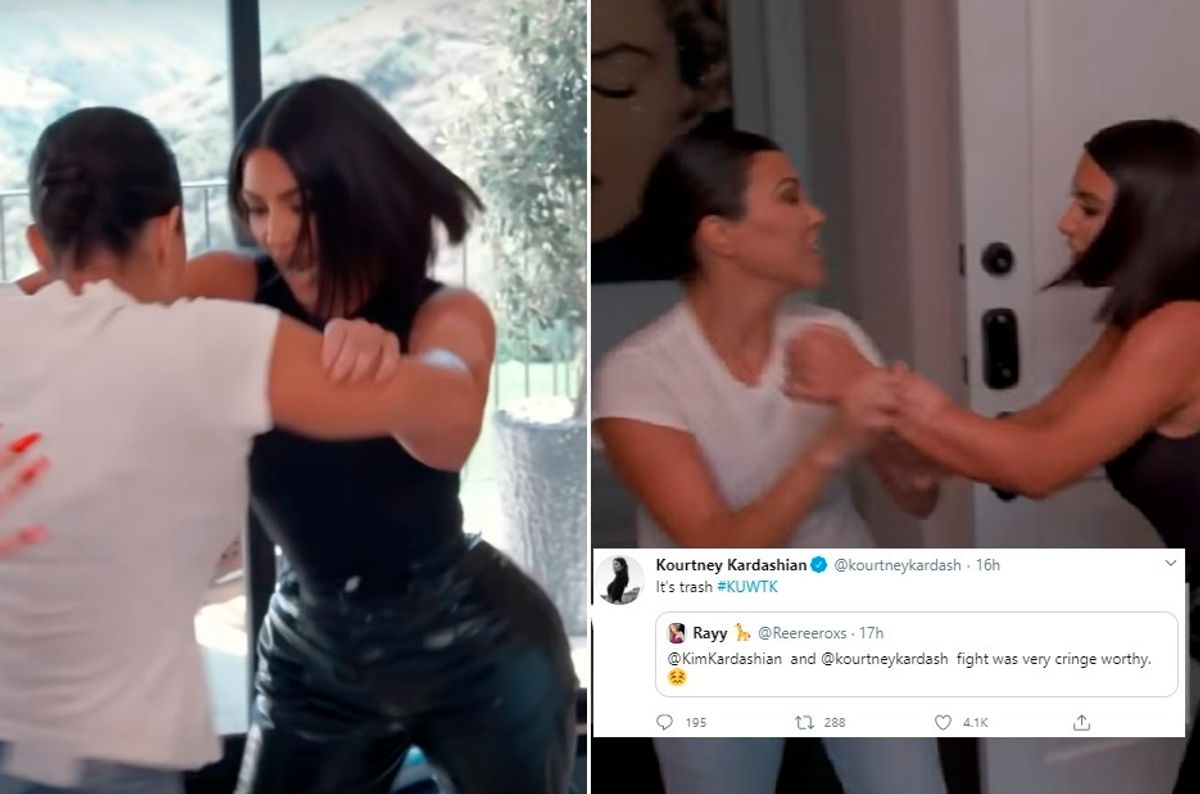 These days it's hard to imagine anyone getting mad at another person for staying home sick.
The best reason to get mad at someone during the coronavirus pandemic is that they refuse to stay home. But that wasn't the case last September, when the Kardashian family's usual tension and in-fighting escalated to physical blows between Kourtney and Kim.
It was around the time Kylie Jenner was scheduled to have a major moment at the Balmain Spring 2020 fashion show in Paris. As the season premiere of Keeping Up With the Kardashians documents, Kylie was planning to represent Kylie Cosmetics at the event—and was in the process of planning out looks for the models—when she became violently ill. According to posts made to Twitter and Instagram, Kylie had a case of strep throat that was so bad she was bleeding from the mouth and had to be hospitalized, with Kylie later tweeting, "It was the sickest I've ever been."
But apparently Kim Kardashian West was not convinced of her half-sister's illness, and she was not concerned for the well-being of all the models and attendees that Kylie could have infected—we used to be so careless pre-2020! She felt strongly that she and Khloé were the only sisters who knew the value of hard work, and she let Kourtney know that she and Kylie were letting down the family, stating matter-of-factly, "You don't care about stuff" and, "If I were on my deathbed, I would still show up." Cool...
Kim & Kourtney's Feud Gets Physical: "KUWTK" Katch-Up (S18, E1) | E! www.youtube.com
This is not the first time that Kim, 39, has directed this kind of criticism at her older sister—the infamous fight over the Christmas photo shoot was much the same—but it was apparently the last straw for Kourtney, 40, who interrupted Kim to say, "You act like I don't do sh*t … You have this narrative in your mind—" which is when Kim cut her off. Kourtney continued trying to mount a defense while Kim interjected with her criticism until Kourtney finally came out with, "I will literally f*ck you up" and quickly showed that it was not an empty threat.

The exchange of slaps, kicks, punches, and digging fingernails has to be seen to be fully appreciated—though footage of kangaroos fighting in the wild will get you 90% of the way there.
In the aftermath of the fight airing on national TV, Kourtney all but officially confirmed that she will not be returning to the show. It's always sad to see a family business falling apart over this kind of sibling drama—even if the family business was to constantly be on the brink of falling apart over sibling drama—but the question remains, whose fault was it?
Actually, never mind, it was Kim's. Without a doubt. Good for her that she's a hard worker—and she has actually done some impressive things in recent years—but her attitude that her siblings are supposed to live according to her standards, and that she knows better than they do about their own health, is insufferable—especially from a younger sister. Kourtney should not have flown off the handle, but Kim should have seen that she was striking a nerve and backed off rather than escalating it—and actually slapping her sister across the face with a lot more force than Kourtney managed.
Kangaroo Boxing Fight | Life Story | BBC Earth www.youtube.com
In a series of tweets on the incident, Kourtney said, "It's trash #KUWTK." And when another user suggested that the fight had been the motivation she needed to finally leave the show—after previously deciding to cut way down on her involvement—Kourtney responded, "It is from our darker moments where growth happens." Grammar aside, it would be nice if she followed through this time and we no longer have to see this kind of drama without the soothing tones of David Attenborough's narration to reassure us that the kangaroos will be okay.