TV
The streaming service that no one asked for is getting a major push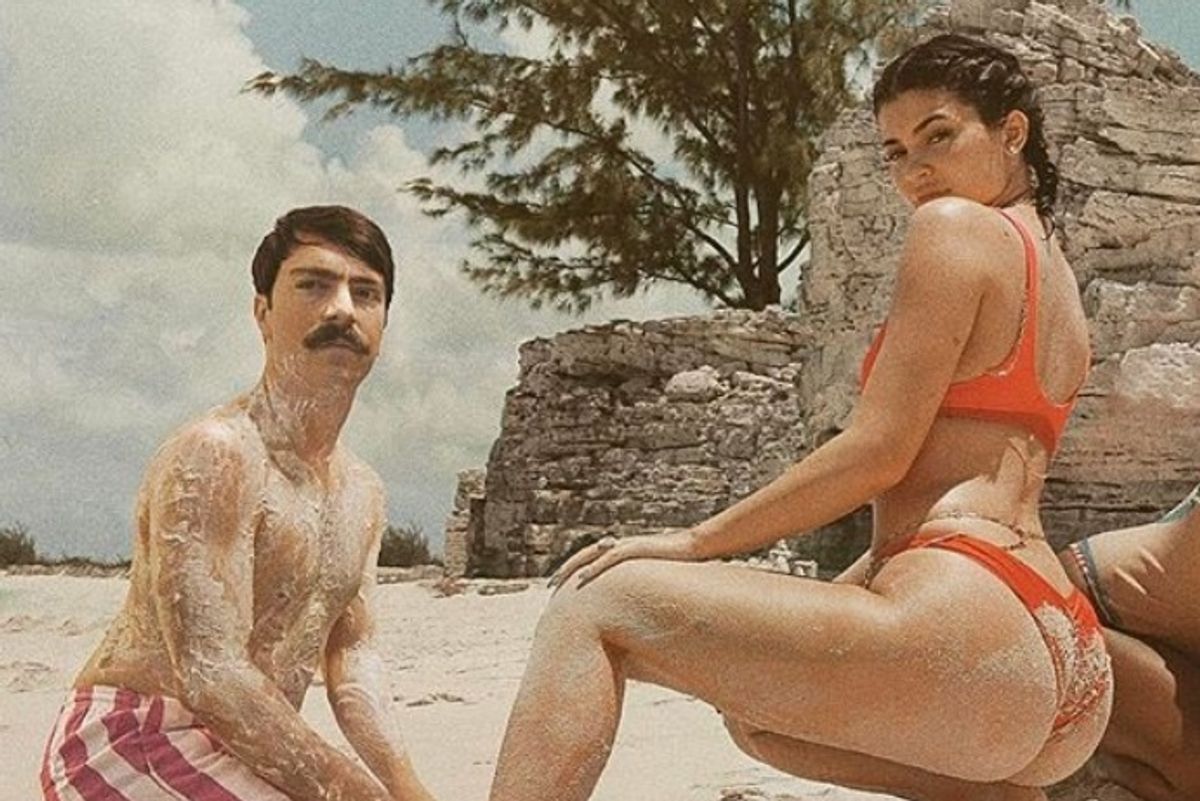 Quibi, which is a mash up of "quick" and "bites"—sort of like how Seeso was a mashup of "see" and "so"—is a short form streaming service designed to cater to millennial's extremely short attention spans. The platform is gaining new buzz thanks to the faux-reality show that will follow "Kirby Jenner."
---
The fictional fraternal twin of Kendall Jenner, Kirby has made a name for himself by photoshopping himself into Jenner-Kardashian images on Instagram. He will now be starring in his own show as the black sheep of that famous family, with cameo appearances from Kylie, Kendall, Kris, Klarissa, Kardamom, and Kourtney. And true to his outcast persona, Kirby's show will not appear on broadcast television, but instead be relegated to a new, not-at-all doomed streaming service.
After all, who doesn't remember the momentous day when Disney launched their famous streaming video app Oh My Disney? No? But it was a short-form video service targeted toward millennials—just like Quibi. What could be more perfect than that?! Millennials have famously short attention spans, so we must all be holding our breaths for the opportunity to abandon all these 20-minute TV shows in favor of programming in the one-to-ten-minute range. What Jeffrey Katzenberg, 68, gets about us young people is that we want something new and different and surprising at least every few minutes, which is why 3-hour podcasts are so unpopular, and why no one binge-watches classic sitcoms from 25 years ago. Right?
If I'm wrong about all that—if millennials and zoomers would rather turn off their brains for extended periods than seek out the constant novelty and stimulation they can get for free by scrolling through Instagram or Reddit—then a Disney streaming service that offered classic TV and movies would make a much bigger splash than Oh My Disney did, and a service like Quibi would probably be dead in the water.
Unlike any previous streaming service with a dumb, nonsense name, Quibi has been getting a lot of attention for attaching some big celebrity names to their upcoming projects. Unlike failed streaming services like Netflix, Hulu, Disney+, Amazon Prime, and HBO Go, Quibi isn't taking any risks on tried and true content; they're putting their money into brand new, short-form projects. Brand new content! Just like Apple TV+! And that turned out great!
Who wouldn't want to see Chrissy Teigen run her own small-claims court, or Patton Oswalt get caught up in a comedic murder mystery? But also, who wouldn't want another monthly bill? For only five dollars a month—on top of your subscriptions to all those failed streaming services I just mentioned—you will soon be able to watch the same kind of short sketches and videos you could see for free on YouTube and a dozen other platforms, but starring the likes of Tina Fey, JB Smoove, and now Kirby Jenner. Five dollars is almost as cheap as four dollars. Hooray!

Quibi already has more than a billion dollars in investment, which couldn't possibly backfire. Also, it's really fun to say "Kirby on Quibi! Kirby on Quibi!" over and over again, so it's pretty much a guaranteed success, and we definitely won't all cancel our subscription just before the free trial expires. Keep an eye out for lots more positive signs that everything is going smoothly!