MUSIC
The EP is fun, but confirms that Lil Nas X doesn't quite know what to do.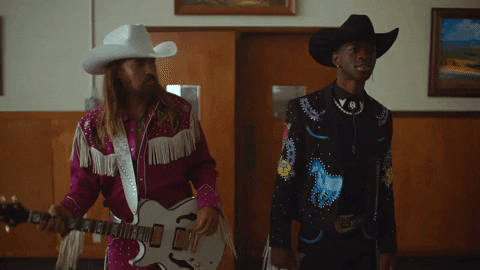 By now, we all know the story. As told by The New York Times, NPR, Complex, Teen Vogue, Fader, Rolling Stone, and Time Magazine, 20-year-old Montero Lamar Hall, otherwise known as Lil Nas X, is from Atlanta, Georgia, and he's currently (and unexpectedly) the biggest pop star in the country.
We all know he got his start online, curating 15-second musical quips, one of which would grow into the beast that is "Old Town Road." Hall had been pushing his music on Soundcloud for months, but none of it took until he tapped into the micro-niche of meme culture with "Old Town Road." By flooding the internet with witty and unique memes to promote the song, the curiosity of internet-culture-obsessed teen's grew quickly, with Hall remaining mum on any further details of the song. The quip caught national attention after social media influencer nicemichael used the track in one of his trendy dance videos on Tik Tok.
But, frankly, Lil Nas X could have gotten there on his own. "Old Town Road" was born for the internet. The song's quick length, simple beat, and earworm of a chorus made it perfect for sampling online in an abundance of hilarious ways. Throw in Hall's internet savvy personality, unique marketing creativity, and embrace of the already growing "YeeHaw Agenda," and the song was destined to take over the world with or without nicemichael's steady fanbase. Billboard's racism definitely helped, too!
Inevitably, as "Old Town Road" catapulted into the spotlight, so did the 20-year-old college dropout. To his credit, Hall embraced the black cowboy aesthetic in an amazingly authentic way. He struck up a deal with Wrangler jeans that left racist country fans reeling, and in almost every conceivable public appearance he wore a sophisticated yet unique take on cowboy attire. Then came "Old Town Road's" Billy Ray remix, and then the Diplo remix; with each new rendition being promoted as a standalone project, they revitalized a song that could have easily lost buoyancy after a few weeks in the spotlight. But at some point, Lil Nas X was going to run out of road, and Montero Lamar Hall was going to have to show people who he was.
During an appearance on Deus and Mero, he was introduced by the hosts as the "King of Country." "Wait, wait, wait, I don't want to say that," Hall chimed in. "I don't agree with that last one." In an interview with Complex, Hall was asked to explain who he was: "I'm from Atlanta, but I don't really consider myself an 'Atlanta rapper.'" So the question remained: Who was Montero Lamar Hall, and why was he so resistant to embrace a definition? On 7, Hall's messy but charming debut EP as Lil Nas X, he shows us that he's still on that journey, navigating the cesspool that is internet culture in the hopes of finding his next hit and an identity more authentic than a meme.

Yesterday, Lil Nas X released "Panini," an equally silly earworm that borrows almost nothing from the country-pop influence of "Old Town Road." The rapper credited Kurt Cobain as a songwriter, borrowing the song's melody from Nirvana's "In Bloom." On "F9mily (You & Me)," Lil Nas X worked alongside Blink-182's Travis Barker to craft a pop-punk track that Barker admits was initially meant for his band. On "Kick It," Lil Nas X experiments with lo-fi Jazzhop; on "Bring You Down," he plays around with Garage Rock. Almost every song is its own experiment, with Lil Nas X seemingly waiting to see which vibe people enjoy most.
"Yeah I'm going to talk about everything in my music," he told Complex. "[In the past] I was making music more that I thought people would want to hear." This sentiment has left critics like Pitchfork feeling duped. "We don't learn a single thing about Lil Nas X on 7 other than he might have actually been born in a Reddit test tube in 2018." But what is there to know? He's confirmed hundreds of times that he's just a kid from Atlanta who stumbled into fame completely by accident. His music isn't born out of personal emotional turmoil or a form of creative catharsis; its sole purpose is to be consumed by the masses as lighthearted entertainment. He rhymed "Panini" with "meanie," "teeny" and "genie," for god's sake!
Montero Lamar Hall doesn't pretend to know what he wants Lil Nas X to be, and 7 proves that he frankly still has no idea. It's impossible not to admire his willingness to experiment and share his identity crisis with fans, even if the result isn't a necessarily cohesive or groundbreaking album. It's enjoyable for now, but even Hall, who has openly struggled with anxiety, admits this simply can't go on forever. "Why's it always what you like?" he sings cryptically to the masses on "C7osure (You Like)": "Ain't no more actin' / man that forecast say I should just let me grow." The track offers a poignant moment of vulnerability. Lil Nas X has been backed into a corner thanks to his viral success, and while it's all fun and games for now, it's clear that the rapper doesn't know how to turn his trending goofiness into the respected, bona fide rap career he's strived for since the beginning. Lil Nas X has arrived thanks to the power of social media, but the question still remains: Now what?