CULTURE
They're two of the world's most powerful and inspiring individuals, after all.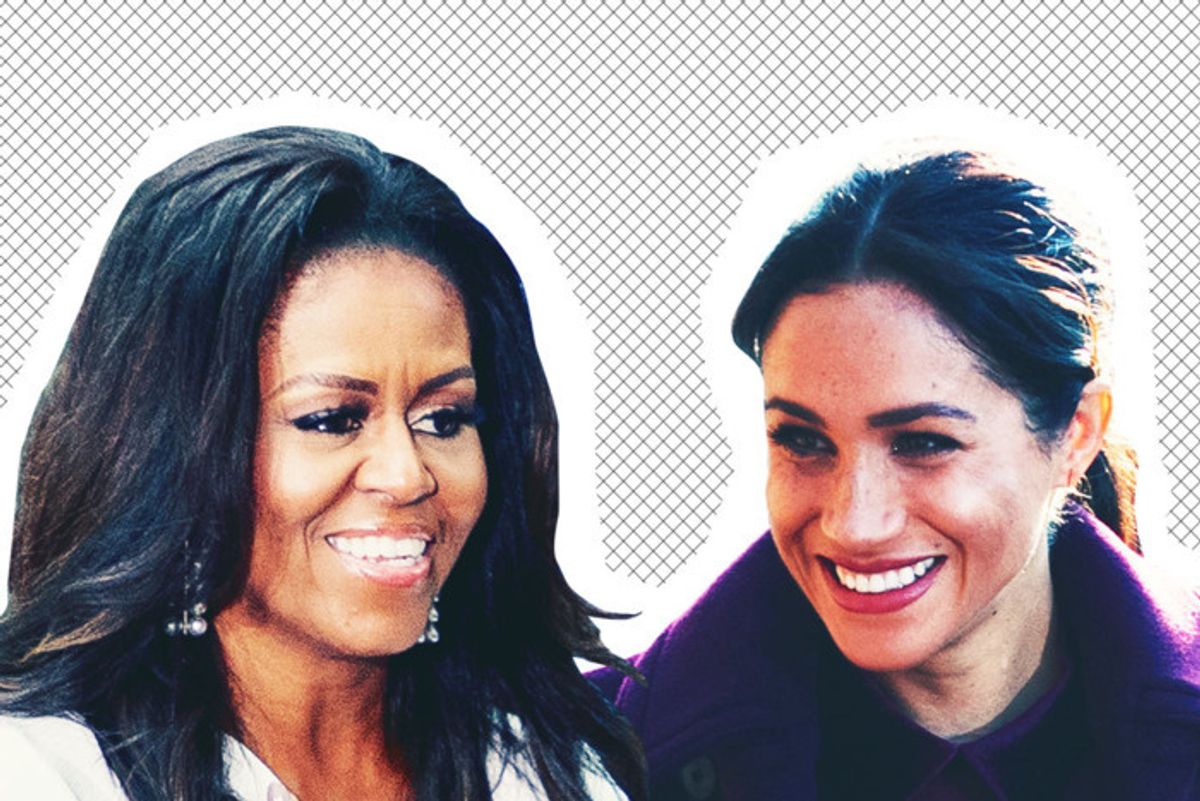 The Cut
What can't Meghan Markle do?
She's a new mom, a royal, and fervent defender of freckles—and now, she's the first ever guest-editor of British Vogue.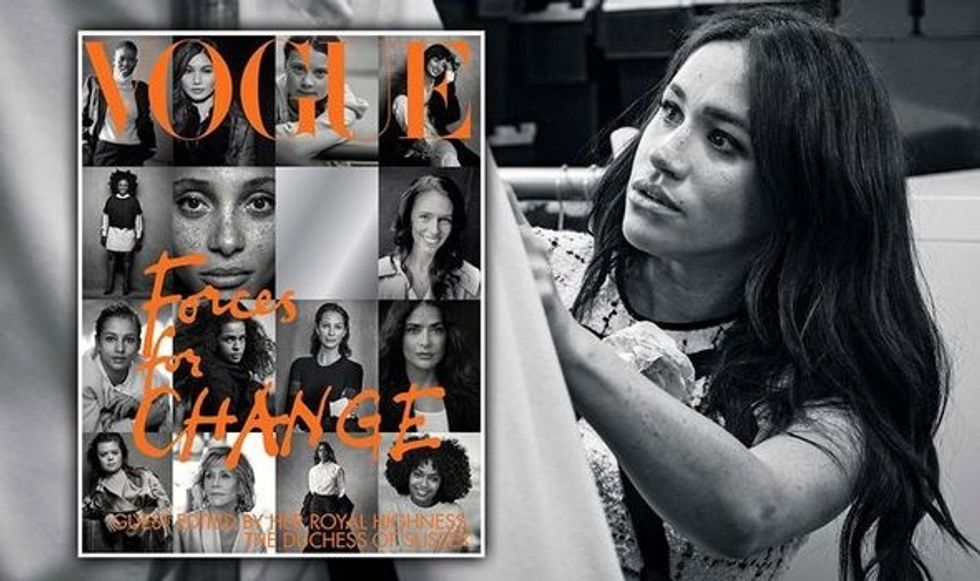 Image via Daily Express
Markle lent her editorial sensibilities to the magazine's September issue, which isn't too far of a departure from her comfort zone—she used to run a lifestyle blog called The Tig before royal duties called her away from the digital sphere.
Entitled "Forces for Change," the upcoming Vogue issue focuses on strong, game-changing women. It highlights the voices of some of the world's most inspiring, powerful ladies, and includes a number of awe-inspiring features, including an interview between Markle and Michelle Obama herself.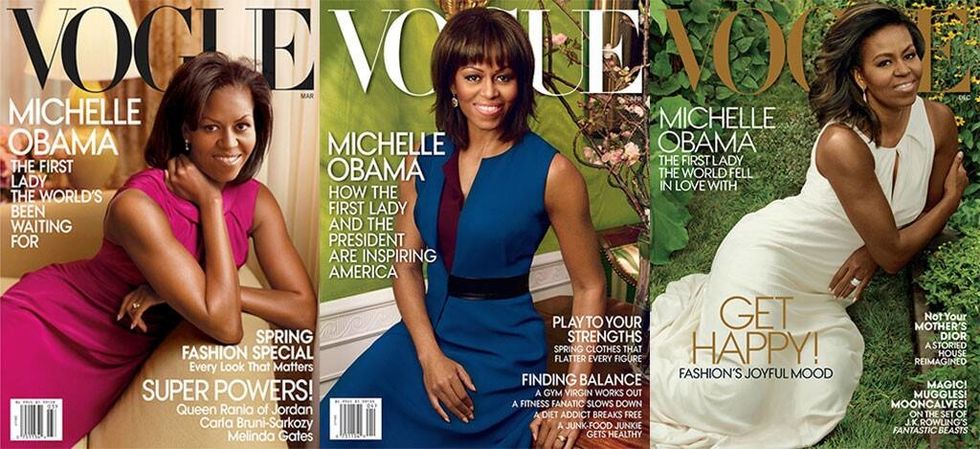 Michelle Obama has done her time with Vogue. Image via E! News
In the interview, Markle asked Obama a variety of questions, ranging from inquiries about what motherhood means to her, what advice she would give her daughters, what inspired her to start her girls' empowerment foundation, what she would tell her 15-year-old self, and more. While Obama's answers are eloquent and full of compassion, the interview is still somewhat disappointing in that it revolves mostly around classically feminine issues—motherhood, Mother's day, daughters, advice, kindness—when it could've gone much deeper.
Markle can be forgiven for focusing on motherhood, as she just gave birth to her first child. Plus, the issue itself is incredibly inspiring, featuring a variety of extraordinary women—many being women of color—on the cover. It's an amazing achievement, one that magazine editors across the globe should be scrambling to replicate.
Still, Markle and Obama's interview could've been so much more. These women are a lot more than wives and mothers: They're some of the world's most powerful and intelligent people.
To her credit, Markle offered a self-aware disclaimer in the introduction. "Had I known Michelle would be so generous in making this a comprehensive interview, my questions would have been lengthier, more probing, more engaging," she wrote.
Admittedly, criticizing women for talking about motherhood does the same kind of disservice to feminism as criticizing women for wearing pink. Obama and Markle had the right to focus on motherhood and women's issues, not on politics or more rigorous or personal ideas. Additionally, the two women clearly have a tremendous amount of mutual admiration for each other, and that fact alone makes the interview worth reading.
For her part, Obama seemed to want to push the conversation beyond the boundaries of gender. "My parents, particularly my father, taught my brother and me at an early age to treat boys and girls exactly the same," she responded when Markle asked if she would give different advice to sons than daughters.
In spite of its limited topical scope, the interview between Obama and Markle is important representation, and the British Vogue issue—from its cover design to its emphasis on diverse voices—is a wonderful achievement by Markle. Hopefully, we'll see more content like this issue from here on out. Soon enough, we'll be reading conversations between other female world leaders, such as Beyoncé and the next female U.S. president, that traverse more substantial territories. Perhaps, in the near future, women's voices won't be relegated to fashion magazines, and we'll see covers like this issue's on newsstands across the country. Markle's issue is a huge step in the right direction, but when can we see her guest-edit Time Magazine or take over the BBC?

On the whole, Markle's issue, which features a variety of incredible people, including Chimamanda Adichie, Greta Thunberg, and Laverne Cox, is a simply extraordinary achievement for humankind.
Now, it's time for women's media to move past gendered, women-only spaces and into positions of even greater power.
The fact that Obama and Markle spoke at all is still a gift and a blessing. Regardless of its content, the conversation reveals two extremely intelligent, sensitive, and inspiring women who have already given so much to the world—and who have only just begun.
Great cover of @BritishVogue September Issue, guest-edited by Meghan Markle. Featured are 15 inspiring women like M… https://t.co/yBDA2Rj0n9

— Janice Deul (@Janice Deul) 1564390939.0
Meghan Markle's Specific Instructions for Cover of Guest-Edited Vogue Issue: 'I Want to See Freckles' https://t.co/ghWH6doLhq

— People (@People) 1564360563.0