FILM & TV
5 Reasons We Can't Wait For Season 2 of "Atlanta"
Atlanta & Donald Glover are finally coming back to FX this March.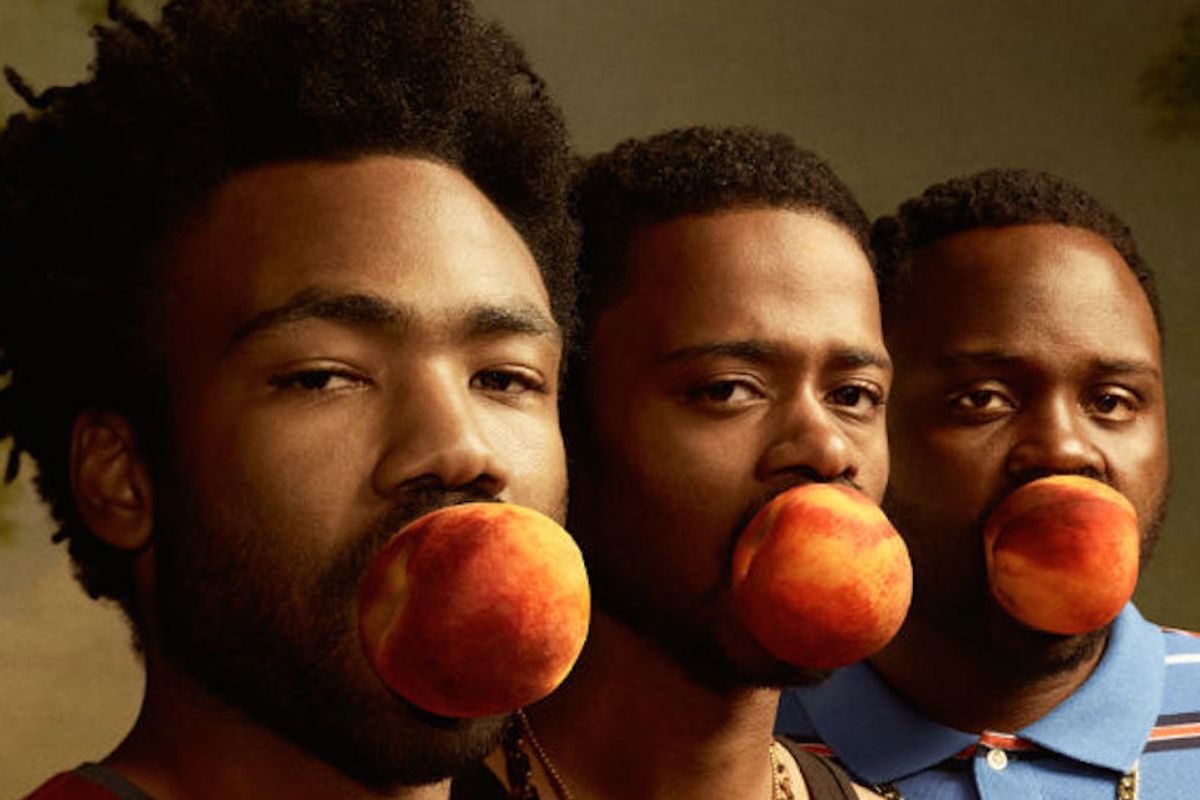 FX 'Atlanta'
Atlanta has a vibe unlike any other show on TV. Surreal and sublime, the show's universe feels hyperrealistic like a bubble waiting to be punctured.
---
Donald Glover's Atlanta is finally coming back to FX (March 1st, 10 p.m. ET) after a brief hiatus in which Donald Glover became a father, toured his '70s Funkadelic-inspired album, Awaken, My Love!, and prepared for his role as Lando Calrissian in the upcoming Solo: A Star Wars Story (experiencing a minor hiccup after directors Phil Lord and Chris Miller were fired by Lucasfilm). Glover won an Emmy for best-directed comedy—one of the first Black nominees to win—and also took home an Emmy for best actor in a comedy series, so it's no surprise that Atlanta is one of the most anticipated releases in 2018.
Season one of Atlanta touched on topics of race, co-parenting, poverty, the perils of navigating fame, and paid homage to the hip-hop and culture of Atlanta; Glover has apparently named season two of his hit series Atlanta Robbin', based loosely on the thematic structure of Tiny Toons: How I Spent My Summer Vacation. Does this mean Paper Boi (played by the exceptional Brian Tyree Henry) will give up his rap stardom to become a voice actor for Cartoon Network? Fortunately, no—season two will simply further develop the episodic and experimental tone Glover dabbled with in season one, i.e. "Streets on Lock," "B.A.N.," and "Juneteenth."
With more creative room to explore the world of Atlanta, season two sounds like it might just expand upon the parts of the series that made it such a unique and refreshing watch: Paper Boi's conflicted celebrity image, Darius' (Lakeith Stanfield) stoner-esque aphorisms, and Earnest's college-educated entitlement challenged by his new job as Alfred's manager. Not to mention, Earn and Van's (Zazie Beetz) tender relationship together with their daughter, Lotti, is one of the most nuanced and subtle relationship depictions on TV. Here are the top five best moments of season one that made Atlanta a standout comedy series.
The "B.A.N." Episode
The fictional "B.A.N." stands for Black American Network—a good mix between BET and PBS—and features a low-budget show called "Montague" (that looks like the set of The Eric Andre Show). This episode feels like an alternate universe within the show itself, as if all the characters are interdimensional beings visiting the set of Atlanta. Easily one of the best (and most experimental) episodes in the series, "B.A.N." features thought-provoking commentary on hyper-masculinity in hip-hop culture as Paper Boi discusses the boundaries of his rap image and sexuality. (Also worth noting, YouTube's very own Nileseyy Niles makes an appearance in the hilarious "Transracial" report where he claims to be a 35-year-old white man from Colorado.)
Celebrating Juneteenth in a Mansion
Atlanta doesn't shy away from race and identity politics in the Black community and "Juneteenth" (the national holiday commemorating the legal abolition of slavery in Texas and Confederate States), is no exception; it's easily one of Atlanta's most provocative episodes. Van attempts to network with an old friend married to a white, wealthy businessman—whose fascination with Black culture is slightly fetishistic—and things quickly spiral out of control once she finds out Earn is Alfred's manager. In an ironic twist, Van and Earn are attacked by the hostess and embraced by the husband who proclaims rap is the epitome of Black culture. Oh, and Van and Earn get it on in a car.
Paper Boi the Star
"The Club" is Atlanta's where's-my-money episode and it delivers. Paper Boi's single is finally gaining traction in the community and he's expecting a paycheck, but the club promoter isn't too eager to pay up, avoiding Paper Boi and his crew. After getting strong-armed and jacked by Paper Boi, the club promoter—like a character out of a blaxploitation film—straightens out his collar and says, "That boy's gonna be a star." Nuff said.
The Exploitative Pizza Run
One of the few episodes that unpacks exploitative clickbait, "The Streisand Effect" features one of Atlanta's most annoying characters, Zan, a Twitter troll who also somehow gets away with saying the N-word and is, for lack of a better word, a sociopath. Zan lacks total empathy, but after conning a young boy to steal money for him during his pizza deliveries, it's Alfred who ends up having the empathy to leave Zan alone despite his slanderous online drivel.
Don't Play with Migos
Long story short, Atlanta's Migos have a memorable cameo in "Go for Broke," and it's one of the most surreal murder scenes in the entire series. It's a stark reminder that Paper Boi isn't big enough to forget hood politics.
Season two of Atlanta premieres March 1st, 10 p.m. ET on FX.
---
Shaun Harris is a poet, freelance writer, and editor published in avant-garde, feminist journals. Lover of warm-toned makeup palettes, psych-rock, and Hilton Als. Her work has allowed her to copyedit and curate content for various poetry organizations in the NYC area.
---
POP⚡ DUST | Read More About Film/TV...
SATURDAY FILM SCHOOL | The Most Dysfunctional Family on TV is Still Going Strong
BOX OFFICE BREAKDOWN | What's coming to theaters this weekend?
Lady Bird wins big at the Golden Globes - but it still deserved "Best Director"
Revisiting the YouTubers You Watched in High School