Tyler, the Creator's infamous, raspy vocals provide a nice counter to Uchis as Bootsy Collins sends the beat into cotton-candy oblivion.
When Kali Uchis and Tyler, the Creator come together, magic happens. The two have long collaborated since Uchis' dreamy EP, Por Vida, which Tyler produced two of the tracks, "Call Me" and "Speed." Uchis' newest single, "After the Storm," from her TBA upcoming studio album (Fool's Paradise), is a retro '70s funk-inspired love song featuring rapper, fashion designer, and skater, Tyler, the Creator and funk-bassist Bootsy Collins.
Bootsy Collins—who apparently reached out to Uchis after she mentioned wanting to work with him in a Billboard interview—appears on a cereal box crooning to Uchis as she ponders her grocery list: milk, eggs, cheese, and a new lover, in all caps and underlined, of course. A riff on Tyler's 2017 release, Flower Boy, the video depicts Uchis in mod buying flower seeds to grow herself a new lover, a flower man, to be exact. Tyler is his usual quirky self, sporting a shrub afro and what would appear to be a pink cardigan from the maternity section. "Someday we'll find the love / 'Cause after the storm's / when the flower blooms," Uchis sings mid-tempo as Tyler grows through the calendar seasons, finally sprouting into a tree-man. Directed by Nadia Lee Cohen, the video is shot in muted pastels and looks like a behind-the-scenes set of a blaxploitation film; Uchis' sugary atheistic is at 100% and pictures blissful domesticity with tree-babies and backyard barbecues.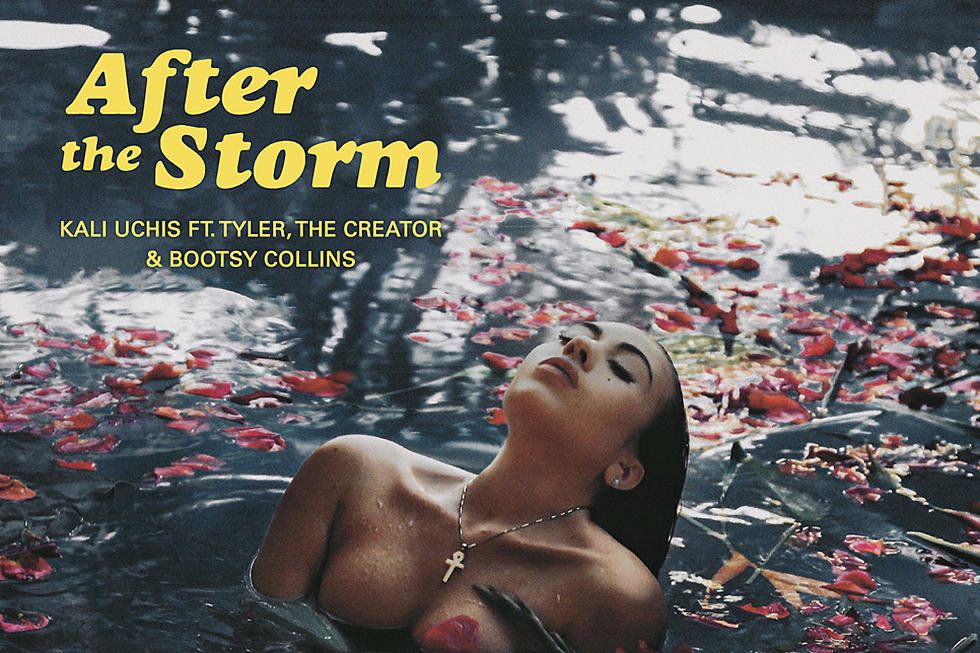 www.xxlmag.com
"After the Storm" is a groovy mix of pop-infused funkadelia, paired with Uchis' creamy, sultry vocals that melt into the production. Tyler, the Creator's infamous, raspy vocals provide a nice counter to Uchis as Bootsy Collins sends the beat into cotton-candy oblivion. Whether she's singing about the matters of her heart or being a loner, Kali Uchis knows how to leave her mark on a song, kind of like a perfume scent lingering in the air.

The 23-year-old, Colombian-American singer received her first Latin GRAMMY nomination featuring on Juanes hit single, "El Ratico," and later collaborated with London-based Jorja Smith on "Tyrant," another single from Fool's Paradise about woozy, fleeting love—and arguably one of the most stylish music videos of 2017. "Nuestro Planeta" feat. Reykon is a sexy, fun track with an even sexier music video shot in her hometown of Medellin, Colombia. 2018 is looking up for the singer and her long-awaited studio album.
Usually seen rocking platinum blonde hair and Brigitte Bardot makeup, the sultry R&B singer has been compared to Lana Del Rey and Amy Winehouse, two other women known for eyeliner and dizzying, love ballads. But Uchis' music is idiosyncratic, kind of like a vintage coin purse you've found in a niche LA boutique, familiar, but enigmatic all at once.
Her retro fashion and music sensibilities are never cloying, and she celebrates her Colombian roots and femininity in her music. Her tracks are a hybrid of Spanish and English, a beautiful coupling of Latin and American pop. Like ice cream on a summer day, Kali Uchis makes everything delicious, and "After the Storm" is one delicious song. Too bad it's still winter.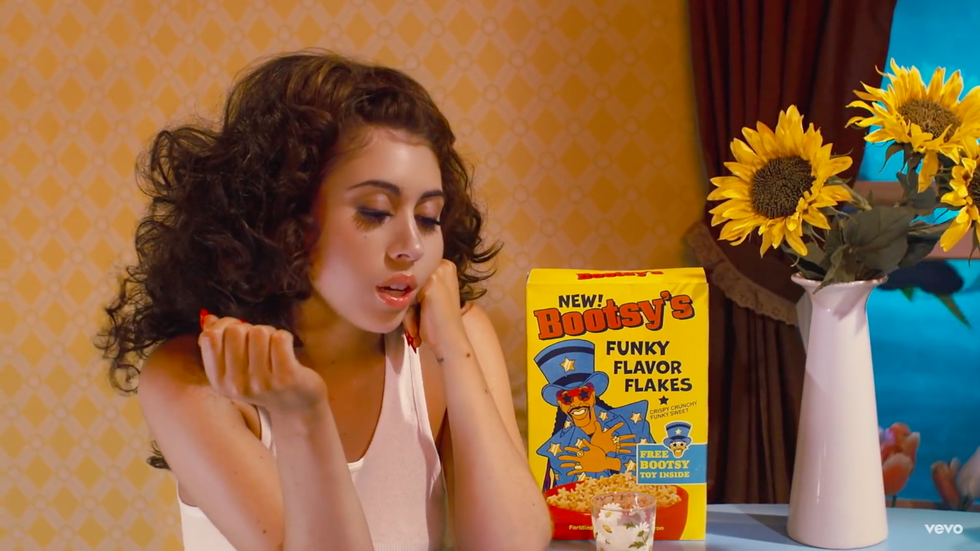 'After the Storm'Kali Uchis
---
Shaun Harris is a poet, freelance writer, and editor published in avant-garde, feminist journals. Lover of warm-toned makeup palettes, psych-rock, and Hilton Als. Her work has allowed her to copyedit and curate content for various poetry organizations in the NYC area.

---
POP⚡ DUST | Read More…
Popdust Predictions for the 2018 Grammy's + iconic moments from years past
RELEASE RADAR | Loote remixes Eighty Ninety's "Your Favorite Song"
Veteran Actress Keke Palmer is about to run the music industry with her new single "Bossy"
Honoring RICK HALL, founder of FAME Studios, with a birthday tribute during Grammy's Week
---