Frontpage Popular News
Lorde's "Homemade Dynamite" performance at the VMAs was explosive
Lorde said forget about traditional performances and broke the norm with a serene but moving performance.
www.youtube.com
But the dynamite was surprisingly silent Sunday night...
[rebelmouse-proxy-image https://media.rbl.ms/image?u=%2Fvi%2FzsUXqD2dJT8%2Fmaxresdefault.jpg&ho=https%3A%2F%2Fi.ytimg.com&s=193&h=62d5cdb979dfc000df5f6109a688592747c66aa09a897531070c894dc17bcea7&size=980x&c=2469290665 crop_info="%7B%22image%22%3A%20%22https%3A//media.rbl.ms/image%3Fu%3D%252Fvi%252FzsUXqD2dJT8%252Fmaxresdefault.jpg%26ho%3Dhttps%253A%252F%252Fi.ytimg.com%26s%3D193%26h%3D62d5cdb979dfc000df5f6109a688592747c66aa09a897531070c894dc17bcea7%26size%3D980x%26c%3D2469290665%22%7D" caption="" pin_description="" image-library="0" expand=1 photo_credit=""]
I had almost forgotten the VMA's were on but as I stumbled into my local bar to pick up some takeout, Jack Antonoff took the stage to announce Lorde's performance. "I've seen her walk barefoot through New York and eat sushi from a gas station," Jack Antonoff mused about Lorde. He also said that it was an honor to watch her create some of the most important music in the past two years and referred to her as Ella which made us, "aw," at how close the producer and artist appear to be.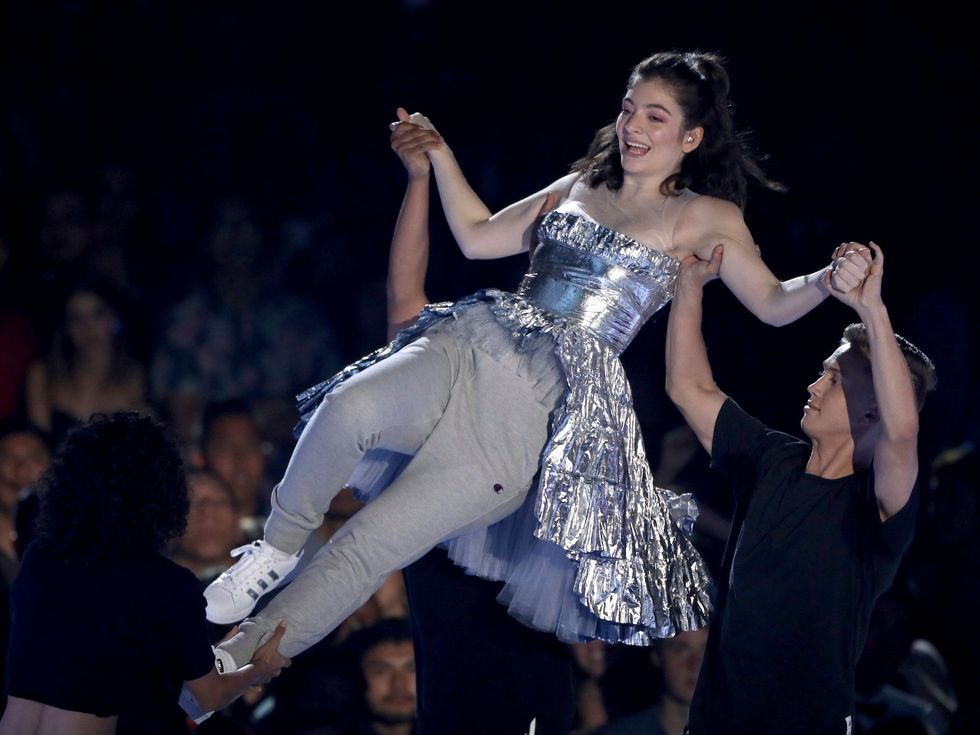 Google
Lorde took the stage and spritely placed a cassette tape into a boom box, just as we had seen her do earlier this month in her collaboration with Vevo. We waited patiently for the beat to drop and for Lorde to start singing; however, it never happened. Instead, we were left with a performance unique to anything I've seen before. Lorde wore a metallic tinfoil-esque peplum style dress over khaki pants with some comfy kicks. Her hair was half up, half down and textured. Her laid back hair style doubled as both her performance style and her red carpet look paired with a "moon princess" gown as she described it. She looked stunning in both looks.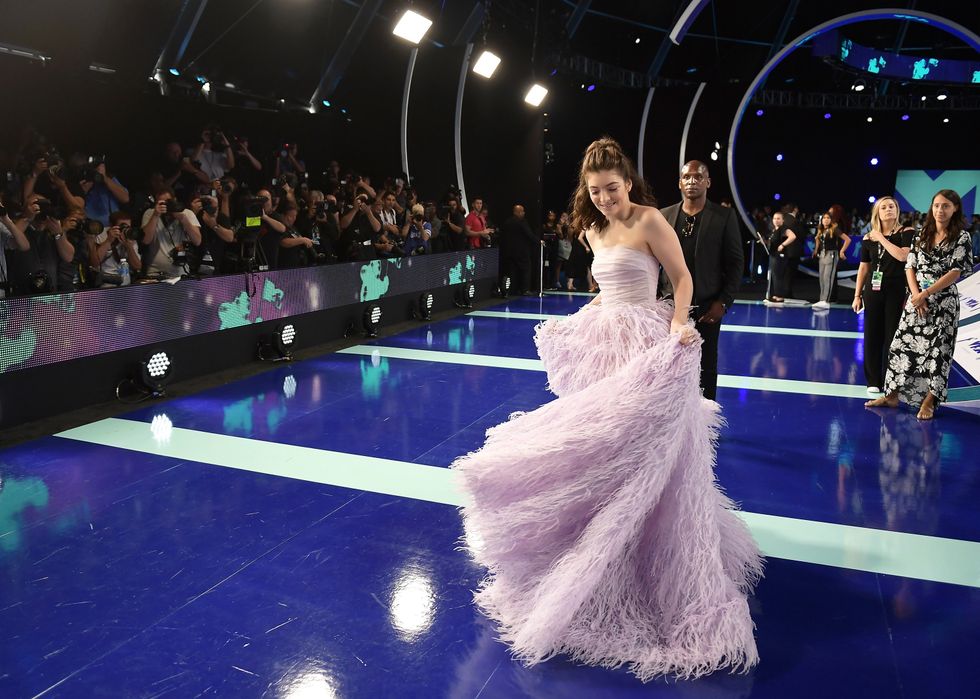 ET Online
Lorde's lack of singing did not cause for a lack of performance. She proceeded to do an interpretive dance that while was simple, perfectly accented the best parts of the track and the song. Even better? She looked like she was in bliss the entire time she did it. There has now been a statement released that Lorde was coming down with the flu before the show and decided to opt for a vocal-less performance, but honestly before I even knew that, I just loved the concept of the artist rocking out to her own song. We're so self-critical it was nice to see Lorde get down to her song the exact same way us fans do. I feel like this performance though simple was a really great representation of our generation.
[rebelmouse-proxy-image https://media.rbl.ms/image?u=%2Fthumbor%2Fqsz3bgt-jzk6b1-lxf4farCjFJ4%3D%2F0x0%3A3168x2112%2F1310x873%2Fcdn.vox-cdn.com%2Fuploads%2Fchorus_image%2Fimage%2F56389259%2F839997484.0.jpg&ho=https%3A%2F%2Fcdn.vox-cdn.com&s=261&h=034a3935454644eff23503f56fcc3b936d4be44a4c91fe647d0850178337f116&size=980x&c=3205392561 image-library="0" caption="\u200b" pin_description="" crop_info="%7B%22image%22%3A%20%22https%3A//media.rbl.ms/image%3Fu%3D%252Fthumbor%252Fqsz3bgt-jzk6b1-lxf4farCjFJ4%253D%252F0x0%253A3168x2112%252F1310x873%252Fcdn.vox-cdn.com%252Fuploads%252Fchorus_image%252Fimage%252F56389259%252F839997484.0.jpg%26ho%3Dhttps%253A%252F%252Fcdn.vox-cdn.com%26s%3D261%26h%3D034a3935454644eff23503f56fcc3b936d4be44a4c91fe647d0850178337f116%26size%3D980x%26c%3D3205392561%22%7D" expand=1 photo_credit=""]Vox
If you were to look at VMA performances, I think that people will definitely recognize her performance as essential 2017 pop culture. That's one of my favorite things: when music and pop culture merge seamlessly each contributing to the other. The fact that she used a cassette definitely is really pointed at how concerned with throwback us nineties babies are. The carefree tune also aligns with our generations habit to let loose when we can in this stressful environment. Everything down to the comfortable, unique look she wore for the performance screams 2017 and I loved it. Apparently she also became a GIF and what is more 2017 than that?
[rebelmouse-proxy-image https://media.rbl.ms/image?u=%2F3o7aD1Xqu4dLx3nehi.gif&ho=https%3A%2F%2Fi.giphy.com&s=550&h=09069f88812317237fa51c90f69be5eeae072fc194f5a689dfa57dd6f440a8d8&size=980x&c=3195390086 crop_info="%7B%22image%22%3A%20%22https%3A//media.rbl.ms/image%3Fu%3D%252F3o7aD1Xqu4dLx3nehi.gif%26ho%3Dhttps%253A%252F%252Fi.giphy.com%26s%3D550%26h%3D09069f88812317237fa51c90f69be5eeae072fc194f5a689dfa57dd6f440a8d8%26size%3D980x%26c%3D3195390086%22%7D" caption="" pin_description="" image-library="0" expand=1 photo_credit=""]
Lorde was nominated for two VMA awards this year, one for Best Editing for "Greenlight," the first single from her sophomore album Melodrama.


She was also nominated for Artist of the Year. Unfortunately, she didn't bring home any VMA's this year, but all eyes are definitely on her for the brilliant artist she is blossoming into at just twenty years old.
---
Anie Delgado is a contributor to Popdust and is an actress and musician based in NYC. Follow her on Instagram and Twitter @anie_delgado and on Facebook and check out her music on Spotify.
---
Read more...
Shailene Woodley's activism continues and could take her to the capitol
What is sheetcaking? Tina Fey's SNL Appearance has become controversial.

Today's street style explains a lot about our culture
---