MUSIC
If you know, you know: 'Melodrama' changed everything.
Lorde released her sophomore album, Melodrama, in the midst of a blazing June in 2017. With its vibrating synths and searing lyrics, it quickly cemented itself in the hearts of millions of young people (and the young-at-heart), giving voice to the extreme highs and lows of fast-burning summer love.
Yesterday, June 16, marked two years since Melodrama tattooed its neon insignia onto the face of pop music (and onto my freshly broken and wide-open heart). In celebration, Lorde teased a third album via an Instagram post of a screenshotted text. "Feels like I've grown a lot since then," she wrote, reflecting back on her experiences since dropping her second album. "i've been to antarctica, i have a dog now and a cat and i can bake bread and cook dinner and keep plants alive etc. It's a good life you've given me. Thankyou thankyou. Third one in the oven."
[email protected]

updates fans on her life and new album in celebration of 2 years of 'Melodrama': "Third one in the oven." https://t.co/NOK8M0RsBj

— Pop Crave (@Pop Crave)1560695579.0
The message, with its array of quotidian details, sounds similar to the last statement Lorde released regarding her third album, back in November 2018. In the midst of a social media cleanse following two years of touring and promotion, she posted a newsletter for fans that read, "I haven't started properly on the next record yet, and I'm not sure how long it'll be. But I've been teaching myself how to play piano, and here and there little bits come out. I think this next one will probably be born around the piano in my house, me and my friends, keeping it simple…But know that for now I'm happy here at home, living quietly and simply, eating toast, going for walks, swimming. And you'll hear all about it soon enough."
Based on both of these statements, Lorde seems to be spending time enjoying the pleasures of an ordinary, grounded existence—cooking, hanging out, growing plants. Perhaps, then, her new album will be an ode to relaxing in one's hometown, full of lush, high-drama tributes to sleeping late, making coffee and lounging by the pool. If anyone could make those experiences glitter more brightly than the paparazzi section at the Met Gala, it's Lorde, who's always been an expert at spinning relatable, universal human experiences into dramatic, vivid, and breathtaking compositions.
After all, this is the girl who made an anthem out of her torn-up town on her first album and who turned a single party into a transcendent eleven-song journey on her second, always making common narratives feel fresh and vital. That was the true magic of Melodrama: it cut through cliche, zeroing in on the heady rush and steep plunge at the beginning and end of a night on the town, elevating these experiences to the height of how they truly feel when they're being lived. From "Green Light," which thrillingly celebrated the beginning of a wild night out after a breakup, to the shattering "Liability," which reached straight to the core of everyone who's ever felt like too much, Melodrama gave voice to the simple violence that comes with just being alive in the world, interacting with other volatile beings and dealing with experiences as they come. It's an album that legitimizes all the heightened experiences that come with being extremely sensitive—from the unexplainably perfect moments of euphoria to the tearstained rides home when it feels like the world is ending.

Lorde - Green Light www.youtube.com
Melodrama came out when I was nineteen, and I listened to it for the first time on a subway speeding beneath Manhattan. Maybe that's why, in addition to the knowledge that it was recorded in Jack Antonoff's Brooklyn studio, Melodrama feels like a fundamentally New York City album to me. It feels handmade for everyone stupid enough to come to this city with a bag full of dreams and an open heart. It's a celebration of all those crazy enough to put their souls on the line for love, love of creativity or love of experiences, despite how they might leave you with scraped knees and bloody palms, drained and wasted and waiting for a delayed subway at the end of the night.

All this is to say that anyone who experienced Melodrama when it dropped—who really experienced it, listened to it as they cried and danced and drove on the highway as the sun set with the top down—truly wouldn't mind if Lorde decided to spontaneously re-release the album. On the other hand, I was a teenager when it came out, and now I'm embarking on adulthood, writing this article on my first day working a full-time job. Though I'm still overly sensitive, full of stupid dreams, and living in New York City, a third album about the importance of watering plants and paying rent could be exactly what the doctor ordered.
Though of course, I'm sure Lorde knows what all of us need better than we know ourselves, because that's what she's best at—along with peeling back every layer of bullshit and tapping into the marrow of the melodrama that is just being alive and feeling every little thing, from the rhythm of the city to the flicker of a quickening pulse—and owning it, spinning those feelings into modern hymns lit by pristine piano and electrifying beats.
If you know, you know: Melodrama changed everything. It's anyone's guess as to what the future, and album number three, will bring, but at least we know that our eternal Lorde and savior will be with us every step of the way.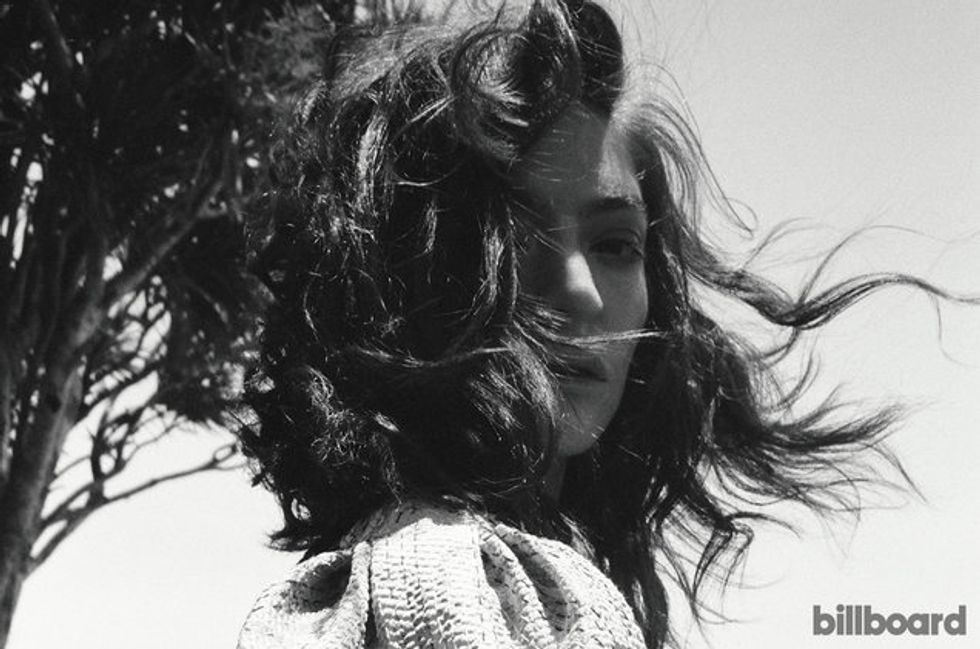 Image via Billboard