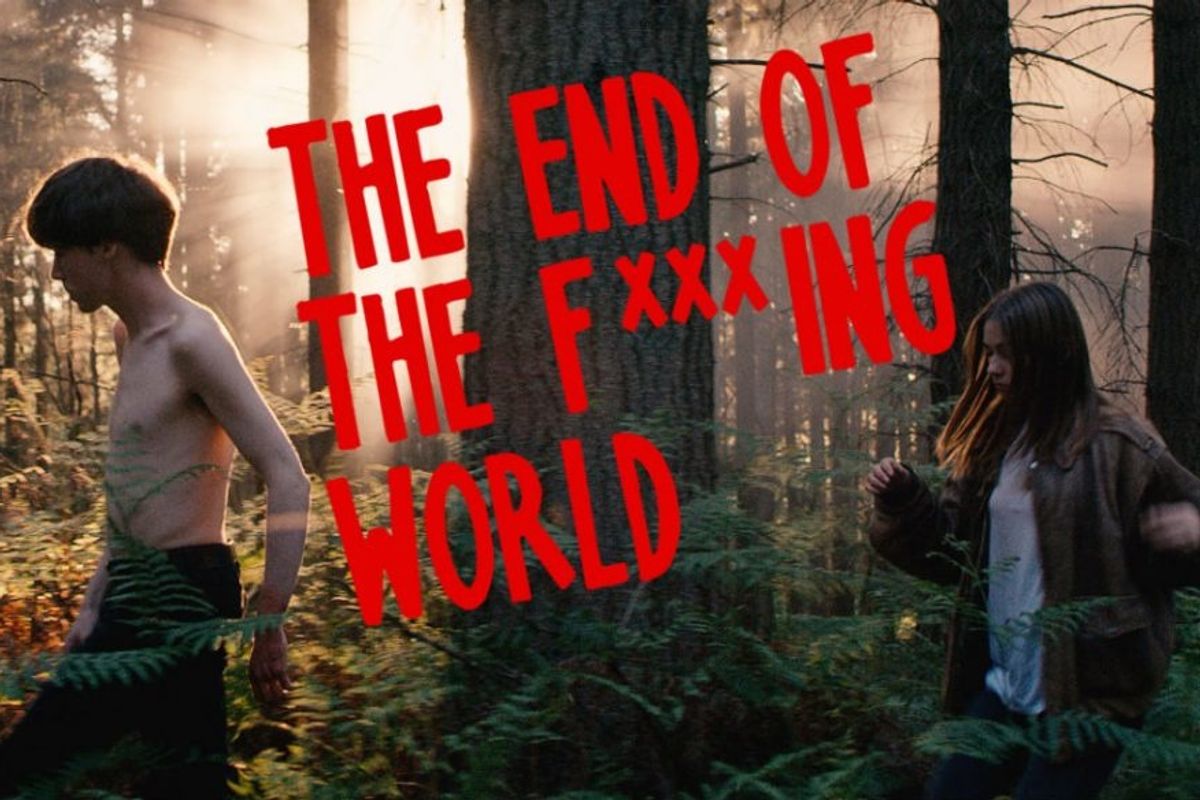 Netflix
Isn't love sweet?
Adapted from Charles S. Forsman's graphic novel, Netflix's The End of the F***ing World is a sardonic love story that uses black humor like confetti—which isn't necessarily a bad thing. Each episode runs close to 20 minutes and the story feels like it was meant to be binge-watched in one sitting. Again, that's not a bad thing, just something to note about the actual storyline concerning a young boy named James (Alex Lawther), a self-proclaimed psychopath (who's grown bored of killing animals and wants to graduate to something bigger, i.e. humans) and a teenage girl, Alyssa (Jessica Barden), who has an attitude, bad temper, and desperately wants to be in love. They both hate everything and they both have desires one another can fulfill. Can you see where this is going?
Love connections aside, The End of the F***ing World shines because it's so dark: Its themes carry weight and are somehow hyperbolic and relatable at the same time, and the world James and Alyssa inhabit is bleak and charming all at once, kind of like love. That's at least what the premise argues; falling in love is scary, wonderful, and a risk that sometimes feels like life or death.
And death is something the show doesn't shy away from—if you're sensitive to animal abuse, maybe skip this one—but even more than suicide (and spoiler alert, regrettable homicide), the story focuses on life without excitement, passion, and genuine emotion. Both James and Alyssa seem confused and aggravated—far more than the average teenager going through the awkward stages of adolescence—and it stems from their lifeless, cold surroundings: the grey sky, the monotony of adulthood, and the lack of life everyone is living. James' mother committed suicide when he was a young child, and Alyssa's stepdad is creepy and manipulative, convincing Alyssa's mom to kick her out of the house. They are both living in the aftermath of trauma, the silence of past tragedies that have permanently shaped their futures, and both desire a chemical high, something to ignite their bodies once more.
For a show about a boy trying to murder his girlfriend, The End of the F***ing World is oddly sentimental: Alyssa is caught stealing lingerie and gets a firm finger-wag from an understanding security guard, and the scene plays out like an illustration on a Hallmark card that reads, "My little girl isn't little anymore." There are lessons to learn and Alyssa is in a rush to learn them all at once—thankfully, James can keep up.
There are plenty of stories that detail adolescence like the hormonal rebellion it is, but The End of the F***ing World captures just how monumental its characters' firsts are: the first kiss; the first time you run away from home and steal your father's car; the first time you get a hotel room with cash from a stolen wallet; the first time you rob a convenience store; and the first time you kill someone, you know, for love.
Talk of a second season is buzzing and the show's cliffhanger finale will make for a more complex storyline, maybe even one with more character development, but do we really need another season? Grumpy teenagers are only charming for so long and from the looks of the last few minutes of the series, James and Alyssa will face adult consequences for their youthful anarchy. But by the time our lovebirds come back for another round, they'll be past the age where impulsivity is excused. Who knows. Love, of course, plays by no rules.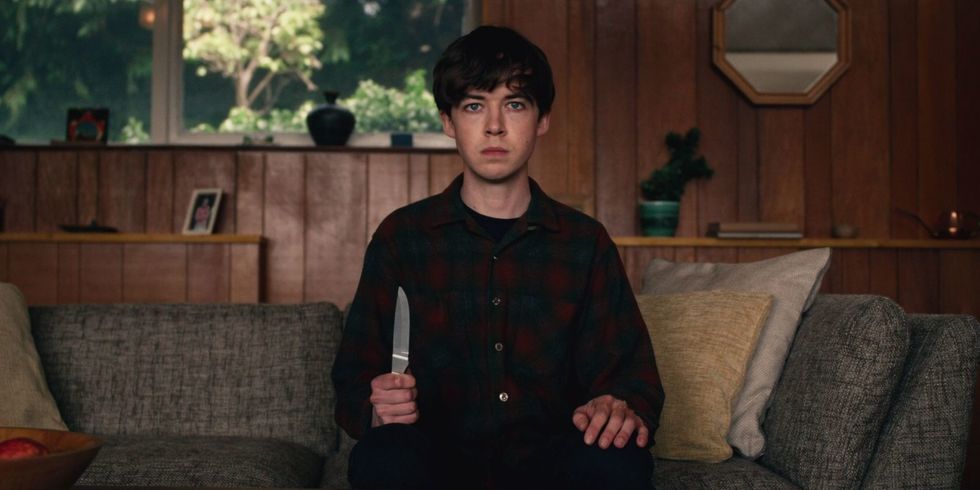 Netflix
POP⚡ DUST Score: ⚡⚡⚡⚡
---
Shaun Harris is a poet, freelance writer, and editor published in avant-garde, feminist journals. Lover of warm-toned makeup palettes, psych-rock, and Hilton Als. Her work has allowed her to copyedit and curate content for various poetry organizations in the NYC area.
---
POP⚡ DUST | Read More About Film/TV...

BOX OFFICE BREAKDOWN | What's coming to theaters this weekend?
Ready for a new TROMAtic experience?
Oscars 2018 Preview: Best Picture
THE REAL REEL | Aziz Ansari: Sexual Assault Or Idiot At Fault?
---