Top Stories
REVIEW | Love her or hate her, you can't deny that Taylor has a gift for theatrics.
"Honey I rose up from the dead, I do it all the time."

In Taylor Swift's new music video for her single "Look What You Made Me Do," her snake is serving the tea, but today I am. I was watching the VMA's Sunday night when I decided to check Twitter to see what people were saying about Lorde's unique performance, when I saw that the internet had exploded because T. Swift had released her LWYMMD music video. *Sigh* "Guess I'll watch it," I thought, mourning the old Taylor days when I was inspired by her, before all of the shady games with Kanye and petty clapbacks. Don't get me wrong the LWYMMD music video is incredibly petty, but you can't deny Taylor Swift for the theatrical genius she is after seeing it.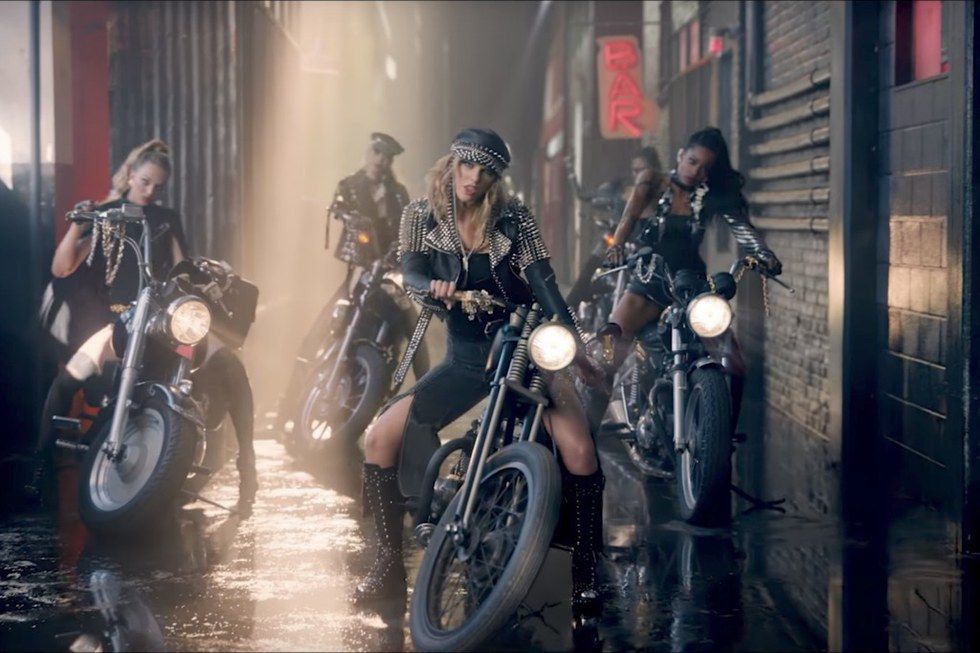 Footwear News
After watching it I stared at the screen for a while. "What did I just watch?" I thought. So, I watched it again and here's what I can say. The music video was shot by Joseph Kahn who also co-produced it. The quality is obviously impeccable. Kahn has been behind many other iconic videos like Taylor's very own "Bad Blood" and "Blank Space", Britney Spears' "Toxic", and Katy Perry's "Waking Up in Vegas" and many more. The lyric video's aesthetic was said to be based on the Alfred Hitchcock film, Vertigo also produced by Kahn. We can see traces of this in the music video as well, but with more nods toward pop culture from the past thirty years and definitely a lot of symbolic Swiftisms. It seems like the video is divided by four acts.
Act 1 | RIP Old Taylor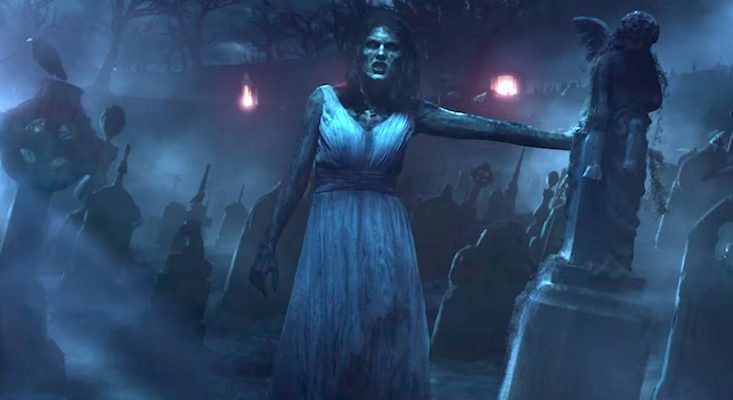 Zombie Taylor in LWYMMD (Elite Daily)
We all laughed over the weekend about the line, "Old Taylor can't come to the phone right now. Why? Oh. Cause she's dead," but Taylor was the one laughing when she showed up in the first few seconds of her music video as a literal zombie. She was noticeably wearing the dress she wore in her "Out of the Woods" music video, but looked, well- terrifying. She also lies in a grace wearing a dress she wore to one of her many awards ceremonies.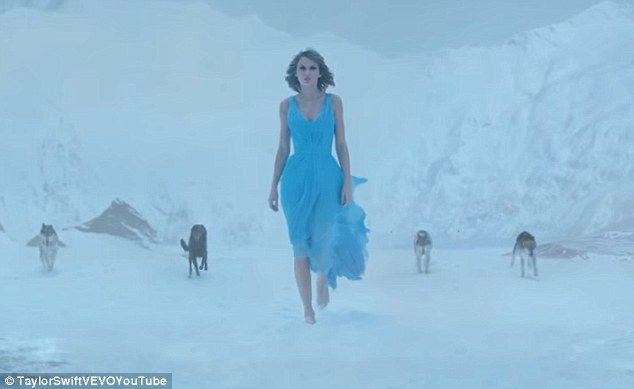 Taylor Swift in "Out of The Woods" (Celebrity Dresses)
Act 2 | Calling out her haters
We next saw her soaking in a tub of diamonds with one symbolic dollar bill said to represent the $1 she won in the case against the DJ who grabbed her butt.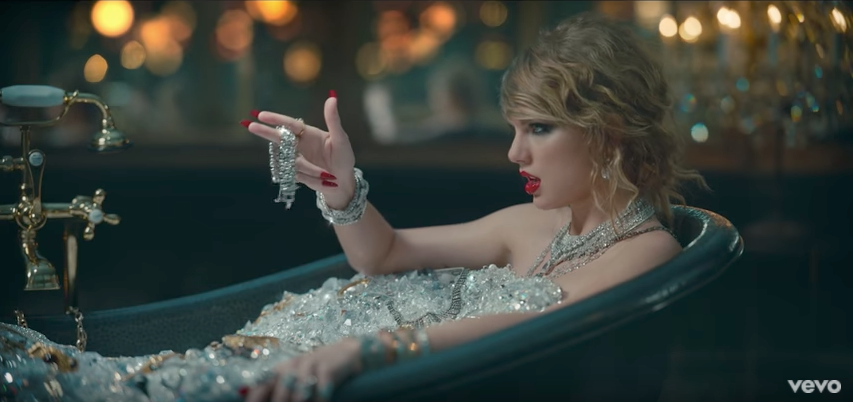 Swift lies in a tub of jewels. (Vevo)
She then sits on a golden throne flanked by snakes. One even serves her tea. Etched into her throne and the columns is famous Shakespeare line, "et tu brute" from when Julius Caesar's closest friend helps to murder him. Fans speculate that this is in reference to former gal pal Katy Perry. The snakes are in obvious reference to all of the hate mail Taylor got from Kim K fans during the Kimye conflict last year. All the while, Swift is adorned in snake jewelry and traded her wild curls for sleek, straight hair her signature cat eye and red lip exemplified.
Swift is served tea by a serpent. (Vevo)
Swift next crashes a really expensive looking car dressed eerily similar to Katy Perry in "Waking Up in Vegas," holding one of her ten Grammy's. While Perry has been nominated, but not yet taken one home. She has a pet cheetah with her that wears a "13" collar, why? 13 is Taylor's lucky number and she's been known to be a crazy cat lady, but this time, her cat is just as ferocious as she perhaps suggesting that Swift herself is no more a domestic house cat but a wild feline.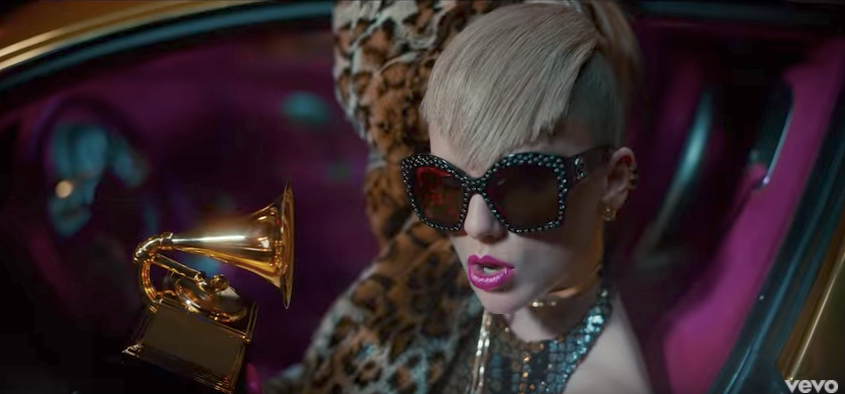 Swift posing with one of her Grammy's (Vevo)
She then sat in a golden bird cage perhaps suggesting she's been trapped by the media.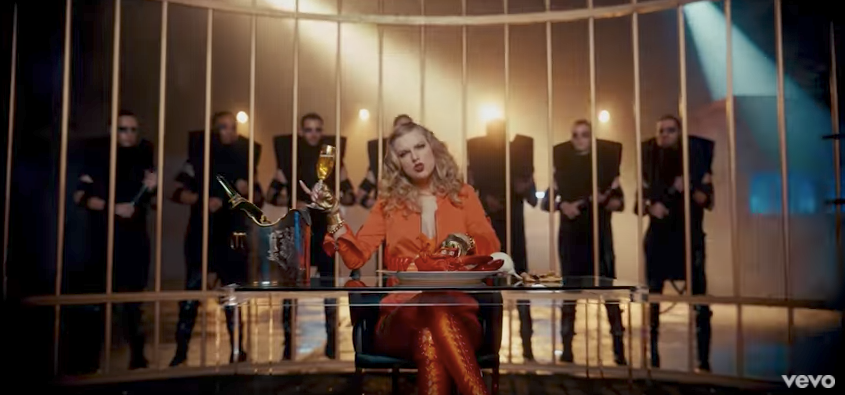 Swift eats lobster in a birdcage (Vevo)
Act 3 | Squad scrutinization
Swift then is seen hopping on a motorcycle with other gorgeous girls and robbing Stream Co. which is clearly a reference to her battle with streaming services in the past years. She's seen assembling an army of lifeless, mannequin looking gorgeous girls at "Squad U" which is probably a reference to Taylor's reputation for always having a squad of model friends. She then dances with a group of men with I heart TS crop tops. Fans have noticed there are eight which is the same number of known significant exes of the singer.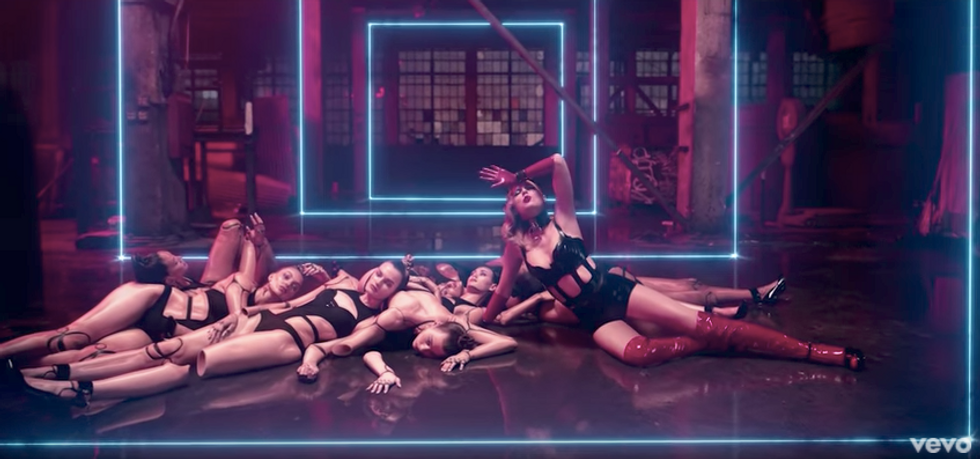 Taylor laying in a pile of her model army. (Vevo)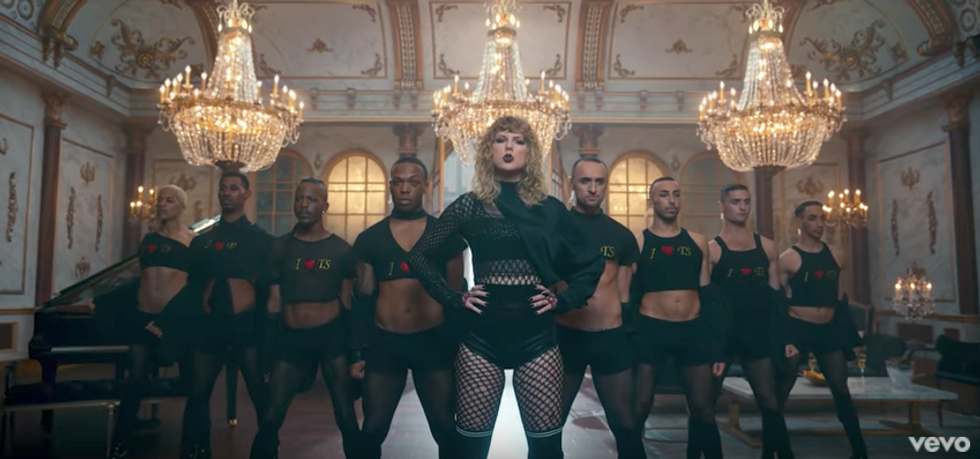 Swift with her I Heart TS boys. (Vevo)
Act 4 | New Taylor officially dominates Old Taylor
The video ends on an iconic note that people will no doubt be discussing for years. New Taylor dressed in out of character, dark clothing stands on top of a pile of people who as we zoom in, we recognize as all of the iconic past versions of Taylor Swift including her swan outfit in Shake it Off, her You Belong with Me Outfit, her Red Tour circus look, and many more. At the end of the video, New Taylor paints "Reputation" on an aircraft called TS6 (in reference to her next album), and the most prominent old Taylors stand in front of the aircraft and engage in a hilarious dialogue that references a lot of Taylor's most controversial moments in the media from her "annoying surprised face," at awards shows, to her being called fake, and more. Most notably, one Taylor calls another a "bitch" which is what caused the conflict with Kanye last year when he called her that in his song "Famous."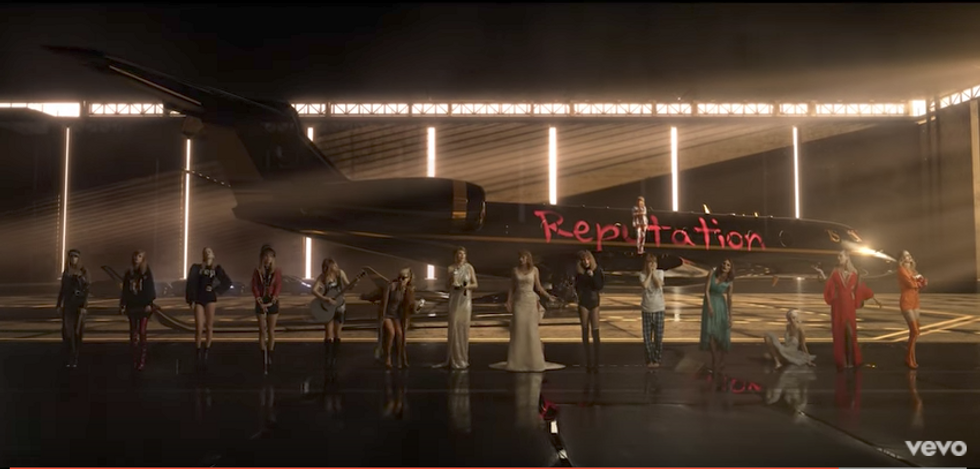 All of the Taylors (Vevo)
Love her or hate her, it's clear that Taylor is a master at what she does and the LWYMMD music video is petty, but a petty work of art. Honestly? I'm into it. While it's important to remember some of her actions in the past look incredibly questionable, celebrities are people and we don't know everything about them as much as we'd like to think that. This video is a clear representation than there is more than meets the eye, so I'm giving Taylor the benefit of the doubt and looking forward to Reputation on sale November 10th.
Watch the full LWYMMD video here.
We want to hear what you think about Reputation! Tell us in a collaborative video.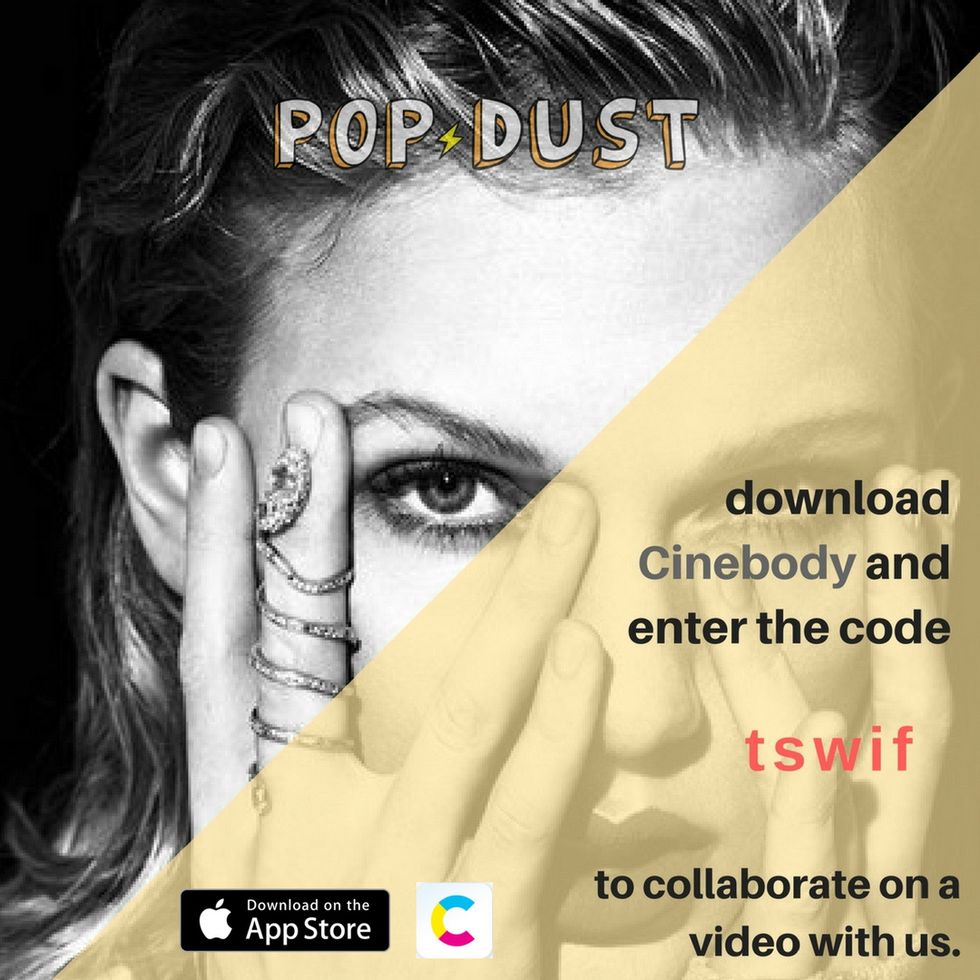 Download Cinebody here.
---
Anie Delgado is a contributor to Popdust and is an actress and musician based in NYC. Follow her on Instagram and Twitter @anie_delgado and on Facebook and check out her music on Spotify.
---
Read more...
Shailene Woodley's activism continues and could take her to the capitol
Taylor Swift is back with LP 6 and there are mixed feelings

REVIEW | "Ingrid Goes West" comments on the current state of social media

---