MUSIC
New music video for 'The Man' plays scenes from 'Hard Days Night'
Written by Randall Radic
South London's Goat Girl recently released a new single and accompanying music video, called "The Man." The band, made up of Clottie Cream, Rosy Bones, Naima Jelly and L.E.D., will drop their self-titled debut album on April 6. A classic sketch by the late great comedian Bill Hicks inspired their band name.
Goat Girl's sound marries garage punk with a stylish flavor of indie rock. The result is vaguely reminiscent of Courtney Love's band, Hole: buff, de-rezzed, punk-Mafioso music full of gravitational frisson and shindig flavors, as if something gorgeously, nastily tight is being figured out and assembled.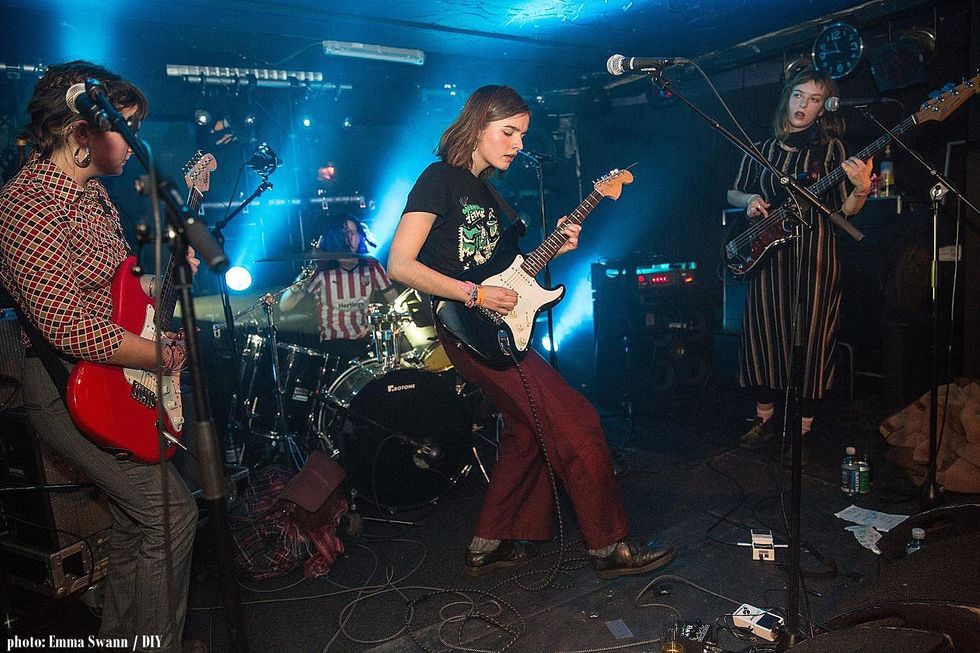 "The Man" opens with jangly guitars and a throbbing rhythmic pulse flowing into a punk/barn dance melody exuding embedded lozenges of opaque ground zero colors. When Ellie's grimy guitar kicks in, the tune radiates expensively savage textures bordering on full-spectrum dominance, dirty and crunchily potent.
Rather than a wailing solo, the band rides a tranquil measure punctuated by muscular guitar chords underscoring Clottie's sweetly droning voice. "I bite my lips and taste my hips," she croons, as the music mounts to the venting guitars and crushing drums of the chorus. "You're the man, you're the man for me."
Clottie's cool, nonchalant, concentrated vocals unite the song, giving it a slo-mo atomic energy that's deliciously blasé, mutinous and sensual all at the same time. It's a haughty monotone radiating supercilious flair and intense almost abstract commentary, as well as suppressed eroticism oozing out in layered sumptuous waves. In effect, her tone of indifference assumes a fascinating voluptuous power.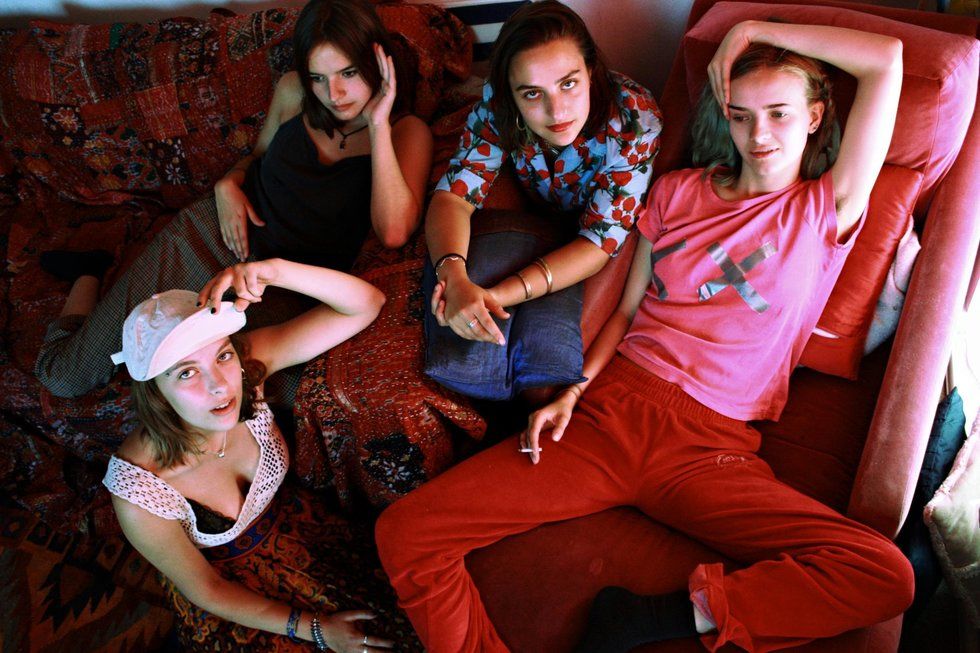 static.independent.co.uk
The video, directed by C.C. Wade, presents a spoof of the Beatles A Hard Day's Night. The video cuts from images of the band preparing for a performance as their hotel is surrounded by hordes of worshipping male fans, desperate for just a glimpse of the band. After the performance, the band sneaks out a side door of the venue. Unfortunately our heroes are immediately spotted and chased through London by flocks of fanboys.
"The Man" is grand garage punk. The melody pulsates with intoxicating force and the rhythm groans with crazy, irresponsible ferocity. And Clottie's muttering voice imbues the music with a monomaniacally insane energy. Goat Girl has it going on!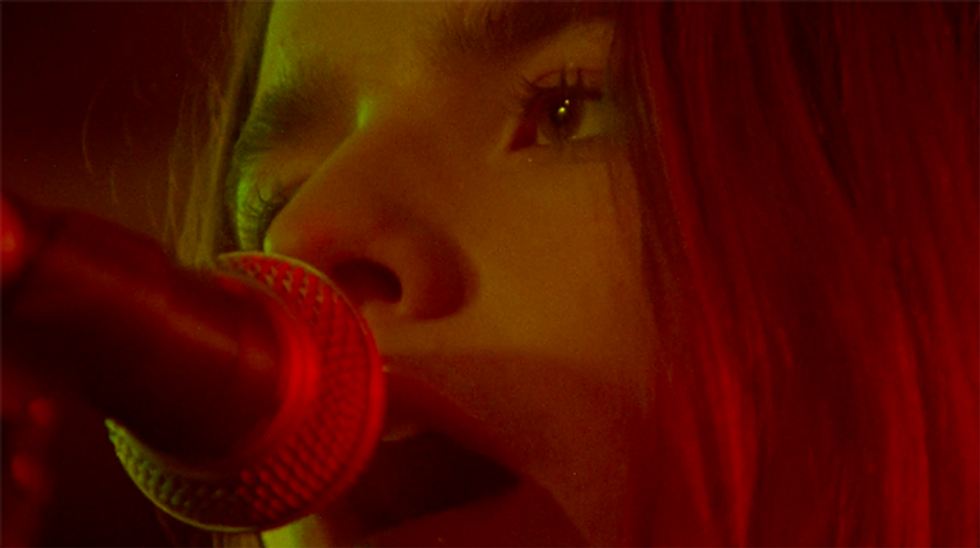 The band will head out on the road this spring for a UK headline tour. A current itinerary is below, with U.S. touring news to be announced soon.
---
Goat Girl UK tour dates:
March 31st - Manchester, UK @ Deaf Institute
April 1st - Cardiff, Wales @ Goes Pop
April 9th - Newcastle, UK @ The Cluny
April 10th - Edinburgh, UK @ Sneaky Pete's
April 12th - Liverpool, UK @ Magnet
April 13th - Dublin, IE @ Grand Social
April 14th - Sheffield, UK @ Picture House
April 16th - Birmingham, UK @ Hare & Hounds
April 17th - London, UK @ Garage
April 19th - Leicester, UK @ The Cookie
April 20th - Leeds, UK @ Brudenell Social Club
April 21st - Brighton, UK @ The Haunt
---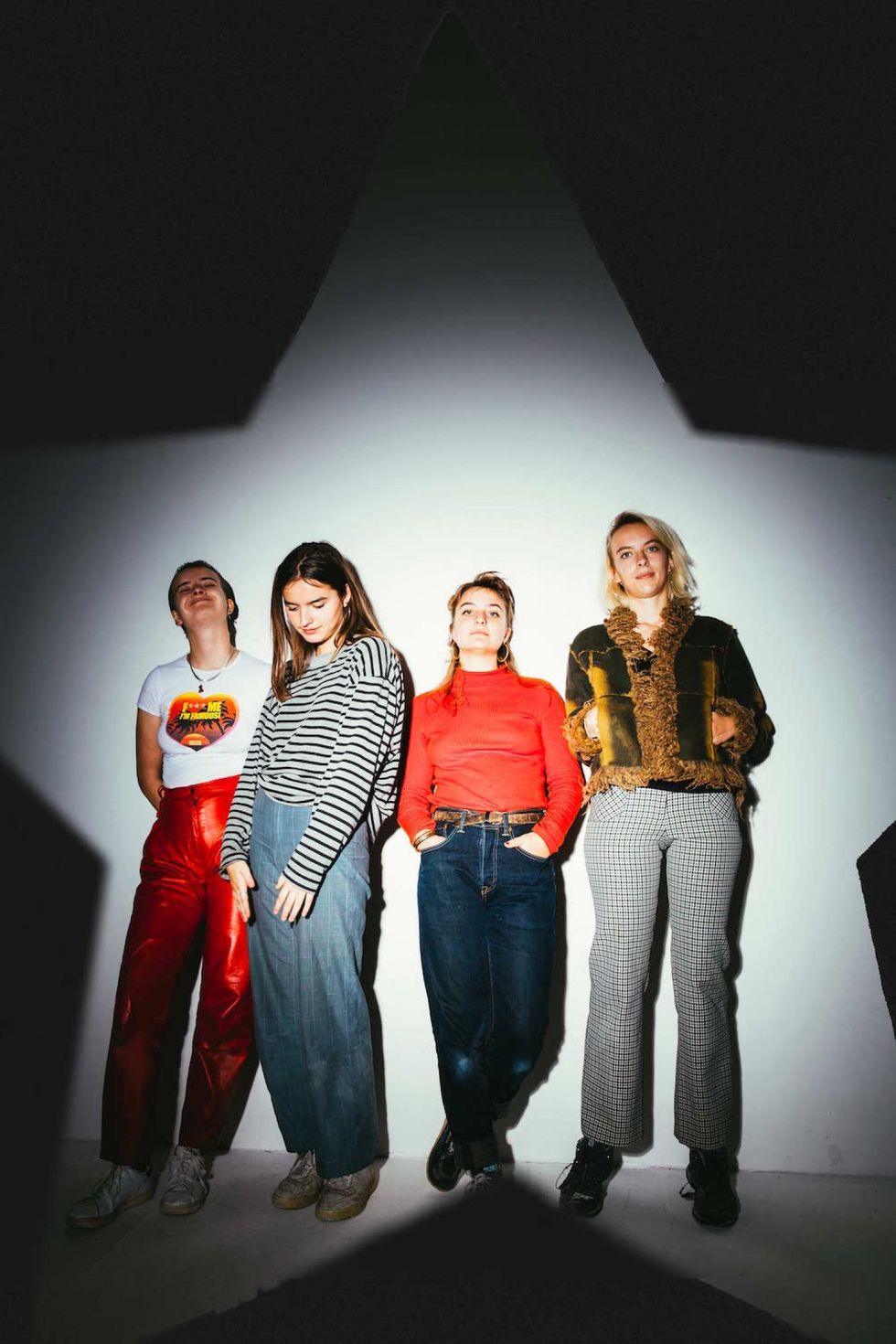 ---
Randy Radic is a Left Coast author and writer. Author of numerous true crime books written under the pen-name of John Lee Brook. Former music contributor at Huff Post.
---
POP⚡ DUST | Read More…
THE OPTION | Viva Las Vegas: The Vegas Knights are Killing It
SATURDAY FILM SCHOOL | 'Black Panther's' Hype is Excessive
MUSIC MONDAY | Marsicans get our week started with a playlist from across the pond
---