CULTURE
Meghan Markle and Prince Harry Unveil Their New Baby's Name
Their baby pictures maintain the myth of a beautiful future for humanity.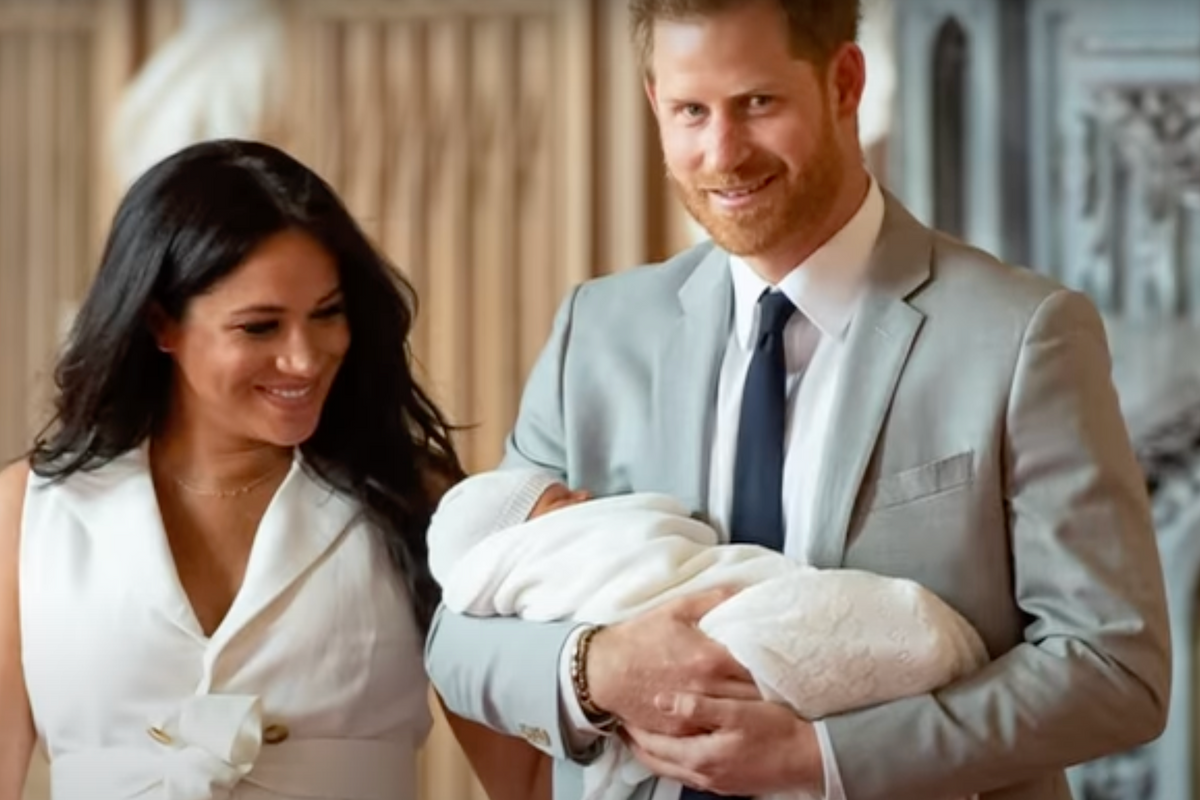 via youtube.com
What is the purpose of the Royal Family? To maintain an archaic ideal of composure and elegance? To advertise a high-class positionality unattainable to most of their subjects? To give hope to the tired masses?
These are questions for another time. Meghan Markle and Prince Harry have released brand new baby pictures—and moments ago, they announced their baby's name.
Archie Harrison Mountbatten-Windsor is the latest addition to the royal family. Archie is an English name that means "genuine and bold," and Harrison means "son of Harry."
His parents unveiled his face for the first time this morning at Windsor Castle, standing in St. George's Hall. Meghan looked effortlessly modern in a white cropped trench coat by British designer Grace Wales Bonner, 4-inch Manolo Blahnik pumps, and a $750 18-karat gold necklace by Jennifer Meyer. Baby Archie was swaddled in a creamy white blanket made by GH Hurt & Son Ltd and a grey knit cap.
Harry looked undeniably dapper in a light grey suit, though no one knows or cares who designed it. The royals looked every inch the part of glowing signifiers of a promising future (that in reality is rapidly disintegrating) as they held their son aloft for the cameras.
Addressing a small group of journalists, Meghan called the experience of motherhood "magic," adding that "I have the two best guys in the world so I'm really happy." Of the baby's brand-new personality, she said, "He has the sweetest temperament, he's really calm...he's just been the dream."

In response to that statement, Prince Harry added, "I don't know where he gets that from." He seemed to be joking—but is that statement a hint at intermarital strife? Could there be trouble in paradise?
It seems like, at least for now, Harry is more concerned with being a dad than anything else. "Parenting is amazing," he added. "But we're just so thrilled to have our own bundle of joy and to spend precious time with him as he slowly, slowly starts to grow up."
He also had some respectful insights about the toils that women go through as mothers. "Mother and baby are doing incredibly well," he told the press during his first appearance since becoming a dad on Monday. "It's been the most amazing experience I could ever possibly imagine. How any woman does what they do is beyond comprehension but we're both absolutely thrilled and so grateful to all the lovely support."

Finally, he celebrated the ephemerality of childhood, saying, "His looks are changing every single day. He's already got a bit of facial hair!"
Their child was born at 5:26 a.m. on Monday morning, weighing 7 pounds and 3 ounces. Since then Meghan's mother, Doria Ragland, has been by the couple's side, and the family unveiled their duke in training to his very famous grandmother just after taking his first press photos.
---
Eden Arielle Gordon is a writer and musician from New York. Follow her on Twitter @edenarielmusic.

---
POP⚡DUST | Read More...

Here's What the Royal Baby's Astrology Chart Reveals
Children of Celebrity Babies: Famous Without Their Consent
Will Meghan Markle and Prince Harry Raise Their Baby Without Consent?