TV Lists
Was "Saturday Night Live at Home" Better Than the Usual Show?
In a world increasingly moving away from traditional TV formats, maybe this is the way the show should be.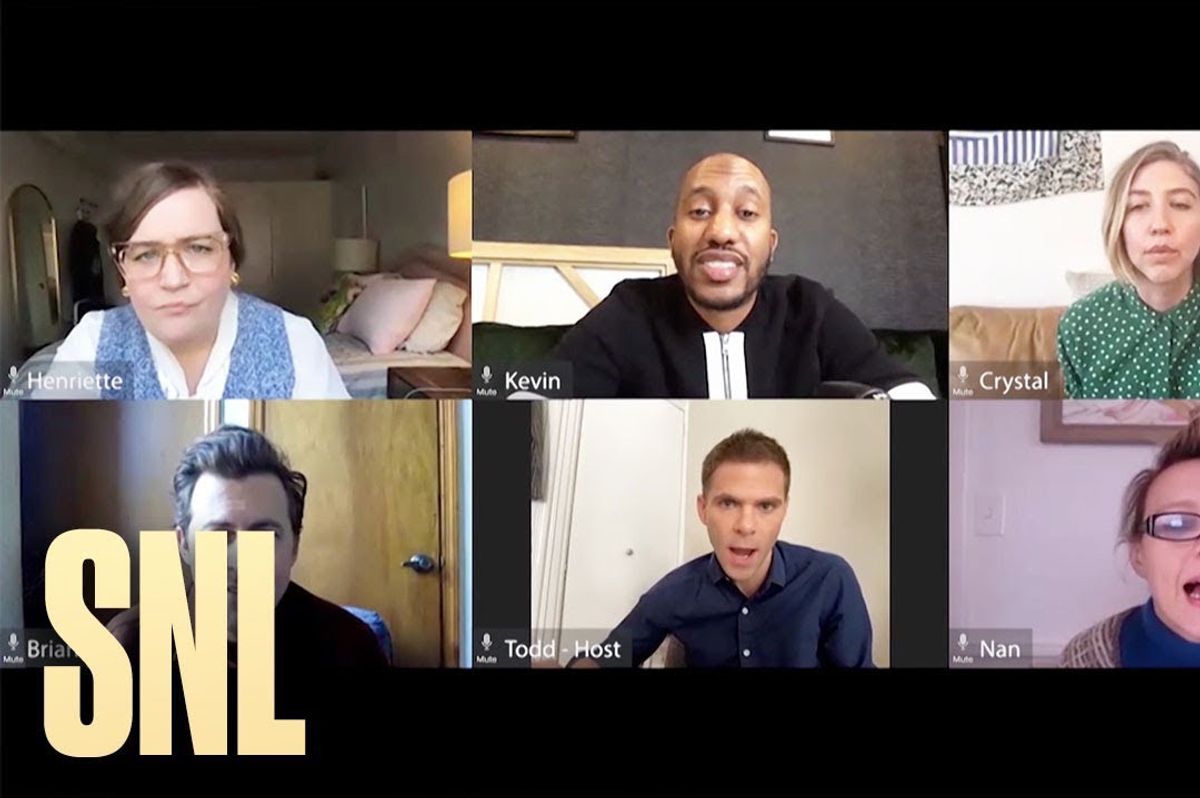 When's the last time you actually watched an episode of Saturday Night Live all the way through?
If you're younger than 60, you probably consume the iconic short form comedy show mostly in clips shared on the Internet. It used to be that fans would have to watch the entirety of the broadcast to see the few comedic gems amidst the mediocre filler, but now all you have to do is wait for your social media algorithms to decide which skits are worth your time. This has had the affect of making SNL much less about the flow of the entire show and much more about the individual skits and bits. Now, thanks to the coronavirus pandemic, this is more true than ever.
For the first time ever, SNL aired a special non-live version of the show this past weekend. All of the skits were pre-recorded in the comedian's various homes. Tom Hanks hosted, which only consisted of an opening monologue, introducing the musical act, Chris Martin, and a good-bye. Tons of famous SNL alums and other regulars made appearances, including Larry David, Alec Baldwin, Fred Armisen, and more.
This version of SNL was not the polished, high-budget production audiences are used to. Instead, it was simpler, messier, and incredibly charming. One might even argue that in removing all the usual frills of the show, the "At Home" version allowed the brilliant comedic talent of the SNL cast to shine in a way that isn't usually possible.
One thing is definite: We got way more viral, ultra-sharable clips than usual. So maybe this is the future of skit comedy: shorter, simpler bits ready to be shared online. Whether you preferred this version of SNL or not, it's definitely worth checking out some of the show's highlights.
5. Tom Hanks Opening Monologue
Tom Hanks hosts 1st remote 'Saturday Night Live' at home l GMAwww.youtube.com


4. Larry David as Bernie Sanders
Bernie Sanders Address - SNLyoutu.be
3. Kate Mckinnon RBG Workout
RBG Workout - SNLyoutu.be
2. Zoom Call
Zoom Call - SNLvia YouTube.com

1. Quarantine Masterclass With Timothée Chalamet
MasterClass Quarantine Edition - SNLyoutu.be