Film Reviews
In Pete Davidson: Alive From New York, the SNL cast member handles controversial topics well...for the most part.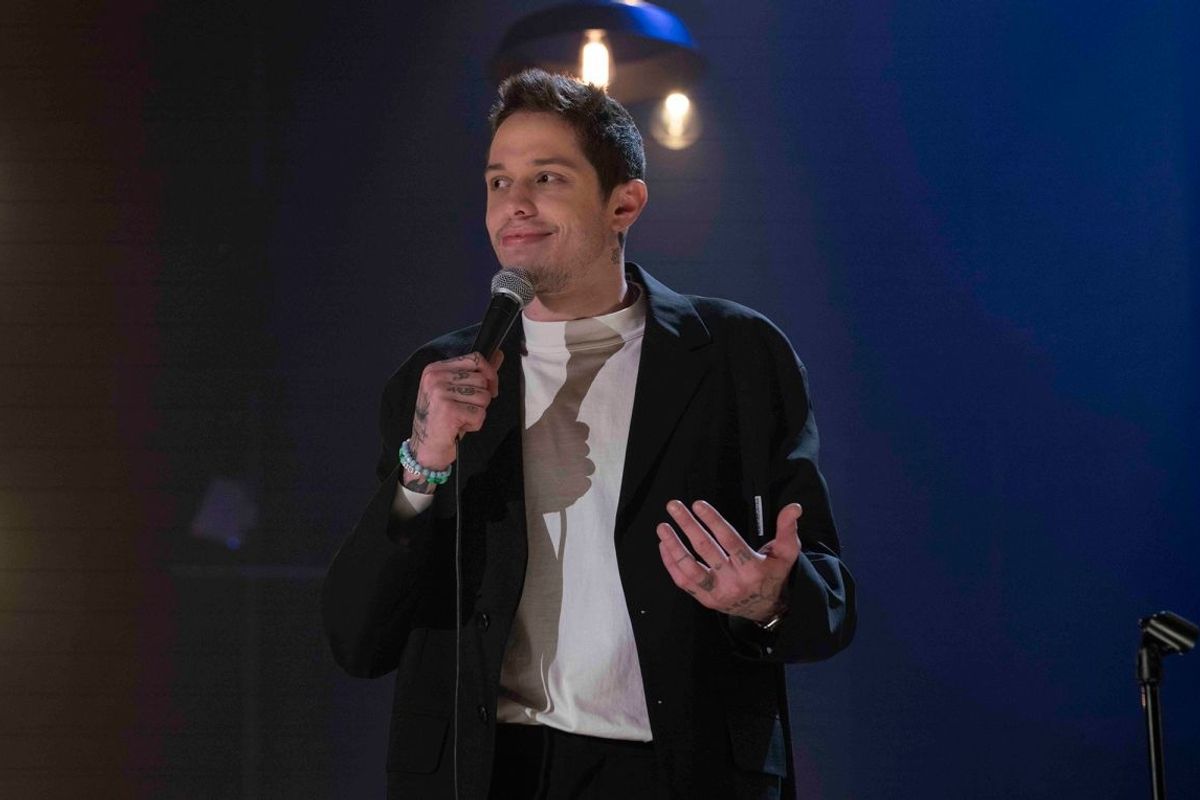 Netflix
Since diving into the world of stand-up as a teenager, Pete Davidson's comedy has often hinged on touchy subject matter.
The Saturday Night Live cast member's debut Netflix special, Pete Davidson: Alive From New York, dropped this week, and there's no shortage of potentially controversial topics: fellow comedian Louis C.K., his hyper-public breakup with Ariana Grande, and divisive politician/veteran Dan Crenshaw being among them. "All right, we'll do some 9/11 jokes, and then we'll get the f--k out of here," Davidson shrugs near the set's end, as casually as if he were taking a sip of water.
Callousness might be Davidson's bread and butter, but in Alive From New York, he handles these polarizing issues with a surprising level of grace. The special opens with a particularly eyebrow-raising anecdote: "So Louis C.K. tried to get me fired from 'SNL' my first year, and this is that story," he explains. By the punchline—and not without a healthy dose of self-deprecation—Davidson paints the disgraced C.K. as, somehow, even more unlikeable.
Davidson hits his stride when he's able to justify those points of contention; his 9/11 jokes land because he frames them within the context of having lost his father in the attacks. His picking on Grande is among the special's highlights, because he knows he's punching up: "She won Billboard's Woman of the Year, and I got called 'butthole eyes' by barstoolsports.com." Naturally, Davidson also doesn't shy away from poking fun at himself, dismissing the rumors that circulated after Grande implied he was—ahem—well-endowed. "She's a very smart person, OK?" he says. "She did that so that every girl that sees my dick for the rest of my life is disappointed."
But Alive From New York's low point came when Davidson made a joke about doubting if certain gay men were actually gay. In the bit, which got flack after being featured in the special's official trailer, Davidson opens by assuring viewers that he has a lot of gay friends, which off the bat feels slightly too similar to the classic "I can't be racist because I have black friends" defense. "It's that gay dude that'll run up on your girlfriend and squeeze her boobs and grab her ass and be like, 'Damn, girl, you look great!'" Davidson says. "I don't find that f--king funny."
Writer Jill Gutowitz condemned this joke in a viral Twitter thread, emphasizing that, as a woman, she'd never been groped by a gay man: "Did straight men literally invent this stereotype of gay men with grab hands?" she asked, adding that depicting gay men in that light was "extremely dangerous." Gutowitz's tweets were met with mixed responses. Some women shared the same sentiments, although the majority pointed out numerous times in which gay men had groped them without their consent. "Don't dismiss that cis gay men are still men conditioned to see us as objects," one user argued.

i'm trying to remember literally 1 time that a gay man has groped me or slapped my ass. gay ppl are so fucking repr… https://t.co/1IlPpt0WUK

— Jill Gutowitz (@Jill Gutowitz) 1581611922.0
Davidson's joke concurred that gay men shouldn't be able to freely grope women, although it was veiled with a "...because she's my girlfriend" qualifier. Nonetheless, it's generally in poor taste for masculine, straight men like Davidson to joke about gay men in a negative light. He surely meant no harm in the joke, but if he does in fact have a lot of gay friends, then he probably should've been advised to avoid such a joke altogether.
Davidson knows his comedy isn't for everyone—"I know that joke splits the room," he clarifies after a provocative punchline—but overall, Alive From New York evidences his growth as a comedian. Where other comedians show a lack of distinction between vulgarity and full-on offensiveness, Davidson proves he's pretty good at walking the thin line between the two—butthole eyes and all.