CULTURE
The Implications of Visiting Saudi Arabia: Emily Ratajkowski, BTS, Nicki Minaj, and the Politics of Performance
According to festival attendees, politics had nothing to do with it.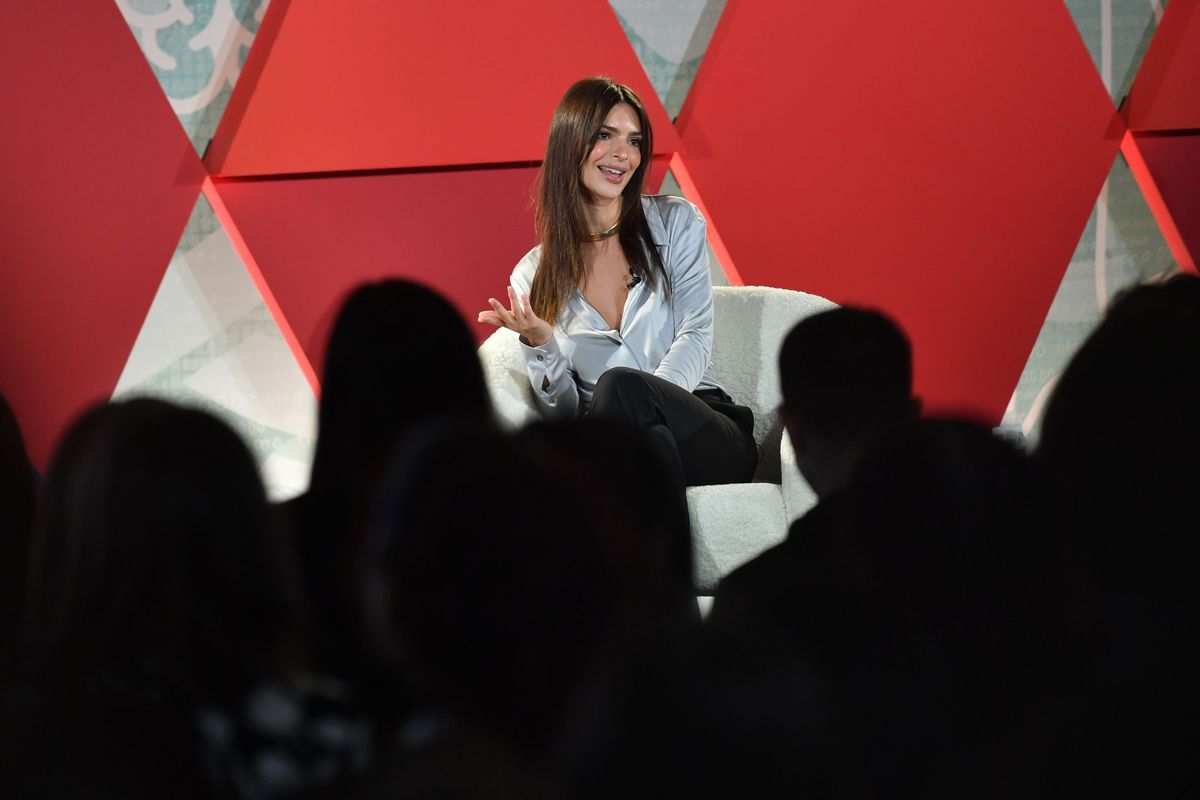 Photo by: AWNewYork/Shutterstock
Saudi Arabia is trying to save face.
That seems to be the underlying purpose of a massive festival called MDL Beast, which recently recruited supermodels like Alessandra Ambrosio, Jourdan Dunn, Halima Aden, Irina Shayk, and Elsa Housk to party in the city of Riyadh.
Other attendees—many of whom flew in on private jets—included Luka Sabbat, Peggy Gou, J Balvin, Ed Westwick, Winnie Harlow, Sofia Richie, Scott Disick, Olivia Culpo, and Armie Hammer. Many attendees apparently received "6-figure sums" or offers as high as 8 figures in exchange for their presence and social media posts.
Ostensibly, the bevy of stars and their entourages were there to attend a three-day musical festival, which attracted hundreds of thousands of attendees. Their presence was part of Crown Prince Mohammed bin Salman's ongoing attempt to modernize the country and maintain its lucrative relationships with other nations while distracting from the country's history of violence.

It seems to be working. Reports described the event as reminiscent of Woodstock or Coachella, and included a "rave" and "surrealist performers."
According to Armie Hammer's Instagram post, the event "felt like a cultural shift" and "will lead a cultural revolution."
Sofia Richie echoed the sentiment, posting an image of herself and friends, originally with the caption "Saudi Girls." The caption appears to have since been removed, but the photo—which remains—was taken at Riyadh's Ritz-Carlton Hotel, which is the same place where the Crown Prince detained political opponents in 2017.
Saudi Arabian influencer Nojoud Alrumaihi responded to critics and expressed support for the so-called cultural revolution, writing, "It's so sad to see posts based on complete ignorance and absolute media propaganda. While Saudi is pushing so much to change and to become the place it visions to be, we see posts like this from someone who never probably spoke to ONE Saudi person."
Emily Ratajkowski Declines Invitation to MDL Beast, Calls Out Human Rights Abuses
Not everyone was as quick to join the party. According to model and actress Emily Ratajkowski, who declined an invitation, attending the event went against her values and belief in human rights.
"It is very important to me to make clear my support for the rights of women, the LGBTQ community, freedom of expression and the right to a free press. I hope coming forward on this brings more attention to the injustices happening there," Ratajkowski told Diet Prada, an Instagram account that calls attention to injustices in the modeling and entertainment industry.
The Diet Prada account also posted a long critique of the campaign, citing Saudi Arabia's history of human rights abuses and violations.
In another critique of the event, former Teen Vogue editor Phillip Picardi questioned the integrity of the positive messaging that ensued from the festival. "A lot of the messaging of the captions is about portraying SA as changed and accepting, and the trips appear to be coordinated with the government or tourism board," he wrote. "You can't really 'buy' that kind of messaging, and how was your experience there tainted by who organized your trip and what you can or cannot say?"

Model Teddy Quinlivan also made her opposition public, putting things a bit more bluntly. "If you're an influencer and you're promoting tourism to a place to [sic] openly kills journalists and LGBTQ people as well a list of other horrible and archaic laws and politics: You're a f*cking SELL OUT," she wrote. After receiving backlash, she quipped on Instagram, "I've been called a sl*t and a wh*re more times in the last 24 hours by Saudi Arabian trolls and bots than I have in my entire life."
Karen Attiah, a journalist and friend of Khashoggi, also blasted the festival's attendees, citing the inevitable corruption that stems from accepting a sum in exchange for publicity. "I, along with activists and journalists have been living for the past year with risk and intimidation for daring to speak out about Jamal Khashoggi's murder, Mohammed bin Salman and the abuses under his watch," she tweeted. "For Glamour UK to take money from KSA.. it's a slap in the face."
"The dark side of influencer culture is that it really is the ultimate expression of capitalism. Money over human lives. What good is your platform if you overlook Saudi regime's murder and torture for a few bucks? These influencers are just for-hire human billboards," she added.
Jamal Khashoggi's Murder Continues to Reverberate as Five Are Sentenced to Death
The list of Saudi Arabia's injustices is long. Saudi Arabia has actively funded the war in Yemen, which has led to what the United Nations described as "the world's worst humanitarian crisis."
The nation has also been condemned for the detainment and torture of woman activists, for regressive treatment of women, and for "the arrest, imprisonment and harassment of large members of the Shi'a Muslim community and other minority groups" and the "long-standing exploitation and abuse of migrant workers," according to Amnesty USA.
While this has been ongoing, Saudi Arabia gained international attention for the murder of journalist Jamal Khashoggi. Today, the Monday after the festival, five men were sentenced to death for killing the journalist in 2018 after a trial concluded the verdict was not premeditated.
The list did not include any top Saudi officials, nor an advisor to the Crown Prince, according to CNN. Many viewed this as a slap in the face, as U.S. intelligence agencies have posited that the murder was ordered by Mohammed bin Salmad himself.
In a tweet, UN Special Rapporteur Agnes Callamard—author of a 101-page report on the murder—condemned the verdict, writing that "the sentence today is anything BUT justice."
The Implications of Visiting Saudi Arabia: BTS, Nicki Minaj, and the Politics of Performance

This is far from the first time that stars and influential people have sparred over whether or not to collaborate with Saudi Arabia.
In July, BTS made the decision to perform in Riyadh, having been personally invited by Crown Prince Mohammed bin Salmad. They faced criticism but defended the decision. "If there's a place where people want to see us, we'll go there. That's how we feel," bandmember Jimin said at the time. The K-pop stars joined the ranks of artists like Mariah Carey, Enrique Iglesias, and David Guetta in deciding to perform in Saudi Arabia.
On the other hand, the same month BTS performed, American artist Nicki Minaj made the decision to pull out of a Saudi Arabia show. Like Ratajkowksi, she cited support for women, the LGBTQ community and free press, according to her statement.
Thor Halversson, president of the UN's Human Rights Foundation, lauded Minaj for her decision at the time. "This is what leadership looks like," he said. "We are grateful to Nicki Minaj for her inspiring and thoughtful decision to reject the Saudi regime's transparent attempt at using her for a public relations stunt… Minaj's moral stance differs from celebrity performers like J-Lo and Mariah Carey, who in the past have chosen to line their pockets with millions of dollars and stand with dictatorial governments as opposed to with oppressed communities and imprisoned human rights activists."
All this raises a knot of questions. When is art separate from politics, or is it ever? Are influencers and advertisers separate from politics?
In a situation where artists and influencers' positive PR is literally being purchased by the state, it's hard to say that these people can or should separate themselves from the political implications of their actions. While music and performance can create a bridge across political and ideological differences, in today's political theatre—when public personas are inextricable from their political contexts—musicians and content creators are increasingly obligated to actively align themselves with human rights, or face the Internet's ire. However, in a world where influencers still flock to Saudi raves, one question that remains is: At what point does an apolitical stance become indistinguishable from taking the position of the oppressor?