Culture News
Sharon Stone's Family Ravaged by COVID-19 and Donald Trump's Deadly Mismanagement
"Don't vote for a killer."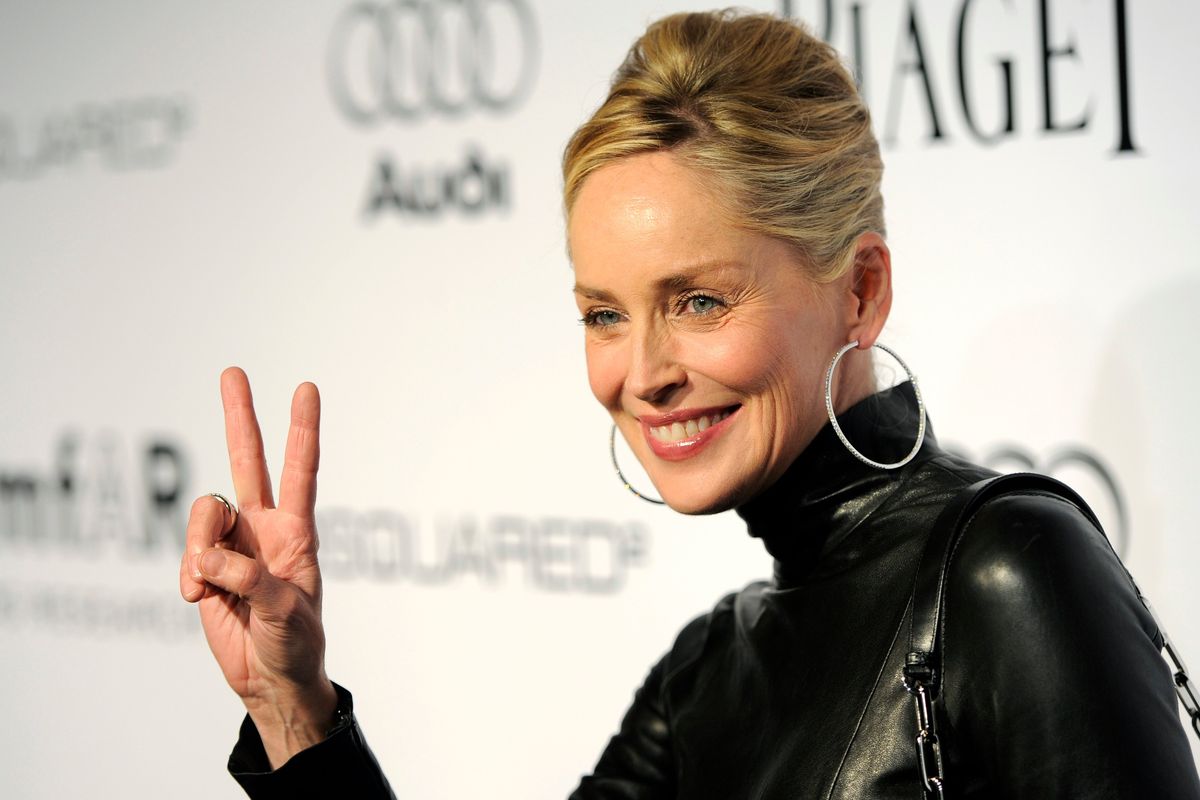 Photo by Chris Pizzello/AP/Shutterstock
Sharon Stone is pleading with America to vote Donald Trump out of office so we can improve our response to the COVID-19 pandemic.
In a series of Instagram posts, the Basic Instinct and Ratched actress has detailed the horrifying circumstances her family has been dealing with.
Already this year Stone has lost her grandmother and her godmother to the coronavirus pandemic. Now her younger sister, Kelly, along with Kelly's husband Bruce, have both been hospitalized with the viral infection in their home state of Montana. Stone first posted an image of her sister's hospital room on Sunday with the accompanying message, "One of you non-mask wearers did this," and "Can YOU FACE THIS ROOM ALONE?"
---
The couple reportedly "stayed at home as long as they could," but eventually the lack of home health care options meant that they had no choice but to go to the hospital. They have since been admitted to the same ward, where they are confined in separate rooms and, according to Sharon Stone, "they are fighting for their lives, and my sister is not doing well."
Kelly Stone reportedly suffers from Lupus, an inflammatory autoimmune disease that makes her especially vulnerable to infection. Incidentally, Lupus is also one of the diseases for which hydroxychloroquine is a proven treatment, meaning that Donald Trump's effort to push the drug as an option for fighting COVID—in addition to being ineffective—have made it difficult for Lupus sufferers like Kelly Stone to get their badly-needed medicine.
You may wonder why someone with Lupus wouldn't be more careful to avoid being infected with a deadly respiratory infection that is currently sweeping across the country, but Stone's posts make it clear that the situation isn't so simple. As it turns out, the only place her sister went before becoming sick was the pharmacy.
In a post to her own Instagram account, Kelly Stone said "We thought covid wouldn't and couldn't find us." She and her husband didn't go shopping or have parties at their Montana home (they "barely saw a human"), but the low availability of testing has made it difficult to be truly careful. The source of the virus, in this case, may have been Sharon and Kelly's mother, who had no way of knowing if she was carrying the virus.
In a video Stone posted on Monday, she said that her mother has suffered multiple heart attacks and had surgery to receive "five stints and a pacemaker" in just the past five months. Despite that—and Kelly Stone's health concerns—she was unable to get tested for COVID, because she didn't exhibit any symptoms. Unfortunately, as it turns out, she may have been an asymptomatic carrier and may have inadvertently exposed her vulnerable daughter and her son-in-law to the virus.
Stone's distress, anxiety, and anger are evident in her voice and on her face throughout the video as she swallows back tears. She recounts, "The nurses in the hospital that are taking care of them can't get tested. Those nurses are risking their lives and cannot get tested ... When they say there are tests for everyone, they're lying. When they say there are tests even for the nurses in the hospitals, they're lying. People are dying and fighting for their lives because there's nothing but lies."
Stone had been reaching out to both Montana governor Steve Bullock and to the state's health department to talk to someone, but according to Stone the health department is "so overwhelmed they're hanging up," and the governor was not returning her calls. Since that video was posted, Governor Bullock responded to Stone's concerns about testing in a press conference in which he said, "We're continuing to do the work to get rapid turnaround testing … everywhere across the state."
Unfortunately, that "rapid turnaround" can still involve waiting up to five days, during which time many people without a conclusive answer may continue to expose others.
Stone closed her video with a desperate plea for all Americans to vote for Joe Biden and Kamala Harris, saying, "With women in power we will fight for our families. We will fight for people to live, and we will fight for people to get tested." Then, referring to Donald Trump, she added, "Please, whatever you do, don't vote for a killer."
While Stone's passion and her concern for her loved ones are evident and moving, the more recent video of her sister in her hospital bed—which Stone reposted with the simple message "Wear a mask please"—is truly heart-wrenching.
With oxygen being pumped through a tube feeding into her nostrils, Kelly Stone is still "gasping for every breath" as she implores her audience "to know that this is real" and to back efforts to mandate face masks because "you never, ever want to feel like this. She finishes her plea tearfully, saying that her heart "is breaking for people that can't breathe."
Will these messages be enough to convince people protesting against mask mandates in Montana and, as Sharon Stone put it, "saying that it's their freedom not to have to wear a mask?" Or will they have to see their own family members fighting for their lives before they take this pandemic seriously?
Will we kick out the president who has so horribly mismanaged this crisis, contributing up to 90% to a death toll that is now past 170,000, or will we allow him and his cronies to sabotage the USPS in order to steal the election? Only time will tell.