Music Features
"We really just focus on how the songs flow and feel; there's a mood."
Courtesy of Big Hassle / slenderbodies
With the pop sensibility of Glass Animals and the rhythmic guitar work of John Mayer, Slenderbodies have organically carved out their own niche in today's mass-produced pop landscape.
Full of exuberance and swagger, Max Vehuni and Benji Cormack are like a drop of cream in a cup of black coffee. Their music swirls gracefully, slowly consuming listeners, with the end result being something prodigious and exclusively theirs. Even the name was chosen for the smooth, sensory details it conveys: "Slender is like soft and kind of calm," Benji told me, "and 'bodies' is because our music has body to it. It's impactful."
"I feel like we've become better musicians in terms of being guitarists," Max said of the group's evolving sound. "Everything is based on our influences, on what we do, and on our daily lives. Based on the way that our lives taught us to change, the music has changed accordingly." The soft-spoken group started slowly building their sound in college, with Benji garnering his ear for Electronic production from his father. "He did a lot of solo composition work with electronic music, like using sequencers when those were just becoming popular," he said. "My friends also had this big ranch, so part of my upbringing was basically jamming out on guitars [out there] all the time."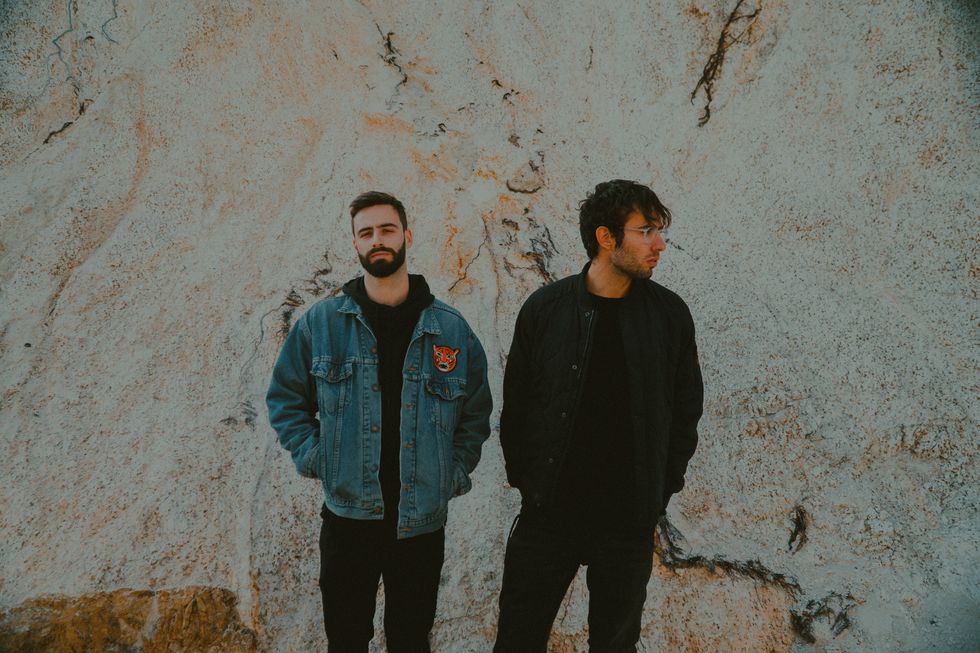 Courtesy of Big Hassle / slenderbodies
Slenderbodies first caught everyone's attention with 2017's "anemone," a vertiginous track laced with ghostly vocals and wobbly production that was as vivacious as it was contemplative. The track racked up over 20 million streams and the band amassed a die-hard following in the process. "There are always tangible goals of like 'release this' and 'achieve this,' but the stuff that carries us through the day-to-day is just growing as people and musicians," Benji said of fame. "We really just focus on how the songs flow and feel; there's a mood."

Soraya, the duo's latest EP, is a masterful work, with Billboard calling it the group's "most daring project to date." The two college pals were grateful for the compliment. "I think this is one of the first projects that we did entirely together," Max said. "We were in the same place and we were able to really put our heads together and it just became a more cohesive piece of music." The five-song EP represented an amalgamation of all the strong women in Max and Benji's life and served as an ode to their powerful impact on the group. "This baroness, she always seems to know best, I bet she's my common sense," Max sings in a glistening falsetto on "King." "[King] was like a clash between the two of us just bouncing back and forth off each other," Benji said of the track. "We started with the guitars in the songwriting first, and once we had gotten that down that back and forth energy just really continued." Comparatively, these ideas of feminine empowerment drive "Queen" as well: "I'll be in the corner drawing pictures of myself, trying to be somebody else...I'll be in the corner till you show me all my wealth." Benji added, "After thinking about these attributes of people who had uplifted us and driven us to be who we are today, we aggregated those lessons and all those personality attributes and set out to write songs about that kind of person."
Energy is the defining factor behind Slenderbodies, but where this vitality originates is hard to pinpoint. While the guys were willing to break down the origin of their name, they remained coy surrounding certain details of its definition. "It's a big secret," they said. Yet with these secrets comes uncompromised originality and shows that as much as Slenderbodies gives to its listeners, the music is meant for Benji and Max at the end of the day. "We didn't set out to be unique," Benji said. "We set out to just make music that was authentic... and that's how we arrived at where we're at now."
---
Mackenzie Cummings-Grady is a creative writer who resides in the Brooklyn area, Mackenzie's work has previously appeared in The Boston Globe, Billboard, and Metropolis Magazine. Follow him on Twitter @mjcummingsgrady.
---
POP⚡DUST | Read More...
Corey Taylor is Beefing with Nickelback and Imagine Dragons and It's Hilarious

POPDUST PREMIERE: Ella Vos Conquers Cancer In New Video For "Empty Hands"