MUSIC
It's Sufjan Stevens Christmas Music Time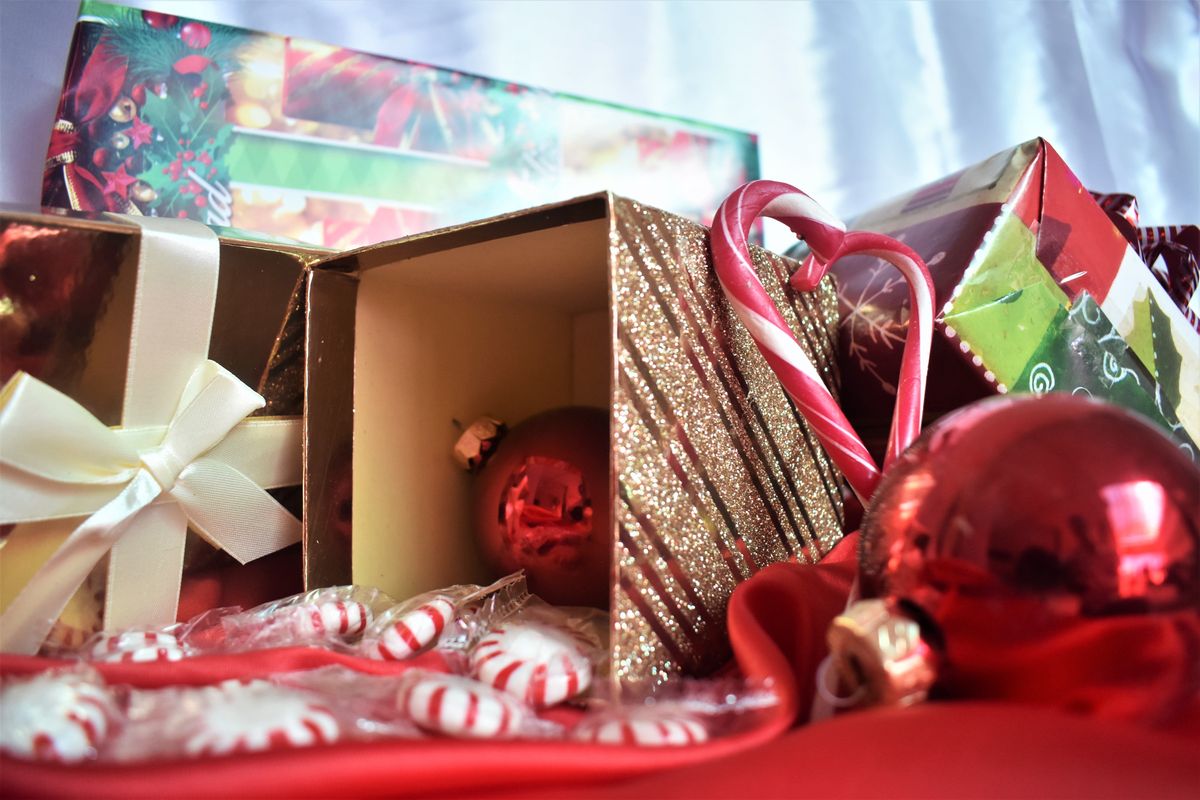 December is officially Sufjan Stevens Christmas Music Month.
If you weren't previously aware, Sufjan Stevens—the folk singer behind songs like "Chicago" and "Visions of Gideon"—has created a total of 100 Christmas songs, immortalized on two magnificent, multi-album compilations: 2006's Songs for Christmas and 2012's Silver and Gold.
---
I first heard these songs during my first semester of college when, like many other freshmen, I was lost in a depression. The winter solstice was nigh, and though I'd always loved the holidays—I grew up celebrating Christmas and Hanukkah—all the glowing tree lights on Columbia's college walk failed to lift my spirits.
Then one snowy night, when I was studying in the student union, I heard Sufjan Stevens' rendition of "Silent Night." The sound of bells filled my ears, and a truly otherworldly voice began to hum through my headphones. At that moment, I felt as if I had entered a cathedral.
Sufjan Stevens, "Silent Night" [Track 1/8, Vol. 6]www.youtube.com
Though I've never quite believed in a God, I have always believed that music has medicinal properties, and I've often turned to it for spiritual healing. When I heard Sufjan's music, it helped me realize that in spite of how I was feeling, I could still celebrate the holidays. I could live fully and love myself and others, while still feeling the particular sadness of being alive.

I'm not going to say that Sufjan Stevens' music actually healed me, but it sparked something—a tiny flame—that, like the Maccabees' candles during the eight days of Hanukkah, has never gone out.
Christmas Gifts: Rediscovering Faith with Sufjan Stevens
Though not all of the songs are good, Sufjan Stevens' Christmas music is all impeccably orchestrated and performed. It's also designed to sound slightly frayed and almost childlike, as if played on an old record player. This, too, is intentional. Stevens is hyper-aware of the kitschiness of carols, so he leans into it via long, strange, staccato organ lines and bass patterns.
Sometimes, the cracks in the music let in waves of Stevens' doubt and sorrow. But sometimes these cracks and holes let in beams of luxurious, cathartic beauty—moments like huge, choral harmonies ("O Holy Night"), tender duets ("Joy To The World"), gorgeous electric guitar riffs over swirling synthesizers ("The Incarnation"), and stunning, searing lyrics ("Sister Winter").
[youtube https://www.youtube.com/watch?v=5OCdS5S20dg' expand=1] Sufjan Stevens - Sister Winterwww.youtube.com
Unsurprisingly, I'm not alone in finding solace in Stevens' Christmas music. The Internet is full of personal essays (like this one) by people who have been helped by his Christmas songs. These essays are often populated by similar imagery: dusty Bibles, faded iconography, and sometimes painful memories of forsaken religious upbringings.

For many of these writers, the music offers a return to innocence. "The familiarity of the images of corny religious artwork bring up memories within me of a simpler time in childhood, when my Christian faith and view of the church had not been tarnished," writes Pastor Joel Mayward in Think Christian.
Sometimes the music helps people come to terms with how far they've traveled away from Christianity, or from who they used to be or thought they could become. "For individuals raised in the church who matured into something else entirely, Stevens' songs invoke a nostalgia for a person you never turned out to be," writes Libby Hill for The AV Club. "It's being nostalgic for a you that never was. You might have made peace with her absence, but a part of you will always remember waiting for her to arrive, and hoping you'd find her by hovering just long enough in the space between a minor key and the word "Rejoice," to allow angels to slip in."
This reminds me of the words of another sad song about God: Julien Baker's "Rejoice," which contains the lyrics, "I rejoice / and complain / and I think there's a God / and he hears either way."
In a world that constantly reminds us how we've failed, sometimes faith can be found through embracing the space between who we are and what we could become, instead of constantly trying to fill it.
So often, we try to fill that space up with plastic, glitter, drugs, and band-aids. As one of our most garish festivals of consumption, Christmas has become (or maybe always has been) yet another band-aid—which brings me to my larger point. Stevens' Christmas music is not just powerful on an emotional and spiritual level. It also poses a challenge to capitalism.
Finding Spirit in Christmas Kitsch: Sufjan Stevens' Anti-Capitalist Protest
To say that Stevens' music possesses anticapitalist undertones isn't conjecture; Stevens himself has made his intentions clear. "By now, it's no mystery that Christmas has become an incalculable commodity in our material world—an annual exploitation of wealth, a festival of consumerism, and a vast playing field for the voyages of capitalism," he writes in the album liner notes for Silver & Gold. "Just as Adam and Eve consumed the fruit of the paradise tree, invoking original sin, so do we, in harvesting gifts, partake of the deadly fruits of Christmas: that of commerce, commodity and greed—all the flavors of the Seven Deadly Sins fashioned in various garments of wrapping paper." Based on his comments about the album, Stevens' music seems to reject Christmas consumerism, and instead seeks to rediscover the spiritual meaning behind it.
I resign to petty things
Like angels bending on their knees
I resign to glorious things
Like angels bending on their knees
— "The Midnight Clear"
But this dedication has not been free from criticism, least of all from Christians. Pastor Joel Mayward criticizes this protest of Christmas materialism in his essay, arguing that Stevens ignores the benefits of Christmas traditions in the physical world. "[Christmas] kitsch, at least when reappropriated in the vein of Stevens' song and video, may perform not as a cover-up, but as a means of illuminating the simple grace of God's love," he writes.
Elise Daniel makes a similar point in her essay for The Institute for Faith, Work, and Economics. "In seeking to expose the true meaning of Christmas, Stevens paradoxically misses it, by failing to see the goodness in material things without making them into an idol," she writes. "After all, Christ became man and physically met us in the material world for the salvation of our souls and bodies."
What Mayward and Daniel fail to realize is that by embracing the songs of Christmas—indeed, by making 100 of them—Stevens is honoring and paying respect to the power of Christmas kitsch right alongside the genuine spirituality that should, ideally, form its foundation. He isn't asking us to reject Christmas or its music; he's trying to help us find more meaning in it. He isn't damning those of us who cannot denounce capitalism or escape our own flaws. While remaining critical, he's embracing capitalism's version of Christmas as it is, as a time of distraction, hope, sorrow, and faith.
Sure, his music may not be revolutionary in and of itself, but it can help those of us living through these strange times to feel seen and less alone, which is becoming increasingly vital in our era of alienation. And perhaps it can inspire a vision of a different future–one with fewer shopping malls and more compassion.
The Future of the Season
The theorist Mark Fisher wrote that the capitalist condition—and much of the art created within it—is defined by "nostalgia for lost futures." If Stevens' music evokes a feeling of "[nostalgia] for a you that never was," as Hill writes, then it certainly also bring forth? nostalgia for a lost future—a future destroyed by capitalism and its consequences: climate change, competition, meaninglessness, isolation, and inequality.
As Mark Hinog writes in The Verge, "Stevens' yuletide catalog transcends the treacly holiday tunes favored by easy listening radio stations and musty shopping complexes...highlighting the season's social, economical, and existential pressures. It exists in the emotional gray space between euphoria and bottomless depression…We've taken a very sacred time and commodified it, so that there's a capitalist campaign to buy more, consume more, and then you have a conflict between the spiritual and the mundane." In other words, Stevens' music ties the sadness and the cheer and the politics and the loneliness of the season together. It's haunting and disorienting and full of beauty, and in that capacity, it mirrors the chaos of our souls, our family Christmas gatherings, and our economic systems.
Sufjan Stevens - Silver & Goldwww.youtube.com
Ultimately, the idea that we should reject Christmas and capitalism completely, at least on an individual basis, is as blind as the notion that a free market is inevitable. It ignores the realistic possibility of what we need to hope for, which is mass action and system-level change that, to be blunt, holds the few people who are hoarding everything and ruining the world for all of us accountable for their actions.

In the liner notes for Silver & Gold, Stevens himself puts it best. "Year after year, winter upon winter, we find ourselves 'going through the motions of merriment,'" the notes read. "This is the true horror-show catharsis of Christmas: the existential emptiness that perseveres in the heart of modern man as he recklessly pursues his search for happiness and comes up empty handed.
"And yet," they continue, "against all odds, we continue to sing our songs of Christmas...So what is it about Christmas music that continues to agitate our aging heartstrings?... Maybe this: Christmas music does justice to a criminal world, marrying sacred and profane, bellowing obtuse prophecies of a Messiah in the very same blustery breath as a candy-coated TV-jingle advertising a string of lights and a slice of fruitcake. Gloria!"
Gloria, indeed.
Sufjan Stevens Complete Christmas Collectionwww.youtube.com