MUSIC
The alt-pop duo also releases their brand-new album, Pretty Colors for Your Actions.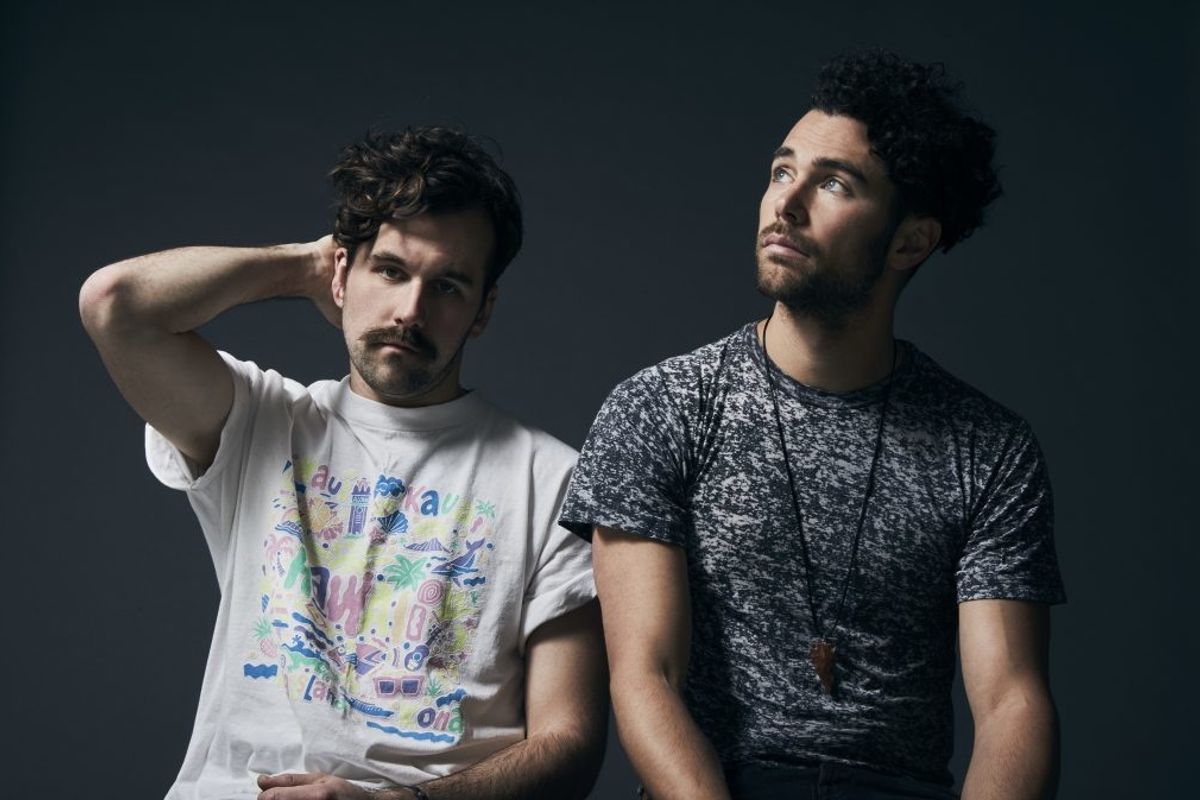 Jimmy Fontaine
The duo taps into workplace frustrations.
The 9-to-5 grind can take a toll on your heart. But for many, it's the price they pay to make a living. Living wages are down; tempers and blood pressures are up; and the American heartland is gasping for breath. Whether you're Dolly Parton, The Animals, or Johnny Paycheck, you know the itch to tell your boss where he can shove it when you feel it. You'd know it anywhere. Alt-pop duo Tall Heights ⎯⎯ of Tim Harrington and Paul Wright ⎯⎯ throw their hat into the proverbial ring with their own tired-eyed lament on "working for the heartless," as they sing on "House on Fire," a cut off their just-released new record, Pretty Colors for Your Actions (out now).
"I wait it out / I get off from working on the wrong long job in town / Awake, awake for now / When I'm off and walking to the song of clocking out," Harrington sings, as Wright swings in from the ceiling with equally-weepy harmony. On the hook, they draw parallels to a burning house, with suffocating smoke rings curling and feathering into the night sky, "Hey I'm getting raucous / I'm living in a house on fire / I walk home in the darkness / But now I'm seeing twice as far / Don't matter if I want this / I'm living in a house on fire..."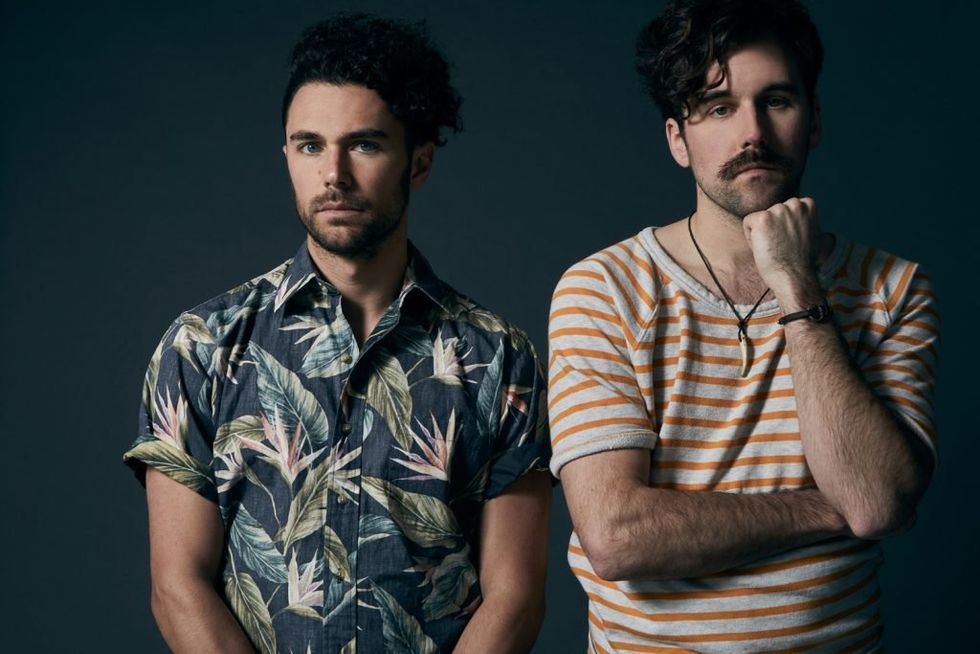 Jimmy Fontaine
In celebration of their new record, the duo hit up Brooklyn's The Creamery Studio for a smooth throwback-soul overhaul of "House on Fire," which now glistens with sultry sax and a more creamy caramel texture. They're joined by a roundup of talented fellow musicians, Stephen Rodes Chen of San Fermin & Behaviorist, and producer Oliver Hill and Ian Romer of Pavo Pavo. The performance, packed together into a somehow comforting, straight ahead visual, premiering today, acts as a medicative agent to the senses, and the listener comes to cope with their own tragic (but beautiful) reality.
"In the creation phase, I knew what shapes I wanted to use but didn't have lyrics yet," Wright tells Popdust. "I showed the idea to Tim, and he called it 'the soundtrack for getting out of work on a Friday from a job that's eating your soul,' and the lyrics came to us easily after that."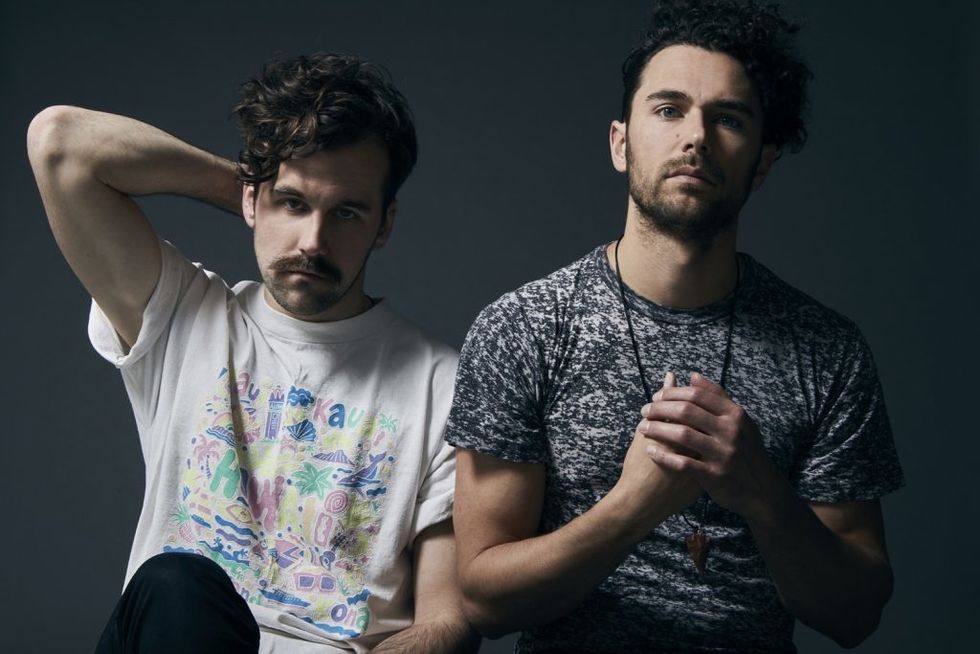 Jimmy Fontaine
As the very last entry for the new record, "House on Fire" lingers on the lips and explores a tone that's rather "zippy and conversational, two words you won't hear us say much when we talk about our music," says Wright. "And there's lots of space around the vocals, filled by that riff. It could've been a guitar or vocal hook, but once we had Stephen try it on sax, it was a done deal."

Tall Heights just finished a round of dates on tour with Ben Folds and CAKE. Next Thursday (October 11), the band embarks on a slew of solo headlining dates starting at Iron Horse Music Hall in Northampton, Mass. The tour continues through early December, and you can check out a full list of shows on their official website.

Watch below:
---
Jason Scott is a freelance music journalist with bylines in B-Sides & Badlands, Billboard, PopCrush, Ladygunn, Greatist, AXS, Uproxx, Paste and many others. Follow him on Twitter.

---
POP⚡DUST | Read More…
Popdust Presents | CXLOE Breaks the Mold for Pop Superstardom
Ready To Pop | Taylor Grey & More Lose Touch with Sweeping New Tracks
Popdust Presents | Royal KhaoZ Blesses With Good Faith & Heart