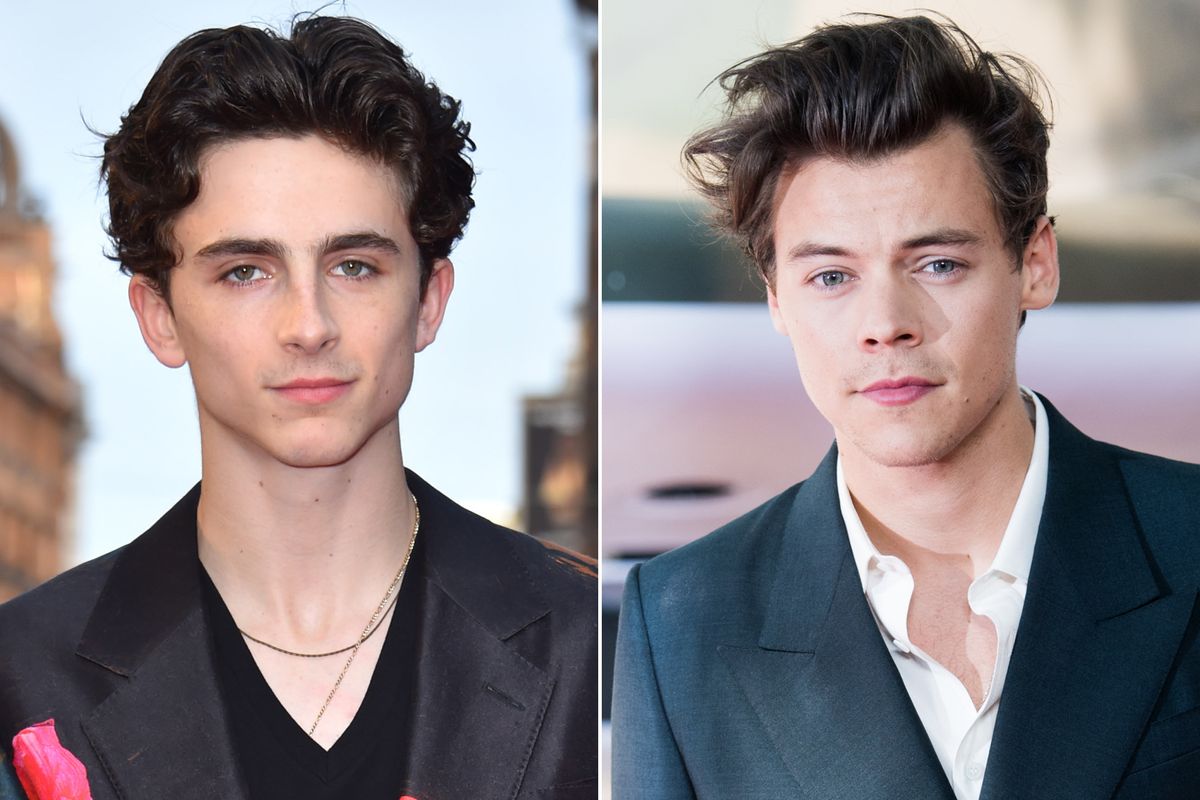 ew.com
In a long awaited collision of the prettiest boys in show business, Harry Styles recently interviewed Timothée Chalamet for i-D magazine, eliciting soft chants of "kiss...kiss...kiss…" from teens all over the world.
The friendship has been dreamt about for some time, with Tumblr accounts, video montages, memes, and fan fiction dedicated to the cherubic pair.
In the interview, the stars talked about creative inspiration, Chalamet's new movie, and that notorious peach scene. Styles asked, "Can you still eat peaches?" Chalamet laughed, saying, "Umm I can, but not without thinking about it…" " I've had a hard time…" Styles admitted.
A conversation between two stars of Chalamet and Style's magnitude was always going to attract attention, but what is it exactly about this pairing that has such a wide appeal? Certainly the two can be compared for their similar style — both often donning floral suits and featuring in Bacchus-esque photoshoots, but their appeal goes deeper.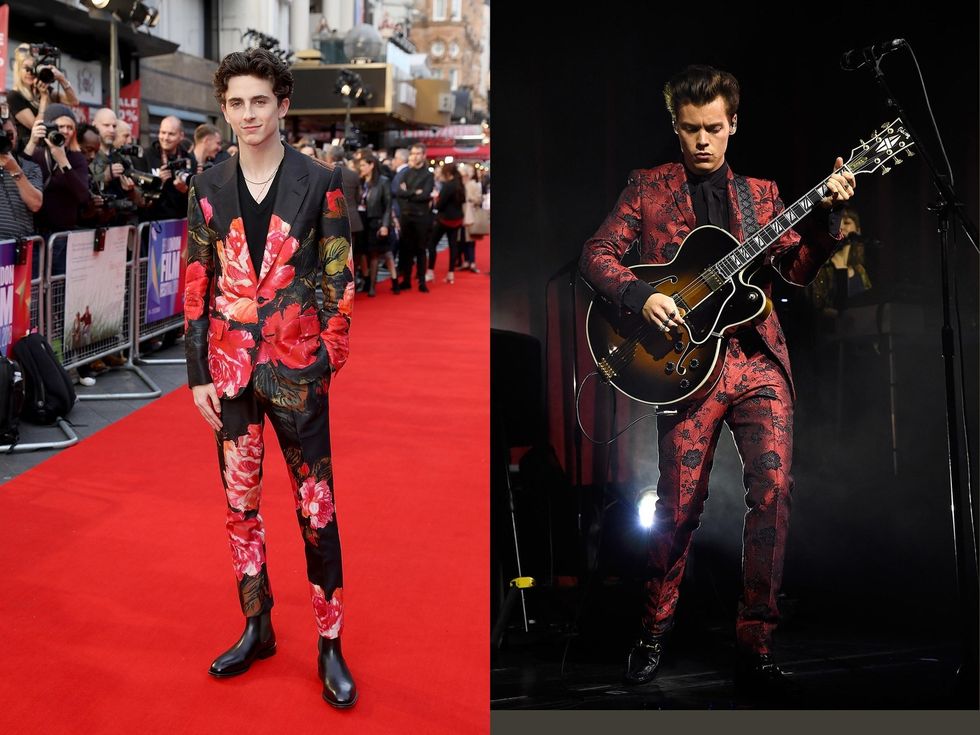 In the interview, Styles asked Chalamet if he feels a "responsibility as an actor to represent a new form of masculinity on screen," especially considering that "the concept of masculinity has changed so much since we were growing up." Chalamet responded saying he was wondering the same thing about Styles, and that he thinks, "There isn't a specific notion, or jean size, or muscle shirt, or affectation, or eyebrow raise, or dissolution, or drug use that you have to take part in to be masculine. It's exciting. It's a brave new world. Maybe it's because of social media, maybe it's because of who the fuck knows what, but there's a real excitement from our generation about doing things in a new way…"
Styles responded, saying he feels he has a similar role in redefining what it means to be a man, saying, "You have this idea of what being masculine is and as you grow up and experience more of the world, you become more comfortable with who you are. Today it's easier to embrace masculinity in so many different things. I definitely find — through music, writing, talking with friends, and being open — that some of the times when I feel most confident is when I'm allowing myself to be vulnerable. It's something that I definitely try and do."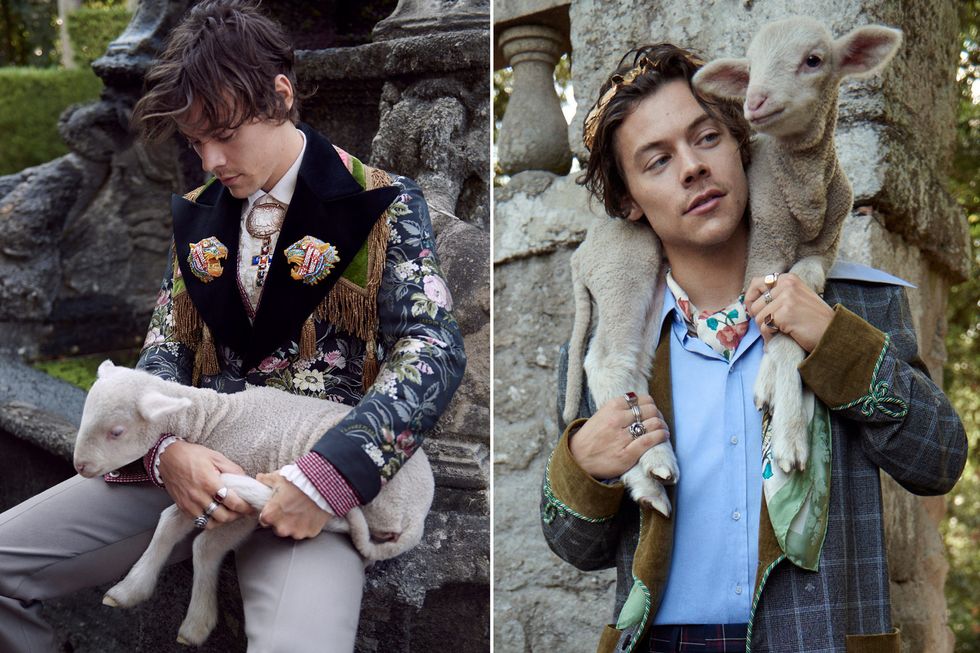 Page Six
But it's not just the social value of the men's refusal to take part in toxic masculinity that have earned Chalamet and Styles such massive followings. Indeed, both have become male sex icons of a new kind. The pair offer a re-defined take on what it means to be a man, and consequently offer a raw sexual vibe that appeals to men and women of all ranges of sexualities.
While the fame of Prince, David Bowie, George Michael and the like prove that the popularity of male androgyny is not new, what differs in the case of Styles and Chalamet is that their subverted masculinity is not performative. Rather than being a schtick meant to be seen as appealingly bizarre, Styles and Chalamet present this new brand of masculinity as a simple fact of their humanity. And people can't get enough.
---
Brooke Ivey Johnson is a Brooklyn based writer, playwright, and human woman. To read more of her work visit her blog or follow her twitter @BrookeIJohnson.
---
POP⚡DUST | Read More...

Sabrina Fights the (White, Straight) Patriarchy in Netflix's "Chilling Adventures of Sabrina"
Do Networks Even Know What a Musical Is?