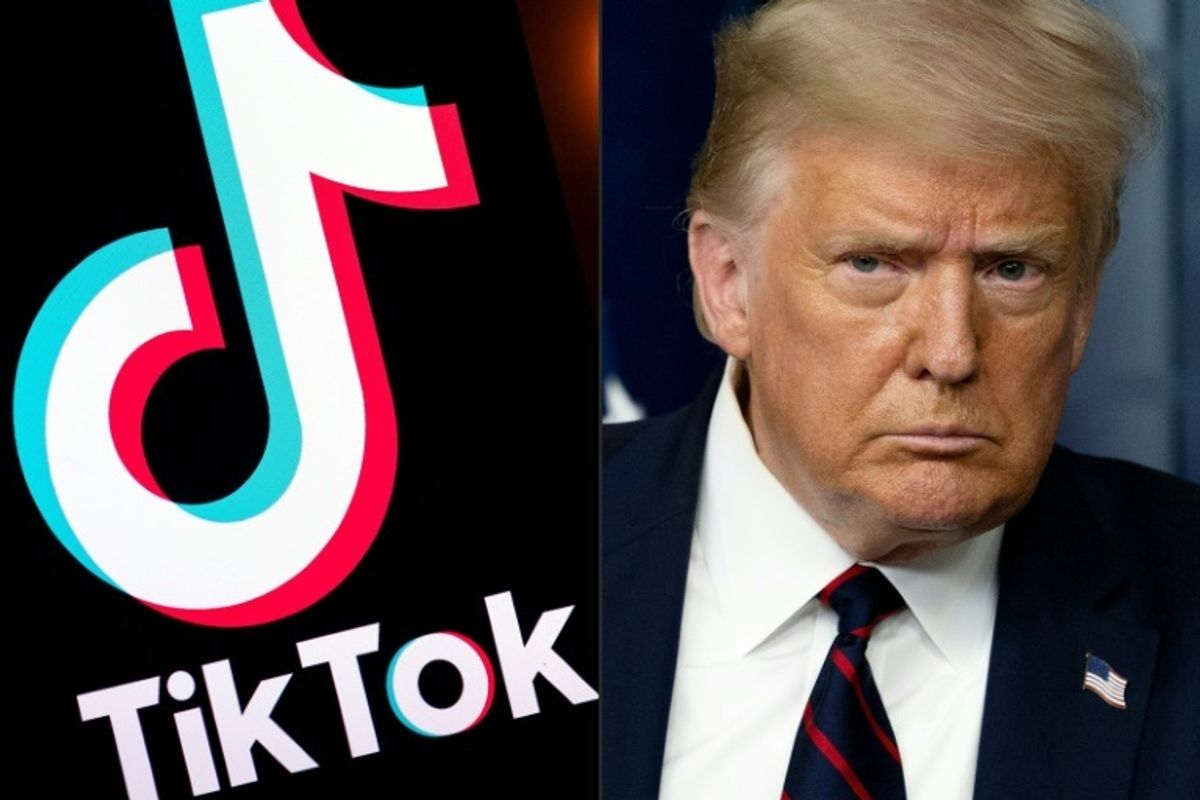 Say what you want about TikTok, but there's no question that the app is a massive success.
TikTok has surpassed 2 billion downloads and set a record for app installs in a single quarter, making it one of the most popular apps of all time. But as concerns about the security of the Chinese owned social media network mount, TikTok's future in the United States is looking more and more uncertain.
On Friday, President Trump told reporters that he would ban TikTok from operating in the United States through emergency economic powers or an executive order. This comes after concerns about the apps use of data, particularly the concern that the Chinese government has access to the data the app gathers from American users.
TikTok fans immediately expressed their concern, with one user, Ehi Omigie, saying, "Everyone is live right now," in a livestream on the app Friday night after news of Trumps statement spread. "Everyone is going cray cray ... If it does happen, follow me on Instagram."
---
Does Trump have the power to legally ban TikTok?
While it remains unclear what exactly banning the app would look like from a legal perspective, Trump could possibly add TikTok to a list of foreign entities that "present a greater risk of diversion to weapons of mass destruction (WMD) programs, terrorism, or other activities contrary to U.S. national security and/or foreign policy interests," thereby forcing Apple and Google to stop supporting the app.
This has been a successful strategy in the past. Last year, Trump added the Chinese telecom equipment manufacturer Huawei to the "entity list," successfully forcing Google to cut ties with the company. But according to Variety, "'Putting TikTok on that list would be unusual and legally dubious,' James Lewis, director of technology policy at the Center for Strategic and International Studies (CSIS), recently told The Verge. There's no evidence TikTok has engaged in criminal activity threatening U.S. national security, although TikTok was fined for alleged violations of the U.S.'s child data-privacy law (which the FTC is reinvestigating)."
Additionally, given Trump's history of unsubstantiated claims, many Americans doubted whether his threat was worth taking seriously. That was until Sunday, when Secretary of State Mike Pompeo confirmed Trump's statement on Fox News, saying, "Here's what I hope that the American people will come to recognize -- these Chinese software companies doing business the United States, whether it's TikTok or WeChat, there are countless more ... are feeding data directly to the Chinese Communist Party, their national security apparatus—could be their facial recognition pattern, it could be information about their residence, their phone numbers, their friends, who they're connected to."
He continued, "President Trump has said enough and we're going to fix it and so he will take action in the coming days with respect to a broad array of national security risks that are presented by software connected to the Chinese Communist Party."
Pompeo concluded, "I promise you the President, when he makes his decision, will make sure that everything we have done drives us as close to zero risk for the American people. That's the mission set that he laid out for all of us when we began to evaluate this now several months back. We're closing in on a solution and I think you'll see the President's announcement shortly," he said.
Trump sets deadline for TikTok sale or shutdownwww.youtube.com
Can Trump make money off a TikTok deal?
Trump has said that unless an American company buys the US sector of TikTok, the app will be banned from September 15th onward. He has also stated that he believes the US treasury should get a cut of any deal that is made. He said, "The United States should get a very large percentage of that price, because we're making it possible," he said. "It would come from the sale, which nobody else would be thinking about but me, but that's the way I think, and I think it's very fair."
A governing body taking a portion of the profit from this kind of transaction would be unheard of. Charlotte Jee, a reporter at MIT Technology Review, said Trump's comments were "pretty astonishing." She said: "I hate to say this but it is kind of almost Mafia-like behaviour - threatening a ban which pushes down the price then saying, 'Oh we should get a cut of that deal afterwards to say thank you for what we've done there.'"
She continues, "It is extraordinary behaviour as well because last week we had lawmakers in the US trying to look at whether tech companies are too big and now we've got Trump trying to make one of them even bigger so it is a really, really bizarre situation to be in."
Trump hates TikTok teens
It's worth noting that this threat from the President comes just weeks after users of the app claimed responsibility for the poor turn out at Trump's Tulsa rally. As Eden Gordon noted in her article "K-Pop Stans and TikTok Teens Trolled a Trump Rally—What Could They Do Next?," "A coterie of K-pop stans and teenagers on the app TikTok say they came together and inspired thousands of people to reserve tickets to the rally—with no intentions of showing up. It seems to have worked. 'My 16 year old daughter and her friends in Park City Utah have hundreds of tickets. You have been rolled by America's teens,' tweeted Republican campaign strategist Steve Schmidt on Wednesday. Over the weeks before the rally, thousands of kids registered to attend the Tulsa event; it practically became an Internet meme."
Are the Chinese really stealing data through TikTok?
While it's possible that Trump's desire to ban TikTok is partly due to TikTok user's activism at his expense, there are well-founded concerns about the safety of the app.
TikTok is owned by a large Beijing based social media company called ByteDance. Since its inception, TikTok has released several app updates that included urgent security vulnerabilities, but experts agree that's not uncommon for social media apps. The majority of concerns about TikTok's security revolve around fears that the Chinese government is receiving the data of American users. As Forbes notes, "In recent weeks, we have seen reports emerge suggesting that TikTok is 'Chinese spyware,' alleging that the app steals data from users' devices and sends it to China. This is certainly not proven and almost certainly not true on any level, at least not in the way it is presented."
Like any social networking app, TikTok does collect and monetize data from its users. But that's no different than Facebook or Twitter. "It's not any worse or any better than what Facebook, Google and thousands of apps are doing already," Cyjax CISO Ian Thornton-Trump tells Forbes. "Any free service is going to want to monetize the data it's accumulating."
Of course, the big difference comes from the fact that TikTok is a Chinese company that is gathering information on American citizens, and it's the first social media app owned by a foreign power to truly compete with American owned networks. While the data gathering itself may not be inherently insidious, experts believe that the way China uses it could be.
Thornton-Trump goes on to say, "TikTok and other apps present a danger of mass manipulation and social control and disinformation. The danger may be minimal to the individual but serious for society and democracy." Still, one has to question how this is any different than Facebook, which faced major backlash over accusations of influencing the 2016 election via data gathering of this nature. There's no question that a heavy dose of nationalism is no small part of the American backlash against TikTok.
Of course, TikTok is desperate to dispel any concerns. In a statement shared with USA TODAY Saturday, TikTok said, "US user data is stored in the US, with strict controls on employee access." They added that the company's "biggest investors come from the US."
Can TikTok be saved?
According to the New York Times, "The powerful Committee on Foreign Investment in the United States, or Cfius, has been examining ByteDance's 2017 purchase of Musical.ly, an app that eventually morphed to become TikTok. The committee has decided to order ByteDance to divest TikTok, and the government is engaged in negotiations over the terms of the separation, according to a person familiar with the administration's plans, who spoke on the condition of anonymity."
Apparently, Microsoft and other companies are in negotiations to purchase TikTok. after a call between Microsoft's chief executive Satya Nadella and Mr Trump, Microsoft confirmed on Sunday in a blog post that it would continue discussions about possibly buying TikTok. It remains unknown whether the app will really be deactivated in the US come September 15th if a deal isn't made.