Culture News
On stage at Camp Flog Naw, Smith called Tyler his boyfriend.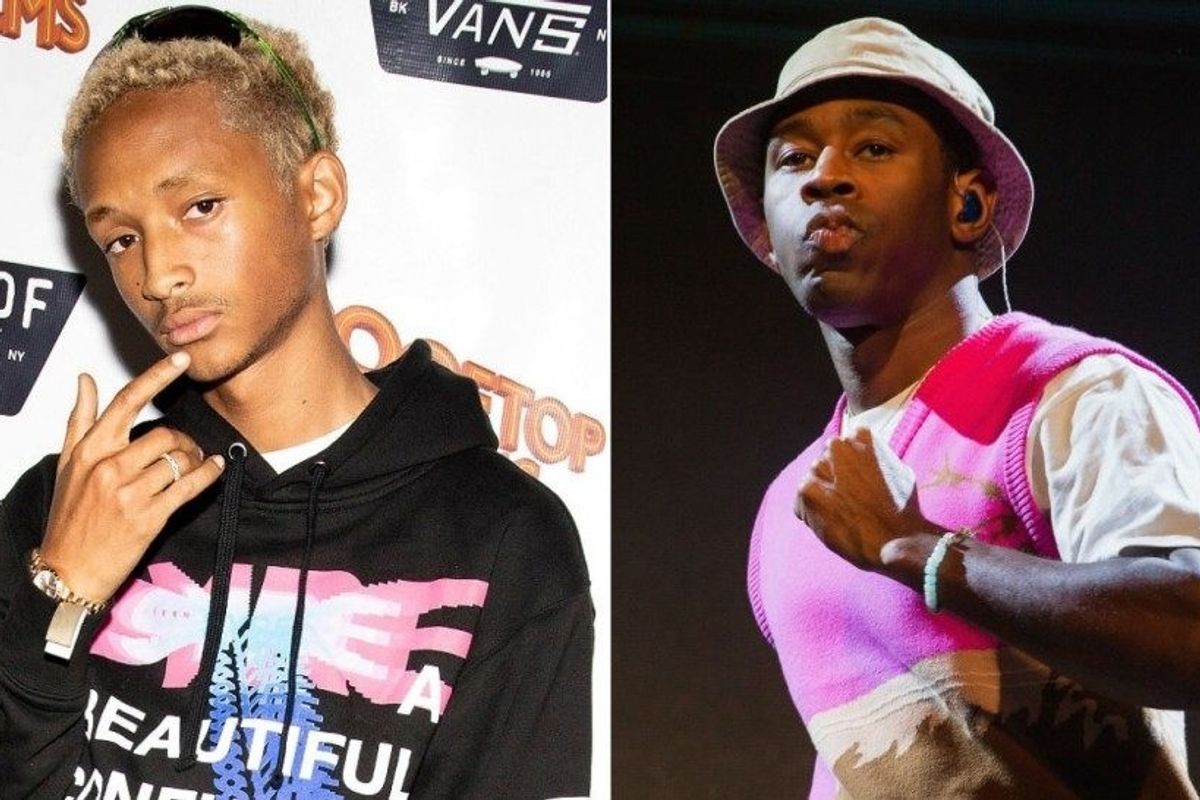 Entertainment Tonight
During his set at Camp Flog Naw music festival, Jaden Smith claimed Tyler, the Creator is his boyfriend.
"I just wanna say Tyler, the Creator is the best friend in the world and I love him so fucking much, and I wanna tell you guys something, Tyler doesn't wanna say, but Tyler is my motherfucking boyfriend, and he's been my motherfucking boyfriend my whole motherfucking life. It's true! Tyler is my boyfriend." Smith says in a video filmed by a fan in the crowd.
Rumors then swirled about the 20-year-old's onstage claim, and he soon confirmed it, tweeting, "Yup @tylerthecreator I told everyone you can't deny it now." Tyler was seen in the video laughing and shaking his head. He later replied to Smith's tweet: "Hahaha you a crazy n***a man."
But now fans speculate there was never any truth to the claim, as Jaden Smith has since deleted the tweet. Given the ambiguity surrounding Tyler's sexuality, it's possible that Jaden's declaration was intended as a joke poking fun at Tyler — albeit an insensitive prank with homophobic implications.
Regardless of the veracity of the tweet, it only complicates the strange history of Tyler's relationship with sexuality. On his 2015 album Goblin, the rapper came under fire for using f***** and other anti-gay slurs 213 times. He later shot down accusations of homophobia, saying, 'I'm not homophobic. I just think "f*****" hits and hurts people. It hits. And "gay" just means you're stupid. I don't know, we don't think about it, we're just kids. We don't think about that shit. But I don't hate gay people. I don't want anyone to think I'm homophobic.'
But later in 2015, it began to seem as though Tyler himself might be queer, tweeting, 'I TRIED TO COME OUT THE DAMN CLOSET LIKE FOUR DAYS AGO AND NO ONE CARED HAHAHHAHAHA.'
Then on his album, Flower Boy, he rapped: 'Next line I'll have em' like woah/ I've been kissing white boys since 2004.'

When questioned about the implications of these lyrics in a recent interview with Fantastic Man, Tyler responded, "It's still such a grey area with people, which is cool with me. Even though I'm considered loud and out there, I'm private, which is a weird dichotomy. The juxtaposition of loud and quiet is weird."
---
Brooke Ivey Johnson is a Brooklyn based writer, playwright, and human woman. To read more of her work visit her blog or follow her twitter @BrookeIJohnson.
---
POP⚡DUST | Read More…
Lured: A World of Theatrical Hurt
How Celebrities Have Been Affected by the California Wildfires