MUSIC
Vagabon's New Album Channels Frank Ocean, Astrology, and Modern Feminism
"Vagabon" is a testament to fear and her ability to forge a path through that fear by having faith in oneself and one's community.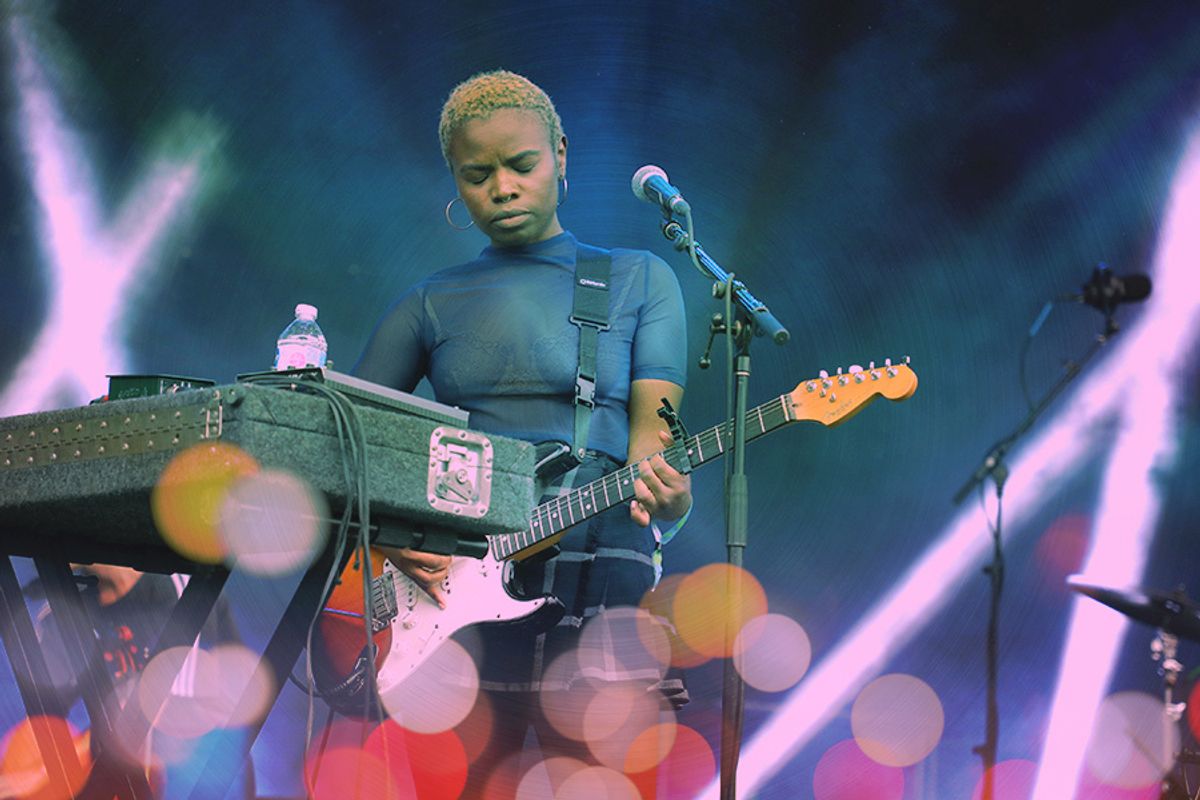 Can you remember the first time you understood that there was something powerful about music, something that could affect you far more deeply than patchworks of sound and rhythm should be able to?
Laetitia Tamko, who goes by the stage name Vagabon, recalls this very moment.
She was three, she told NPR, living in the Cameroonian city of Yaoundé, attending a gathering called a reunion. Standing in the middle of a circle of twenty-five women, the normally shy little girl was moved to enter the circle and began dancing.
On her sophomore album, Vagabon, Tamko conjures the kind of communal, ritualistic flow state that one imagines inspired her to join that dance so long ago. Vagabon is both tightly wound and expansive, concise and yet full of vast and rich internal spirit. In that, it resembles the collage-like yet cohesive songcraft of Frank Ocean, who was an early influence for Vagabon, though the album resists comparison, instead existing in a space of its own.
Vagabon - Water Me Down (Official Video)www.youtube.com
Lyrically, it blends millennial themes—a love of astrology, glitchy indie inflections—with much older influences that range from house to hip hop, African music to synth-heavy dream pop. On the first track, "Full Moon in Gemini," which was apparently actually written during a full moon in Gemini, Tamko sings with a rare kind of gentleness, placing her tender vocals over glistening strings. "Past the mad river / and the mountains / I wrote this about." Refusing to stay within any boundaries of genre or sonic expectation, Tamko orchestrates an expressive beat and bassline beneath the strings, giving the song a wry, subversive edge. It almost sounds like she's grinning, though sometimes a smile also means bearing teeth.

A similar progression happens on the quietly stunning "In A Bind," which begins with a folky finger-picking pattern that grows more processed and reverb-heavy as the song goes on. The song sounds like the last night before the inevitable end of a summer love affair; it would work perfectly in one of those montage movie scenes that follows a protagonist post-fling, leaving some idyllic countryside for city streets and watching the leaves skitter over the pavement as fall settles in.
Tamko produced the album herself, and you can hear the deliberateness with which each effect and instrumental part was added. Throughout the process of making the album, Tamko was very open about her insecurities about the music, frequently taking to Twitter to confess her fears that all the fans she gained from her first album wouldn't follow her as she explored new styles. Considering the amount of insecurity that plagues most artists even when they gain extensive recognition, it was surprisingly refreshing to follow Tamko on her confessional journey.
As expected, her fears were unfounded, as the album is delicate, experimental, fresh, and full of life. But if you're listening for it, you can almost hear the fingerprints of her self-critical thought loops playing out in the music. It's not hard to imagine the late nights she must have spent trying to perfect each sound, while simultaneously trying to release that desire for perfection.
If music is a map of the psyche, Vagabon's sophomore album is a lovely terrain to walk, if a solitary one. "I tend to be in isolation in general — I'm a homebody, I'm a nester — and because it's a part of who I am, my character, my personality, it's bound to trickle into the actual contents of the music," she said. Still, that's not to say that she's disengaged from the world around her. The album constantly mixes compassion and fierceness, braiding self-love with love for others. "All the women I know are tired," she sings on "Every Woman." "But we're not afraid of the war we brought on." It's a rallying cry that forgoes contrived feminist tropes and instead brims with truth.
Vagabon - Every Woman (Official Video)www.youtube.com
Sometimes she returns to more traditional indie roots, like on "Wits About You," but she uses them to express a message of solidarity that's somewhat rare in the Frankie Cosmos sphere of indie music in which she made her name. "I was invited to the party / they won't let my people in," she sings through a fog of grainy processors. "Well then nevermind, nevermind / we don't want to go to your function." From there, the song opens up; the mist falls away and clear waves of sound flow through, its bell-like clear tones and beat flowering like night-blooming jasmine.

Like much of her music, the album is warm and inviting, if protective of its tenderness. Tamko has spoken about wanting Vagabon to be a community, a place where people can come together in service of their own growth. Still, she seems aware that she was never meant to be part of the crowd—she is still that same little girl that leapt into the center of the circle of women. "I guess what I'm trying to say is that this album is me doing whatever the f*** I want, because I can do whatever I want, you know?" she said at the end of the NPR interview.
As a frontwoman and producer who maintains complete control of her own musical output, her own independence and autonomy may be her most generous gift of all. Vagabon sounds like the beginning of a journey through genres and into a growing sense of personal power. While perhaps not a conclusive journey in and of itself, Vagabon is a window into one of the most open hearts in music today.