CULTURE
That fleshy bit of tissue is more mythical than Sisyphus' rock (although many men have blamed both for their feelings of deep-seated failure).
Everyone is a virgin. Or nobody is. Whatever: "Virginity is a social construct." Miley Cyrus says so.
The 26-year-old pop singer recently released a red latex-filled music video for "Mother's Daughter," the latest single off her EP She Is Coming. Cyrus has proven to the world that despite marrying Liam Hemsworth, she hasn't settled down, still appreciates hot women, and she's still freaky. The trippy, provocative music video, conceptualized by the singer and directed by Alexandre Moors, includes blocks of text with messages fit for a 13-year-old's wannabe-edgy Tumblr post, like "Sin Is in Your Eyes," "Not an Object, "I Am Free," and the one Cyrus recently shared on her Instagram account, "Virginity Is a Social Construct." The ensuing debate within her comment section clarifies that we, as a society, have no idea what "virginity" actually is.
First of all, because the United States has an 86% literacy rate but a population in which 50% of adults can't read above an eighth grade level—people didn't read the message that closely. The singer's two posts with the screen grab quickly received over 11,000 comments. Many assumed for some reason that it was criticizing those who abstained from sex and "shaming" virgins, while others contested the idea that virginity was anything other than hard science.

Instagram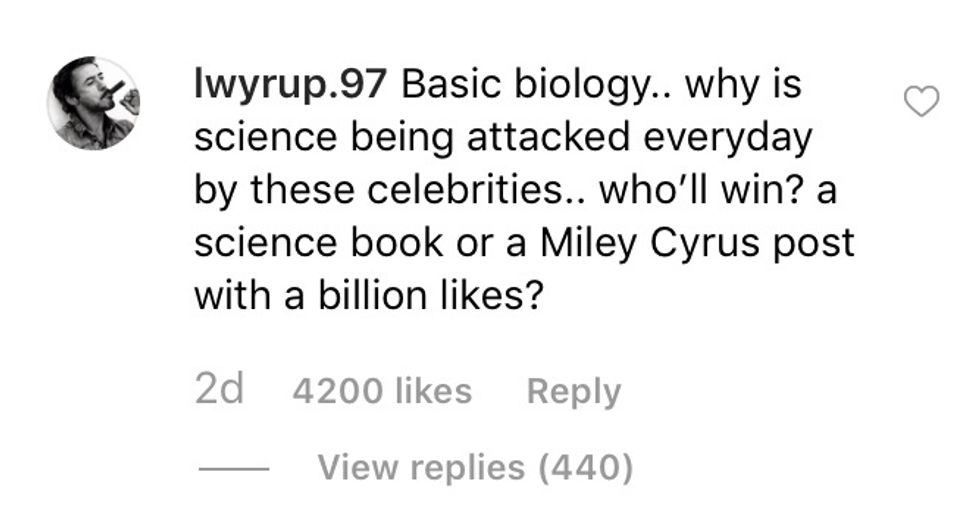 Instagram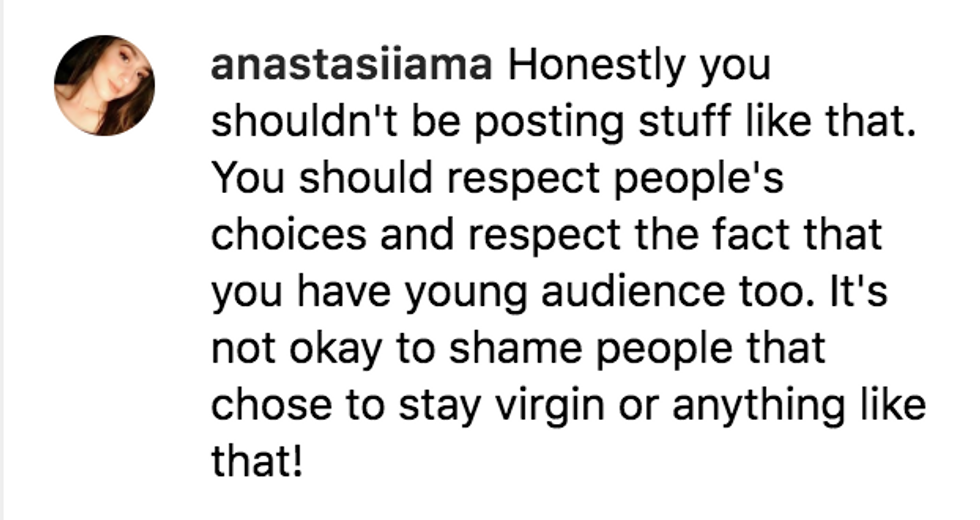 Instagram

Instagram

Instagram
What's painfully clear from this heated interaction over a venial celebrity post is that a serious problem with sex education (and basic knowledge about the human body) exists in the U.S. Aside from the fact that we're only just now realizing that abstinence-only sex-ed doesn't work, we have a tradition of teaching teenagers outright incorrect and unrealistic information. As Laura Lindbergh, research scientist on reproductive health, noted in her study on adolescent health and sexual behavior, "We fail our young people when we don't provide them with complete and medically accurate information."

Now, despite the perception of nonstop connectedness on social media, dating apps, and hook up culture, it's an empirical fact that millennials are losing their virginity later in life than previous generations, embarking on fewer dates, marrying at a later age, and, in general, having much, much less sex. It's no wonder, what with their rampant intimacy and trust issues (you know, as a result of inheriting a world of fractured politics, heightened social isolation and anxiety, and a planet that will dissolve under their feet while they pay more and make less money to fund efforts to reverse the irreversible damage).
So while "millennials in their early 20s aren't having sex, and are more than twice as likely to be sexually inactive than the previous generation," what does this mean for the outdated notions of virginity?
The history of virginity and its surrounding stigma involving "purity" and moral high ground is, of course, groundless. But as a form of social currency that values untouched women as exchangeable commodities, the idea is mainly rooted in religion. Oddly, no one's sure where the idea that virginity mattered originally came from, with earliest written records signaling it held great social value but with no clear explanation as to why. From ancient Greeks evaluating young girls' nipple shapes to the medieval practice of checking newlywed's bedsheets for blood to verify a consummated marriage (thereby legitimizing the dowry), desirable virgin women could gain their families wealth and higher social status. Then there's hundreds of years of Christian theocracy and worship of the Virgin Mary to increase the premium on virginity as a symbol of "successful patriarchy as a whole."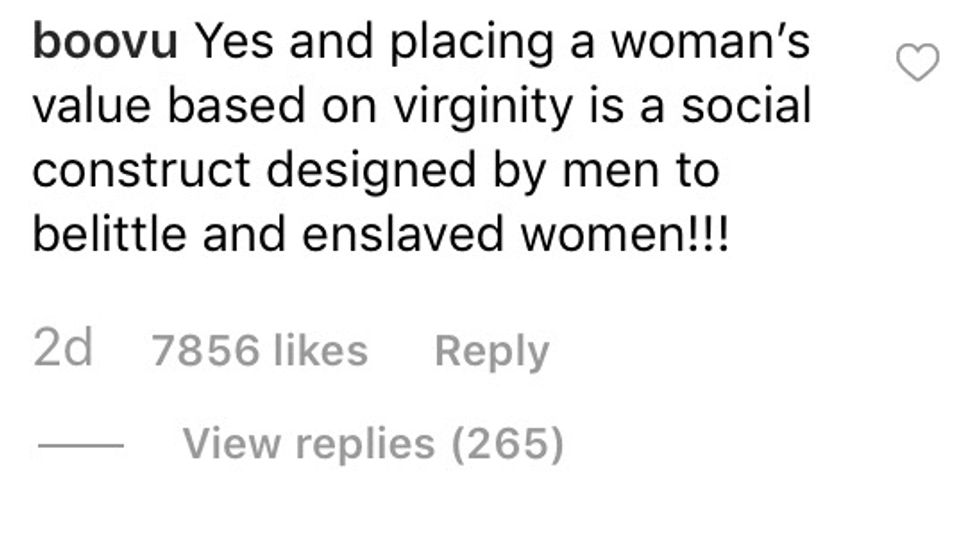 Instagram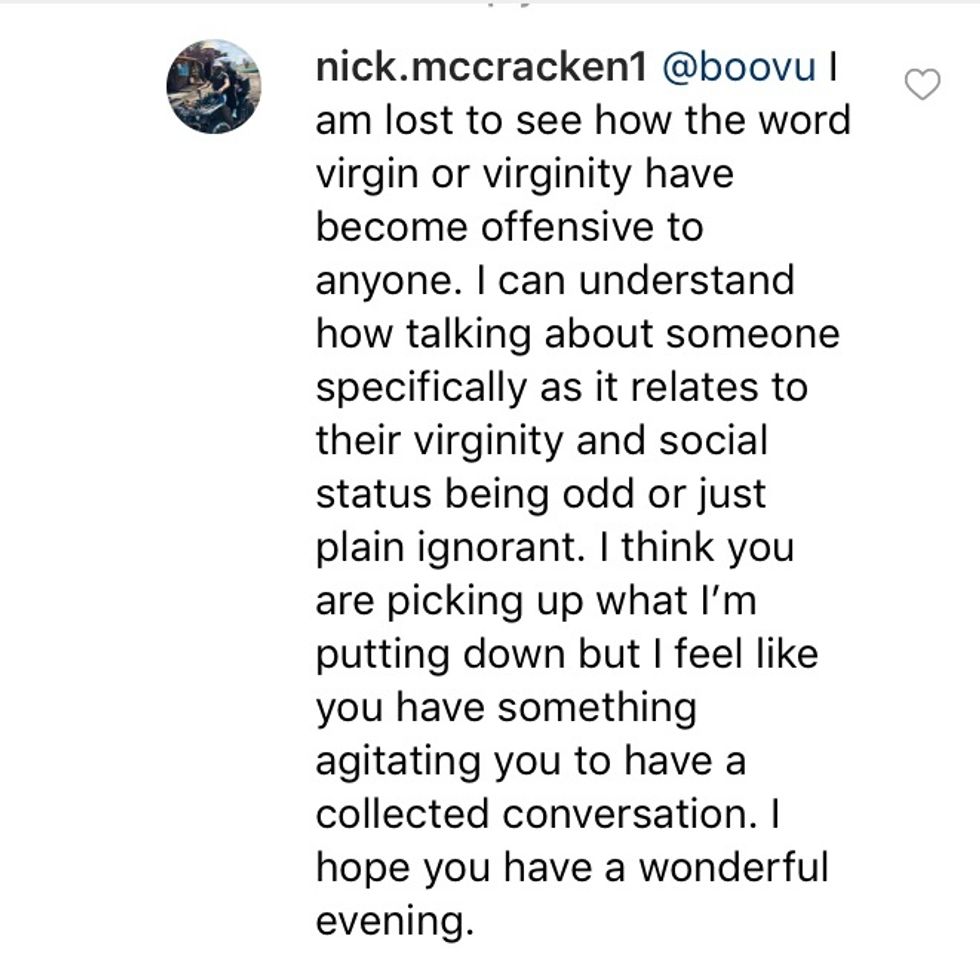 Instagram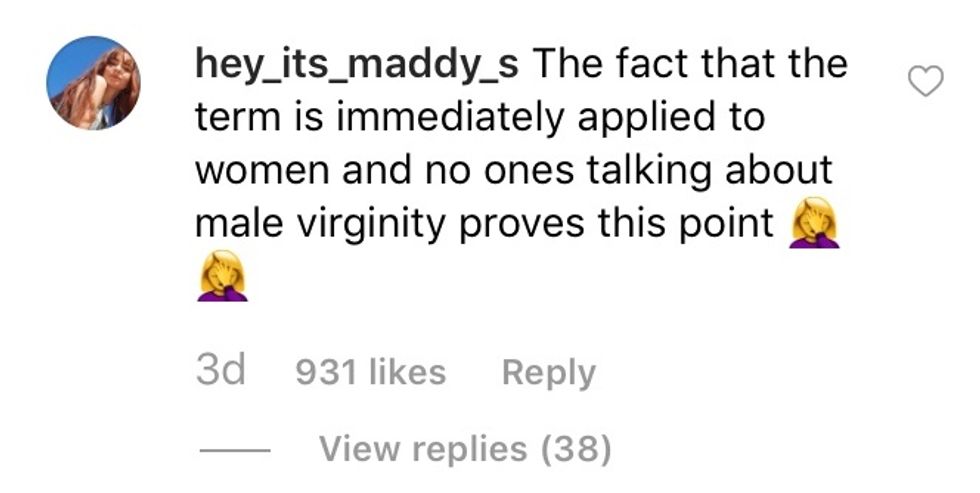 Instagram
Today, too many still defer to the outdated belief that female virginity is defined as having an intact hymen. One of Cyrus's invested commenters posted, "What? That's like saying puberty or menstration [sic] is a social contract. They're physical things, they involve physical changes." Aside from the obvious fact that this definition dismisses sex between non-female bodies and non-penetrative sex (which carries just as many risks of contracting STDS and so is just as valid and significant), let's talk about hymens.

That fleshy bit of tissue is more mythical than Sisyphus' rock (although many men have blamed both for their feelings of deep-seated failure). In reality, "having a hymen and being a virgin are not the same thing. Some people are born with hymens that are naturally open. And many other activities besides sex can stretch your hymen. So you can't tell if someone has had sex by the way their hymen looks or feels."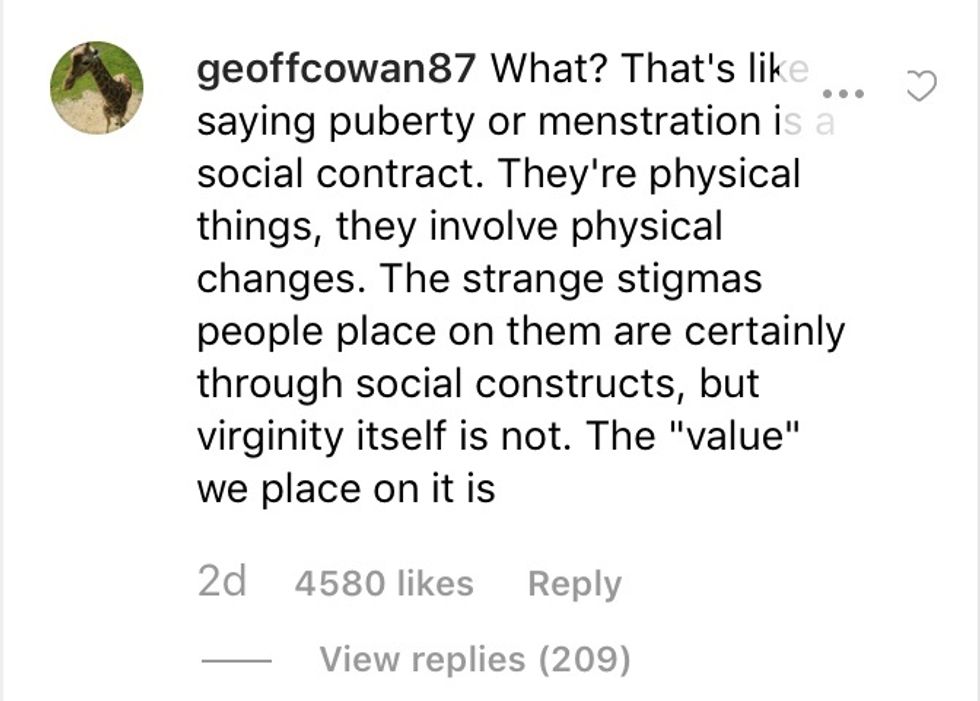 Instagram
Really, we should thank Miley for highlighting that virginity is just as messy, disruptive, emotionally fraught, and hilarious as sex is, with her thousands of commenters running the gamut from sex positivity to virgin shaming to religious zealotry. So remember: never shame what other people choose to do with their bodies, read like a 9th grader, and always use protection (because even hand stuff can get dicey).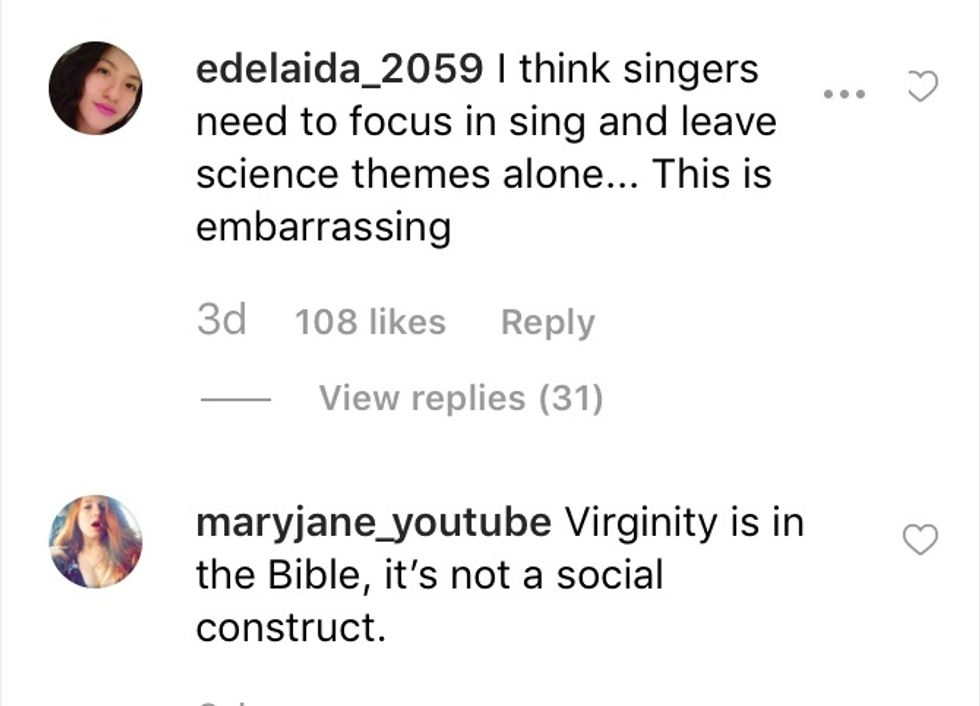 Instagram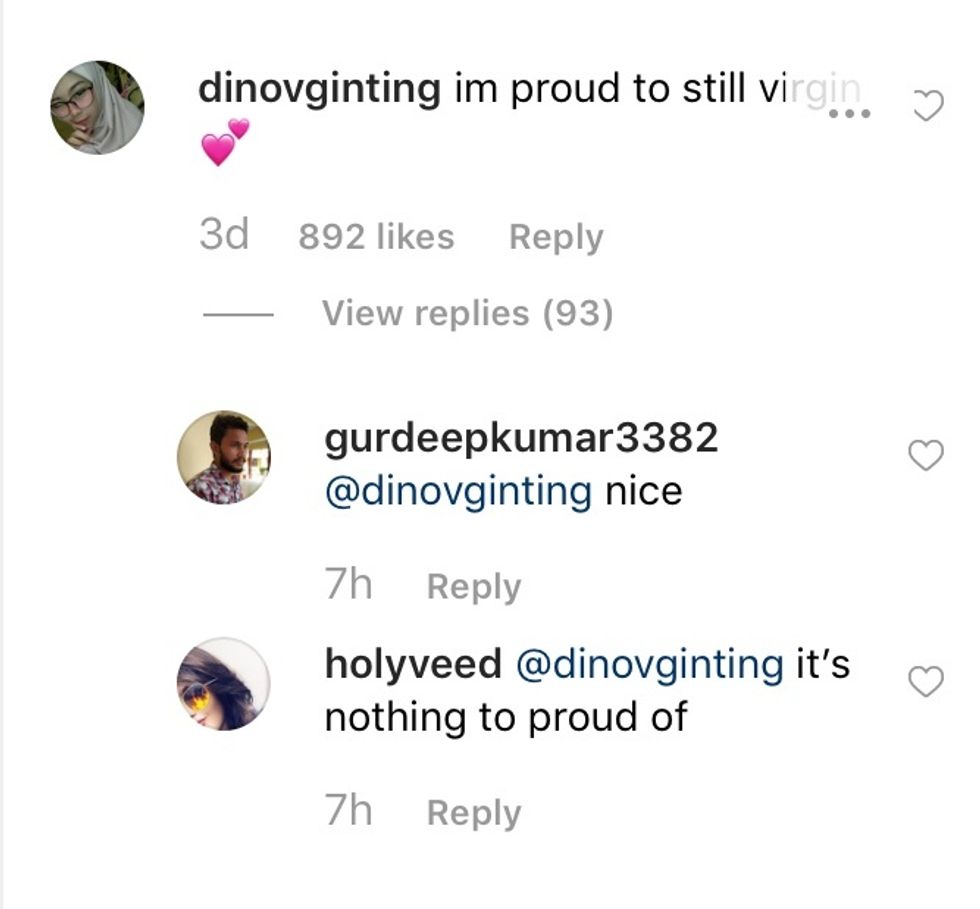 Instagram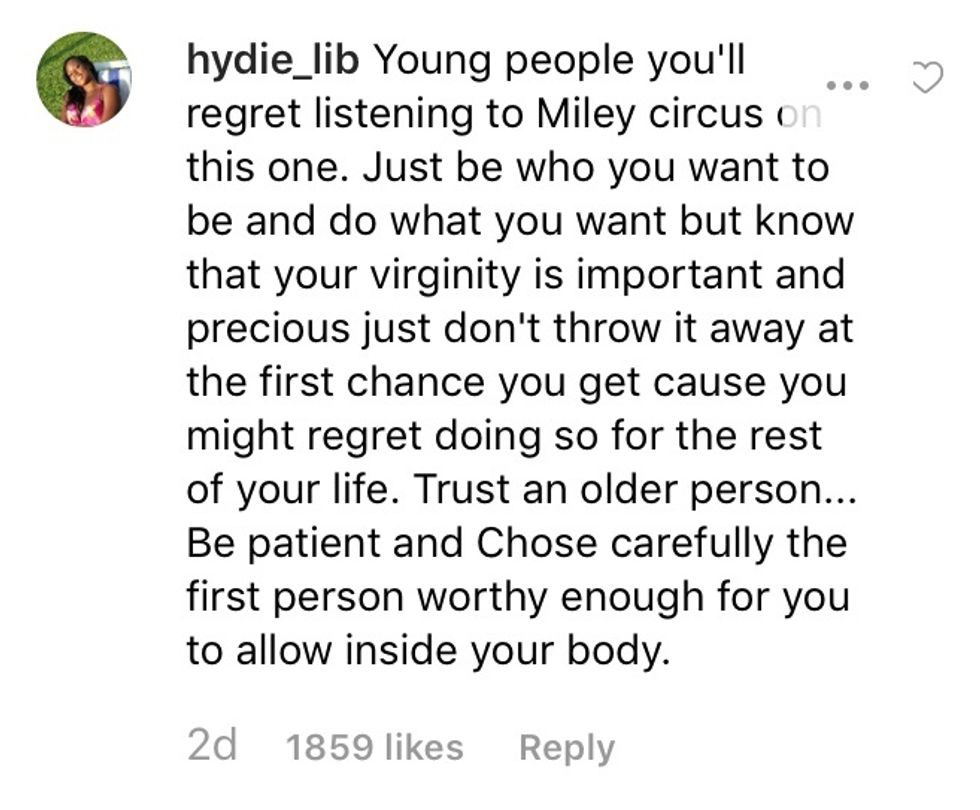 Instagram

Instagram