TV News
Fans are being deprived of a true 30 Rock reunion in favor of a weird meta-marketing event
Update 7/15/2020: As it turns out, the promotional nature of the upcoming 30 Rock reunion special is not a hit with everyone.
According to a new report from The Wrap, several large NBC affiliate groups have opted not to air the hour-long special which amounts to little more than an hour-long infomercial for the next year of NBC programming—and for NBCUniversal's exclusive streaming service Peacock—interspersed with some comedy from Liz Lemon and the TGS crew.
This means that many viewers who tune in to their local NBC channel to when the reunion special is airing at 8:00 Thursday night will instead be greeted by... something else.

---
Among the affiliate groups that have opted out of the hour-long special are Sinclair Broadcast Group, Gray Television, Tegna, Nexstar, and Hearst. All told, nearly half of NBC channels will be skipping the special. But don't worry, if you don't catch it when its fresh, the special will be re-airing on Bravo, USA, Oxygen, SYFY, Bravo, etc... because they really want you to sign up for Peacock.
Check out the original article at The Wrap.
One of the silver linings of everyone being stuck at home during the coronavirus lockdown has been the surge of cast reunions.
The fact that everyone's schedules are wide open has suddenly made stuff like Josh Gad's Reunited Apart possible, with video calls reuniting the casts of The Goonies, Back to the Future, Lord of the Rings, and Ghostbusters. And Parks and Rec even had a socially-distant reunion episode. So when it was announced that NBC was giving another beloved sitcom a reunion of its own, it just made sense and it seemed like a good reason for 30 Rock fans to get excited—but that was before it became clear what kind of rip-off reunion special it would actually be.
30 Rock, named after 30 Rockefeller Center, where NBC is headquartered in Manhattan, has always played around with the inner-workings of the TV industry and poked fun at the real NBC through the fictionalized version on the show. The way the business side of broadcast television interfered with TGS' team of creative weirdos was basically the whole premise of the show. But this reunion threatens to take that relationship to new disturbing heights, as it won't be a true reunion episode at all, but rather an "upfront event."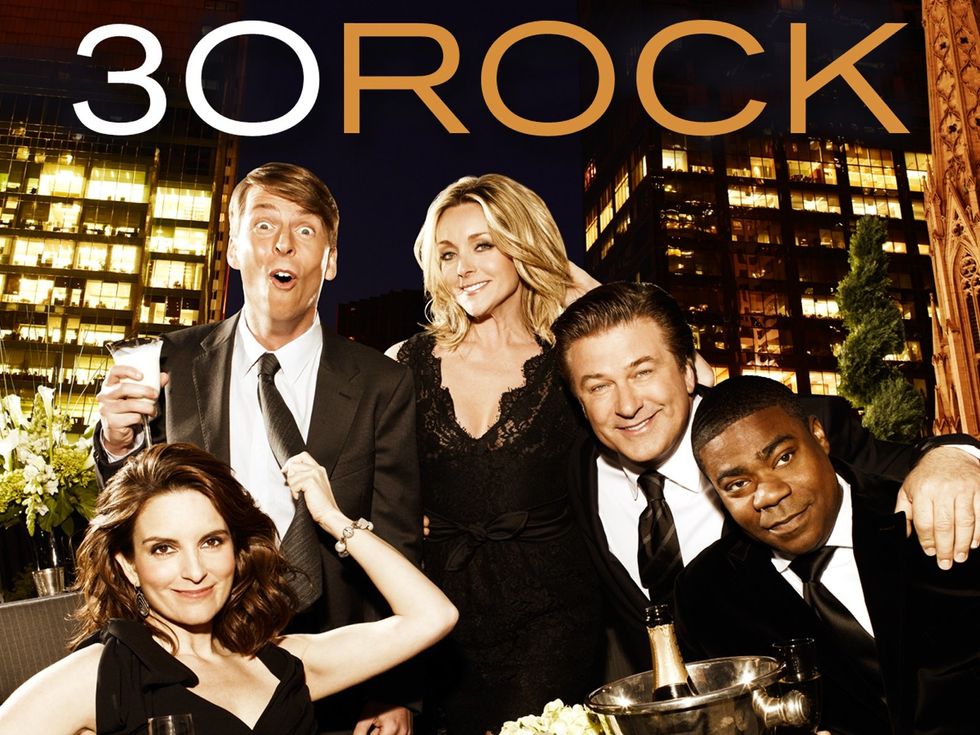 An upfront event is a concept in the TV industry where, before a new season of TV shows premiere, advertisers are given a sneak peak of what's in store so they can decide if they want to purchase advertising time upfront—hence the name. These events—which basically amount to a sales pitch—aren't usually made for public consumption.

They're like those billboards that advertise themselves as "a great place for you to advertise." While it's being pitched as an hour-long "commercial free" event and a "first-of-its-kind all-audience upfront event," it's basically like an extended commercial targeting the people responsible for regular commercials. Gross.
In other words, while Parks and Rec fans got a legit reunion episode that also raised money for charity, 30 Rock fans will have to make do with a glorified infomercial. So while the new "episode" of 30 Rock promises appearances from Tina Fey, Tracy Morgan, Alec Baldwin, Jane Krakowski, Jack McBrayer and more, it won't be a real episode at all—with the focus being on the upcoming season of NBC programming with cameos from the network's current stars.
Of course, there's always the chance that this is all an elaborate meta-joke... And even if it's not, Liz Lemon, er, Tina Fey might be the one person who could make that nauseating concept into an hour of real entertainment. So if you're willing to take the risk, you can check it out on NBC on July 16th at 8:00 PM, re-airing on USA, CNBC, E!, Oxygen, Bravo, and SYFY. And if you prefer to stream your media...you're gonna need NBCUniversal's dedicated streaming service, Peacock (See? Annoying).